Travel Tempe, AZ — a family and budget friendly destination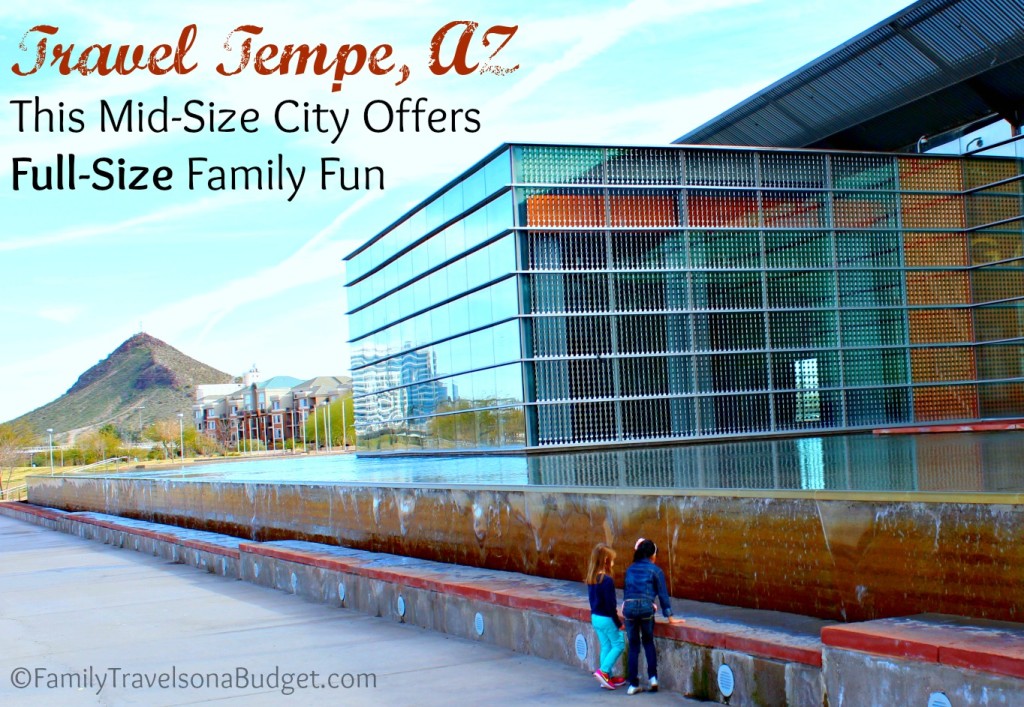 Tempe, AZ is a great vacation destination, especially September through April when temperatures are mild. But, whenever you go, you'll find things to do in Tempe,  AZ that make the whole family happy, great places to eat, and a variety of Tempe hotels to suit every need and budget.
Save $53on a Disney World 4-Day Park Hopper! Hop through all 4 parks.
Tempe is one of our favorite Arizona vacations, because it's a family friendly town with a youthful vibe thanks to Arizona State University.
Best things to do in Tempe, AZ
One of the great things about Arizona vacations is the weather! Especially in the winter, when other places are cold and wet, Tempe, AZ and nearby cities are seasonable and sunny. That makes Tempe a great place for outdoor fun.
At the same time, summer gets hot, so Tempe has many indoor activities too! Here are some of the best things to do in Tempe.
1. The Phoenix Zoo
Phoenix Zoo Address: 455 North Galvin Parkway, Phoenix, AZ
Phoenix Zoo Hours: Zoo hours vary seasonally. Generally, the Phoenix Zoo is open from 9 a.m. to 5 p.m. From June through August, the zoo is open from 7 a.m. to 2 p.m. because of the heat.
Phoenix Zoo Ticket Prices: At the gate admission prices are ($24.95 for ages 14+ and $16.95 for kids ages 3-13.
Save on Phoenix Zoo Ticket Prices: You can save a few dollars by purchasing tickets in advance online, if you are age 60+, a member of the military or a student (ages 14-59). Members of affiliate zoos and aquariums save 50% on admission with proof of membership.
Technically in Phoenix, not Tempe, the Phoenix Zoo is still our top pick for a Tempe, AZ vacation.
One of our favorite Phoenix Zoo attractions is the Arizona Trail, which lets guests observe species native to Arizona including javelinas, rattlesnakes and more.
Another of our favorite Phoenix zoo attractions is the "Monkey Village," allowing guests to enter the monkey habitat without being separated by fences. It is one of the few zoos to offer such an up-close experience for spider monkeys.
Beyond seeing the animals, other Phoenix Zoo attractions give guests a chance to interact with the animals. Zoo guests can ride camels, feed the giraffes, brush goats, and even ride a zip line. With so much available, the Phoenix Zoo is an experience the whole family will enjoy.
2. Hole in the Rock, Papago Park
Hole in the Rock, Papago Park Address: 625 N Galvin Pkwy, Phoenix, AZ
Hole in the Rock Hours: The park is open from 5 a.m. to 11 p.m., but the parking lot is only open 5 a.m. to 7 p.m.
Located by the Phoenix Zoo, Hole in the Rock is a unique geological formation at Papago Park which straddles Phoenix and Tempe. The Hole in the Rock, Papago Park trail is an easy 20 minute round-trip hike that rewards offers incredible views of both Papago Park and the surrounding area. Pack a picnic dinner for an evening hike to see Hole in the Rock and watch the sun set as temperatures cool.
 3. Main Event Tempe
Main Event Tempe Address: 8545 S. Emerald Dr Tempe AZ
Main Event Hours: Sunday-Thursday, 11 a.m. to Midnight; Friday, 11 a.m. to 2 a.m. and Saturday, 9 a.m. to 2 a.m.
Main Event Prices: Ticket prices vary widely at Main Event. It's best to check the website to plan your visit. The specials page offers INCREDIBLE savings over at the door prices! Check those here.
Main Event Tempe is just one of many Main Event locations across the country. This indoor recreation facility offers fun for the whole family, especially families of tweens and teens. Main Event entertainment includes arcade games, a gravity ropes course, bowling, karaoke, rock climbing, mini golf and more. Main Event Tempe also has food and a bar for the grownups! Main Event Tempe offers a great break from summer heat or indoor fun on those rare cold days in winter.
4. Mill Ave Tempe
The Mill Avenue District, known locally as Mill Ave Tempe, is the heart of downtown Tempe with restaurants, bars, shopping and nightlife. Whether you want casual, quick or a great date night option, you'll find it on Mill Ave.
The Mill Avenue District in Tempe is also a great place to find entertainment and nightlife. There are many bars, some of which have live music, on Mill Avenue as well as the recently renovated AMC movie theater with reclining seats and upgraded refreshments.
Other attractions on Mill Ave in Tempe, AZ include the Tempe Center for the Arts, art galleries and museums and outdoor park areas. The Tempe Center for the Arts regularly hosts live performances geared toward families and kids. The theater's setting on the waterfront is also great for taking a stroll after the performance.
5. Family festivals in Tempe, AZ
There are many family friendly festivals in Tempe, AZ especially in fall and winter. Plan your Arizona vacations in Tempe to coincide with a festival for a great budget travel option.
Some of the festivals in Tempe, AZ to visit are:
The Tempe art festival happens in March and December. The Tempe art festival features visual and performing arts, food vendors, and other exhibits the whole family will enjoy.
•Summer Ends Music Festival, while not free, offers three days of fabulous entertainment at Tempe Beach Park each September.
•Arizona Aloha Festival features fabulous Hawaii every March. Enjoy live performances, island food, Hawaiian ukelele music and more.
For more information on festivals and events during your vacation, check out Tempe Tourism's calendar of events.
Which hotels in Tempe are best for families?
There are many Tempe hotels to choose from, making this a great place to consider for Arizona vacations. Because Arizona State University is nearby, there is a big need for hotels in Tempe. Take advantage of off-peak demand (when there is not a college sporting event, orientation or graduation) to save on Tempe hotels.
Handy list of hotel perks and freebies by chain
Some Tempe hotels to consider are:
Springhill Suites by Marriott — centrally located, spacious suites, free breakfast.
Hyatt Place Tempe — centrally located, spacious suites, free parking and wifi. Some packages include breakfast.
Embassy Suites Phoenix/Scottsdale — two room suites with free breakfast, among the highest rated hotels in the area
There are many others to consider. Compare hotels with our partners at Kayak to find the best hotel in Tempe, AZ for your stay.
Want to learn more about Tempe travel?
These articles and websites provide additional resources to help you plan a trip to Tempe, AZ:
When it comes to Arizona vacations, the Tempe is certainly one of our favorites! Combine friendly people, great weather (especially spring and fall), unique Mexican inspired dining, and a wide variety of outdoor activities, and a vacation in Tempe, AZ just makes cents…. errrrrr…. sense!