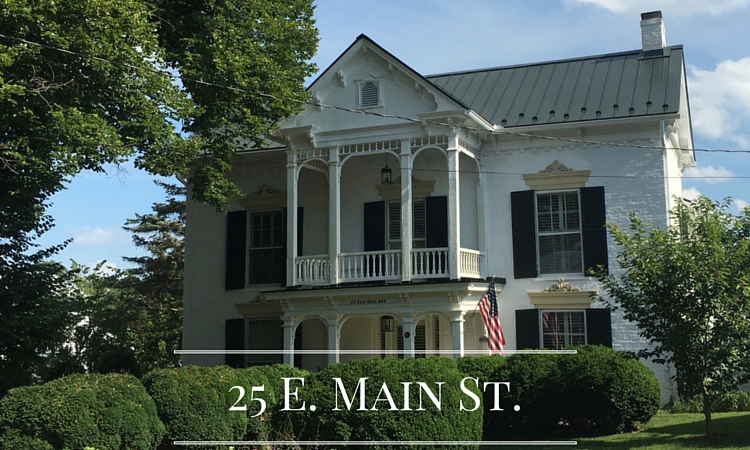 What's in an address? 
You know… those numbers and letters we punch in to the GPS so that annoying voice can guide us to a destination. Those numbers and letters we use to send exciting mail, like graduation announcements and wedding invitations.
Have you ever really thought about the place those numbers represent?
At 25 E. Main B&B in Fincastle, VA, you should. Beyond numbers and letters, you'll discover a place you might never want to leave.
Located in the heart of downtown Fincastle, a charming town deserving of its own story, 25 E. Main B&B fits its surroundings perfectly.  It's cute, quiet and quaint — much like a Norman Rockwell painting come to life. Here, people still sit on park benches and stroll along Main Street to shop at locally owned businesses.
Anyway, back to the B&B and the kindness shared by its owners, Mitch and Bobbie…
About 25 E. Main St.
The home, built in 1870, has been in Bobbie's family for three generations. As a child, she spent holidays and many other days here with her grandparents and extended family. The B&B's antique furnishings come from her family — though not stuffy and untouchable. When you meet Mitch and Bobbie, you'll discover the heart of the place — and you'll be glad you did.
Speaking of the stay, the B&B offers three bedrooms which can be booked through BedandBreakfast.com.
The Waid Room: Just inside the front door, the Waid room is spacious and bright, with a king size bed, period antique furniture and huge bathroom. The bathroom has heated floors and a zero entry shower room with two rain shower heads! This room is handicap accessible.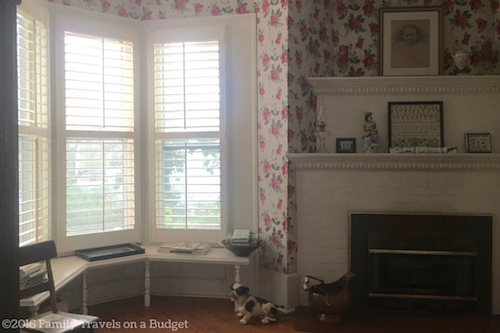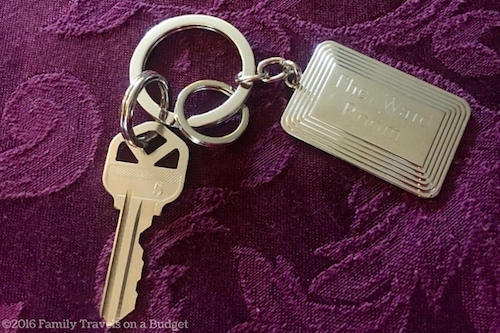 The Pendleton Room: On the second floor above the Waid Room, the Pendleton is equally spacious, decorated in darker colors reminiscent of a man's library. Period antiques create the perfect setting for a visit to Fincastle.  The large bathroom has a tub/shower combo.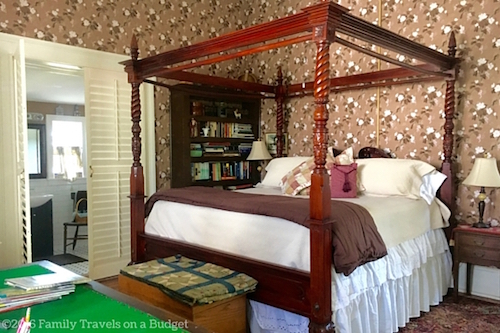 The Mitchell Room: This two-room suite offers two beds and a bathroom. The bathroom is smaller than the others, but the super-sized suite is quite inviting. With loads of windows, it's bright and airy — a dream for travelers looking for space and comfort.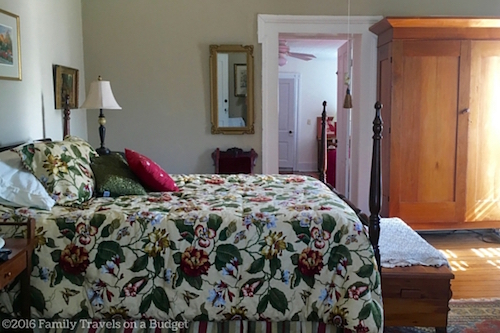 Beyond the rooms, there's a comfortable seating room on the main floor where breakfast is sometimes served. The couch under the front window, as with most of the furniture in the house, has been in Bobbie's family. The house has been lovingly restored with modern plumbing and electric while maintaining the Victorian charm.
About our stay
When we arrived, Mitch, Bobbie and their sweet puppy, Lily, greeted us — very much like family with hugs and warm smiles. After the introductions, we took a quick tour of the house. Since we were the inn's only guests that night, they gave us a choice of rooms. Ellie — no surprise — picked the Waid Room and its fabulous shower!
Owner Bobbie says, "While we can't always offer guests a choice of rooms, we will whenever bookings allow."
Ellie and I quickly settled in and then headed off to dinner. We returned to a bedtime snack of fresh popped popcorn — none of that microwave stuff! We also had fresh beverages in our mini-fridge, a selection of coffee and tea, and candy — for when the late night sweet tooth set in.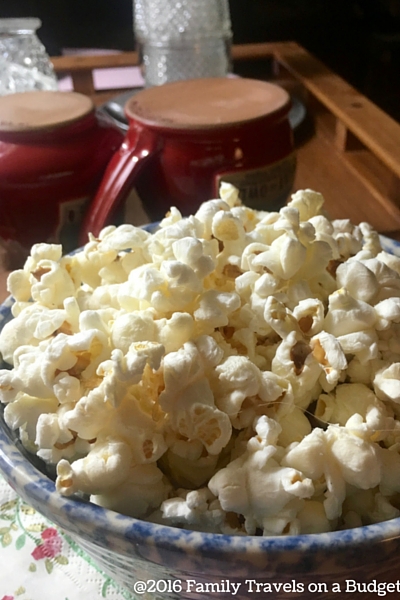 During our stay, we enjoyed the private back yard, with multiple seating areas, gardens and a comfortable covered porch. The front yard, too, invites people to relax like in days of old. The porch swing is a great place to read and take in the surroundings — so tranquil.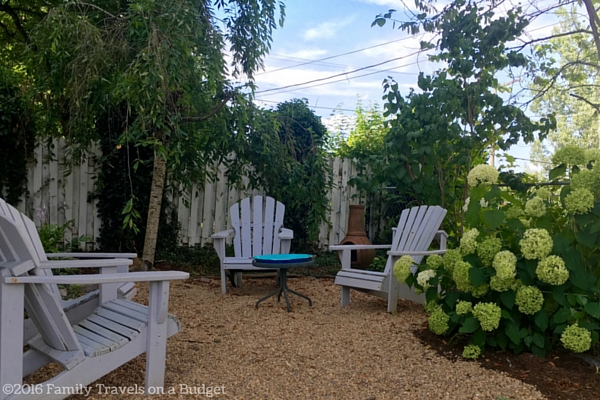 As lifelong residents of the area, Mitch and Bobbie know the place well and want guests to feel like they belong, too. When I had car trouble, they recommended a reputable repair shop. They invited us to join them in the garden to pick blackberries and veggies. They let Ellie play with Lily all she wanted. Ellie also enjoyed sitting on the porch swing to read her book. In all, it felt like coming home to family.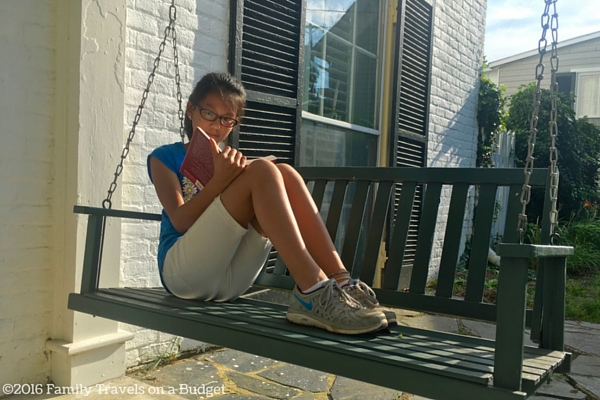 Oh — one more thing. 25 E. Main St. B&B has the best doorbell ever!
Book a stay
If you're traveling through Virginia anywhere near Interstate 81, consider a stay at 25 E. Main St. B&B. Travelers who pass through regularly know this place is more than an address. It's a home away from home!
Other local attractions and activities include antique shopping, art galleries, gourmet dining, historical sites, nature trails, genealogy research, outdoor activities, vineyards/wineries and a zoo. Fincastle is close to many universities as well.
Prices range from $135-$150 per night.
Bookings are handled through BedandBreakfast.com.
There is no smoking indoors.
Bobbie can accommodate food allergies and preferences with notice.
We enjoyed our visit and can't wait to return ~ with my husband in tow next time!