Float the James River
This post may contain affiliate links. Click here to see what that means.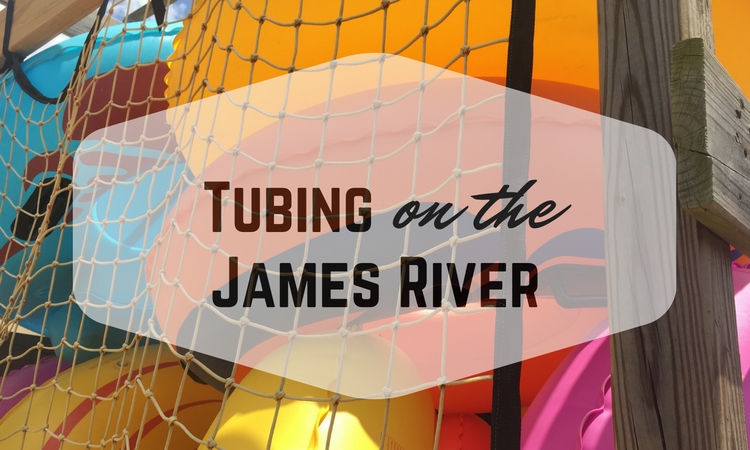 Imagine a relaxing day on the lazy river… Floating in your tube as you watch puffy white clouds pass by overhead. When we go to waterparks or hotels at Myrtle Beach, I always look forward to the lazy river. Except, they're usually overcrowded, filled with kids playing tag or splashing everyone in the vicinity.
Now imagine a relaxing day on a REAL river, floating in your tube, pushed along by the natural current as puffy white clouds pass by overhead. Ahhhhh! Bliss! Right?
It is. Trust me! Last month, Ellie and I took a real river float on the James River in Buchanan, VA, courtesy of Twin River Outfitters.
Amazing!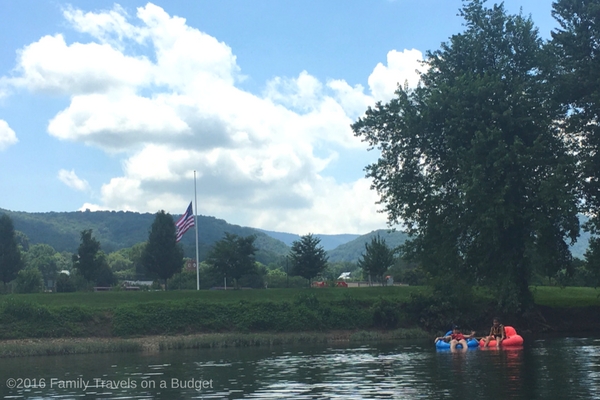 They provided us with tubes (none of those old, black inner tubes of my childhood either), life jackets and dry bags for phones! For a photo taking junkie like me, having my phone available was wonderful. John and Dan also recommend them to keep in touch should you have trouble on a longer excursion.
After brief instructions, we set off for a fabulous float.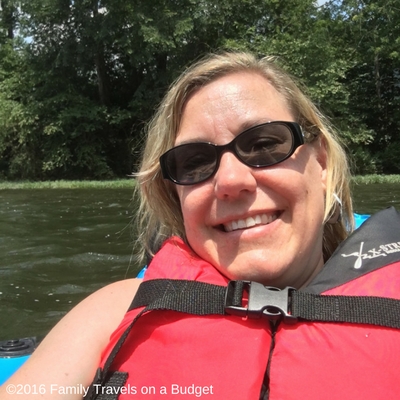 Along the river, we saw birds and fish. We floated through a couple of level 1 rapids — enough to wake us up, but not dangerous at all. In all, our float back to the outfitter took about an hour. We had the option of a second float (it's included in the price), but didn't have time — and as Pooh Bear would say, "Tut. Tut. It looks like rain."
Instead, we headed to the changing rooms to get out of wet clothes and ready for the next adventure — lunch!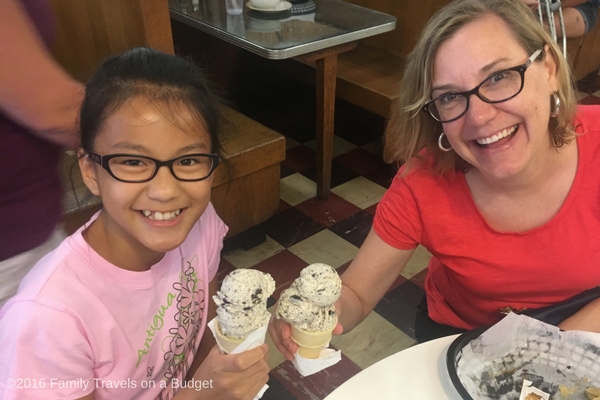 Ellie's review
Ellie turned 12 just before this trip and has never taken a river tube trip before. This was her favorite excursion of our whole trip — see that smile? She says,
Floating on the river was my favorite thing of our whole trip. They have special tubes for kids that have bottoms so you don't fall through. If you go, don't be surprised at how cold the water is. It's a good idea to get wet because it gets hot in the sun so you'll dry off fast anyway.

Oh, if you go with friends get a bungee from the guy. My friend Marianna and I bungeed ourselves together and talked the whole time. It was a lot of fun.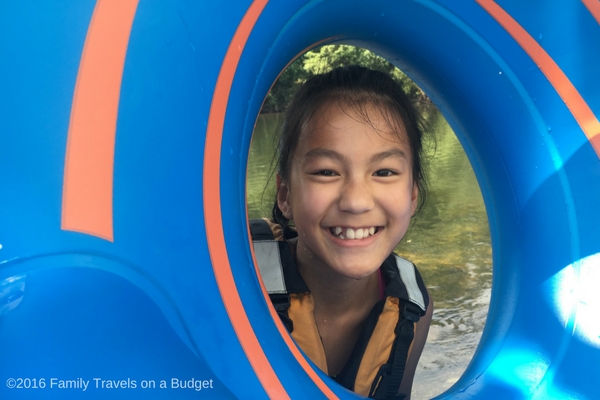 About Twin River Outfitters

Twin River Outfitters was founded by twin brothers, John and Dan, who decided to leave their high pressure corporate careers for something more enjoyable — even if it is more "work." Twin River Outfitters is part of the Upper James River Water Trail.
Twin River Outfitters offers a variety of water experiences, from the laid back lazy river tubing trips to multi-day camping/kayaking trips along the river. They provide all the gear needed, which means families do not have to invest a hefty sum in gear!
Everyone attends a 20 minutes safety program before they can kayak, canoe, tube or float. In general (except for tube floats), guests must be at least 8 years to take river trips. John and Dan recommend that kids under 12 and those who cannot swim do NOT participate on more strenuous trips, such as the whitewater rafting in early summer.
Tube and raft trips require swimsuits to prevent damage to the tubes.
Day trips range in price from $28 to $40 (before tax).
Reservations are required for all trips and can be me made by calling the main store at 540-261-7334 or through their website.
To learn more about the Upper James River Water Trail and/or to plan your trip to the area, go to Visit Botetourt! There's lots to do here.
Pin it for later!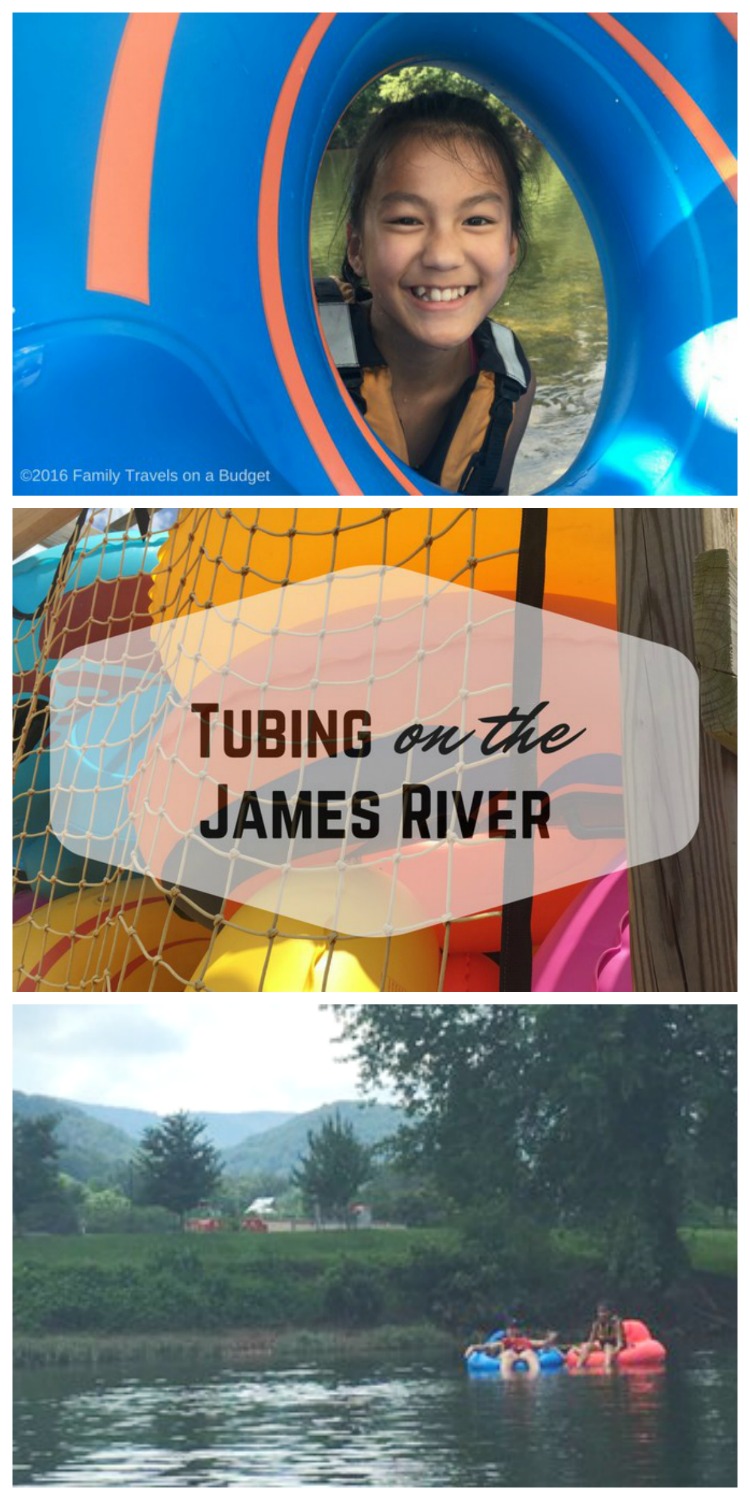 Want more adventure? Check out these great destinations!