Tips to visit Carolina Harbor Waterpark in Charlotte
Carolina Harbor Waterpark in Charlotte is part of the Carowinds Theme Park.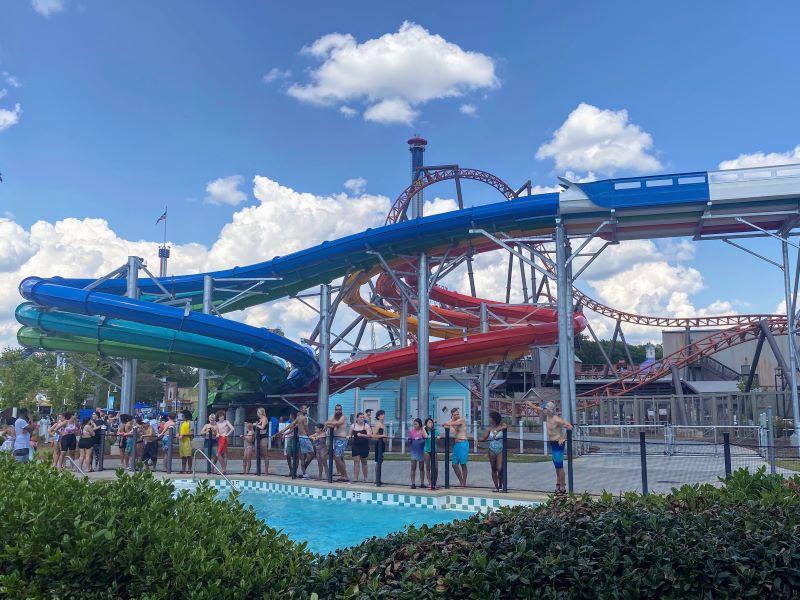 The water park celebrates the culture of the Carolina coast with more than 28 attractions for families and thrill seekers. The 26 acre water park also offers resort-style amenities like luxury cabanas and restaurants offering Carolina cuisine.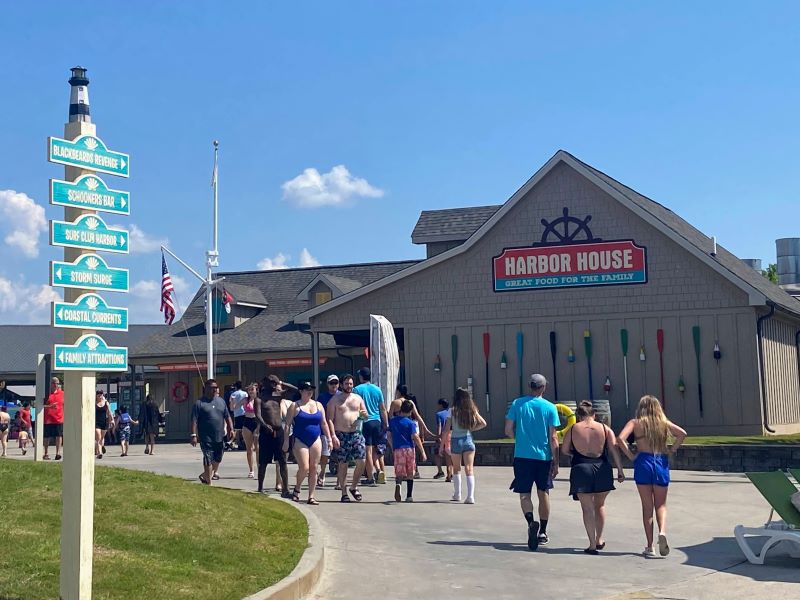 The cabanas at Carowinds are located near the wave pools, and cost extra. They do include six bottled waters, a mini fridge and a locked storage bin for your convenience.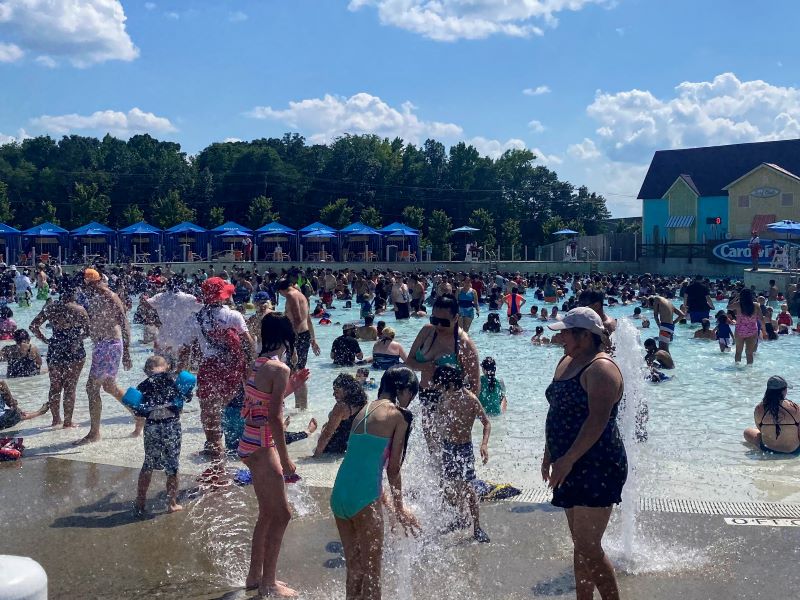 If you don't want to spend extra for a cabana, there are lounge chairs available throughout the park. On busy Saturdays and holidays, lounge chairs may not be readily available. To secure your belongings, you can rent a locker for the day. Locker costs for the 2022 season range from $25-$35 depending on size.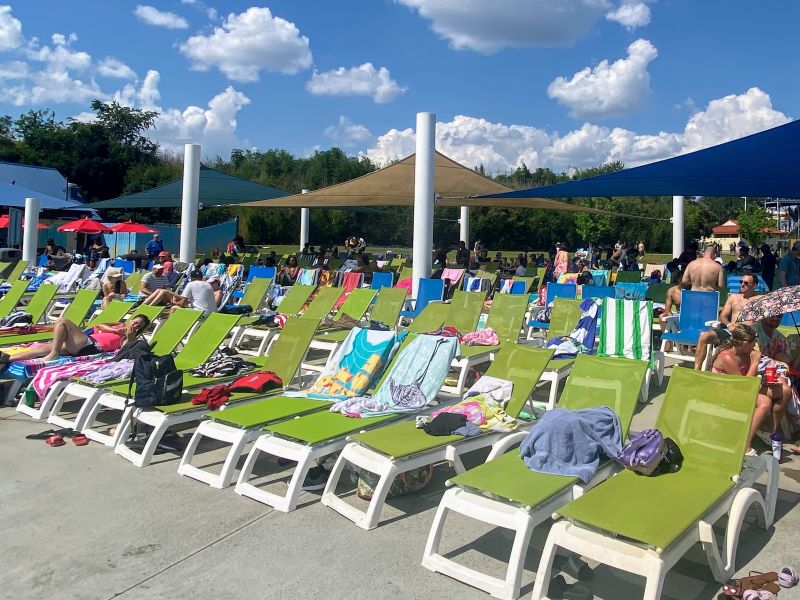 Rides at Carolina Harbor Waterpark range from the thrilling like the Boogie Board Racer — the longest mat-racing water slide in the southeast with its high-thrill 360-degree loop experience — to the relaxing Coastal Currents Lazy River.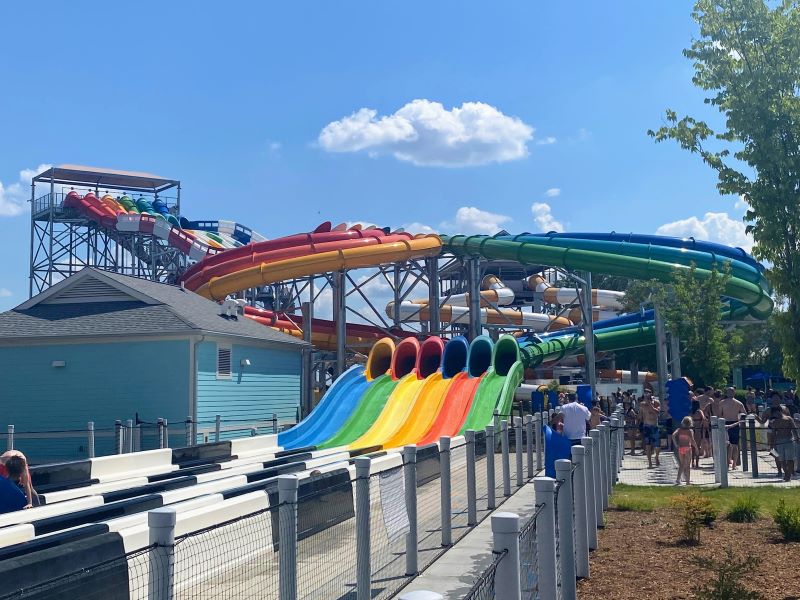 Carolina Harbor Carowinds also has two wave pools, several more water slides and a splash park for the little ones, named Kiddy Hawk Cove, to honor the Carolina roots of this park's location.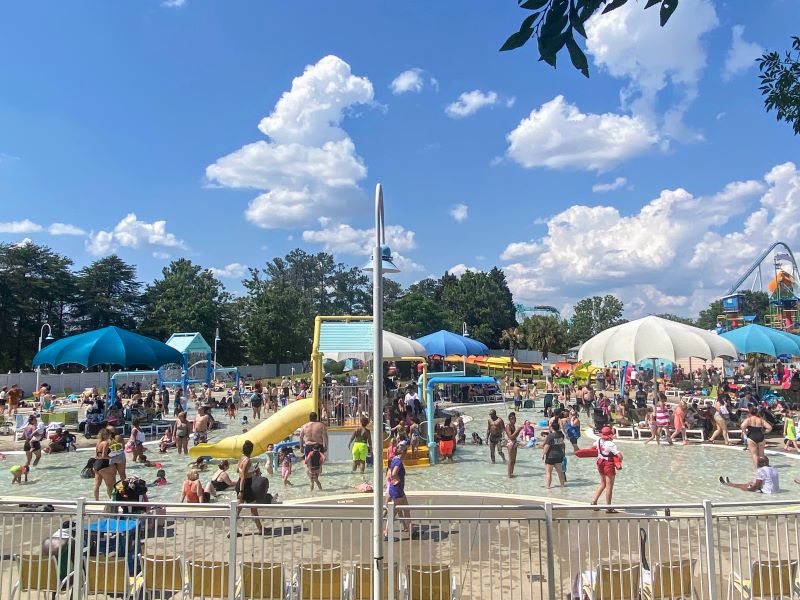 Other splash areas include Pirate's Landing and Seaside Splashworks which has a 423-gallon tipping bucket on top of the structure to drench everyone standing below.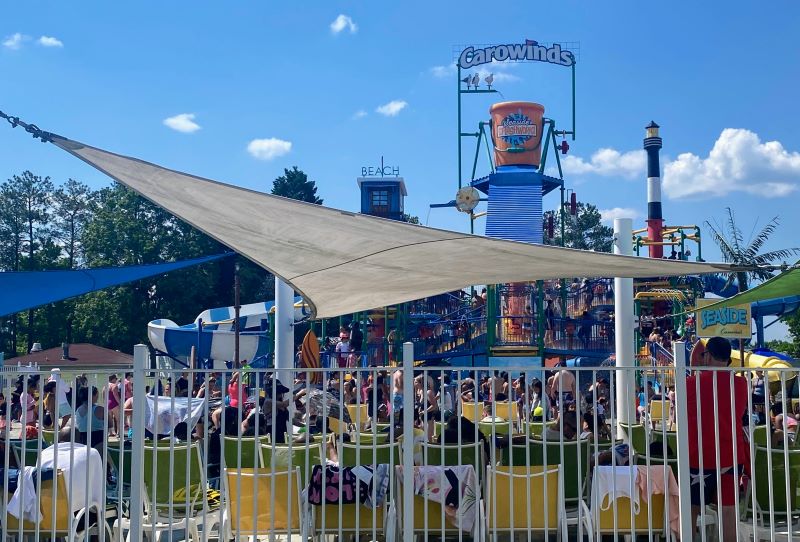 The theming at Carolina Harbor is on par with other great theme parks. They don't miss a chance to "celebrate" the coast or the region's history with pirates. It's — almost — as fun to walk around and enjoy the scenery as it is to splash in the wave pool, ride a slide or float on the lazy river.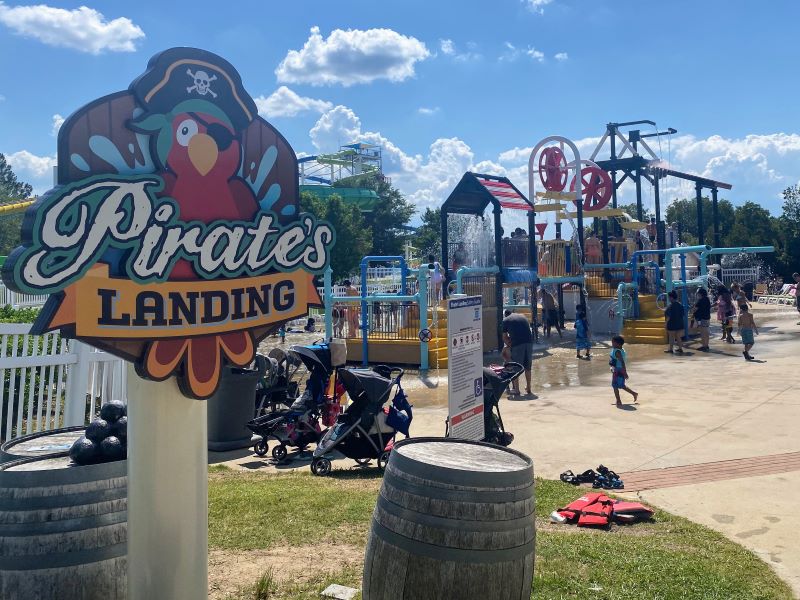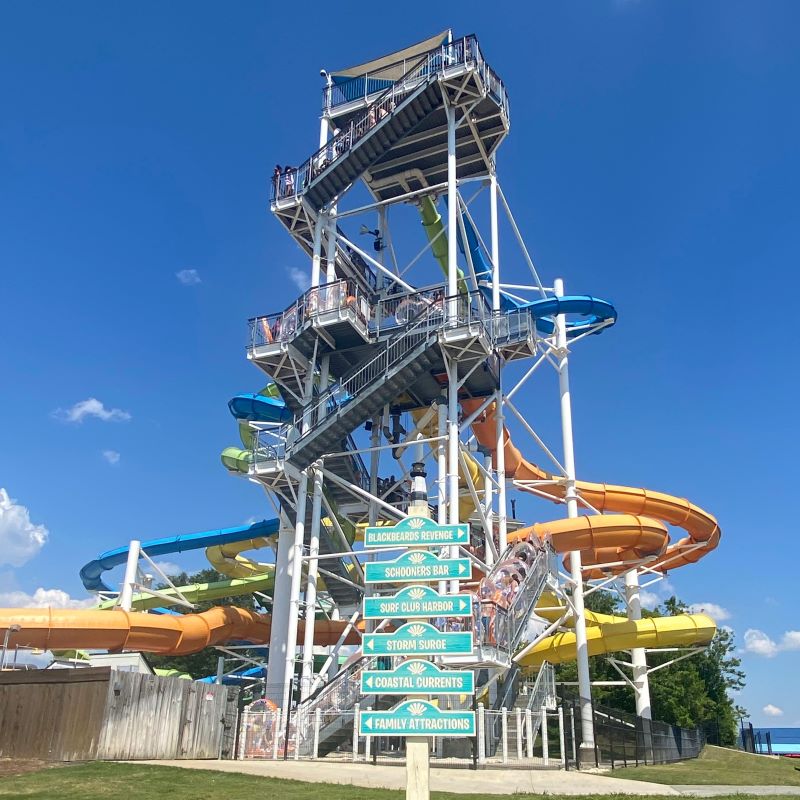 Doesn't that waterslide with those signs just look like you're at the beach?
Carolina Harbor Waterpark is open weekends starting Memorial Day weekend each year. In mid-June, once schools are out for summer, the Carowinds water park is open daily. Hours vary, and do not always match Carowinds hours.
Tips to plan your visit to Carolina Harbor Waterpark
These tips for visiting Carolina Harbor Waterpark come from Carowinds Annual Pass holders, the people who know this park well! Use these tips to plan your visit — they're as close to guaranteeing** a great day as I can get.
**I cannot guarantee a great day OR the weather, but I can help you plan!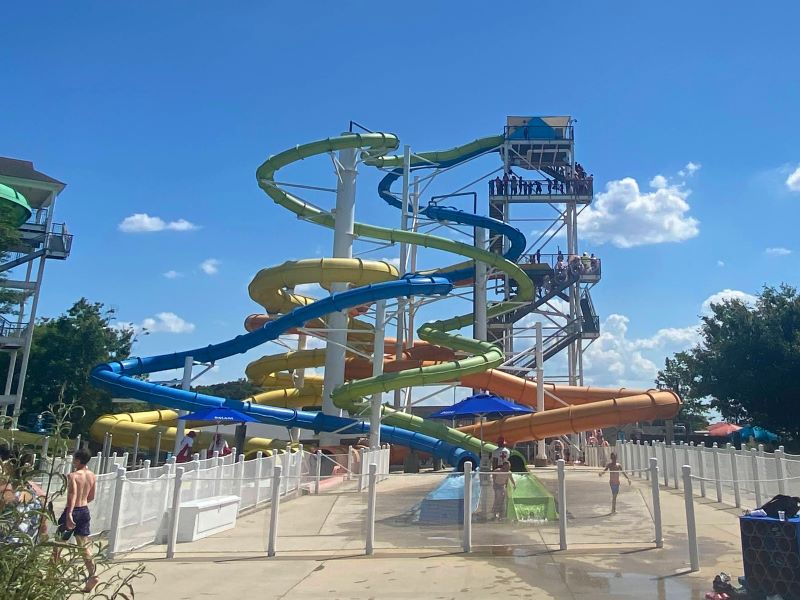 Here are our tips to plan your visit to the Carowinds waterpark, in no particular order.
ADMISSION to Carolina Harbor is included with your admission to Carowinds! There is no separate fee.
Carolina Harbor Waterpark hours are not the same as regular Carowinds park hours. In general, the waterpark is open daily during summer from 11 a.m. to 6 p.m.
Wear shoes! Carolina Harbor has concrete walkways, and they get hot during summer. Carowinds annual passholders recommend inexpensive flip flops (you have to take them off on the slides) or inexpensive, quick dry water shoes. The advantage of the water shoes is they can be worn on the tube slides and in the wave pools. You only have to take them off on the body slides.
You CANNOT have metal on your swimsuit. Some people get tripped up by metal rivets on the back pocket or where swimsuits have ties preventing them from using the attractions. These swim trunks are acceptable at Carolina Harbor — the tie has a buttonhole type opening, and there are no rivets on a back pocket. (NOTE: Style might change, and information is accurate at time of publishing. Double check before ordering.)
STAY HYDRATED! This might be the number one tip given! Many people have reported getting sick from dehydration because they didn't notice they were dehydrated until it got bad. Be sure to take many water breaks during the day.
Rent a cabana. Carolina Harbor has cabanas available for rent on a first come first served basis. Standard cabanas include a table with an umbrella and four chairs, two chaise loungers, a lockable storage box, mini-fridge with complimentary bottles of water, ceiling fan and satellite TV. You can rent it in advance online or through the Carowinds app. Besides the standard cabanas, there is a limited number of cabanas available near the Myrtle Turtle Beach area (for younger families). A limited number of premium cabanas with resort-style amenities is also available. If you're planning to spend the whole day at the water park, this can be a great way to simplify the day.
If you don't want to rent a cabana, there are lounge chairs throughout the park. You can rent a locker for your wallet and valuables. The cost varies based on size of the locker, but it's one price for the whole day. **The water park closes before Carowinds "dry rides" do, so be sure to get your things!
Avoid Saturdays if you can. The park gets very crowded on Saturdays, so if you can, go another day. Friday tends to be the second most crowded day.
Park near the water park if that's the reason you're going. The "south lot" or "Carolina Harbor Gate" is open when the water park is open. Parking here saves lots of walking if you plan to spend the whole day at the water park. But, if you plan to go to the regular park after the water park closes, you'll have a long walk to your car at the end of the day. (I hope that made sense! Here's a link to the park map — you'll see the waterpark parking area at the top left of the map.)
Get the dining plan! Whether you have a season pass or a buy a ticket for the day, our best budget tip is to buy a dining pass. With the daily pass, you can eat a meal every 90 minutes throughout the day. Many families buy a few dining passes to share among their group. Other drink and dining passes are available — and they all save money! Click here for current drink and dining deals at Carowinds. Select meals at both Sharky's and Harbor House are included with the dining plan.
Do I need a life jacket at Carowinds water park?
Carolina Harbor Waterpark hires hundreds of life guards each summer, and trains them to provide the safest water park experience they can. Follow lifeguard rules — for your safety and enjoyment!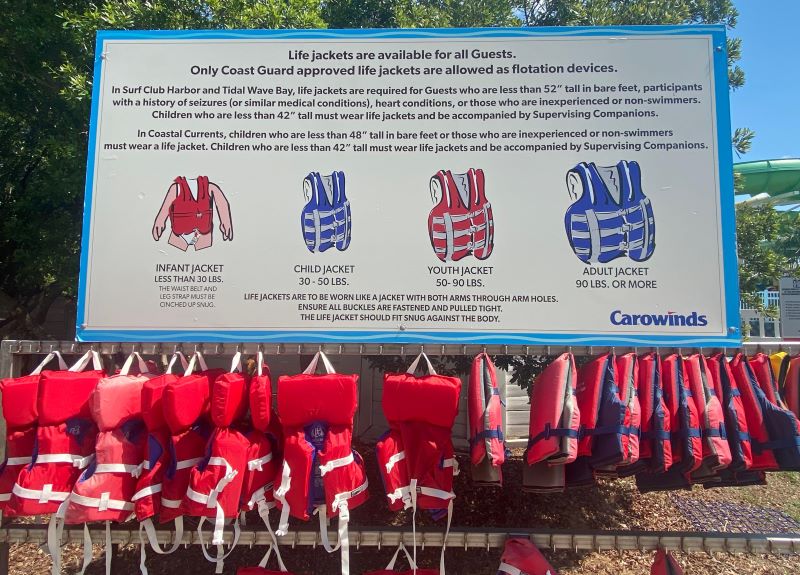 The Carowinds water park provides U.S. Coast Guard approved life jackets free of charge for all guests on a first come-first served basis. Guests may bring their own life jackets, but only U.S. Coast Guard approved life jackets can be used in the parks.
If you want to purchase your own, these are acceptable for Carowinds and Carolina Harbor:
More information (for the super planners!)
To learn about Carowinds Park (the dry rides part of the park), read our full review.
To learn about other Cedar Fair parks, included for platinum pass holders, read these reviews: