Belgian Waffles at the Green Tree Inn
In the tiny town of Elsah, Illinois, tucked between bluffs overlooking the Mississippi River, you will discover the world's best Belgian Waffles. Okay — maybe in Belgium you can find better Belgian Waffles, but for those of us not destined for Belgium in the near future, Elsah is the place!
The Green Tree Inn

The Green Tree Inn offers comfortable, spacious accommodations and — you guessed it — great breakfasts!
Ben and I had the pleasure of staying there for several days as we explored Alton and Grafton, Illinois. The Green Tree Inn is located in Elsah, midway between the two towns with a charm of its own. After a day of exploring monuments and history in Alton or adventuring in Grafton, the Green Tree Inn provides a comfortable stay to unwind.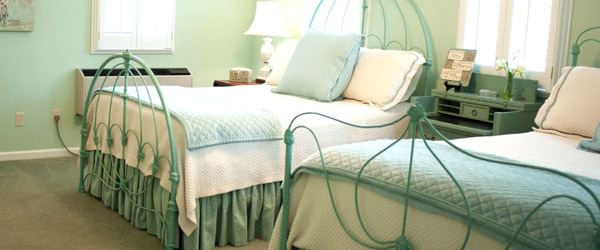 Our room, the Meadowlark, has two queen size beds and a private bathroom. The suite has windows on three sides, offering views of a creek just across the street, hummingbirds and the town's charming architecture. A large screen porch with table and chairs provide guests a relaxing spot to unwind after a long day of sight-seeing and hiking nearby. (Fun Fact: Michelle Pfeiffer stayed in this room when filming in the area!)
The Inn's proprietors have thought of everything. They provide not just cozy accommodations and  breakfast, but also afternoon cookies, bikes to explore the community, personal attention to guest needs and excellent communication prior to visiting. I've always enjoyed bed and breakfast stays, and this was one of the best!
Visiting the Green Tree Inn
In this quiet town, guests really can relax and recharge. We met several guests during the week, all who shared our appreciation for the food and accommodations. Some were return visitors — making plans to return again!
Rooms range from $135-$165/night plus tax, for up to two people. Additional guests in the same room are $30/night.
Seasonal specials are offered throughout the year. Check the website for details.
The town of Elsah will host a Holiday Open House, Saturday, December 5.  The people of the community open their homes, dressed in all their holiday finery and guests can enjoy horse drawn carriage rides. Rooms are still available for this special weekend.
Bald Eagles nest in the area in January, and the Green Tree Inn is a popular place to stay for easy access to view nesting sites. Book early (now) to ensure availability.
About Elsah
The town of Elsah was established in 1853 by James Semple, a local lawyer, prominent politician and United States Senator. A shrewd businessman, he offered free lots to anyone who built houses  of stone, using rock from his quarry of course. Settlers built about 50 homes here, dubbed the "town that time forgot." A history museum preserves the town's history and explains its architecture. Another home, whose first floor was once the local saloon, has been converted to a general store and gift shop. The whole place is quaint — seemingly untouched by modern life.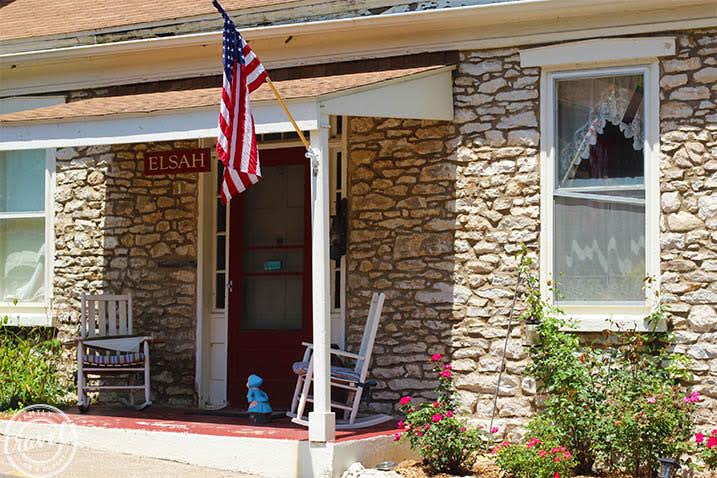 Speaking of modern life, they do have electricity! And running water! However, internet is hit or miss. My son got enough signal to be able to text. I did not. So, when visiting Elsah, come prepared to relax and unplug!
Now back to those waffles…
Every breakfast at the Green Tree Inn was wonderful. Each meal started with a cup of fresh fruit topped with yogurt, and coffee, juice and milk. The main dish changed from day to day, all good, but none can top the Belgian Waffles. Luckily, Connie is a friendly lady and shared her recipe (originally posted in Taste of Home), with permission to share with you!
Recipe: True Belgian Waffles 
Ingredients
2 cups all-purpose flour
3/4 cup of sugar
3 1/2 teaspoons baking powder
2 eggs, separated
1 1/2 cups of milk
1 cup butter, melted (the key ingredient, according to Connie)
1 teaspoon vanilla extract
fresh fruit or syrup for topping
Directions
In a large bowl, combine flour, sugar and baking powder.
In a medium bowl, lightly beat egg yolds. Add the milk, butter and vanilla; mix well.
Stir into the dry ingredients just until combined.
In another medium bowl, beat the egg whites until stiff peaks form; fold into the batter.
Bake in a preheated waffle iron according to manufacturer's directions until golden brown.
Serve with berries or syrup. Or both!
**Ben and I stayed free for purposes of this review. However, all opinions are my own. We thoroughly enjoyed our stay, except for the internet issue, and would tell you if we felt differently.**