Frank Lloyd Wright houses in PA and New York
It's been more than a year since I last traveled for this blog. When I got the invitation to return to Pennsylvania and see what's happening in travel in 2021, I was excited to be back to work.
Then, when I saw that the itinerary included tours of Frank Lloyd Wright houses in PA, including Fallingwater, and Wright's San Francisco office, I was thrilled!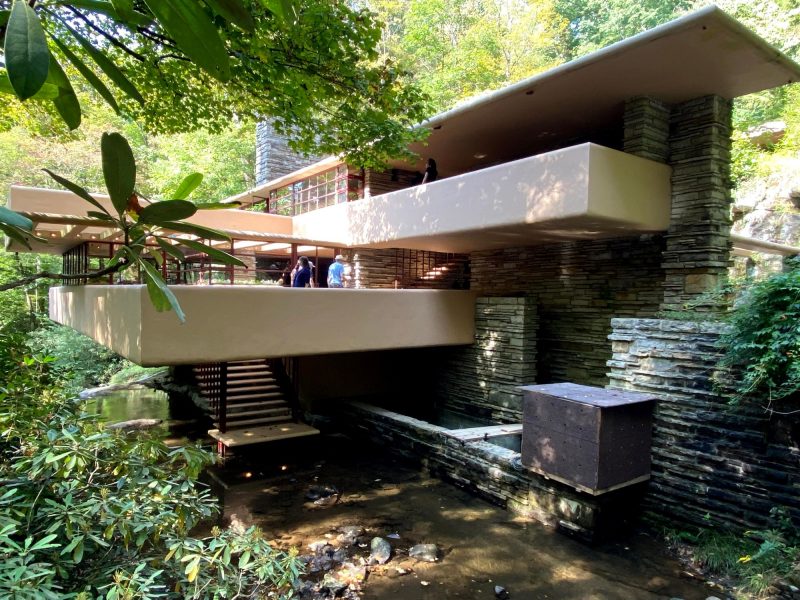 I have long been fascinated by Frank Lloyd Wright homes. It began with curiosity about Wright's unique approach to home design — organic architecture.
After visiting the Laurent House, a Frank Lloyd Wright house in Rockford, Illinois, I — like many — had to learn more.
My next Frank Lloyd Wright house in Illinois was the Muirhead Farmhouse, near Chicago. On that house tour, I really began to appreciate his ideals — his focus on private living space, both indoors and outdoors, while creating a sense of place through architectural details.
I discovered some things I really like about his design, such as lower ceilings to encourage people to sit and stay. At the same time, I found the concepts a little impractical. Narrow hallways and a reluctance to use right angles leads to homes where I just can't imagine are practical for everyday living.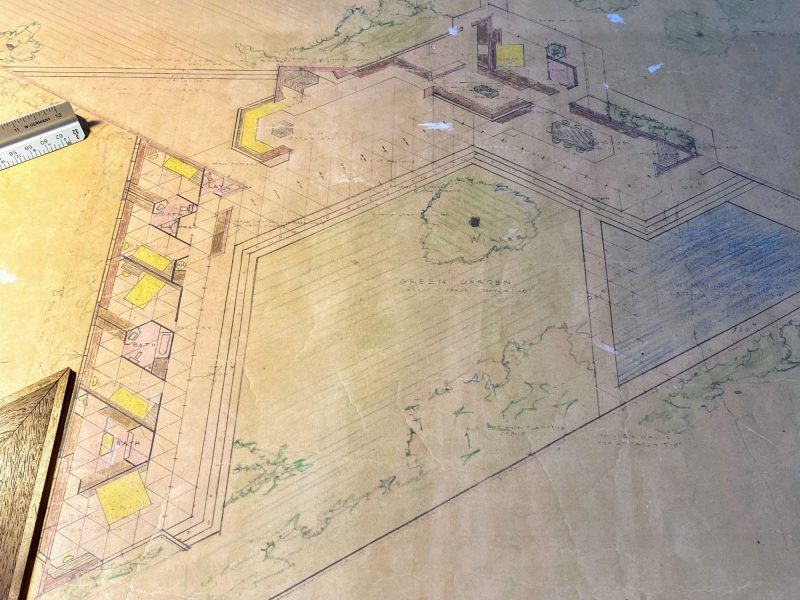 How in the world does a laundry basket get through a 19" wide doorway without someone smashing fingers on the door frame? And, how in the world does one use a 30 degree angle in a bedroom?
Needless to say, my curiosity has only grown. I can't decide whether I like Usonian design or if I find it — shall we say — arrogant?
On this trip to Pennsylvania, I got to see two more Frank Lloyd Wright homes, and his office — reconstructed and preserved board by board in Erie, PA.
Frank Lloyd Wright Houses in PA and New York
A group of Frank Lloyd Wright sites in Pennsylvania and New York recently launched a cohesive road trip to illustrate the arc of Wright's architectural career.
Nine FLW sites are participating, including:
Called the "Great Wright Road Trip," (clever, huh?), this tour recognizes 50 years of Frank Lloyd Wright's career, from his early Prairie style to Fallingwater and the Usonian style. For Wright fans or budding architects, this road trip is a delight in art, history and architecture set among some of the most beautiful landscapes in the country.
Justin Gunther, the Director of Fallingwater says, "This road trip will change the way you see the world, inspiring you to think differenlty about how you live with art and nature. As you travel between these architectural landmarks, which are regarded as some of Frank Lloyd Wright's greatest works, you'll… gain an appreciation for the beautiful landscapes that inspired his designs."
While the nine sites on the Great Wright Road Trip are located within an easy four-hour drive of each other, this trip can also be done one site at a time or in segments over time.
The Great Wright Road Trip Itinerary
There is no right or wrong way to explore Frank Lloyd Wright's homes. In fact, my journey was exactly backward of what I recommend here, and I thoroughly enjoyed it.
But, if you're taking the trip all at once, starting in Buffalo just makes sense! Read on…
Frank Lloyd Wright in Buffalo
Early in his career, Wright — frustrated by fussy house design — started the Prairie style movement. Inspired by the wide open spaces of the midwest, his Prairie style homes tended to be low profile with extensive windows and wide, open living spaces. Arts and Crafts style elements were included, but he preferred the use of more organic elements, like local stone.
Both the Martin House and Graycliff in Buffalo reflect his Prairie style. The Blue Sky Mausoleum, the Filling Station and the Fontana Rowing Boathouse were all designed by Wright but not built until much later under the supervision of his apprentices. They each reflect his passion for design inspired by the surrounding environment.
As you tour these sites in Buffalo, you'll learn the significance of Frank Lloyd Wright's friendship with the Martin family — early benefactors of his storied career.
Hagen History Center in Erie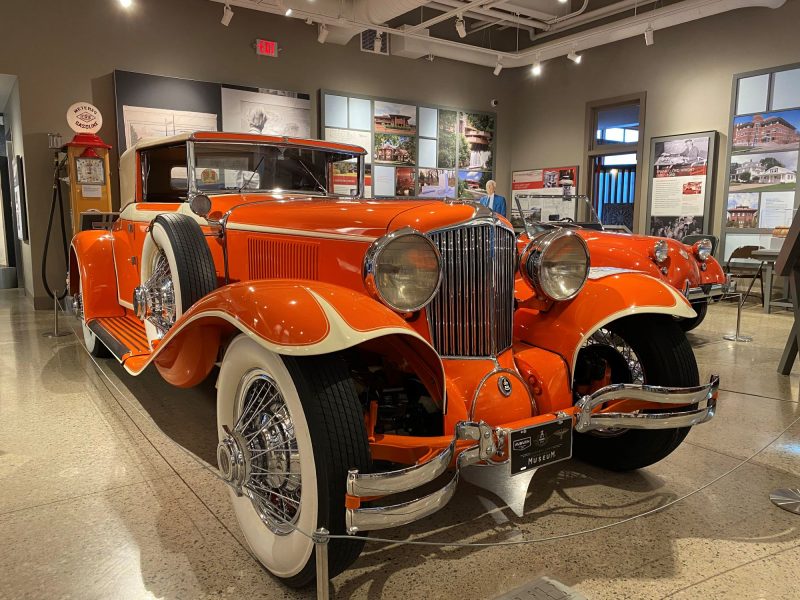 From Buffalo, drive west to Erie, Pennsylvania to visit the Hagen History Center, where Wright's San Francisco office now resides.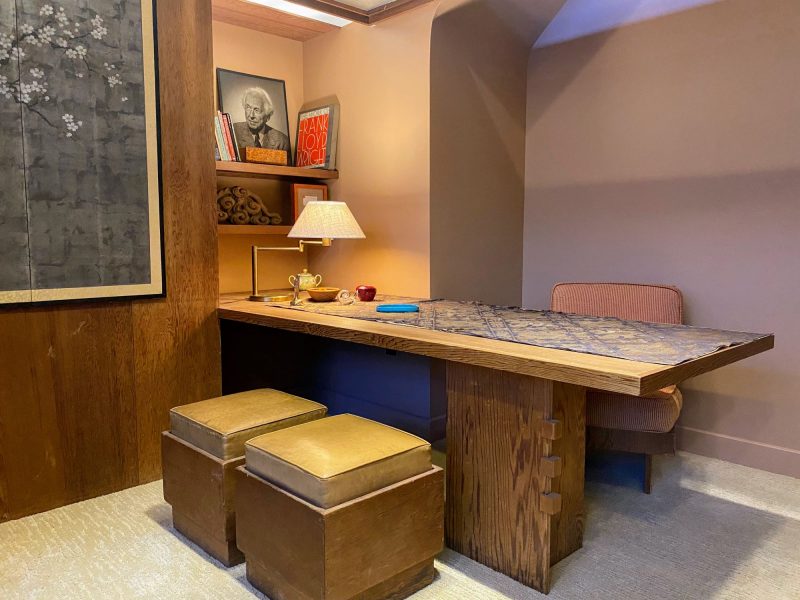 This permanent exhibit is actually his San Francisco office. It was carefully labelled and disassembled in San Francisco before making its way to its new, permanent home in Erie.
Walk through the office, see blueprints up close and step into Wright's personal office — ironically, shaped with 90 degree angles like a typical room. Spend the night in Erie before moving on to the Laurel Highlands.
Fallingwater and more in the Laurel Highlands
The Laurel Highlands, just south of Pittsburgh, is home to Fallingwater — probably the most famous of Wright's designs, and likely, what anchored his place in architectural history.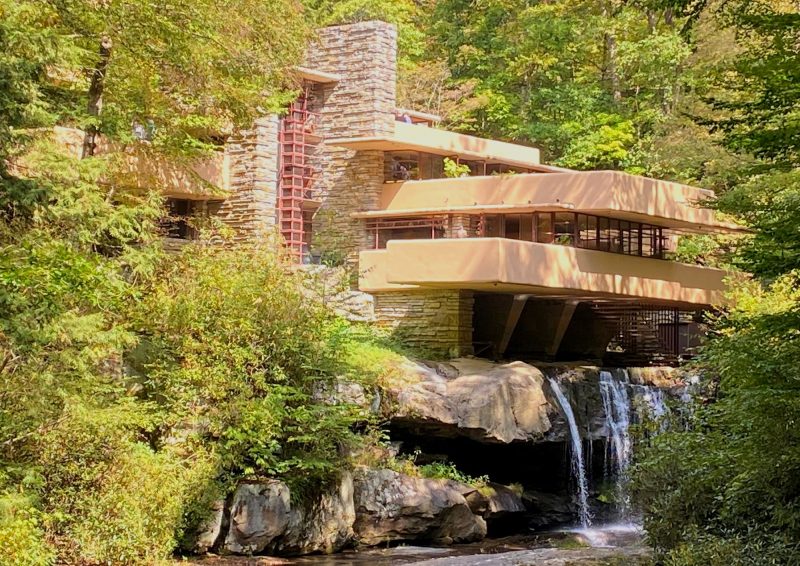 Tour the home and guest house, explore the many walking trails on the grounds, and take time for a scrumptious lunch enjoying this beautiful setting. No wonder the Kauffman family made this their retreat space to escape the noise of the city.
Also here is Kentuck Knob, a classic example of Wright's Usonian design. When visiting, be sure to notice the long wall along the north side of the master bedroom. Can you even imagine how cold that gets when snow builds up in winter?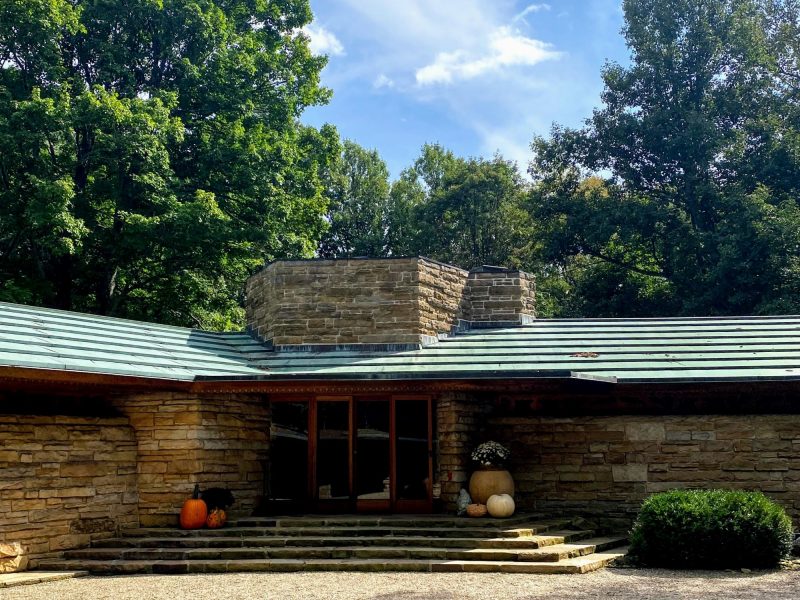 The grounds at Kentuck Knob are amazing, as well, and feature many of the current owner's sculptures. I was surprised to see a piece of the Berlin Wall among the collection.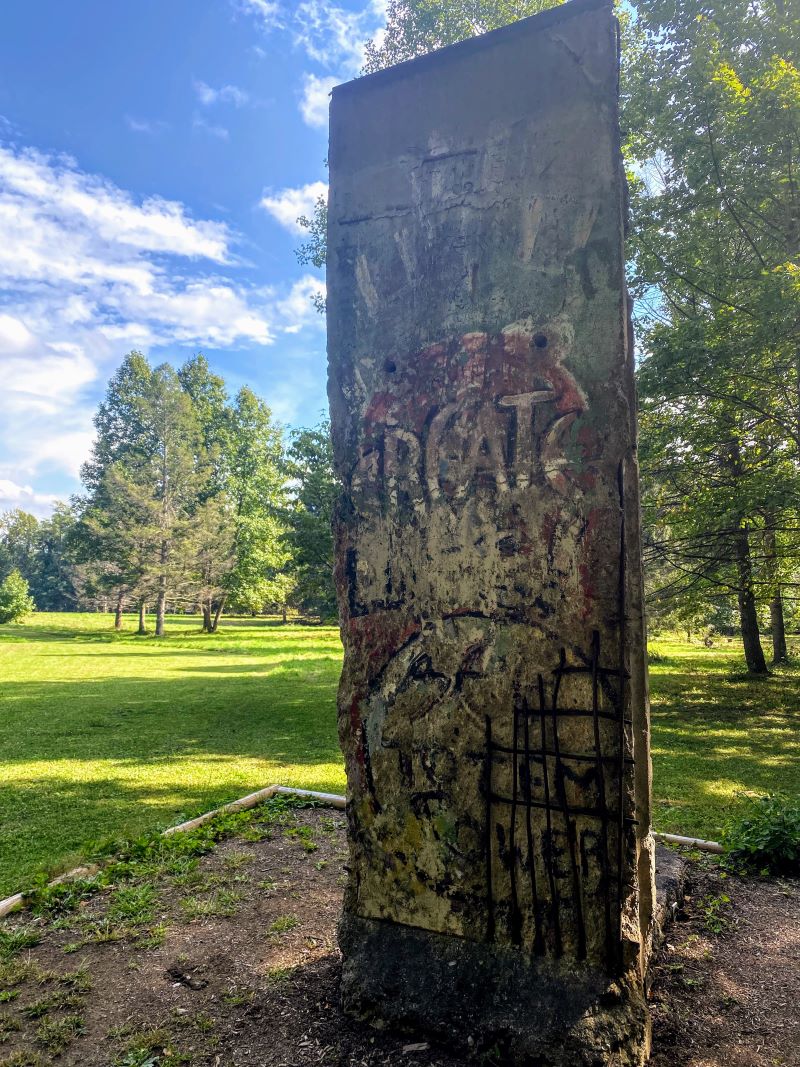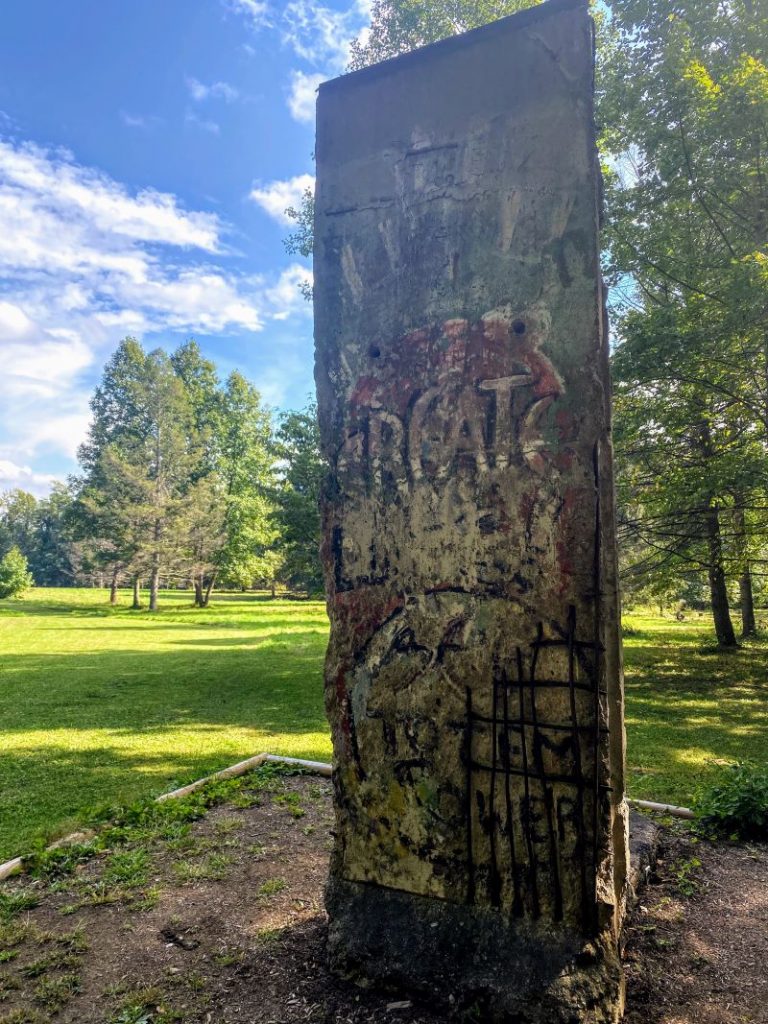 Touring each home takes 1-3 hours depending on how much you explore the grounds.
Spend a second day here to tour Polymath Park. Start with a leisurely lunch (or end with dinner) at Treetops Restaurant at Polymath Park.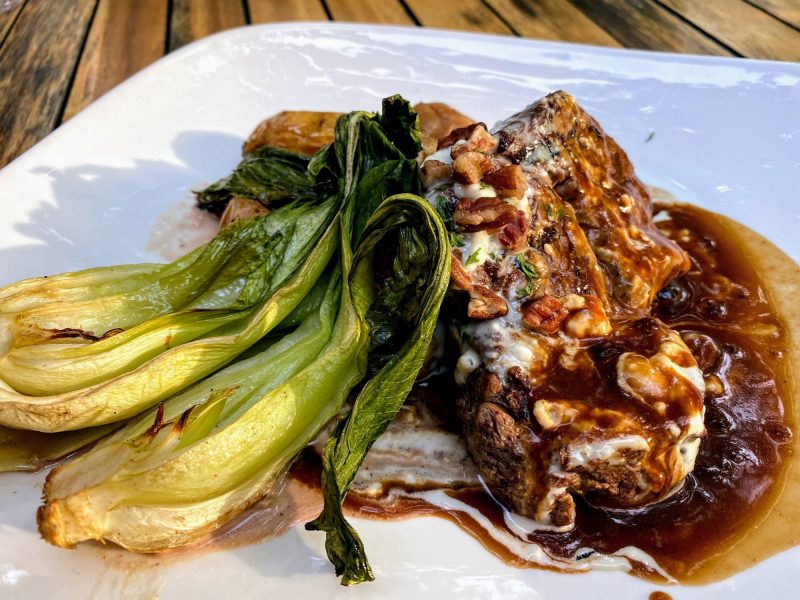 Then, enjoy tours of two more Wright homes as well as a tour of Wright apprentice, Peter Bernsten's, Balter House. Choose from a variety of tour options.
These Frank Lloyd Wright houses in PA offer a particularly complete look at Wright's career and influence on future architects. While touring, you'll also learn some of Wright's peculiarities. He was certainly a complex man!
I think you'll find the Great Wright Road Trip as interesting and informative as I did!
Money Saving Tips for your Frank Lloyd Wright Homes Tour
We love saving money on trips — that means more for food and shopping! Use these tips to save on your Great Wright Road Trip.
Save this post!
Save this post to your Frank Lloyd Wright, Road Trip Ideas, Architecture, Pennsylvania or New York travel boards.