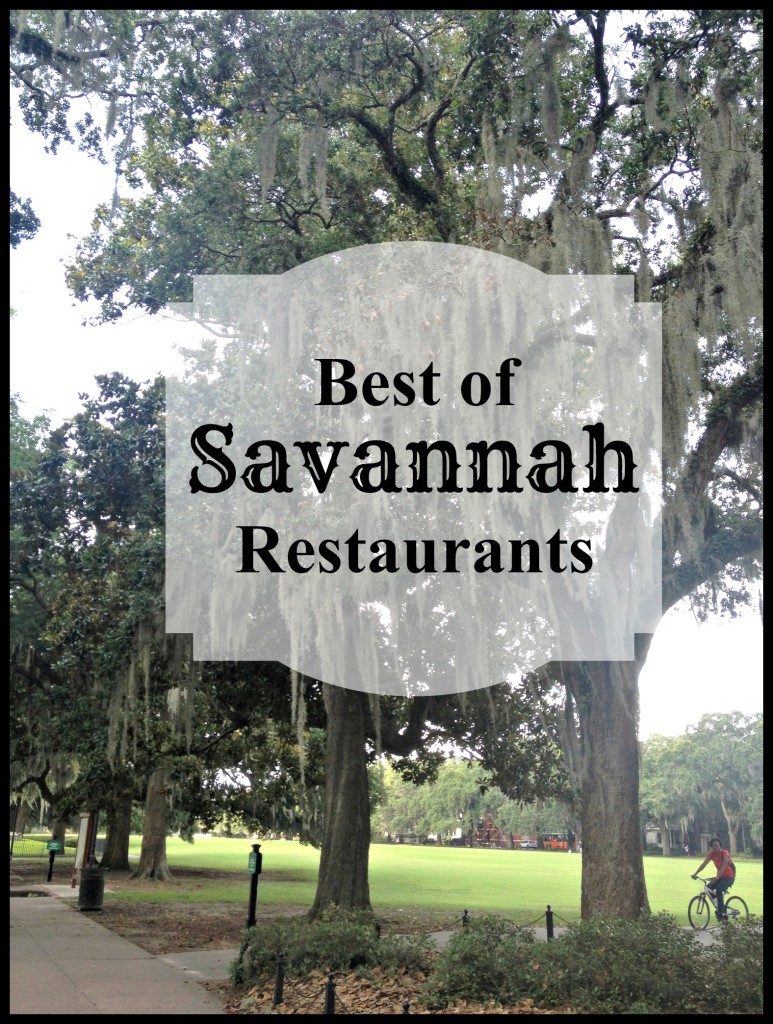 Updated April 2018!
Planning a visit to historic Savannah, Georgia, means you also have to decide which of the many top restaurants in Savannah should make your "must do" list!
When visiting the Savannah historic district, you'll see impressive architecture set amid centuries old live oak trees draped in Spanish moss. No doubt, you'll tour the city to see the famous squares of Savannah (small city parks) — planned from the start by Gen. James Olgethorpe way back in 1733. While you're there, you'll want to enjoy the many restaurants in historic Savannah.
Book the pet-friendly home of your dreams!
If you're looking for the best food in Savannah, GA, we compiled this list of the best places to eat in Savannah. This guide to the best restaurants in downtown Savannah, Georgia is arranged by meal for easy reference!
Best breakfast in Savannah

If you're not staying at a Savannah bed and breakfast, start your day with a tasty breakfast and good cup of coffee. Our pick for best breakfast is Goose Feathers Cafe!
The restaurant, located near Ellis Square, is open 7:00-3:00 p.m. weekdays and 8:00-3:00 p.m. weekends. The line regularly runs out the door — but don't let that intimidate you. The Goose Feathers staff has service down to a science, and the line moves quickly and efficiently. Even when this Savannah restaurant is full, by the time you place your order a table will be available. They know how to run a restaurant!
Goose Feathers Cafe serves delicious food to go with its great service. Breakfast is served all day, but don't ignore the terrific lunch menu. I'm not at all surprised that Goose Feathers Cafe has earned numerous awards for "best of" over the past few years, including Taste of the South's best bread pudding.
Goose Feathers Cafe at a glance:
Location: 39 Barnard Street (near Ellis Square)
Price: Under $10 (specialty coffee adds $3-4)
Service: Excellent
Cleanliness: Excellent
Food quality: Excellent (regular coffee is on the weaker end, not strong)
Runners up for best breakfast in Savannah
Le Café Gourmet, 53 Montgomery Street (near Franklin Square). Serving French dishes like crepes, quiche and croissants, this quaint eatery prepares everything from scratch, a tasty way to start the day.
Foxy Loxy Cafe, 1919 Bull Street (across the street from Thomas Square). Looking for a great cup of coffee and scratch made pastry in a fun atmosphere? This is the place!On Sundays, between 11 and 3, Foxy Loxy Cafe also serves a Sunday brunch not to be missed.
Henny Penny Art Space and Cafe, 1514 Bull Street (a few blocks from Forsyth Park). This family-friendly coffee shop is a partnership between Foxy Loxy Cafe and Scribble Art Studio. Enjoy fresh baked, made from scratch pastries, craft coffee and a creative craft space to enjoy with the kids. Open weekdays from 6:30 a.m. to 6 p.m. and weekends from 8 a.m. to 6 p.m.
Clary's Cafe, 404 Abercorn Street (between Calhoun Square and Lafayette Square). Serving traditional southern diner breakfast all day long, Clary's is a Savannah institution. Enjoy eggs Benedict, french toast, pancakes or omelettes indoors or out. Clary's is a pet friendly restaurant, so bring the dog, too.
Best Lunch in Savannah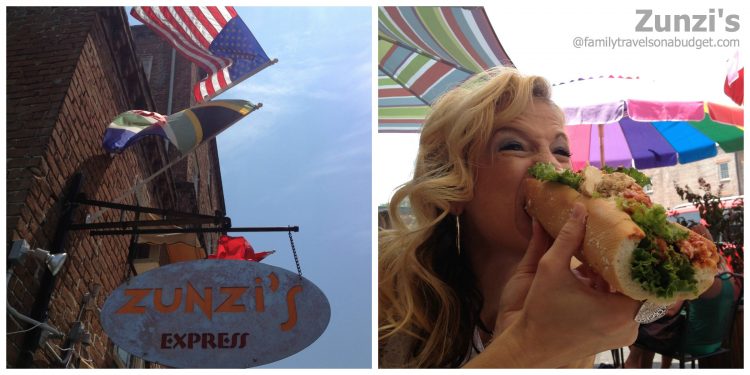 Hands down, the best lunch in Savannah is served at Zunzi's! Again, expect lines out the door… but it's not because of the restaurant's fame since appearing on the Travel Channel. Zunzi's serves fantastic food, though it's unassuming exterior might make you wonder.
Sandwiches here are influenced by the owners' backgrounds: Swiss, Italian, South African and Dutch. Sandwiches are like nothing I've ever tasted before. I had "The Godfather," an enormous sandwich stuffed with South African sausage and a tender, perfectly seasoned chopped chicken breast. The whole thing was drizzled in two of Zunzi's sauces and well… I ate till I could eat no more.
Two tips:
Zunzi's is carryout only. There are a few picnic tables next to the building, but I recommend you get lunch and take it across the street to Oglethorpe Square to enjoy the scenery — and the food!
For smaller appetites, consider sharing — at least with The Godfather! Of all the Savannah restaurants I've ever been — or even in the world beyond — Zunzi's offers a unique and tasty experience!
Zunzi's at a glance:
Location: 108 E. York Street (west of Oglethorpe Square). No indoor dining. Picnic tables available.
Price: Around $10. Sandwiches are huge! Consider sharing.
Service: Excellent
Cleanliness: Excellent
Food quality: Excellent
Runners up for best lunch in Savannah
The Public Kitchen & Bar, 1W. Liberty Steet (near Madison Square). Serving farm-to-table dishes in a casual atmosphere, the Public Restaurant and Bar is a great spot for families who want a quality meal where everyone is welcome. Read about one blogger's experience here.
Mrs. Wilkes' Dining Room, 107 W. Jones Street (Located between Pulaski Square, Chatham Square, Monterey Square and Madison Square). A local legend, this restaurant serves lunch — and only lunch — from 11 a.m. to 2 p.m. Monday-Friday. This restaurant serves food family style. You'll be seated at tables of 10 with some soon-to-be friends! Enjoy the experience and the quality, home-cooked southern cuisine. Mrs. Wilkes does not take reservations, so get there early and line up. You won't regret it! Don't believe me? Read the review below (right photo): "Have eaten here since 1968 always the best!"

Sandfly BBQ at the Streamliner, 1220 Barnard Street (near Forsyth Park). What's a visit to the south without southern style BBQ? The team here has combined Memphis-style sweet barbecue with a mustard-based Savannah sauce and spicy vinegar sauce from North Carolina. Southern style sides, cooked the way Grandma use to do it, round out this fabulous menu.
Green Truck Neighborhood Pub, 2430 Habersham Street (near Midtown, outside the historic district) has won "Best of Savannah awards for 7 straight years. So, if you're looking for a flavorful burger, served with house made pimiento cheese and house made ketchup, this is the place to dine! An insider's tip: Save room for dessert!
Best dinner in Savannah
With so many good restaurants in Savannah, GA, it wasn't easy to come up with a "best of" restaurants: Downtown Savannah. But, I have to say I really enjoy the tasty reserach. One thing I can confidently say is skip the chain restaurants! They might be good, but they aren't "special." Choose a locally owned restaurant and enjoy something you can only get in Savannah!
Now, for the best dinner in Savannah: The Pirates' House! The restaurant wasn't on my original list of places to eat, but it came so highly recommended by locals and regular tourists alike, I just couldn't skip it. And I'm so glad I listened to their recommendations!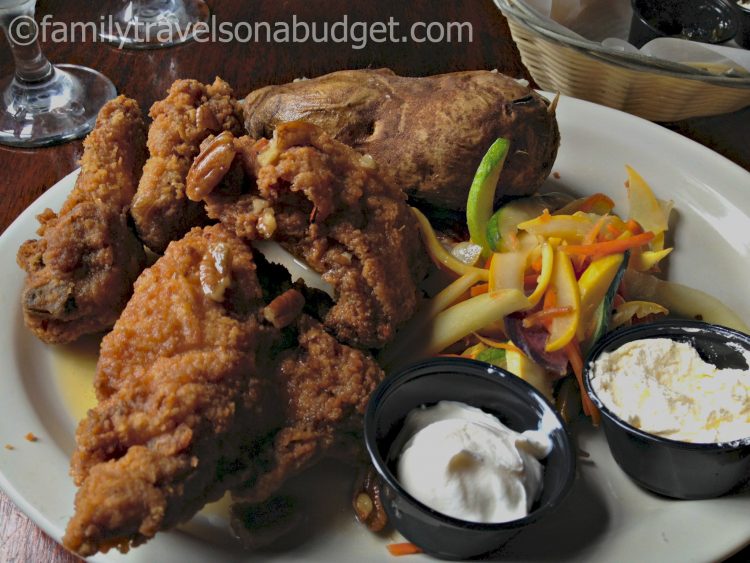 Honestly, the Pirates' House Award Winning Pecan Fried Chicken, served with baked potato and vegetables, is one of the best meals I've ever eaten. They serve half a chicken — yes, four pieces — and I ate it all! I left most of my potato and veggies behind, but when chicken tastes this good… well, you just have to eat it! Did I mention the chicken is delicious? I mean… Best. Fried. Chicken. Ever! (And I live in the south!!!)
Not only that, the atmosphere is incredible. The Pirates' House got its start as an inn serving those who came to the area through the Port of Savannah. By 1753, it became a hot spot for pirates and sailors from around the world. Today, the restaurant, comprised of 15 separate, historical dining rooms, serves great southern food in carefully preserved rooms. Guests are invited to stroll through the restaurant and enjoy the full experience! Be sure to visit the "Herb House," which is the oldest building in Georgia, built in 1734.
The Pirates' House at a glance:
Location: 20 East Broad Street (near Washington Square).
Price: $20-30 for most dinners.
Service: Excellent
Cleanliness: Very Good. The restaurant is so dark, I don't know that you'd know if it wasn't clean.
Food quality: Excellent.
Special NOTE: Make reservations ahead of time or prepare to wait more than an hour.
Budget stretching tip: Get special savings at The Pirate's House with the Savannah ePass — buy one meal, get one of equal or lesser value for half price. (Save at other restaurants, too.)
Runners up for best dinner in Savannah
Rocks on the River, at the Bohemian Hotel Savannah Riverfront, 102 W. Bay Street. Come for the views, but stay for the food. Serving tapas, pizza, and a full dinner menu, you'll enjoy every tasty bite. Of course, the rooftop views of the river are pretty good, too!
The Sisters of the New South, 2605 Skidaway Road (located outside the historic district). For truly southern flavor at a reasonable price, head to the east end for dinner. Whether it's fried baked chicken, oxtails or fish, you'll find real southern cuisine here — and it's budget friendly too.
B. Matthews Eatery, 325 E. Bay Street (by Emmet Park near the river). With a special "Share & Pair" menu and a rustic-meets-glam decor, this is my pick for best date night dinner in Savannah. Enjoy dinner and follow it up with a stroll along the waterfront for a night you'll always remember.
Flying Monk Noodle Bar, 5 W. Broughton Street (near Wright Square and Johnson Square). An Asian restaurant might not be what you'd add to your list of Savannah places to eat, but great food — no matter the cuisine — should be included on any "Best Restaurants in Savannah" list. The noodles are made in house, by hand, every day. The menu pulls from the best dishes across Asia. For something different, try the noodle bar.
Best Cheap Eats in Savannah
Sightseeing in historic Savannah can leave little time for a long, sit-down meal. Where do you go for a quick bite meal or late night snack? Don't worry! We've got that list covered too!
There are lots of great places to get a snack in Savannah and it's hard to choose just one. Consider any of the candy shoppes (more on that in another post). Goose Feathers and Rocks on the Roof are great places to grab a quick bite, too. But, the best snack in Savannah?
After much debate with friends who know the city well, we agree that the best snack in the city is offered at Leopold's Ice Cream, which has served the city since 1919. A traditional ice cream shop, Leopold's also offers sandwiches for an affordable, quick meal or big snack.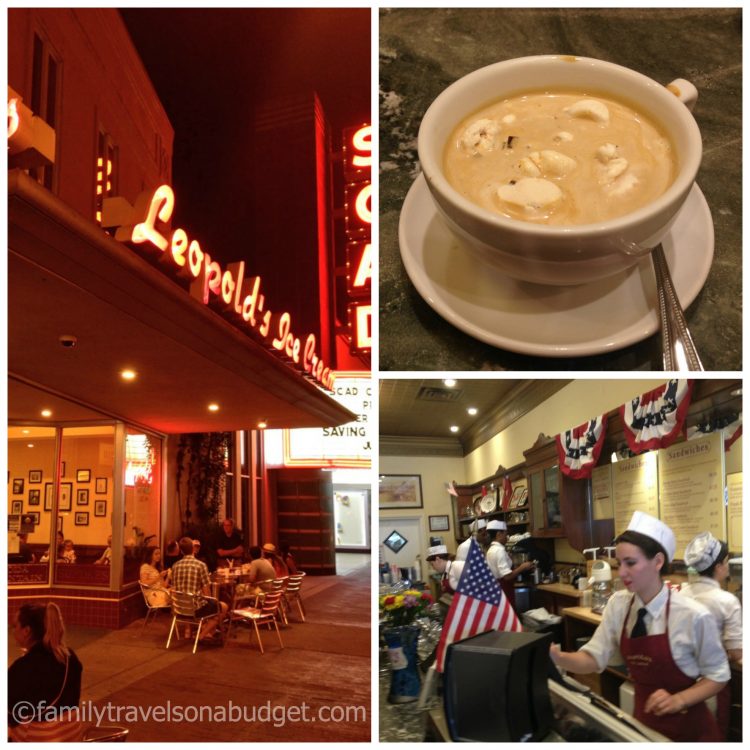 My favorite? The Caffé Leopold, a scoop of ice cream with a shot of espresso (can be decaf) poured over the top. Trust me, coffee lovers, this is one terrific snack (which you night know as an affogato). If you don't like coffee, they also offer it with hot chocolate.
Leopold's Ice Cream:
Location: 212 E. Broughton Street (by SCAD).
Price: Inexpensive!
Service: Excellent — again, long lines, but they move quickly.
Cleanliness: Very Good.
Food quality: Excellent.
Open 11 a.m. to 11 p.m. weeknights, and midnight on weekends.
Runners up for best cheap eats in Savannah
Fire Street Food, 13 E. Perry Street (by Chippewa Square). Fresh, local, street food in a fun environment, what more could you want? Serving sushi rolls, sandwiches, noodles and salads, this is a great place for a quick bite. They also serve wine, sake, beer and bubble tea.
Soda Pop Shoppe, 114 Bull Street (by Wright Square). This throwback counter service restaurant, with its retro decor, serves sandwiches, hot dogs and ice cream treats all day long (though they close at 6:00 p.m.) It's a great spot for a relaxed meal with the kids or to grab a quick snack before taking a historic Savannah ghost tour.
VinnieVanGoGo's, 317 W. Bryan Street (near Franklin Square). This cash only pizza shop prides itself on house made pizza crust and fresh ingredients. For cheap eats, it's hard to beat pizza — especially one made with such attention to flavor.
I hope this list has made it easier for you to decide where to eat in Savannah, GA!
If you've got a favorite spot in Savannah, let us know about it! Leave a comment below giving your favorite restaurant in this historic southern city a shoutout.
For more ideas in Savannah