Best hotels in Culpeper, VA
When traveling to historic — and chic — Culpeper, there are lots of great hotels in Culpeper, VA to consider!
The city of Culpeper is compact. No matter which hotels in Culpeper, VA that you choose, it's easy to get where you want to go.
But, some accommodations and hotels in Culpeper, VA offer unique experiences you won't find at chain hotels.
In this post, we cover both regular hotels in Culpeper and unique accommodations in Culpeper to help you plan the perfect getaway!
Traditional hotels near Culpeper, VA
The traditional hotel chains are not located in the historic Culpeper, VA city center, but they're just a few minutes away.
When you choose a chain hotel in Culpeper, VA, you get brand consistency and the related hotel perks each chain offers. The chain hotels are a few miles southeast of Culpeper near Madison Road or Orange Road along US Route 29.
Use this map to easily browse and book your preferred hotel in Culpeper. After the map, there's a brief description of each hotel for your convenience.
Holiday Inn Express & Suites includes free parking, free WiFi, free breakfast and an indoor pool. Dogs are welcome with a pet fee of $30 per night. The hotel gets very high ratings for its cleanliness, friendly staff and excellent breakfast.
Microtel Inn & Suites by Wyndham includes free parking, free WiFi, free breakfast and an outdoor picnic area. The hotel was last renovated in 2018. Guests like the clean rooms and consider it a best value hotel for the area.
Quality Inn Culpeper includes free parking, free WiFi and free breakfast. This budget hotel also includes refrigerators and microwaves in each room for guest convenience. Guests state that the hotel is clean and is a bargain price but some areas need updating.
Best Western Culpeper Inn includes free parking, free WiFi, free continental breakfast, seasonal outdoor pool. Pets welcome for a $25 fee. Guests like the clean rooms, friendly staff and convenient location only 5 minutes from downtown Culpeper.
Hampton Inn & Suites Culpeper includes free parking, free WiFi, free hot breakfast, in room refrigerators and microwaves, and an indoor pool. Pets are welcome for a $50 fee per stay. Guests like the clean facility, both public spaces and rooms, and the friendly, helpful staff.
Boutique hotels in Culpeper, VA
If you want to stay downtown, boutique hotels offer unique accommodations for a memorable stay.
When I visited Culpeper, I stayed downtown at one of the boutique hotels and absolutely LOVED being able to walk to shops, restaurants and attractions. I didn't need my car for anything downtown!
Suites at 249, 249 E. Davis Street, Culpeper
The Suites at 249 is a boutique hotel in a great location in heart of Culpeper.
The Amtrak station is 100 yards away making this the place to stay if coming in by train from Washington, DC. There's also plenty of public parking nearby if driving, and the hotel provides detailed instructions about where to park.
Downtown Culpeper shopping, attractions and delightful restaurants are within walking distance of the hotel.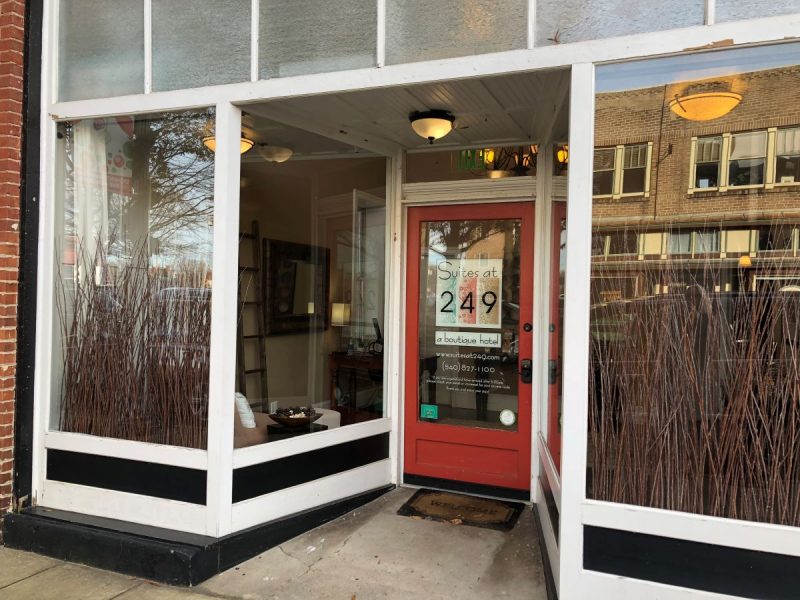 Each of the rooms is uniquely decorated and offers high end bathrooms with fabulous amenities like steam showers and bathrobes.
Some rooms have balconies that overlook a small park and the Amtrak station, but they are not noisy.
For a truly memorable experience, choose the Suites at 249. You won't regret it.
For a memorable experience, consider Culpeper Center Suites with a decor inspired by The Great Gatsby. This boutique hotel is in the heart of downtown Culpeper.
There's elevator access to the hotel suites and free parking nearby.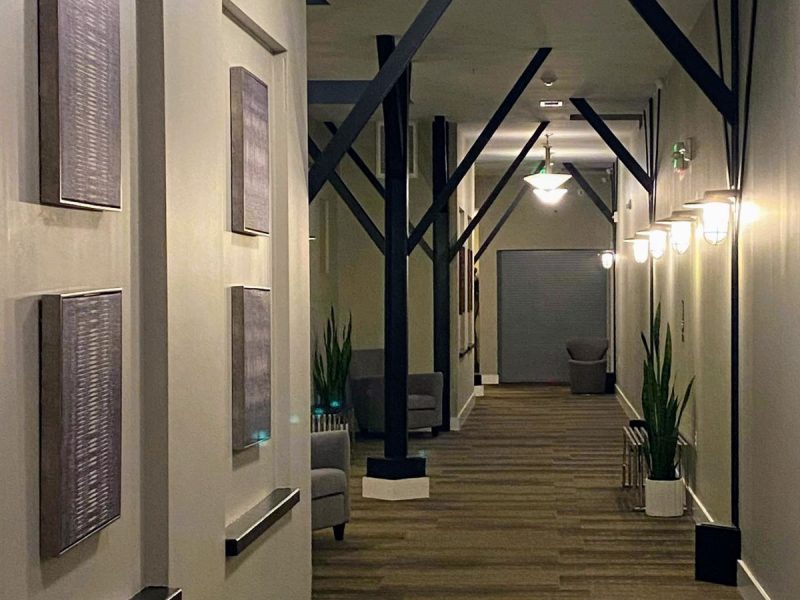 Rooms here are spacious, with luxury toiletries and striking design. Some suites have kitchenettes. All suites offer fitness center access.
Botanical Oasis, 404 South Main Street (Back Unit), Culpeper
For a spacious, comfortable stay with free parking and free WiFi, consider renting the entire two bedroom house at Botanical Oasis.
Meticulously restored and decorated with comfortable, welcoming furniture in warm colors, Botanical Oasis is your home away from home. The home has a full kitchen, living room, dining room and two bedrooms each with a king bed.
For just a few dollars more than a traditional hotel room, enjoy the whole house in the heart of downtown Culpeper.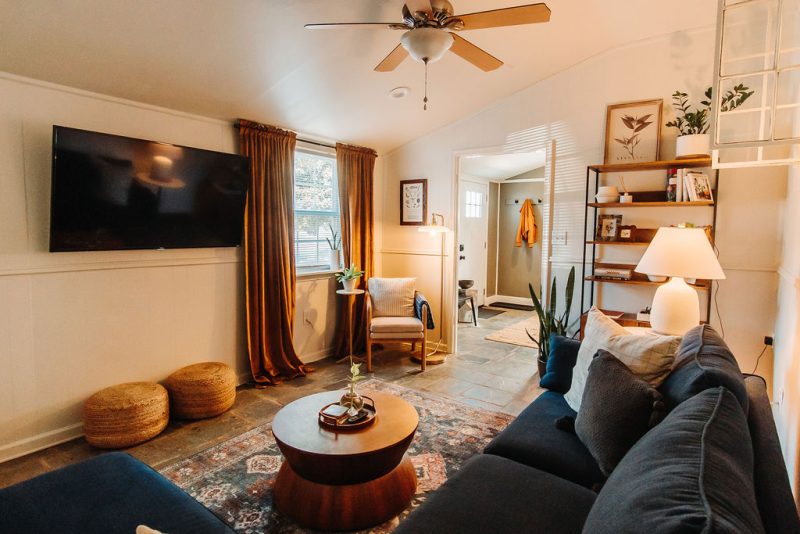 East Stevens Home, 121 East Stevens Street, Culpeper
This cozy, two bedroom home, known as the East Stevens Home, sits just off Main Street. It has a warm, casual decor with a well-appointed kitchen, covered front porch, and a private back deck with patio and garden area.
This two bedroom home is great for families, offering a king room and a second bedroom with two twin beds.
For location, great amenities, space and charm, this is a great bargain in Culpeper.
Historic Culpeper is a charming town with some of the friendliest people you'll ever meet. The hotels near US 29 offer great convenience to explore beyond the city. Some hotels near Culpeper, VA have pools and playgrounds great for traveling families. If you choose a hotel in Culpeper, VA you can expect a unique property with great amenities and the freedom to leave the car and explore this adorable town on foot.
Here are some more resources to plan your visit to Culpeper, VA: