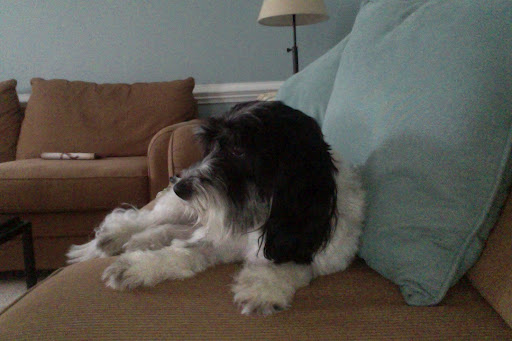 Daisy, world's most expensive mutt! And worth it!
Earlier this summer, we left our dog, Daisy, home from vacation. She's a great companion, but some vacations aren't pet-friendly. Two days before travel, she threw up a few times and had lost her spunk. We took her to the vet, who diagnosed her illness as a doggie virus and provided some anti-nausea medicine.

The vet was wrong — though only because the tell-tale symptoms had not yet developed. Daisy actually had HGE: hemorrhagic gastroenteritis, a severe illness in dogs that sometimes leads to death. Fortunately for Daisy, her pet sitter immediately contacted the vet (thanks to the anti-nausea medication that had our vet's information) and sought
treatment. Not only that, he spent the weekend feeding her baby food rice and chicken. He sure went above and beyond to nurse her back to good health. By the time we got home, she was almost back to her spunky, fun-loving self! Following up with the vet when we returned, she said our friend's quick action saved Daisy's life.

Until this incident, I never considered creating a dog care guide before travel. While I adore my dog, I figured all a pet sitter needs is food bowl, leash, treats, food and toys. She's a dog, after all, not a little person. Now I realize that Daisy's medical information is important too. When we leave her, we include the vet's business card and specific care expectations with everything else. I sure hope she doesn't get sick again, but if she does, now her dog care guide provides her pet sitter with the proper information to help her.
Dog Care Guide:
Food and feeding instructions (amount of food, when to feed)
Treats
Favorite toys
Bed or blanket
Water bowl and food bowl
Leash
Collar, including rabies vaccination tag (in the unlikely event that your dog is involved in a biting incident)
Vet info! Our vet allowed Daisy's pet sitter to take her for treatment and saved the billing for us. If your vet requires payment at the time of service, discuss how this will be provided with your dog's pet sitter.
Tell your pet sitter how much you are willing to spend to save your dog. Some illnesses and injuries are quite expensive to treat. Daisy's HGE treatment cost more than $500. (YIKES)
Our pet sitter didn't hesitate to seek treatment, perhaps because he knew she had been sick the day before. Had he hesitated, even long enough to contact us and get permission to take her for treatment, she might have died. (He tried, by the way, but we didn't have sufficient cell signal to get the call). I'm glad he acted on instinct, though I feel bad that we didn't provide a dog care guide up front. He spent the weekend wondering if we would approve of his decision. Going forward, we know what to do and will always provide a dog care guide to our pet sitters!
Like this post? Please share!