The BEST tips for long road trips!
This post may contain affiliate links. Click here to see what that means.
Heading out on a long road trip with the family? Not sure you're quite ready for the whole thing? Then you've come to the right place! We have the BEST tips for long road trips with the family — so you can enjoy the ride (almost) as much as your vacation destination!
Use these tips for long road trips to make getting there (almost) as much fun as your final vacation destination!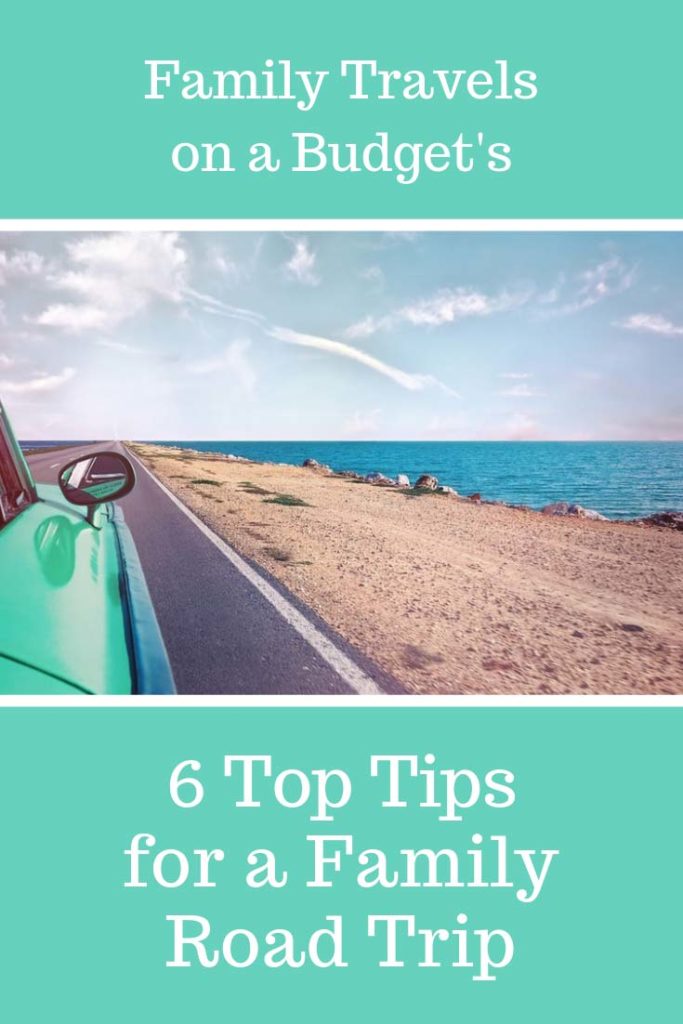 1. Pick the best route for your road trip
Our first tip for long road trips starts with the planning — pick the route that will work best for you!
One thing we do on long road trips is plan strategic stops to break up the drive. This is good for the driver, because they get a chance to stretch and unwind. It's also good for the kids — and everyone — to take a break from the cramped car space.
READ IT: Why HWY 301 is better than I-95 on long road trips
Look for roadside attractions to explore for quick breaks. They're usually fun and quirky, and don't take up much time — just enough to stretch the muscles and take a brain break!
You can also look for local parks to take a break along your route. City parks have picnic areas, restrooms and playgrounds — kids can use their pent-up energy while the driver gets a break. Use a park break for a picnic lunch and everyone's mood will improve!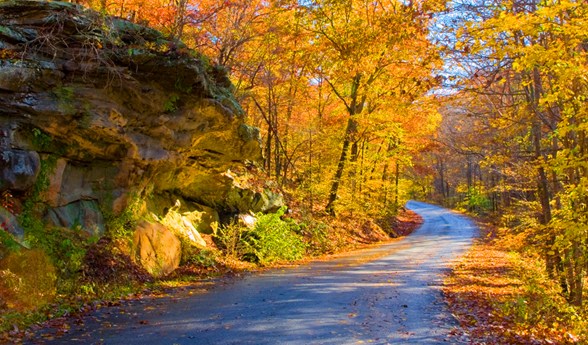 2. Pack wisely for your long road trip
Once you've picked the perfect route, it's time for some more careful planning, particularly when it comes to packing.
So this tip for long road trips uses common sense. It's tempting to think "I might need that" and "let's throw in everything but the kitchen sink." But, if you get a flat tire (EEK), the less you have to unload, the easier it is to change that tire. (Family Travels on a Budget Reality Tip)
And, the less you pack, the less you have to lug into the hotel. You get the idea!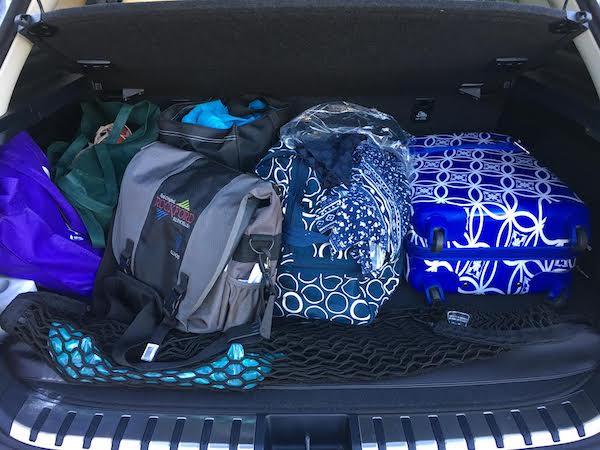 So, pack smart for long road trips with these tips:
Use packing cubes to organize clothes! We use the Well Traveled Compression Packing Bags to pack clothes for vacation — they actually compress clothes to about half the size and include labels to make packing (and unpacking) easy. Pack all the swimsuits in one bag, labeled swimsuits! You get the idea!
As kids get older (kindergarten with supervision), have them pack their own car bag — one per kid so that there's not too much. They can clean up the car as you get close to your destination and pack their stuff up. OR, for younger kids, use a behind the seat organizer to keep track of toys, stuffed animals, blankets, etc.
Remember a First Aid Kit for minor emergencies like skinned knees and bug bites. We like this first aid kit because it has a carabiner to attach it to the back of a seat headrest so it's easy to find when you need it.
Remember snacks! We like to buy chips and drinks in individual packs for easy clean up! We also plan one picnic meal on all-day road trips to "encourage" ourselves to take a break at the park or a rest area. We prefer parks, though.
3. Prepare for emergencies
No one likes to think of the worst case scenario, but disasters can strike at any time. Having emergency information in one place makes handling them on long road trips a little easier.
So this tip for long road trips is a road trip safety tip for all lengths of travel! Make sure you are prepared for all kinds of emergencies and have a plan of action for each.
What is your plan if you break down — do you have roadside assistance?

If so, program that number in your phone.

What

are your car insurance phone numbers if you have an accident? Today's travelers have digital car insurance cards, so make sure yours is in your phone's wallet or on the app.

What's your health insurance coverage if you are traveling out of state? Make sure you have your insurance cards with you.
Prepare ahead for emergencies in case they happen on your long road trip vacation so that the emergency can be handled with just a little less stress!
4. See the sites along the way
We talked about how important it is to take breaks on a long road trip so that the driver isn't too tired and the kids can use those muscles.
But there's another way to plan a long road trip. Instead of driving through to a destination, consider making the road trip part of the vacation. Stop for a day along the way and spend the night.
For example — if you're driving down the east coast to Florida, stop overnight in Savannah and enjoy a day there. Have a great dinner at one of Savannah's casual restaurants, then spend the next morning exploring one of the many family friendly sites in Savannah before you finish your road trip.
Travel Inspiration: Great Ohio Road Trip: Cincinnati, Columbus Cleveland!
5. Make a road trip playlist!
We make a play list for just about every trip we go on — and everyone contributes! (When it comes to tips for long road trips — let everyone have some say and they won't feel left out.)
A couple years ago, we took a Disney road trip, and our playlist included lots of Disney songs. We had fun singing along, and it helped us get psyched up for our vacation.
This year, we took a cruise and our playlist had lots of Caribbean beach themed music. It's hard to sing "Under the Boardwalk" and stay grumpy about gridlock!
When our kids were younger, we listened to "books on tape." Today, apps like Libby and audible make listening to books a lot easier, and the kids are still excited to get back to the car so they can listen to what happens next!
For more ideas, read: How to survive "Are we there yet?"
6. Take time to talk!
So…. you're stuck in a car together for 6-8 hours (or more). This is the perfect time to talk with your captive audience!
Our kids have asked all sorts of questions — like "how did you research for school papers before computers?" and "Did Grandma have blue eyes like Daddy?"
Long road trips are actually great for conversations.
If you're not sure how to get started with car questions, we recommend Basecamp Kids cards! These play cards work as a regular deck of cards (good for the hotel room), and each one is printed with a conversation starter question. We use the cards to get things going, but the conversation usually takes off after just a couple primer questions.
Taking FIDO? Get the checklist for travel with pets
And there you go! We hope these tips for long road trips will make your journey even better!