Pro Football Hall of Fame in Canton, OH
This post may contain affiliate links. Click here to see what that means.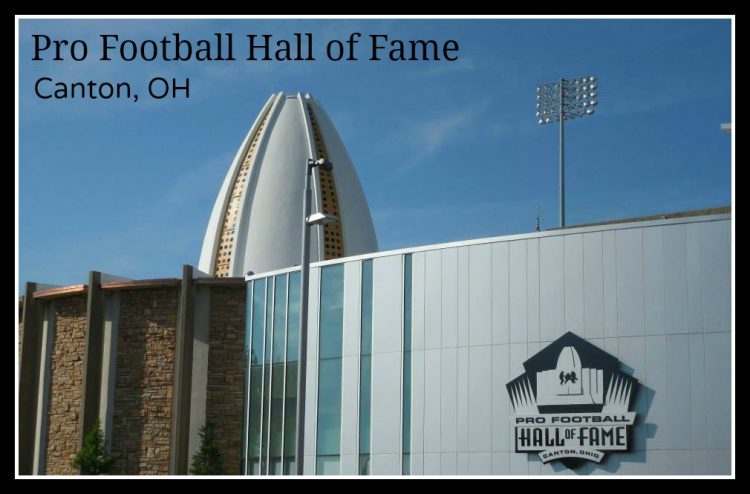 Are You Ready For Some Football?
While on our Northeastern Ohio excursion, our group thought it would be fun to explore the Pro Football Hall of Fame in Canton, Ohio. Although we're all originally from the area, some of us had never been to the Pro Football HOF, and others hadn't been there in years. So we all jumped in our cars and headed over to learn a bit about the history of football!
Many people want to know why the Pro Football Hall of Fame is in Canton, Ohio of all places. As it turns out, Canton, Ohio is where the American Professional Football Association (later renamed to the National Football League) was originally founded in September 1920! The location is also perfect because the Canton Bulldogs were a pretty important team, pre-NFL. These two facts are only a few of the ones we learned while on our tour of the Pro Football HOF. So whether you're truly interested in the sport or just want to learn a lot of facts to impress your friends, the HOF offers a lot of interesting information for tourists!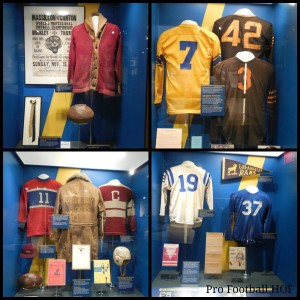 Along with learning facts, we saw a lot of interesting football memorabilia while we were at the Pro Football Hall of Fame. We got to see how football developed through the years, from the jerseys to the helmets to the balls to the rules. There are features that allow you to compare your body and build to some of the football players' bodies and builds, and we had a ton of fun with those! There's even an interactive feature that allows you to play referee!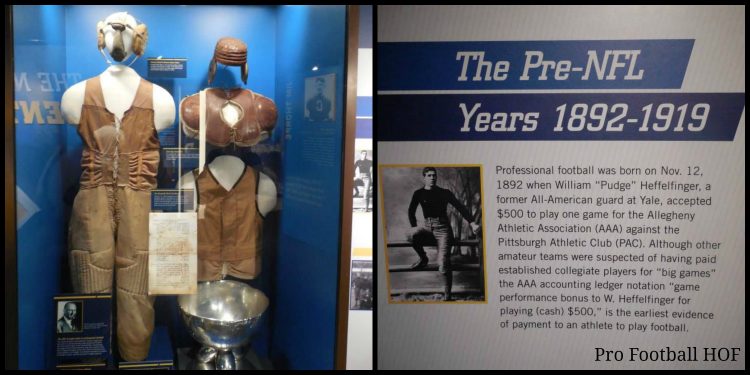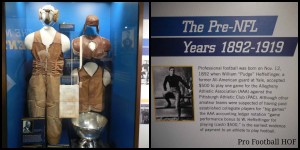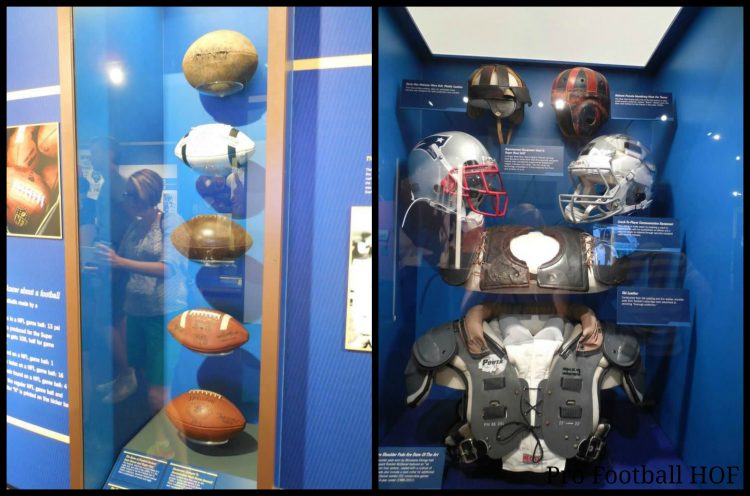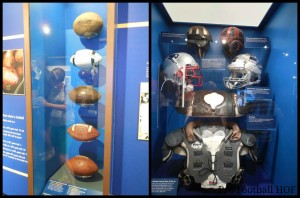 There's a ton to do at the Pro Football Hall of Fame, and their website recommends that you plan to be there for at least two hours. There was so much to see and do, from the football timeline to the bust room to the Superbowl rings and the Lombardi trophy, you won't even realize how much time is going by.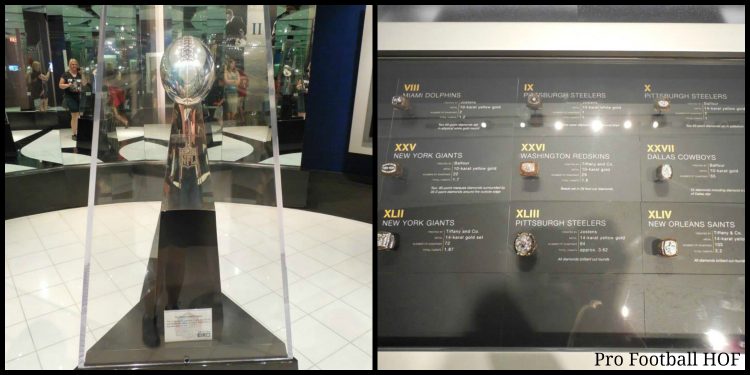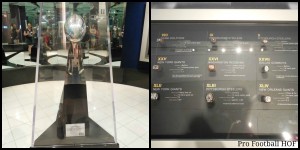 Our group was lucky enough to be visiting the Pro Football Hall of Fame on Hall of Famer Friday. We got to listen to a Q&A with Anthony Munoz, an offensive tackle for the Cincinnati Bengals who was inducted into the Hall of Fame in 1998. It was a humbling experience to hear him talk about his career and his personal life. If you ever get the chance to visit the Pro Football HOF, I would highly recommend that you try to visit on a Hall of Famer Friday. Guests even got the chance to meet with Munoz for a few minutes after the Q&A (but no autographs allowed).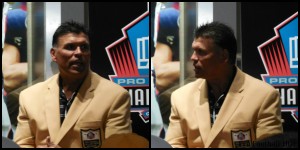 Mom Says – Kids Say
Mom Says
I am a huge football fan, so I thoroughly enjoyed my trip to the Pro Football Hall of Fame! I enjoyed reading about the history and evolution of football and all the memorabilia. My favorite exhibit (friends almost had to drag me away), was the instant replay booth. I enjoyed trying to make the call using the same instant replay technology that officials use. And I got the right call, 3 times out of 4!
The Pro Football Hall of Fame offers more interactive features than I expected. Beyond football, kids can learn history at the museum. I liked how the second floor displays included information on what was happening in the world during that era of football.
While the museum is stroller friendly, I would not bring young kids to the Pro Football Hall of Fame. There's not a lot of space to run and play and young children are likely to get bored. If the family is on vacation and there's a young one along, consider taking them to the outdoor football area to run and toss footballs or to the lower level to take a break and run around. It helps that kids under 6 get free admission.
Overall, I highly recommend this museum for families who love football. Those who like football will enjoy it too. The interactive features and creative displays make the museum more than a football shrine. Definitely worth a look. I would not recommend this museum to families with young children.
Kids Say
On our visit to the Pro Football Hall of Fame, there were lots of kids there — boys and girls, mostly ages 8+. I talked with a few of them to find out what they thought. Here is their advice, in their own words.
Carson, 9, from Kansas City (on a trip with his grandma). "The best part of this museum is the Hall of Busts. Second best is the replay booth and the store. Have you seen the store? It's huge!" (Of course, I like that this kid thought the replay booth is spectacular. Carson also liked Anthony Munoz' shoutout to the chiefs during his interview.)
Grant, 11, from North Carolina. "I liked the whole museum, but my favorite part was seeing anything from Green Bay." (A family's allegiance shows!)
Ben, 14, from Ohio. "I've been here lots of times. I just like the whole museum." When asked what he would recommend to first time visitors, Ben replied, "Know which Hall of Famers you want to find and look for their memorabilia throughout the museum, not just in the Hall of Busts." Good advice, Ben!
Hailey, 7, from Ohio. "I came here with my mom and dad and my brother… My favorite part is seeing Indianapolis Colts shirts and all the sparkly diamond rings." When asked if she is glad she came, Hailey replied, "Yes. We cheer for the Colts and I liked seeing their stuff everywhere."
Planning a Visit to the Pro Football Hall of Fame
Location
2121 George Halas Dr NW Canton, OH 44708
Admission
If you plan to visit the Pro Football Hall of Fame during the summer, the museum is open 9 am to 8 pm (Memorial Day Weekend – Labor Day). If you'd rather visit during the Fall/Winter, the hours are 9 am to 5 pm (and they're closed on Christmas). The admission rates are $23 for adults (13-61), $19 for seniors (62+), $16 for children (6-12), and free for any child under the age of 6.
Information
You can request visitors' info, get directions, and find any other info for planning your trip by visiting here.