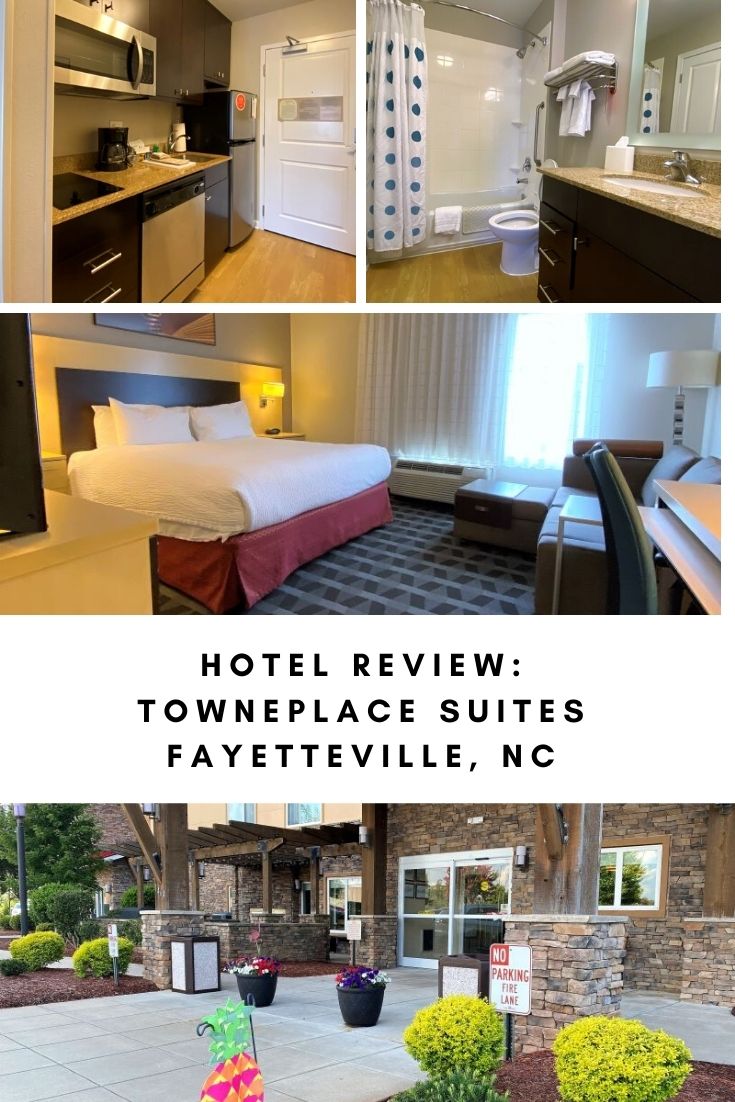 My husband and I just took a much needed break from the 24/7 world of life with kids. We love them dearly, but a weekend getaway for couples is good every now and then. So, when the Fayetteville Area Convention and Visitors Bureau ("Fayetteville CVB") invited us for a getaway, we said yes!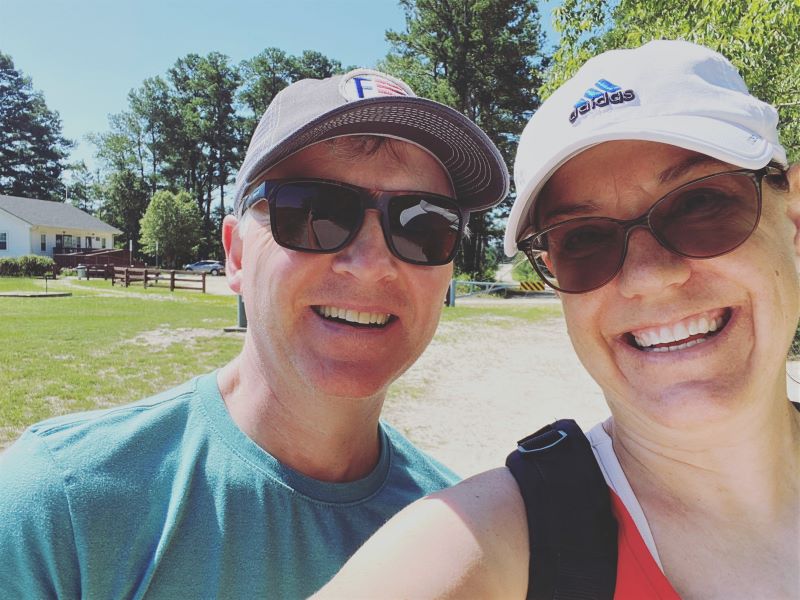 I worked closely with the Fayetteville CVB to plan the trip, starting with which of the Fayetteville hotels to stay at. Then we planned outdoor dining and activities that fit our comfort level at this time.
We stayed at the TownePlace Suites by Marriott — Fayetteville Cross Creek, one of the all-suites hotels in Fayetteville, NC that's convenient to I-95, great dining and Fayetteville area attractions.
This was a complimentary visit for purposes of this review, but all opinions are mine.
Overview of TownePlace Suites by Marriott — Fayetteville, NC
The TownePlace Suites by Marriott in Fayetteville, North Carolina is an all-suite hotel, offering spacious rooms with a number of homey amenities. This Fayetteville hotel is a member of its Marriott Bonvoy collection.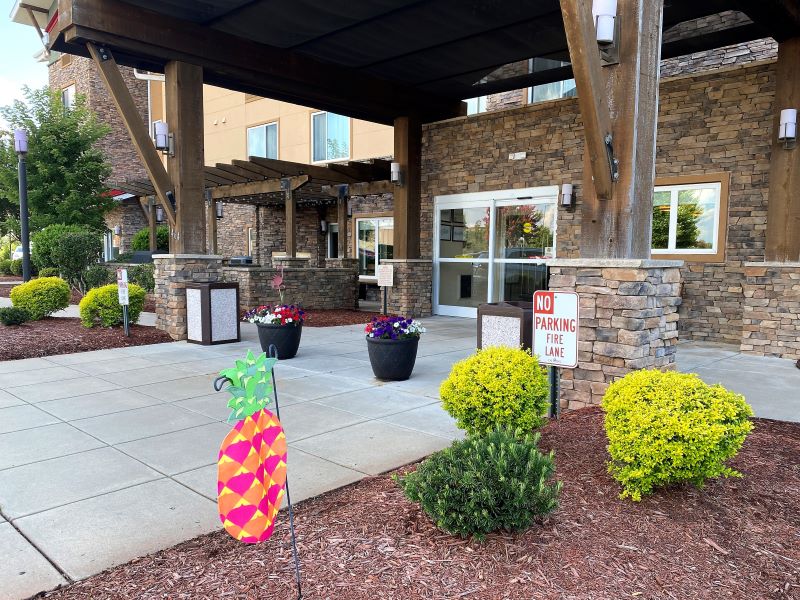 We had a king suite. The room opens into the kitchen, which has a refrigerator/freezer, cooktop, dishwasher, dishes, coffee pot and toaster. A coat closet just inside the front door provided convenient storage for our cooler and grocery bags.
When you're looking for hotels in Fayetteville, NC, this one offers lots of space, useful amenities and a location convenient to I-95.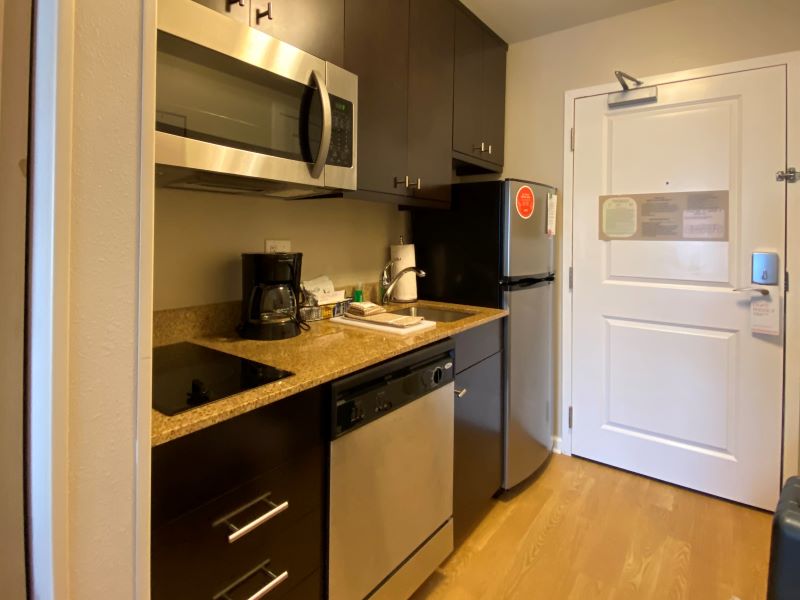 Beyond the small kitchen, the room opens up with a king size bed on one side and a sofa and desk area on the opposite wall.
If looking for hotels in Fayetteville, NC, this one is great for space, especially for family travel on a budget.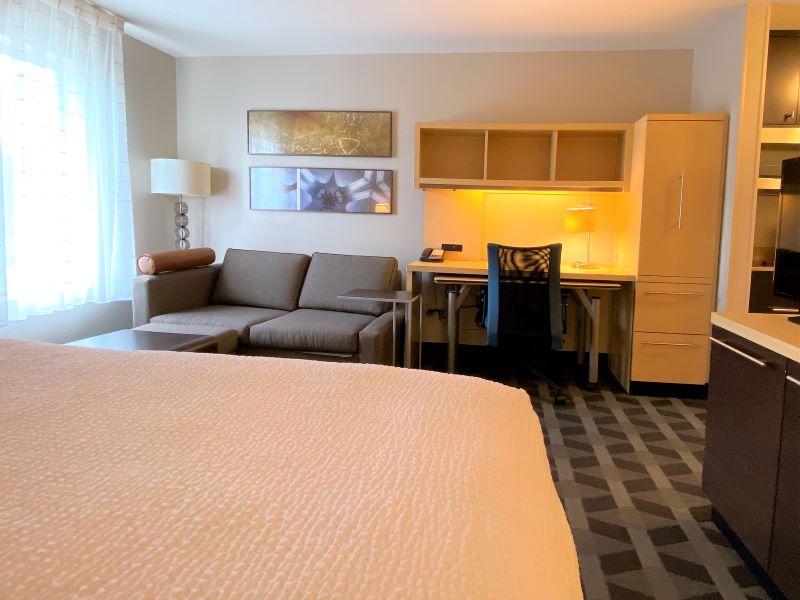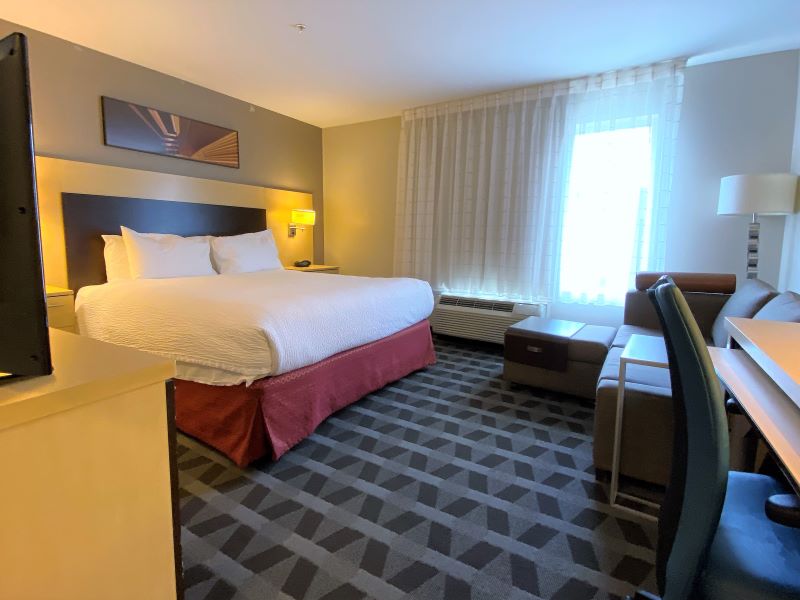 The bathroom is large, with a spacious closet, vanity with drawers and counter space, and a tub/shower combo.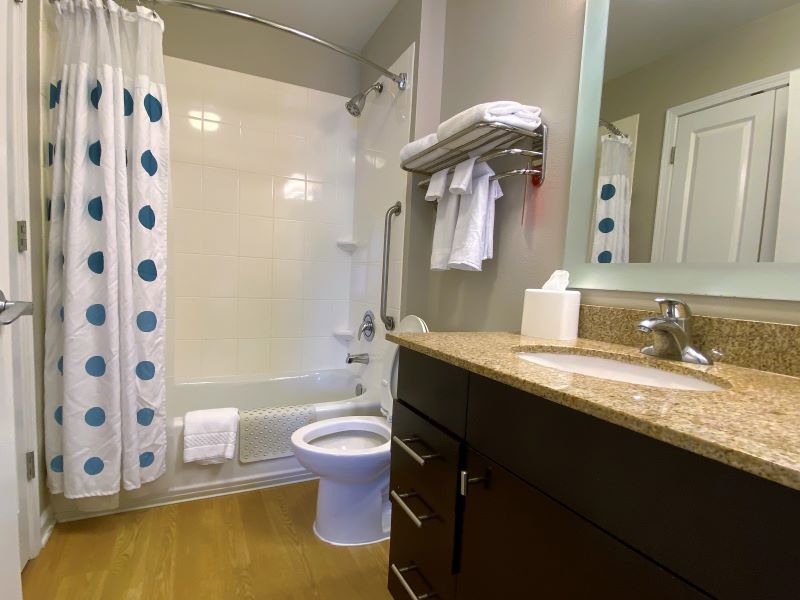 Amenities at TownePlace Suites by Marriott
Like most Fayetteville hotels, TownePlace Suites has extensive safety measures in place during this tricky time.
Overall, the TownePlace Suites by Marriott Hotels in Fayetteville, NC did a great job following those guidelines. Here's our experience to help you know what to expect should you stay here or at any hotel, really.
What to expect from your stay at TownePlace Suites, a Marriott Bonvoy hotel
When we arrived at the hotel, signs were in place letting us know that masks are required in all public spaces in the hotel.
Masks in place, we entered the lobby.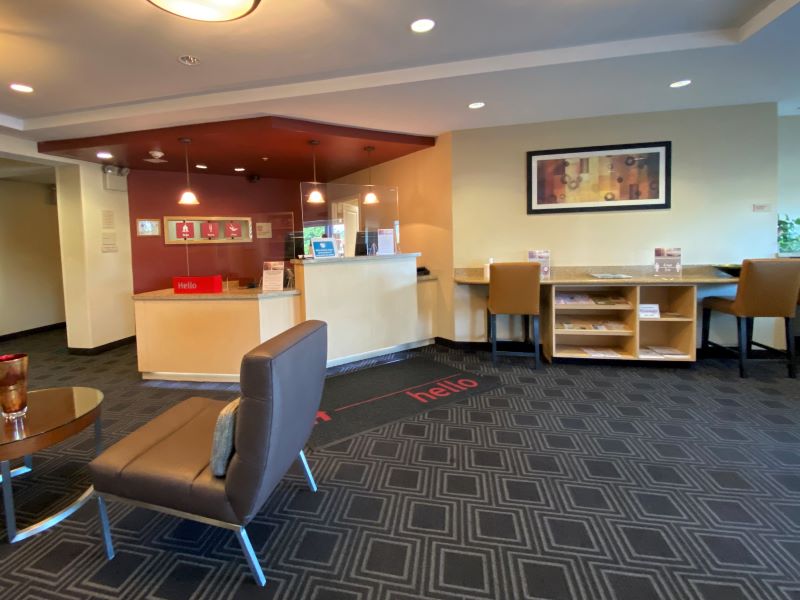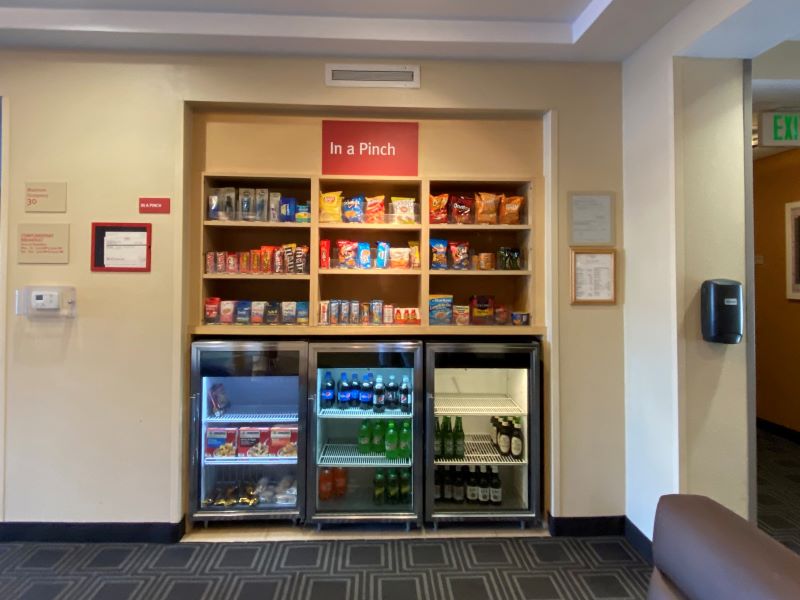 The check in desk had a plexiglass divider in place.
The clerk had a mask and put it on when she saw us walk through the door. The lobby also has a dining area for the morning breakfast (not being served at this time — see below), and a map of the area that shows nearby restaurants and attractions.
We checked in, and she explained to us the hotel policy changes in place at this time:
Rooms are deep cleaned between guests and only cleaned every five days during hotel stays,
The hot breakfast has been replaced by a bagged breakfast which guests can pick up in the lobby during designated hours (weekday/weekend),
Coffee is available in the lobby, but is served. The endless self-serve coffee pots are not being used right now,
The gym and pool are closed, but guests can check out fitness equipment to use in their room which hotel staff disinfects between uses.
She did not explain it, but the elevators are limited to two guests or one family at a time. We never had an issue waiting for elevators, but this hotel was only four stories and we often opted to use the stairs.
Our experience at TownePlace Suites, Fayetteville hotels
After checking in, we went to our suite, which was on the third floor.
HEALTHY TRAVEL TIP: To keep risk of contamination to a minimum, designate one person to operate the elevator and the door.
Once in our room, we took some extra safety precautions:
We wiped down all door knobs, light switches, the TV remote, faucets, the refrigerator and table tops with Lysol wipes that we brought with us.
Rob waited while I did that part, and then washed his hands well before touching anything in the room.
We loaded the dishes and silverware into the dishwasher and ran it on a quick clean cycle (I've always done this when staying at an AirBnB, condo or hotel with a kitchen. I just don't know how well the previous guest cleaned.)
All in all, it took about ten minutes to clean our room, and it was worth the peace of mind. Different hotels and hotel chains have different cleaning policies. It's a good idea to review those before you book your stay.
We unpacked, taking advantage of the spacious closet space and then enjoyed a movie since we had time before dinner.
The bathtub was clogged and didn't drain well, but hotel staff came to fix it promptly. She wore a mask and gloves, cleared the clog, and then came back with a bleach solution (asked permission to use it) to clean the tub.
We only stayed for two days, so the small bottle of shampoo, soap, toilet paper and dish soap were plenty for our stay. The room only had two towels and washclothes, plus two hand towels, which was also enough for our stay.
HOTEL TRAVEL TIP: If staying more than two nights, I recommend you ask for additional supplies at the time of check in!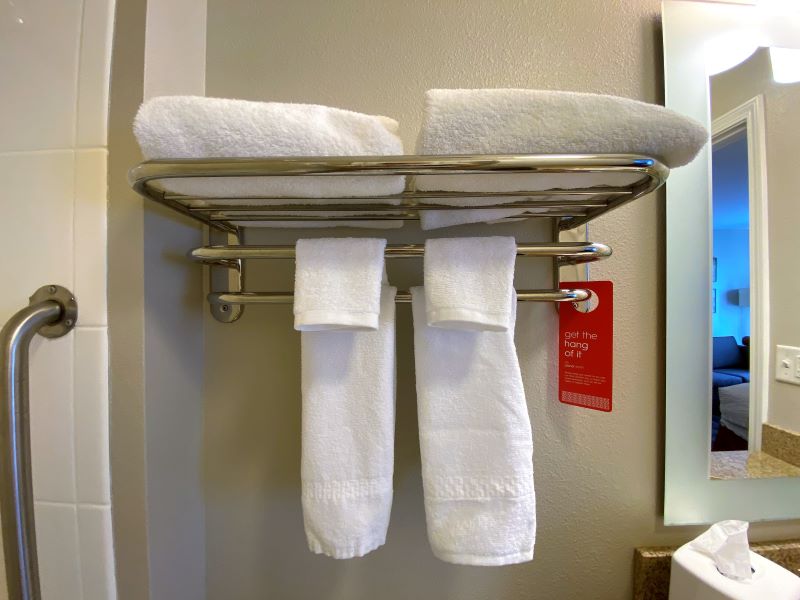 The brown bag breakfast at TownePlace Suites
Because of health changes, the hotel cannot offer full breakfast right now.
Instead, they provided a brown bag option. Our breakfast consisted of a bagel wrapped in plastic, a single serving of Light 'n Fit yogurt, and a single serving tub of cream cheese.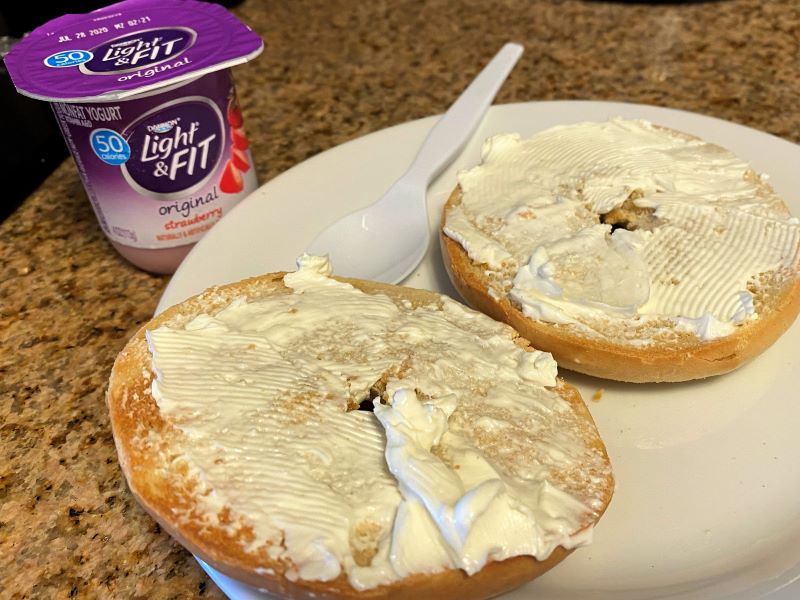 We had raisin bagels the first day. I do not like raisins at all. And as a general rule, I don't eat Light 'n Fit yogurt because the sugar substitutes bother me.
Rob, ever the wonderful husband, went back to the lobby and asked for a different flavor bagel and they gave him a plain bagel. Much better.
We had planned for that possibility and brought food for breakfast. So, I enjoyed my Greek yogurt and the plain bagel with cream cheese.
TRAVEL PLANNING TIP: If hotel breakfasts are usually part of your hotel experience, ask what they're doing instead when booking. OR, pack food for breakfast just to be safe. An all suites hotel, like TownePlace Suites makes it easy to prepare breakfast in your room.
Nearby restaurants and attractions
The TownePlace Suites by Marriott Hotels in Fayetteville, NC is a convenient for people visiting the area or passing through on I-95.
There's a Sam's Club and Walmart by the hotel to stock the kitchen.
Great restaurants nearby include:
Luigi's Italian Chophouse and Bar at 528 N. Mcpherson Church Road, Fayetteville, NC; Phone: 910-864-1810, with patio, indoor and carry out available,
Mash House Brewing Company at 4150 Sycamore Dairy Rd, Fayetteville, NC; Phone: (910) 867 9223, with patio, indoor and carry out available,
Fayetteville Pie Company at 253 Westwood Shopping Center, Fayetteville, NC: Phone: 910-483-4097. Open 11-3 Monday through Saturday, the Fayetteville Pie Company offers sweet and savory pies for dine in and carry out.
There are many other restaurants nearby, including chains and fast food and more.
Outdoor attractions near the Fayetteville TownePlace Suites inlcude:
Book your stay with TownePlace Suites by Marriott in Fayetteville
To book a stay at the TownePlace Suites by Marriott or any other Marriott property, click here.
The TownePlace Suites Fayetteville address is 1464 Skibo Rd, Fayetteville, NC 28303,
The phone number for TownePlace Suites Fayetteville is (910) 764-1100, AND if you have questions about safety policies or amenities at this time, call,
Amenities at TownePlace Suites include kitchens and free WiFi. When fully operational, the hotel also offers a hot breakfast, pool and workout facility.
Pets are welcome at TownePlace Suites in Fayetteville.
>> HOW TO: Best Tips for Travel with Pets
If you like this post, you might also enjoy: