While the Notre Dame Cathedral is the most visited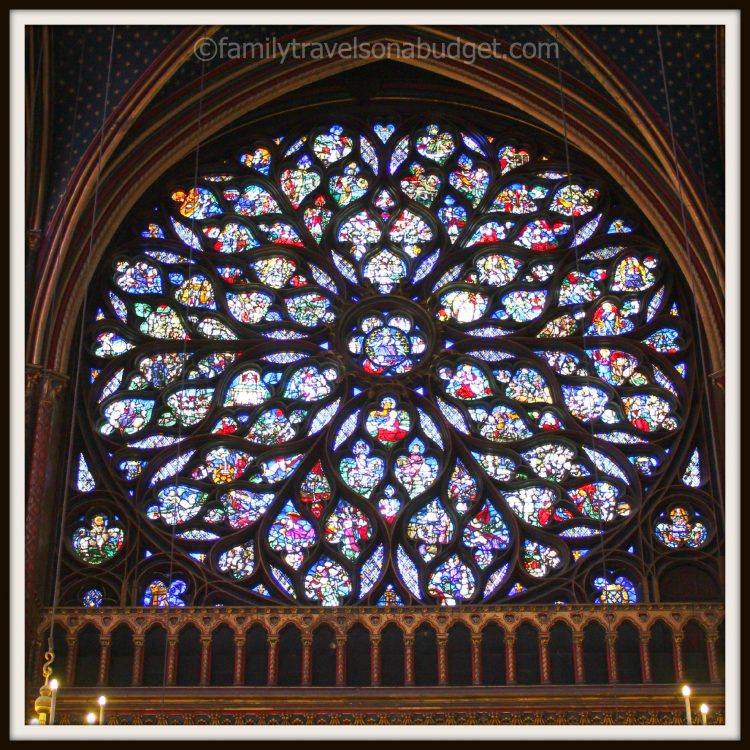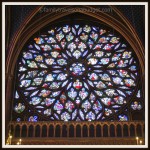 site in Paris, it is not the most beautiful… at least not according to my family. Nearby Sainte Chapelle, which sits hidden behind government buildings, is far more exquisite.
Waiting in line to see Sainte Chapelle, the kids wondered, some more loudly than others, if it would be worth the wait. We ignored their complaints, though, since Sainte Chapelle was the one place my husband added to the itinerary. He doesn't speak up often when it comes to vacation plans, so his requests carry heavy weight. We stood in line. 🙂
Walking through the courtyard to the entrance, the site is underwhelming. Sainte Chapelle is not large, compared to other sites. Its windows are tall and narrow. The rose window sits in a place that is generally hard to see.
But then… you pass through the doors. And again are underwhelmed.  Entering on the lower level, Sainte Chapelle appears old, dark and run-down. There's a small store set up off to the left, offering Sainte Chapelle related trinkets. All of it was rather confusing… and then…
In the corner, there's a staircase.
Climb the stairs…
Walk through the entryway into the sanctuary.
And gape.
Those long windows, so unremarkable on the outside, come to life. The sunlight dances through the colored panes to fill the room.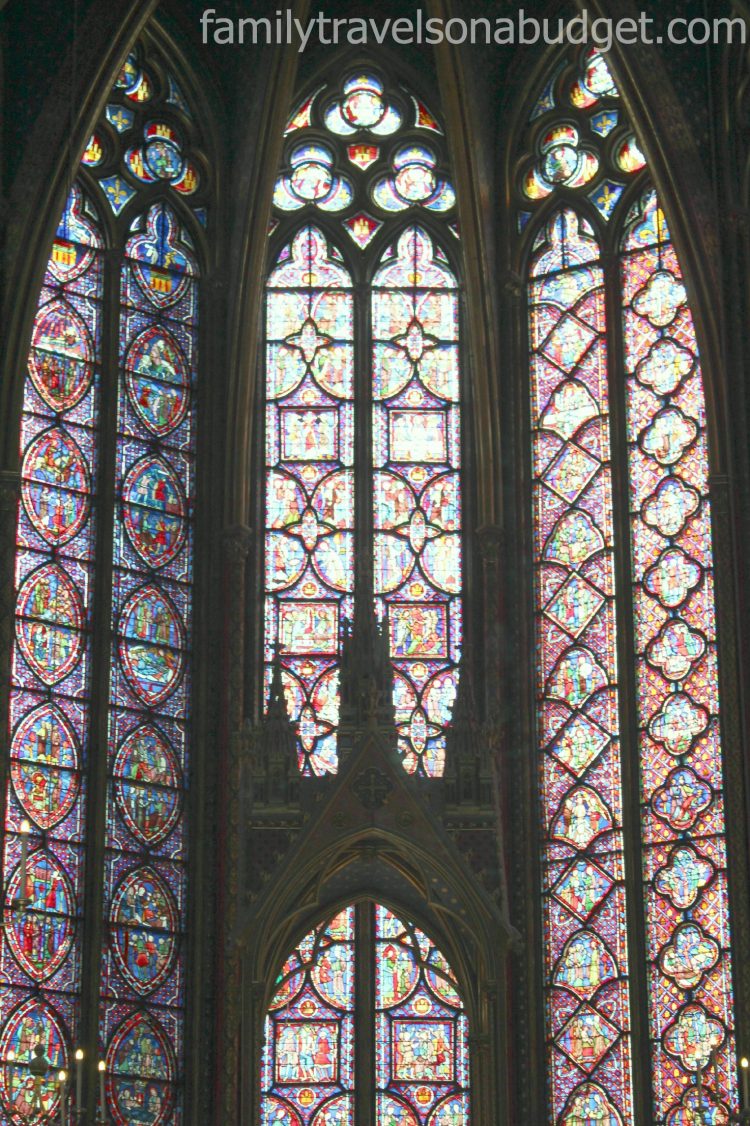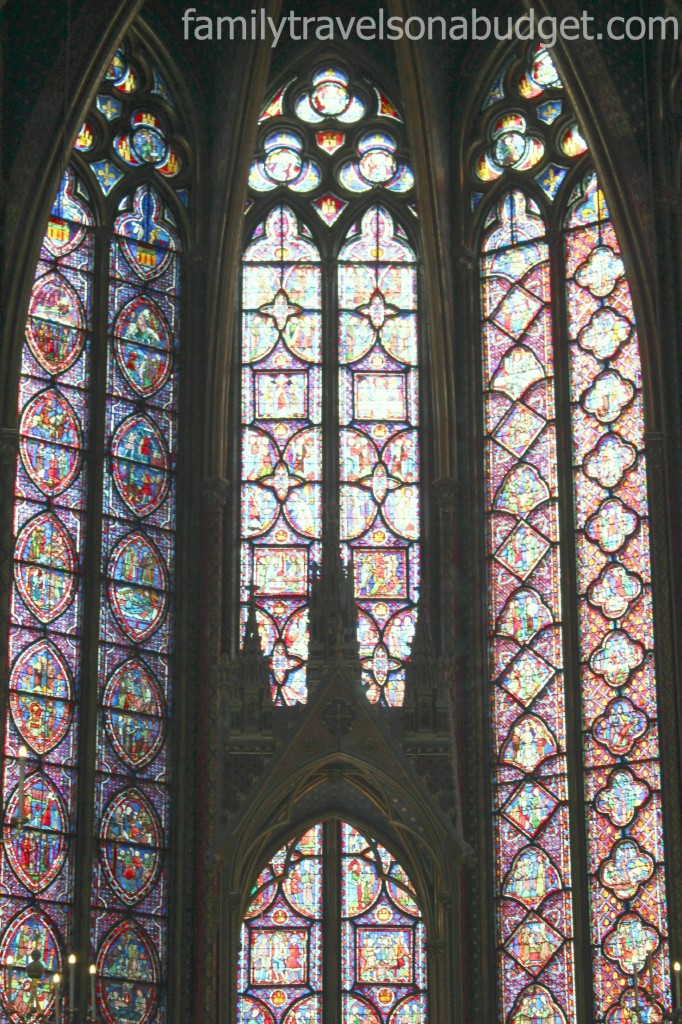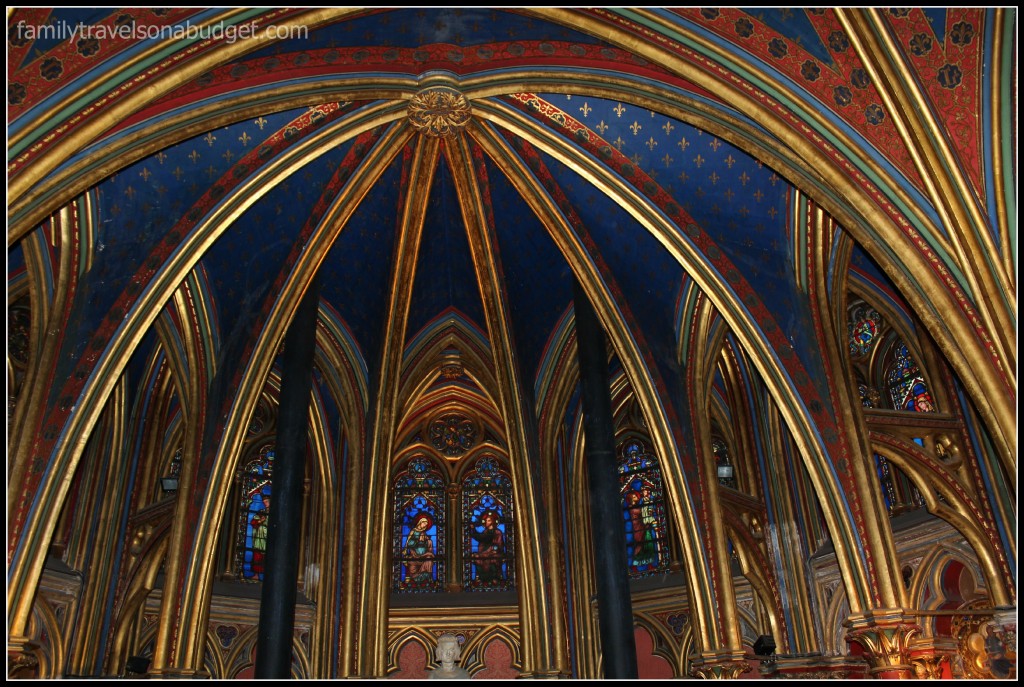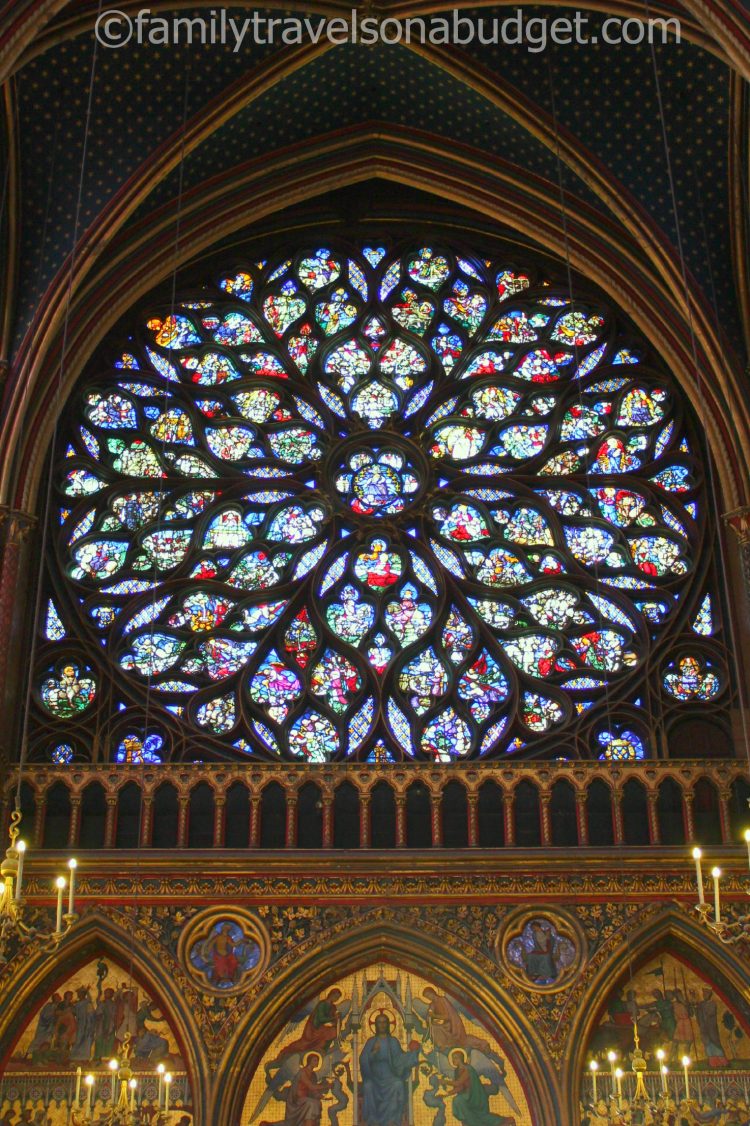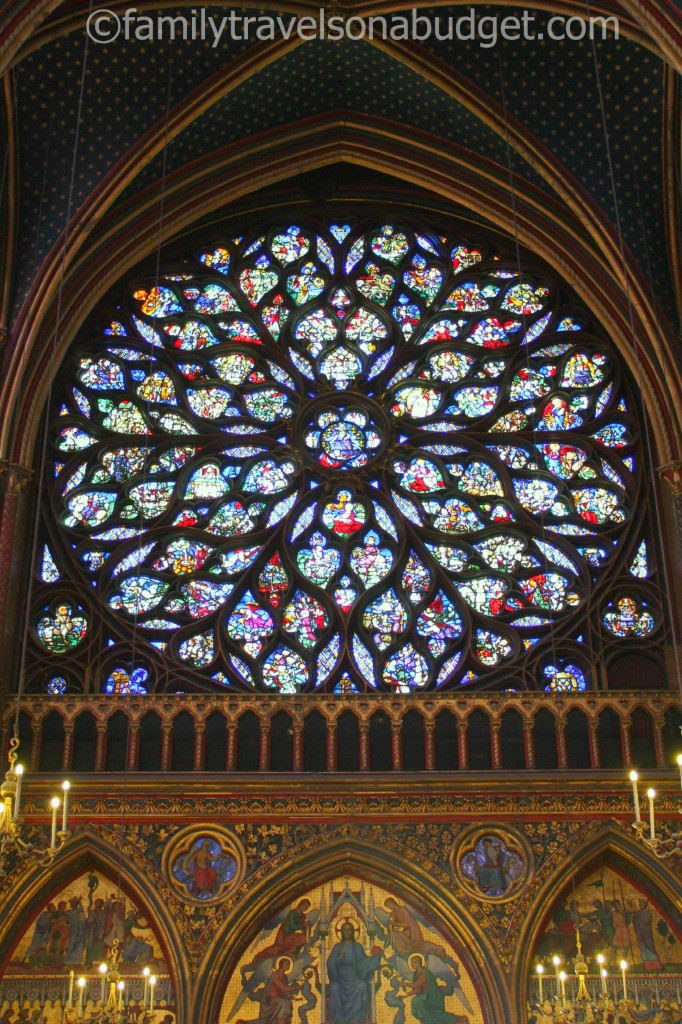 The intricate patterns on the floor, for those willing to look down, fight with the light for your attention. They deserve it. This is the very floor King (now Saint) Louis IX walked 800 years ago. He built this cathedral to house the crown of thorns and a piece of Jesus' cross. The relics were not stolen like other religious symbols, but purchased at fair price (Back then more than three times the cost to build the Cathedral).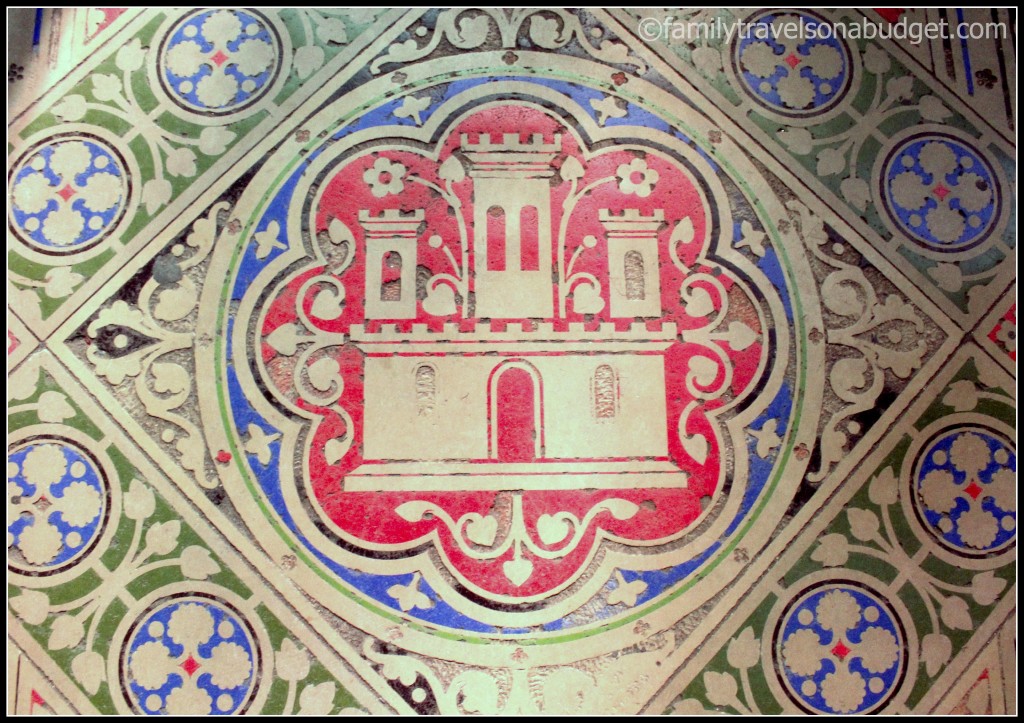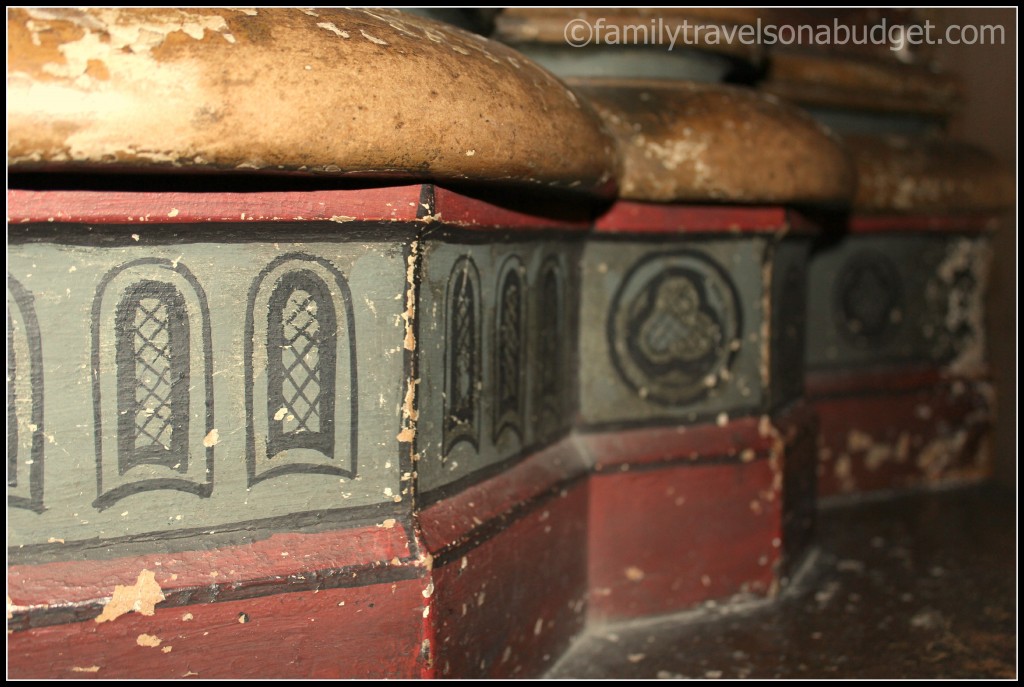 We stood in line for more than an hour outside a non-descript government building. We crossed a government business filled courtyard. We entered an unpretentious basement and climbed unremarkable stairs… And we found the most beautiful place in Paris. You might disagree, and if you do — it must be because you visited on a cloudy day.
Sainte Chapelle isn't the only place in Paris with amazing surprises. There are so many cool and unusual places to see in Paris!
Sainte Chapelle: Know before you go
Sainte Chapelle Address: Palais de la Cité, 4 boulevard du palais, 1st arrondissement
Closest Metro Line: Cité (Line 4)
Operating Hours:

March 1 to October 31, 9:30 a.m. to 6:00 p.m., Weds. until 9:00 during summer
November 1 to February 28: 9:00 a.m. to 5:00 p.m.
Entrance closes 30 minutes before site
Closed January 1, May 1, and December 25

Special information: The entrance is controlled by the gendarmerie and no metal objects, including knives, scissors and other pointed instruments are allowed. You will pass through a metal detector to gain entrance.
Admission fees: 

Adults, 8,50 euro
Minors under 18, FREE
Adults 18-25 who are citizens of the EU, FREE
Disabled guests and escorts, FREE
Unemployed persons, FREE

Visit Sainte Chapelle on a sunny day!