I got this email recently: "My family wants to visit Vancouver, BC. Any suggestions on where to start finding things to do. It will be me and my little ones, yikes! We will be driving for about 16 hours to get there, and staying for 7 days!" Do you have little kids? Does a long day in the car sound like torture? More for you than them? I understand. I've been there!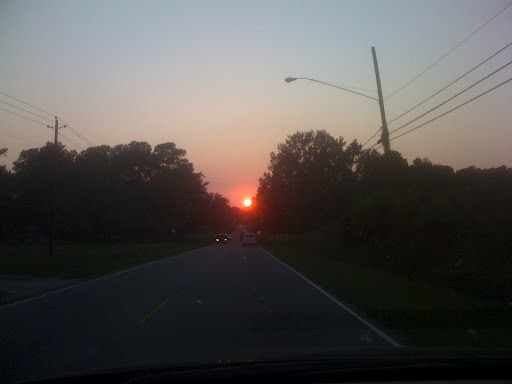 Kids see a long road ahead, not the joy in the journey.
When my boys were 6 and 3, we moved from Ohio to North Carolina, a ten hour car ride. My husband went ahead of us to begin his new job, while we stayed behind to sell the house. For a close-knit family, that meant lots of car trips back and forth to spend time together. I learned a lot about road trips from that short season. Here are some of my favorite tips and tricks to surviving a road trip with young kids.
Road trip tips for car rides with young kids!
Stop for them and play!
My natural philosophy toward car travel is "let's hurry up and get there so the fun can begin." But, young kids cooped up in car seats don't see it that way. They like to run, jump and play. They don't understand how very long a car trip can be, much less appreciate the value of that drive to reach a wonderful destination! Sitting still in a car seat for hours on end is B-O-R-I–N-G! I learned that my sons got along much better if we took breaks, not just bathroom breaks.
I learned to stop intentionally at each state welcome center to play and run. We took along a playground ball and played catch (far from the parking lot). Instead of walking to the restroom and back to the car, the boys would have jumping contests to see who could jump further. We all had fun, stretched our muscles and got the wiggles out! Today, my kids are older and don't need as much stretch time, but we still carry a frisbee and a football whenever we travel. I'm amazed how 15 minutes with a frisbee helps everyone travel better.
Pack healthy snacks!
One time heading back to Ohio from N.C., I forgot to pack any snacks. I learned quickly that snacks are essential to a road trip. Our only other alternative was to stop every two to three hours to feed my bored, hungry crew. Expensive! And, not even remotely healthy! When they were young (and I didn't forget), we packed juice boxes, bottled water, raisins, pretzels, and peanut butter sandwiches. I usually packed a treat as well, but saved it for hour six or seven. Sugar and confinement don't really mix well!
Use lunch break to your advantage
Instead of stopping for a nutritionally weak fast food meal, pack lunch of sandwiches, chips, fruit and bottled water. Find a park or city center (the West Virginia capitol has incredibly gorgeous grounds and is an easy on-off from I-77) that's near the highway to stop. Enjoy your picnic lunch, play some frisbee, tag or whatever active game you enjoy and move on. It might seem like this takes more time than stopping for fast food, but since we don't have to stand in line or wait for our order, it actually saves us time. And money! And it tastes better too!
A new twist on car games.
My boys were too little for games like license plate bingo during our season of constant travel. My younger son didn't know his alphabet yet. Instead, we played roller coaster. As we drove up the mountains steep hills, they sat in the back saying "clackity clackity clackity" to imitate the sound of a climbing coaster. As we reached the top, I'd say, "We're almost there. Are you ready?" And then, going downhill I'd have them wave their arms in the air. As we rounded turns I'd tell them to lean left or lean right. They'd giggle through the whole thing.
I didn't want to wear out roller coaster, so sometimes, I'd ask them to pedal us up the hill. In the rearview mirror I'd see their feet pedaling for all they were worth, their faces determined to get us up the mountain. Quite fun. They had no idea I was giving them some physical exercise!
We'd also play "pterodactyl." After all, dinosaurs are about the coolest thing in the world to little kids! As we soared down the mountain, I'd tell them to stretch their wings and soar down the hill like a pterodactyl. If I had the patience for it, I'd encourage them to make screeching pterodactyl noises. They always ended up in a fit of giggles!
I hope these fresh ideas will inspire your family to create some games of your own to pass the time on your travels! Come back tomorrow for Tween and Teen Travel Tips!
Please keep in touch. Our
FACEBOOK
community is active, and a great place to ask questions. On
TWITTER
, I share great content from destinations around the world. Follow our adventures on
INSTAGRAM
-- we love to answer questions during trips. And, we're on
PINTEREST
saving all sorts of great content from around the web.