Asian Rice Recipe with egg and soy
This post may contain affiliate links. Click here to see what that means.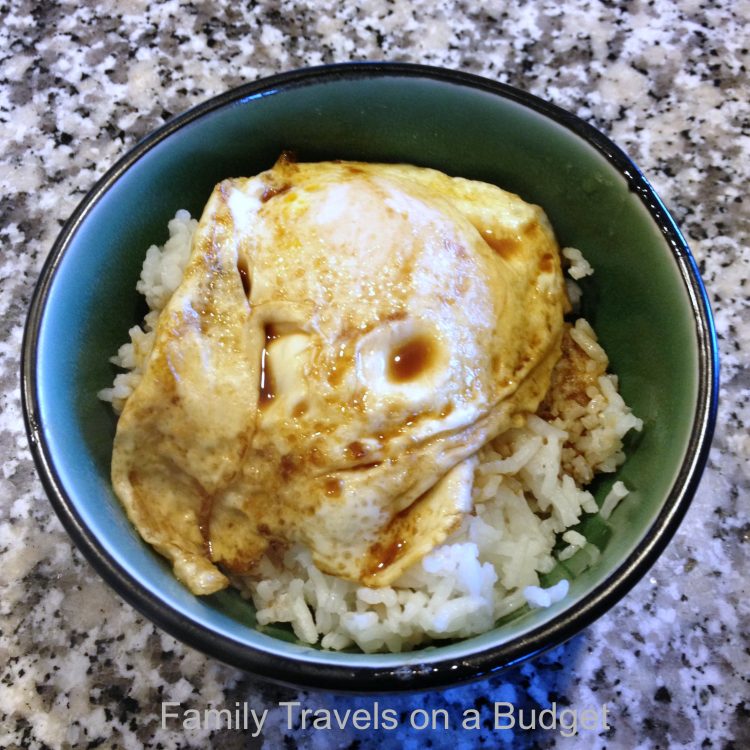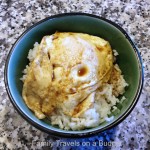 Stuck in a recipe rut? Looking for something delicious, easy and CHEAP? Try this EASY Asian Rice Recipe, guaranteed to become a family favorite!
Our kids complained recently that we are in a food rut. When that happens, I know it's time to pull out a travel inspired recipe. While on the hunt for a quick congee recipe (Cantonese rice porridge), I realized it takes too long to cook. Then, I discovered this three ingredient wonder from Japan called tamago kake gohan. The recipe calls for raw egg, something I don't like, so I modified it, using an egg cooked over easy. It has no name, so I'll call it like it is: Asian Rice Recipe with egg and soy.
Asian Rice Recipe with Egg and Soy

Ingredients:
Cooked white rice (works great with leftover rice, just heat it up)
One egg, cooked over easy (runny yolk adds to yumminess)
Soy sauce
Spoon cooked rice into bowl. Lay cooked, unseasoned egg over top. Drizzle with soy sauce to desired taste. Enjoy!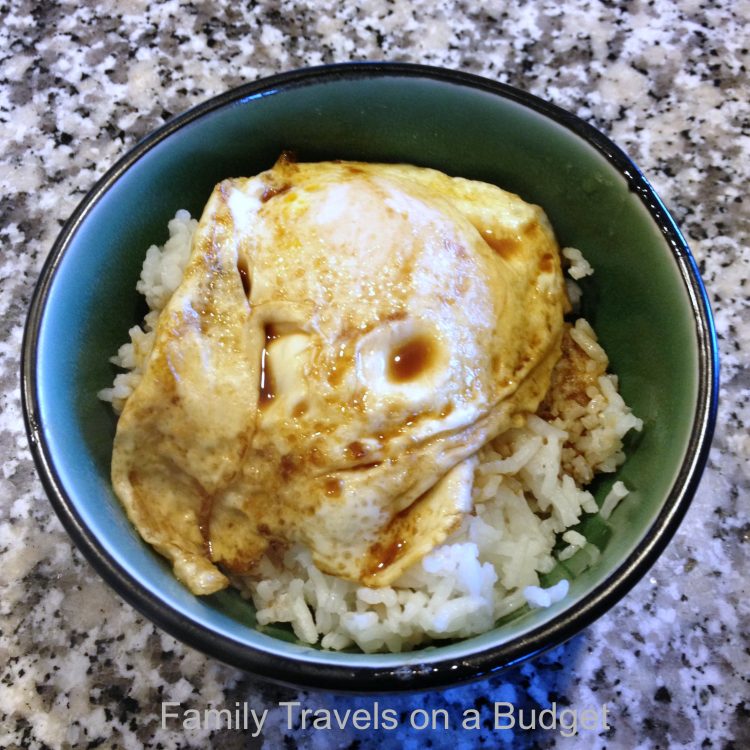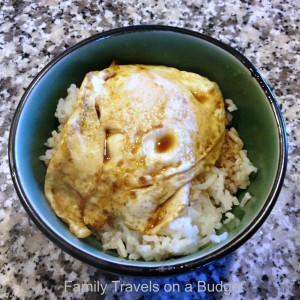 Yes, it's that simple! Don't over-think this recipe. Double up the eggs (two per serving) and serve with fresh fruit for a simple, wholesome meal for the whole family and still dine for less than $10!
We've enjoyed this Asian Rice Recipe three times in the past two weeks, at the kids' request. It's creamy, warm and comforting, especially on a cold day. My oldest son, who likes spicy food, sometimes adds a few drops of sriracha to his dish, but the rest of us keep it simple… as if four ingredients is difficult. 🙂
My only problem is this dish needs a better title. Asian Rice Recipe with Egg and Soy is just too long… Any suggestions?
Enjoy!
If you have an easy travel inspired recipe, like my quick Asian Rice Recipe, please share!