Girls getaway weekend in Charlottesville (A great idea!)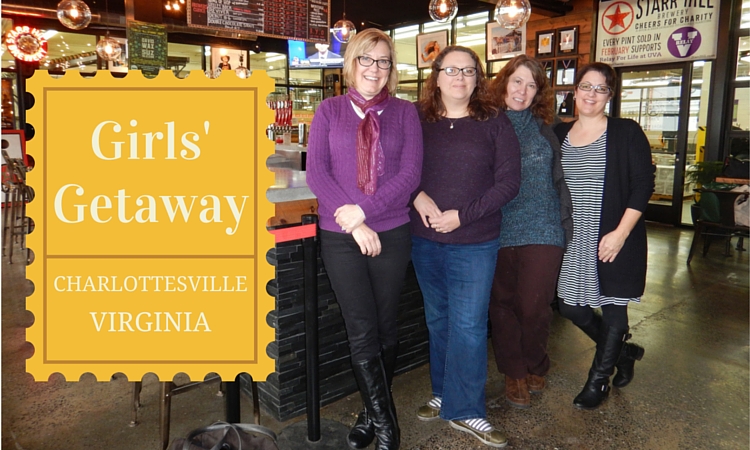 Girls weekend getaways are a great way for friends to unplug from everyday life and recharge.
Girlfriend getaways have certainly grown in popularity in recent years with lots of great girls weekend getaway ideas across the world!
One of the best girls weekend getaway ideas, in my opinion, is Charlottesville, Virginia.
To prove it, I got together with three of my favorite blogging friends to test it out.
Our getaway weekend in Charlottesville was part work, part retreat (yes, we talked blogging strategy) and a large part play! Charlottesville is one of the best ideas for girlfriend getaways because there are so many options to meet budget, travel style and interests.
Lodging options for a weekend in Charlottesville
This historic city, also home to the University of Virginia, offers a wide variety of lodging options to suit any budget.
On our girls weekend in Charlottesville, we enjoyed a luxury stay at the Clifton Inn overlooking the rolling hills of the Blue Ridge Mountains. Besides the spacious rooms, the Clifton Inn has a spa, a pool, walking trails, afternoon tea, and a restaurant with Chef's Table service available.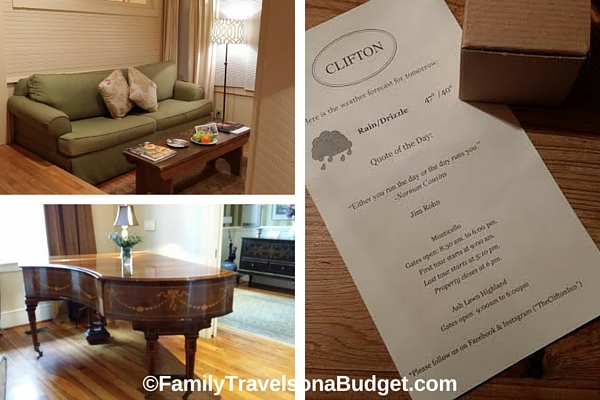 Then we moved the party downtown to spend a night at The Graduate Charlottesville, a funky boutique hotel close to the UVA campus. The Graduate Hotel has a spacious lobby with a coffee bar, a game room and a soon-to-be finished rooftop space. Those looking for a great hangout close to all the offerings at UVA will appreciate a stay at The Graduate.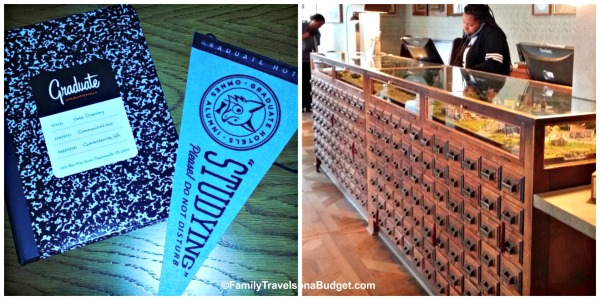 Whatever your budget or interest, a weekend in Charlottesville with your girlfriends is easy to plan — there's something here for everyone!
For the ultimate in pampering luxury, I highly a girls spa weekend getaway at one of the many amazing hotels and resorts in the area offering spa services.
One of the things I like best about a weekend in Charlottesville is all the fun on the Downtown Mall. This pedestrian only entertainment district has a variety of restaurants, shops and entertainment venues — including a concert amphitheater.
For a girls' weekend in Charlottesville where you can leave the car parked, consider the Residence Inn at the corner of West Main Street and Ridge McIntire Road, across the street from the popular Downtown Mall. Particularly wonderful for a getaway weekend in Charlottesville, each suite offers a comfortable seating area, full kitchen and dining area — perfect for talks late into the night.
Insider's Tip: The hotel's unique design includes two amazing corner, 2-bedroom suites that offer panoramic views and loads of space to relax. They book early, so plan ahead!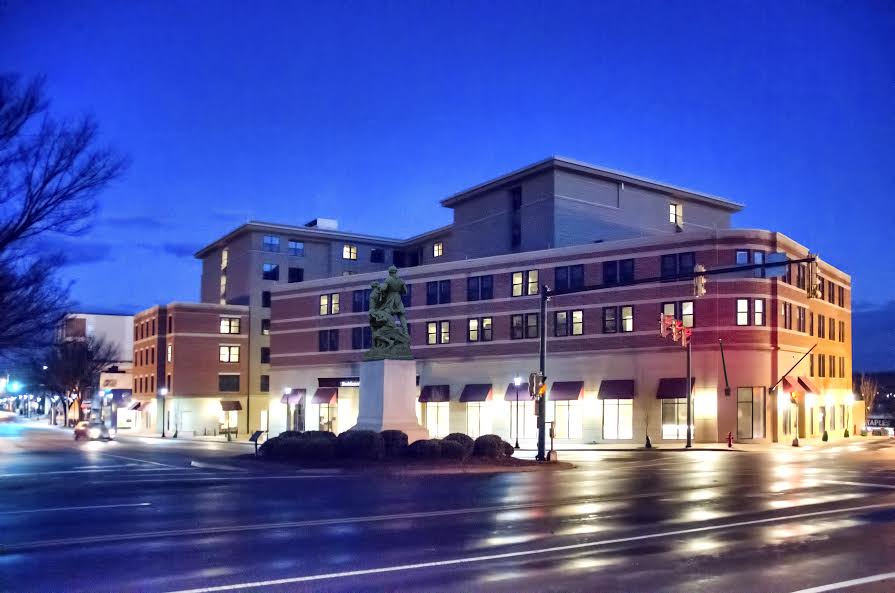 Here are a few PRO TIPS for a budget travel weekend in Charlottesville:
Book your stay during the off season, which in Charlottesville is summer and winter.
If booking in spring or fall, consider a midweek stay instead of a weekend getaway.
Check GROUPON EXPERIENCES to find discounts on area attractions, events and activities. Especially in the off season, you can find savings up to 70%!
Things to do on a girls' getaway weekend in Charlottesville
Another reason Charlottesville is great for girlfriend getaways is that there's so much to do. From art to history, outdoor adventures to wine tasting, there's something for everyone.
Historic attractions in Charlottesville
The Charlottesville area was home to several early presidents making it a great place to explore history! I find myself thankful that I live in a time of air conditioning and electricity!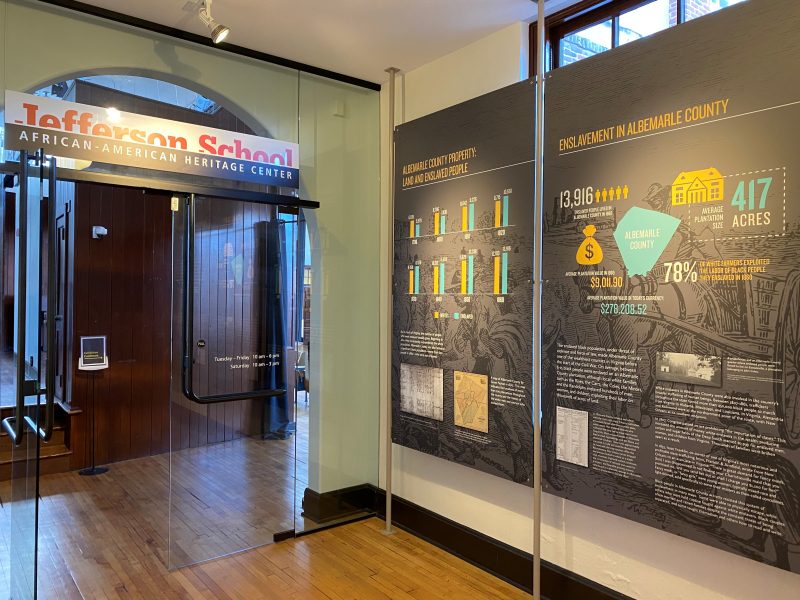 Artistic pursuits in Charlottesville
The Charlottesville area is home to many creative pursuits to enjoy on girlfriend getaways to the area.
Enjoy great food on the Downtown Mall
One of the nicest spots in Charlottesville is the historic downtown mall. With the main road shut off to vehicle traffic, the area has wide walkways, tree covered seating areas and an amazing array of restaurants. Hotels and the outdoor concert venue make girlfriend getaways easy. Just park the car and head out on foot!
To experience the best of the Downtown Mall food scene, I highly recommend the Downtown Mall food tour! For groups of 3-8, this is a really fun way to experience the best food on the mall without having to pick just one restaurant. NOTE: This is a private tour, so the price starts with the minimum of 3 guests perfect for a girls weekend getaway.
To learn more about the Downtown Mall, these articles are helpful:
Wine and Cider Tastings
Since the days of Thomas Jefferson, the Charlottesville area has been making wine and cider — yep, even before California! Attend a wine or cider tasting and discover a new favorite. Explore the Monticello Wine Trail to find a place or two to visit on girls weekend getaways.
The area's cideries, which are complemented by the great apple cider doughnuts in the fall, add more great girls getaway ideas to the list!
For a truly luxe weekend in Charlottesville, schedule a private wine tour with your own driver. You'll stop for tastings at four wineries with a private chauffeur who takes care of all the logistics!
Or, book a stay AT the winery! Several wineries in the region now have onsite lodging.
A weekend in Charlottesville: A suggested itinerary
I have enjoyed a few girls getaways in Charlottesville. Here's an itinerary to inspire your getaway planning. Don't worry if you change it up. I won't mind!
Arrival Day: Start your weekend in Charlottesville
Check into your hotel.
Enjoy dinner at one of Charlottesville's fabulous restaurants! One I highly recommend is The Virginian, Charlottesville's oldest restaurant. It's small, but it's packed with history! The wooden booths, pressed tin ceiling and walls of photos highlight the history of Charlottesville and UVA. The menu features southern classics like southern fried chicken, apple bourbon glazed chicken and mac'n'cheese. Personally, I recommend the southern fried chicken with white gravy!
Venture downtown to enjoy a late evening dessert or cocktail on the Downtown Mall. Convenient parking and a fun atmosphere lends to an easy evening stroll through this quaint city. OR return to your hotel to unwind for the evening.
Day One: Your first full day in Charlottesville
Morning: Explore History!

Thomas Jefferson called Charlottesville home. Visit his home, Monticello, and step back in time to learn more about this founding father. Allow enough time to explore the grounds, visit the museum and the shop.
Alternatively, tour James Monroe's Ash Lawn-Highland or James Madison's Montpelier.
Shop Michie Tavern. This 18th century venue is home to several shops that offer pewter, period clothing, exquisite quilts, and Virginian crafts in a general store. Michie Tavern, the onsite restaurant offers a traditional 18th century bill of fare as well. Step back in time and enjoy this unique gem.

Lunch: Enjoy lunch at Michie Tavern, which serves all you can eat colonial cuisine. They bring food to the table as long as you're hungry!
Afternoon: Indulge in a girls' spa getaway this afternoon! Several resorts in the Charlottesville area offer spectacular girls' spa getaway treatments. Some offer bubbly and chocolates or a private room just for your group to relax.
Evening: Enjoy dinner at one of Charlottesville's many independent restaurants. If you decide on a spa treatment, maybe reserve a table at the same resort for dinner!

Day Two of your weekend in Charlottesville
After all the pampering on day one of your girls' getaway weekend in Charlottesville, it's time to explore! Dress for comfort and get ready for fun.
Morning: Adventure abounds in Charlottesville!
Hike one of the many trails in the Charlottesville area: The Rivanna Trail System, a 20-mile urban wilderness trail that meanders through the city is an easy adventure, or check out the trails along the Blue Ridge Parkway or at the nearby Shenandoah National Park.
Kayak or paddleboard on the Rivanna River, just a few minutes from the Downtown Mall. Rivanna River Company has everything you need!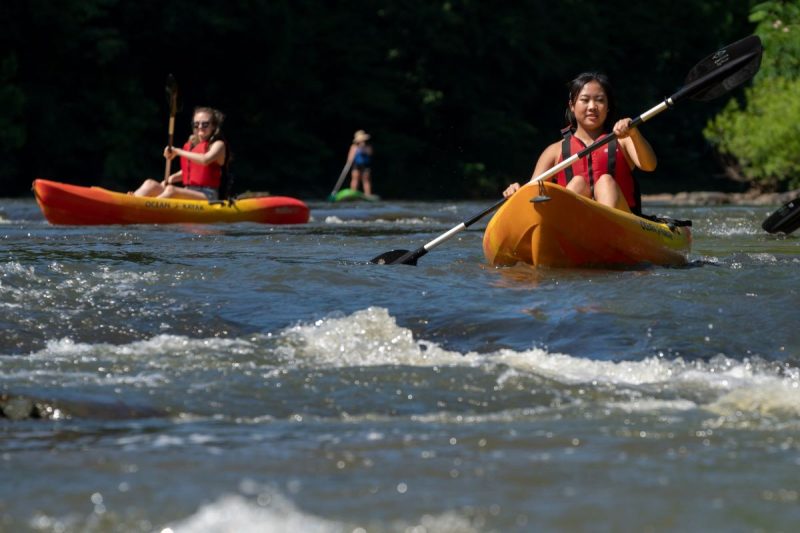 A little less intense, visit Carter Mountain Orchard. During apple picking season, you can pick your own apples. But, all year long, the orchard is a great place to enjoy a fresh doughnut as you relax and soak in the views of the Blue Ridge Mountains.
Lunch: Pick a spot that fits with what you chose to do this morning! As a university town, Charlottesville has lots to choose from!
Afternoon: Get creative!
Create your own keepsake. Enjoy a relaxing afternoon creating a memorable glass piece or pendant at The Glass Palette, an interactive glass studio. The studio is open Friday-Sunday. Their "walk ins" is a slight misnomer, as the meaning is simply that it's open studio. You still need to make a reservation in advance for two hours of studio time. I got to do this, and made a necklace with just a bit of instruction. It's a lot of fun!
Enjoy an art experience at Pikasso Swig. Check the calendar, and book ahead! Pikasso Pig is a Wine & Design type place that inspires relaxation and fun. There are a variety of project types offered!
Dinner: If you haven't already, plan on dinner at the Downtown Mall.
Evening: Enjoy a concert or play at the UVA School of the Arts. Concerts and plays, some free and others priced as low as $5 offer great entertainment value and the opportunity to see up and coming artists perform. See what's available during your visit by visiting the UVA Box Office online.
Day Three: Your weekend in Charlottesville comes to a close.
If time allows, consider some of the historical attractions mentioned on your first full day. Or enjoy the artisan's trail or more vineyards.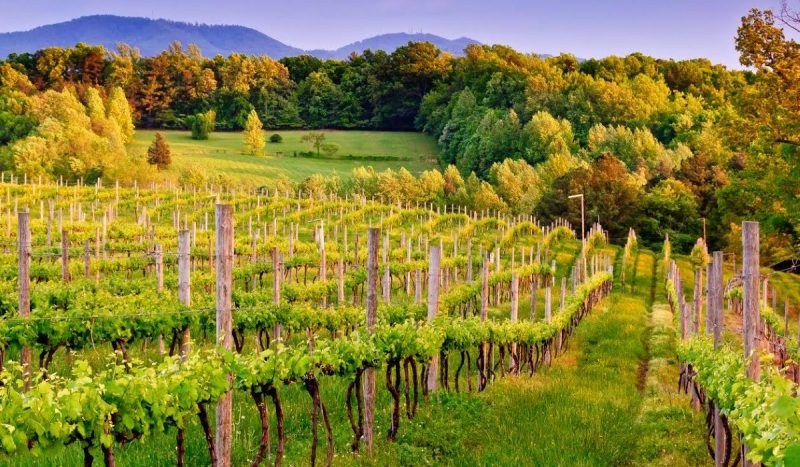 With so much to see and do, every member of your group will enjoy this girls' getaway to Charlottesville, VA. There's so much to do, make it an annual event!
If you need more tips and ideas to plan a girls getaway weekend, read our planning guide for a girls weekend getaways,