Children's Museum of Atlanta, a review (2023)
The Children's Museum of Atlanta, located at 275 Centennial Olympic Park Dr NW in Atlanta at Centennial Olympic Park, is a fun, inviting place to take the kids!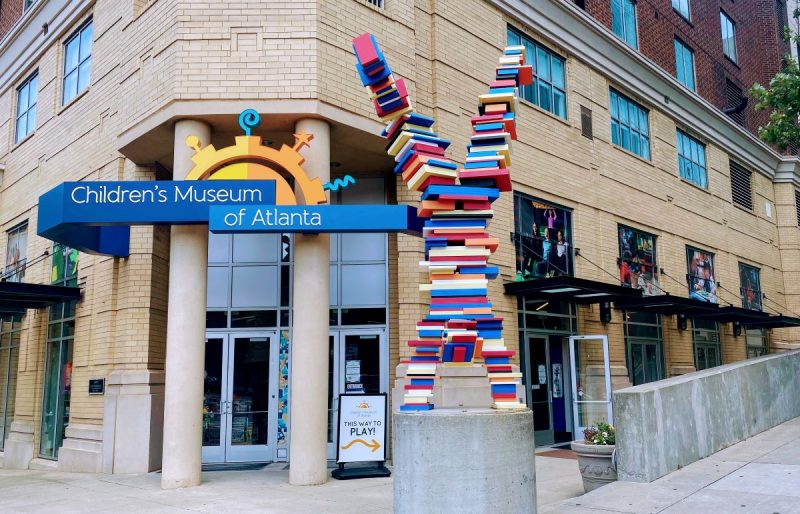 This bright, open, inviting space inspires learning through creative play!
And not just for the kids! Parents and grandparents get in on the fun, too.
Here's everything you need to know to plan an enjoyable visit to this wonderful museum.
What to see (and do) at the Children's Museum
The Children's Museum of Atlanta is arranged by play spaces as you can see in this interactive map that inspire kids to learn through play.
PRO TIP: When visiting a new museum with kids, look at the museum with them online before you go… like we did when visiting museums with kids in Paris! It's easier to enjoy when they know what to expect.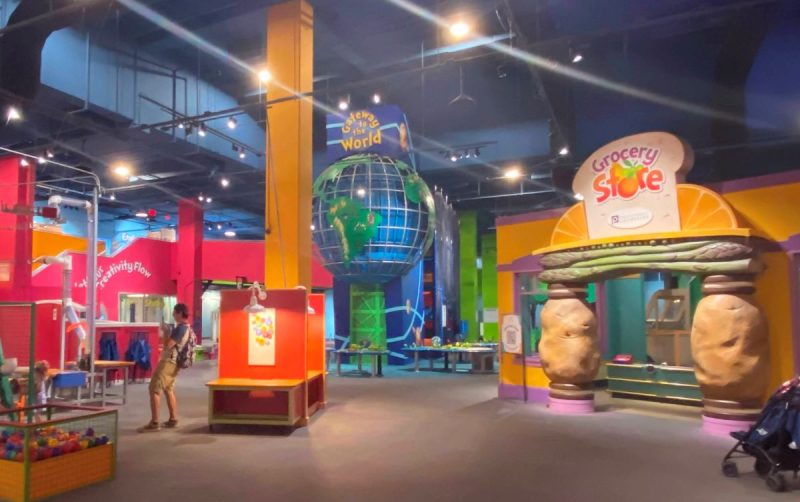 Wide open spaces within the museum allow kids the freedom to think outside the box and use items creatively.
On my tour, Stacey Lucas, CMA's Director of Advancement and Marketing, shared that each day the museum staff has to return items from one exhibit to another as sessions close. The grocery carts, in particular, seem to find their way across all parts of the museum.
The museum is designed for kids ages 0-8, though kids up to age 12 are likely to find things to enjoy. And, while this is a children's museum, parents are encouraged to join in the fun!
The museum operates on a session basis, one each morning from 9:30-12:30 and one each afternoon from 1:30-4:30. The museum closes from 12:30-1:30 each day for cleaning.
When booking your visit, choose which session to attend — morning or afternoon. It's best to arrive on time — or even a few minutes early — so kids have time to explore it all.
Here's a summary of the exhibits you can expect to find at the Children's Museum of Atlanta.
Permanent Exhibits at the Children's Museum of Atlanta
The Children's Museum of Atlanta offers six permanent exhibits.
Fundamentally Food, the first exhibit you'll encounter, is geared for kids 0-8 years old. It includes a cafe, a grocery store, a farm and a delivery truck complete with loading zone.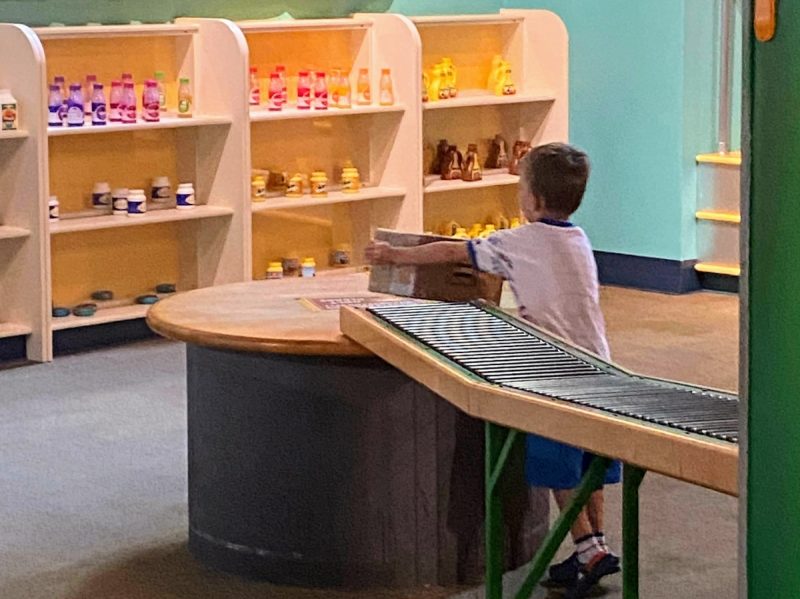 As they play, kids learn about all aspects of our food supply. They can gather eggs from the hen house on the farm, load boxes of food at the delivery truck, use a grocery cart to shop at the grocery store, and work in the restaurant preparing and serving food to willing patrons (parents)!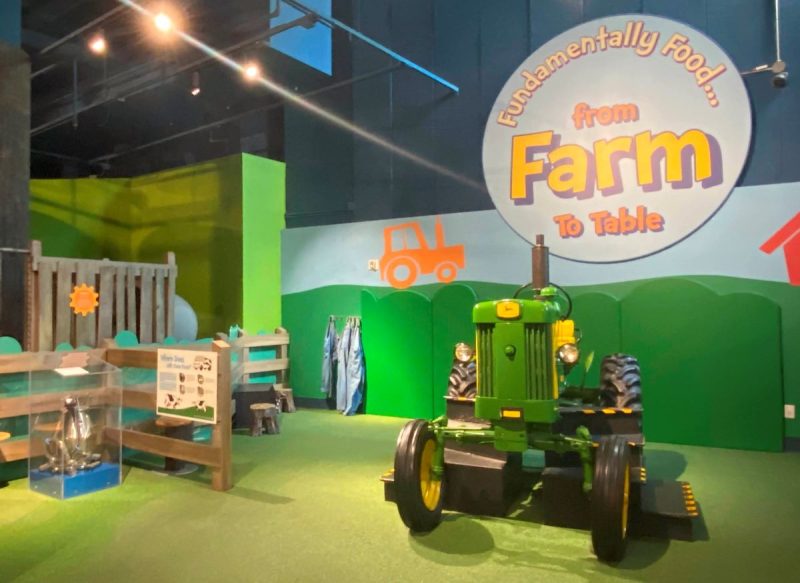 The Leaping into Learning exhibit is a carefully designed space for kids aged 0-5. It's set back in the corner away from the busyness of other spaces, with a nursing room and quiet space attached.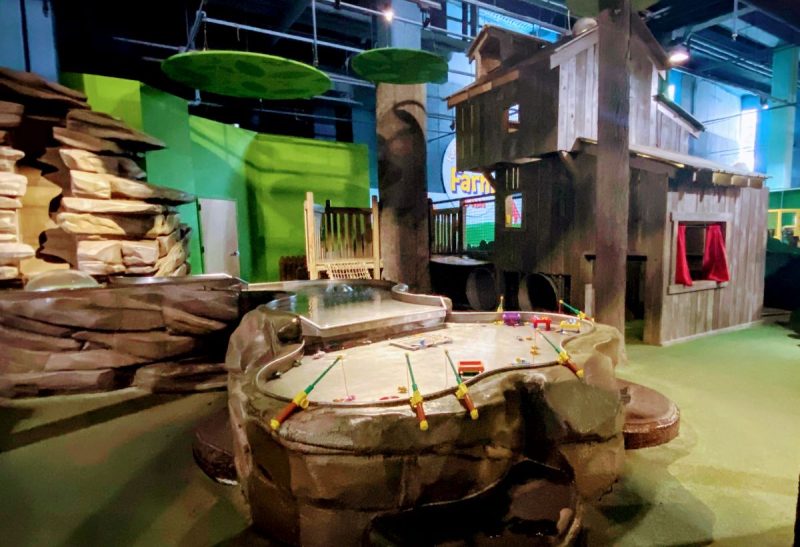 Families with young kids will appreciate the water tables, adorable forest, playhouse and more — all designed just right for the littlest visitors to the museum. Though not noticeable to kids, the space is surrounded by a "wall" making it a bit more difficult for kids to wander off!
Gateway to the World is the newest and largest exhibit at the Children's Museum of Atlanta. A giant globe, which kids can climb into and make spin, is on the second floor overlooking the rest of the exhibit.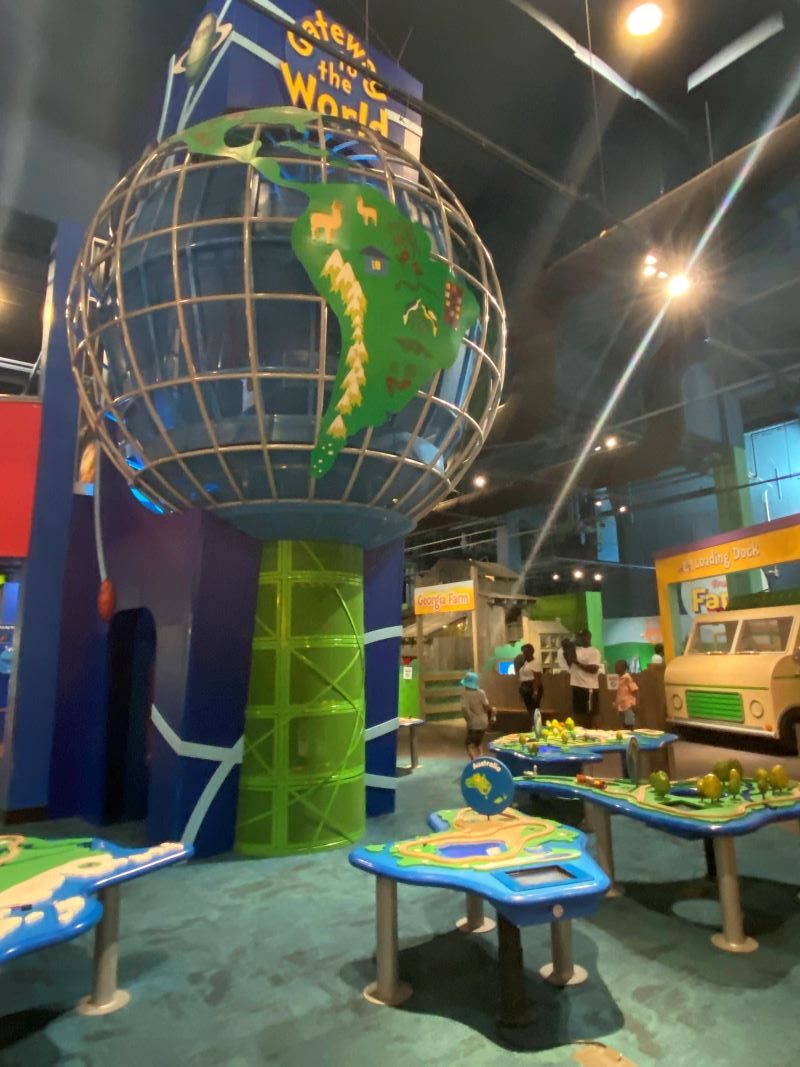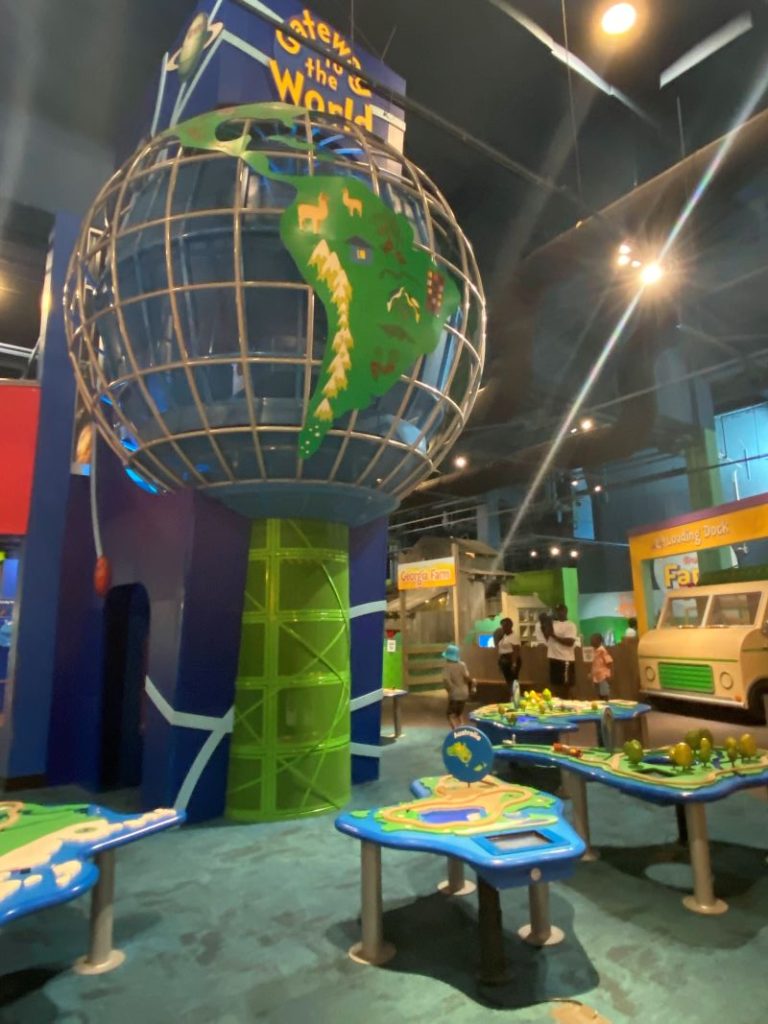 Continent tables in this exhibit allow kids to learn about geography, rivers, earthquakes, transportation and major cities of the world. One of the neatest spaces in Gateway to the World is the sand table, which lets kids move sand around as a topography map is projected down onto the table.
The climber is just that — a climber — great for using some of that big muscle energy!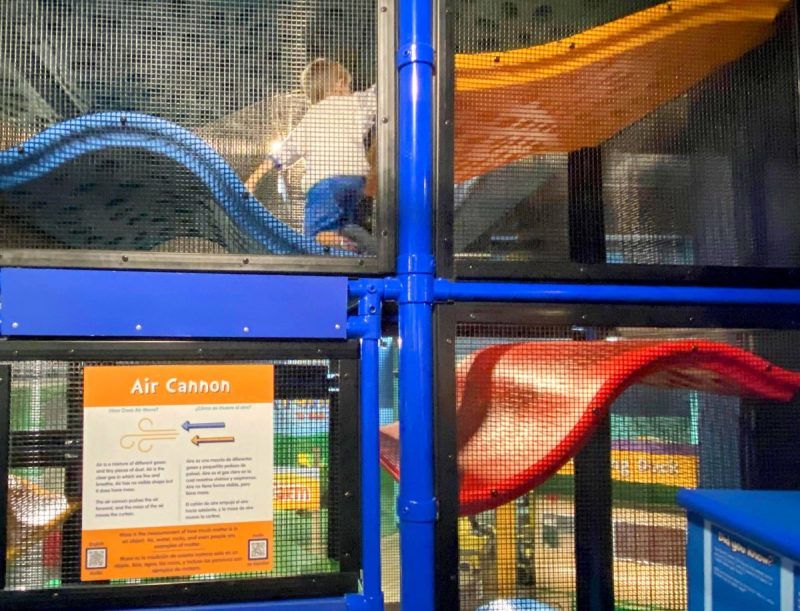 And, the rocket launcher provides all the materials kids need to build their own rocket and launch it toward the planets on the wall.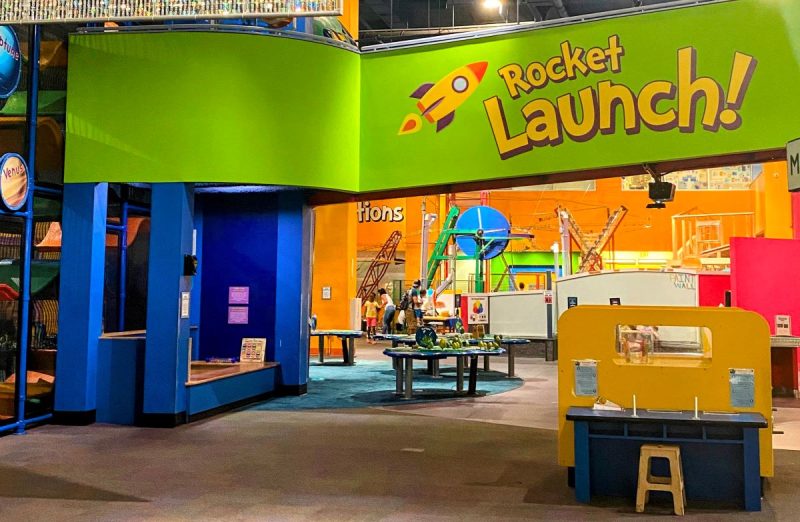 Tools for Solutions is another bright space focused on industry. Kids learn about the construction of a house as they wear essential construction hats and vests!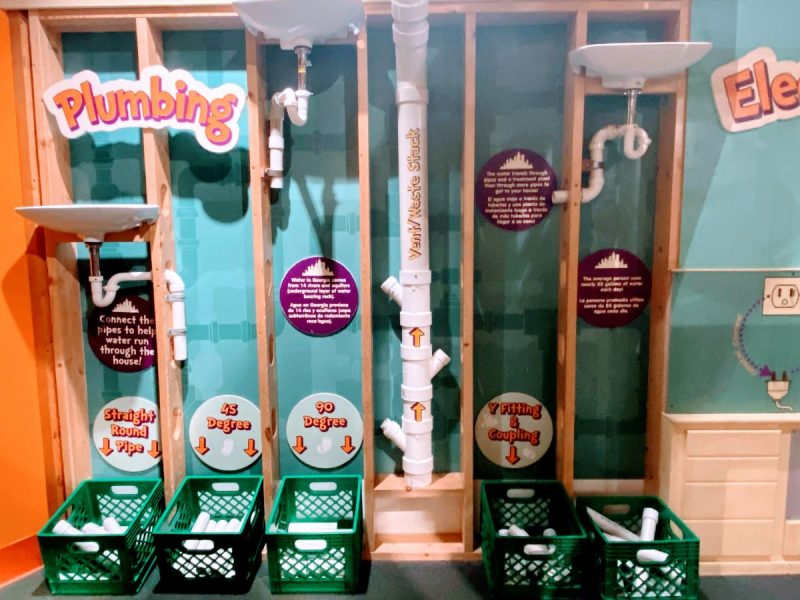 The ball machine introduces the concepts of physics — pulleys, levers, screws, incline planes, wheels, axles and wedges — as kids figure out how to maneuver balls through the system. I'm told this exhibit is particularly popular with those we might call "kids at heart!"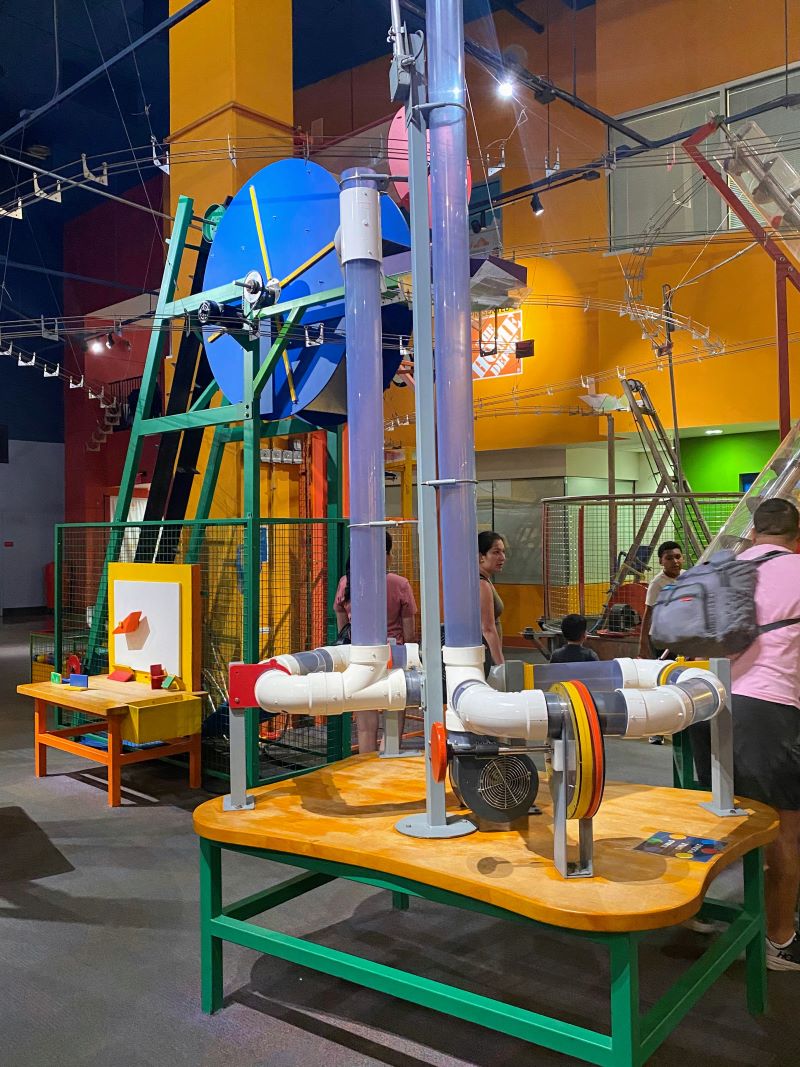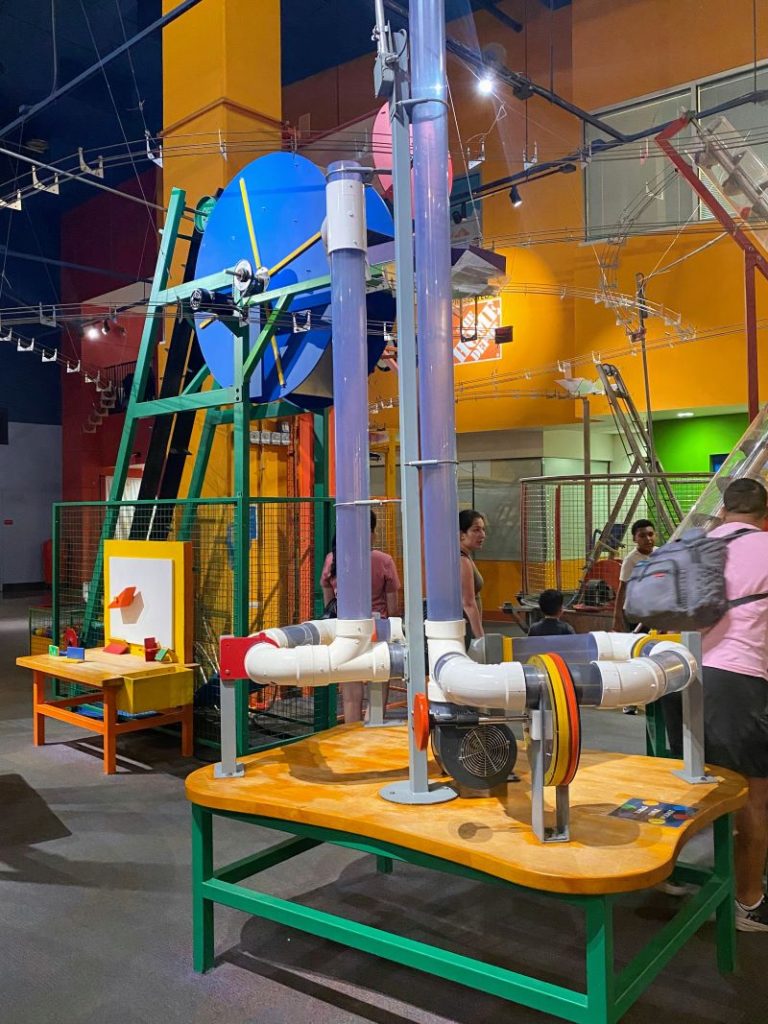 There's also a block area where kids can build tall towers, inspired by the mural of Atlanta on the wall. And, suitable for the older kids who visit, there's even an exhibit that helps kids learn about how to build structures to survive earthquakes.
Let Your Creativity Flow is an amazing exhibit that encourages kids to explore color and design through paint.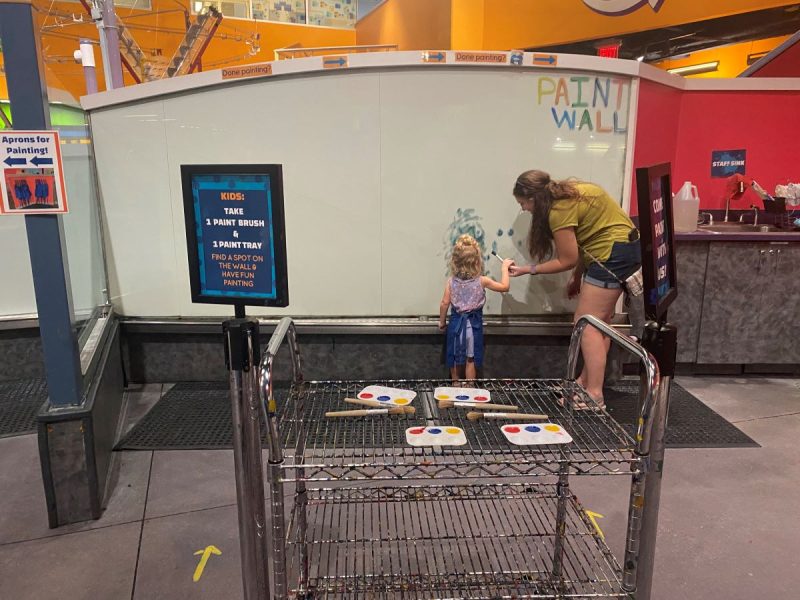 With smocks, paint and brushes, kids can paint on a white wall.
OR… with parents' assistance, they can paint on a clear acrylic wall. Parents can place their hand on one side of the acrylic wall and kids can "trace" the hand on the other side.
As kids mix colors and experiment with brush strokes, they learn about color and design.
Step Up To Science is the last of the permanent exhibits, but by no means least! It's located on the second floor, up the piano staircase (which, yes, does play music)!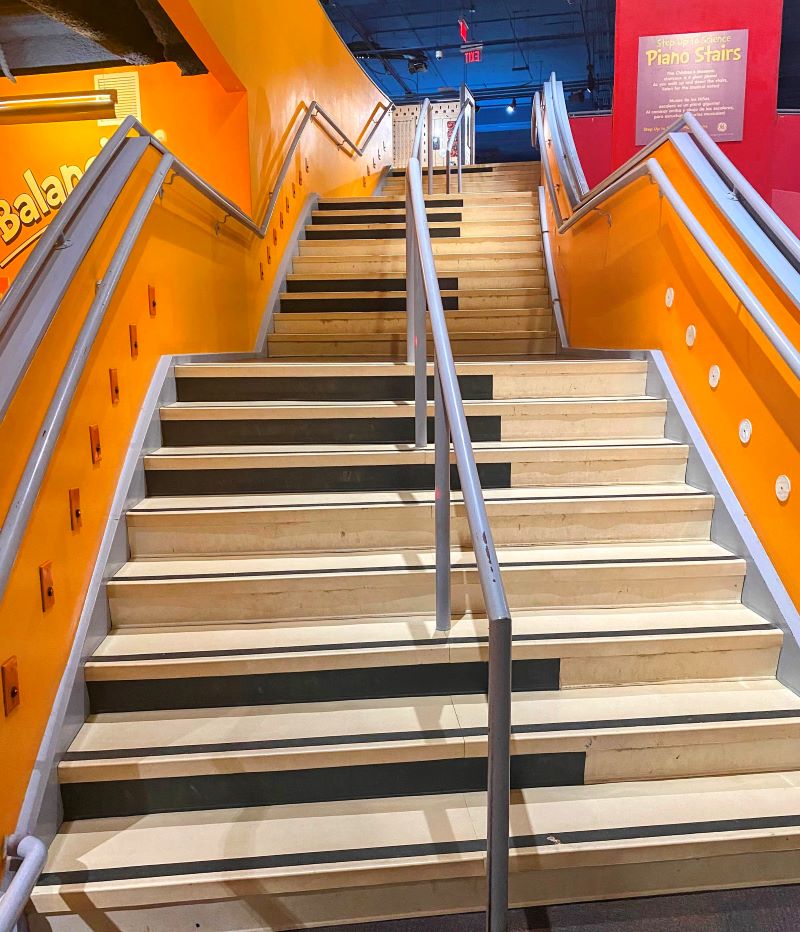 This exhibit at the Children's Museum of Atlanta is particularly popular for parents and kids to explore together. I'm told that the circuit bench and keva planks often find grandparents as engaged as the kids! Learn about light, electrical circuits, magnification, machines and so much more.
The air cannon is mesmerizing — pull back on the cannon to release a giant puff of air into a mylar art piece hanging from the ceiling — and watch as the air puff changes the pattern of the mylar pieces.
Featured exhibits at the museum
Every three to four months, a traveling exhibit often based on a popular kids' TV show (Sesame Street) or movie is brought into the museum.
Like the permanent exhibits, these special exhibits encourage learning through play.
FUN FACT: Did you know that scheduling new exhibits like this happen years in advance? Often, museum staff have to schedule programs before they've even been completed!
In September, "Emotions at Play with Pixar's Inside Out" is coming to the Children's Museum of Atlanta. It will be available from September 16, 2023 through January 7, 2024.
The exhibit will allow kids to explore the important role emotions, memory and imagination play in our everyday lives. It will help kids learn the different ways they express emotion and help them recognize emotions in others, too.
Activities within the exhibit include emotion mirrors (to help kids learn what different emotions "look like), memory spheres (associating memories with colors like in the movie), an emotions maze, the control panel (like in the movie), and a stage to act out emotions with puppets.
This popular exhibit is sure to bring a lot of visitors to the museum, so purchase tickets early!
Special Programs at the Children's Museum of Atlanta
While touring the museum, I could see the care put into planning the layout of the facility.
There's a nursing room with books and soft toys for the comfort of the youngest visitors.
Throughout the museum, reading nooks stocked with books and seating, tucked away for privacy, give kids a quiet space to enjoy. A parent can easily read a book to one child while keeping an eye on other kids exploring the adjacent exhibit.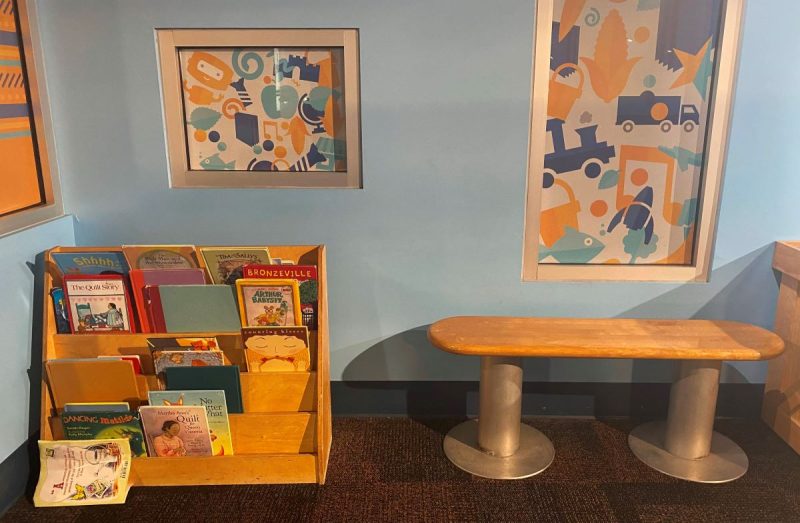 Near the craft area on the second floor, a toddler area gives little ones a chance to explore while older kids enjoy adjacent spaces for older kids.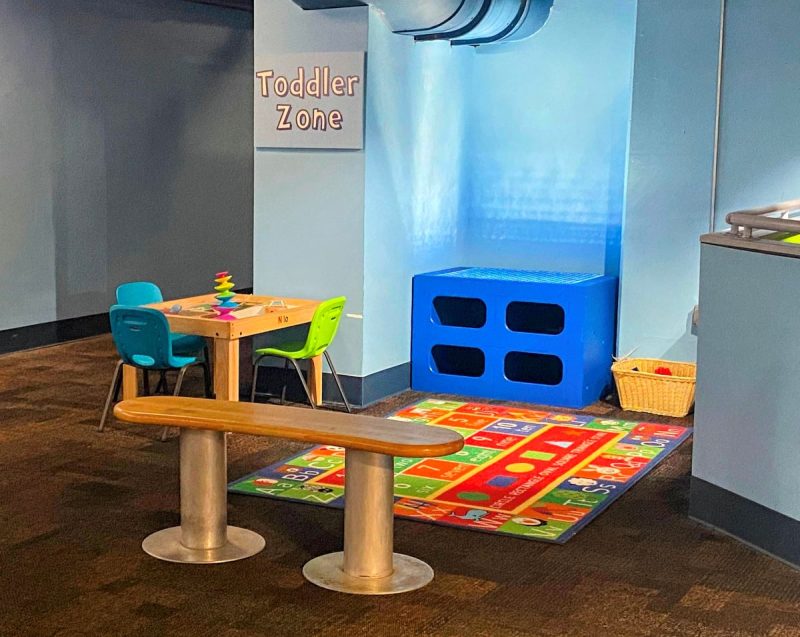 Beyond the reading nooks, the Children's Museum of Atlanta offers special Sensory Friendly Sessions the first Sunday morning each month.
The Sensory Friendly Session includes a sensory-modified setting with limited admission and sound and lighting adjustments.
Callie the Therapy Dog attends these sessions, too, offering pets and snuggles at the stage.
Plan your visit to the Atlanta Children's Museum
Museum Tickets and Pricing
It is best to purchase tickets in advance for the specific session you plan to attend, either morning or afternoon as ticket sales are limited.
Though, walk up tickets are offered when there's availability. (NOTE: The website says no at the door tickets, but they told me walk up tickets are offered when space allows.)
Ticket prices vary based on the day of your visit. As of this writing, Tuesday is the cheapest day to visit, with ticket prices for everyone age one and above at $15.95. Weekend prices are highest at $19.95. Special events might cost more.
The Children's Museum of Atlanta is closed on Wednesdays, Thanksgiving and Christmas Day.
Check the website for membership information, military discounts and museum reciprocity information.
Program Schedule at the Children's Museum of Atlanta
In addition to the permanent and temporary exhibits, the museum offers many enrichment programs.
Each month focuses on something different — such as friendship (August) or Halloween (October). Special activities provide a chance to explore the focus concept with staff assistance.
Daily, the museum offers story time at the stage and creative activities in the art studio.
Check the museum program schedule for activities offered the day you visit.
Parking and directions to the Children's Museum of Atlanta
The museum does not have on-site parking. With it's location at Centennial Olympic Park, there is plenty of parking nearby.
The museum website has a great map showing parking options nearby.
The website also provides directions, though we found our smartphone map apps worked very well in Atlanta.
MONEY SAVING TIP: To find the most affordable parking for your visit, check parking options with SpotHero.
What to wear to the Children's Museum
Kids (and parents) will be most comfortable in "play clothes" and rubber-soled sneakers or shoes.
Open-toe sandals, flip flops, and high heels are strongly discouraged. Children will be very active and they may have an opportunity to play with paint and other messy materials. 
Feel free to bring a change of clothes for kids 5 and under as they might get wet in the Leaping into Learning fishing area.
Shoes must be worn at all times with the exception of the baby area. Flip flops will NOT work in the climbing apparatus!
Parents "Code of Conduct" at the Children's Museum of Atlanta
The museum does NOT allow adult admission without a child.
They also encourage the following:
Stay Together, Play Together: Adults MUST stay with their children at all times!
Always Use Helping Hands: Explore, share, and put things away!
Always Use Walking Feet: No running, please, for the safety of yourself and others!
Make Memories, Don't Miss Them!: You are your child's first teacher and playmate. We encourage a screen free experience, unless capturing precious memories.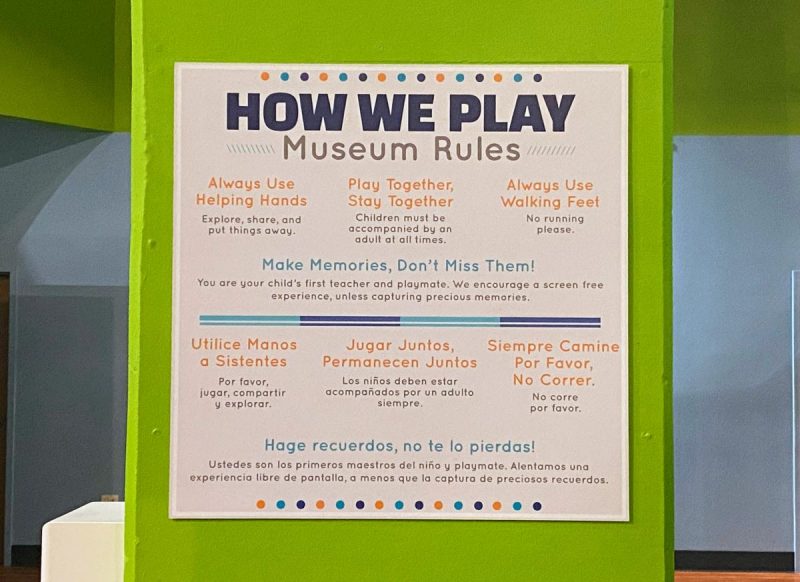 Further, when taking photos, be sensitive of others. They may not want their children's photo taken!
For the full list of expectations, please visit the museum's code of conduct page. This ensures everyone can have an enjoyable experience.
The Children's Museum of Atlanta offers a bright, inviting space for kids and families to enjoy.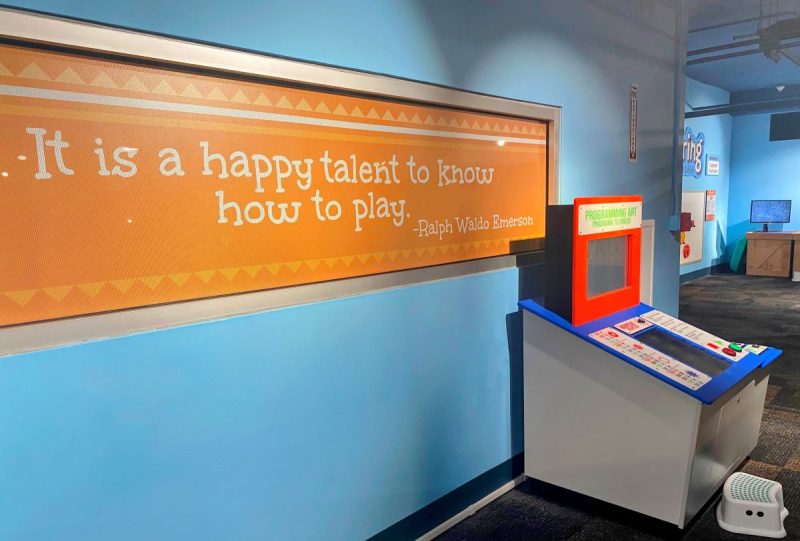 Each exhibit is carefully designed to encourage learning through play. Limited ticket sales for each session ensure the museum doesn't get too crowded for families to enjoy it. And, special programming enriches museum visits with special activities, art stations and story time.
This museum, with its thoughtfully integrated quiet spaces, considers everyone's needs for an enjoyable day.
We highly recommend the Children's Museum of Atlanta to families with kids ages 0-9!
Other things to do in Atlanta with kids:
When visiting Atlanta with kids, we recommend these museums and attractions as well.
Dino-Safari, a walk-through adventure (at North Point Mall). This indoor activity is wonderful to beat the heat or avoid the rain AND let kids get the wiggles out!
LEGO Discover Center Atlanta (about 20 minutes north of downtown). Another indoor activity that is fun for kids and adults, both! Of course, you can build LEGO creations, and there are rides and 4D movie adventures, too!
We also strongly recommend that families visiting Atlanta consider the Atlanta CityPASS which offers a 44% savings on admission to the following attractions: The Georgia Aquarium, World of Coca-Cola, Zoo Atlanta and more!
We used the Atlanta CityPASS on a recent visit and thoroughly enjoyed each attraction — as we appreciated the convenience and savings. We didn't have to stand in line for tickets, but walked right up to the entrance!
We hope these tips make planning a family trip to Atlanta easy and fun!