Celebrity cruises for teens: Ellie's teen review!
We took a spring break cruise on Celebrity Equinox, unsure whether Celebrity cruises for teens was a good idea.
We know that Celebrity cruises are a "step up" from the popular Royal Caribbean Cruise Line — a bit more luxury on a smaller ship.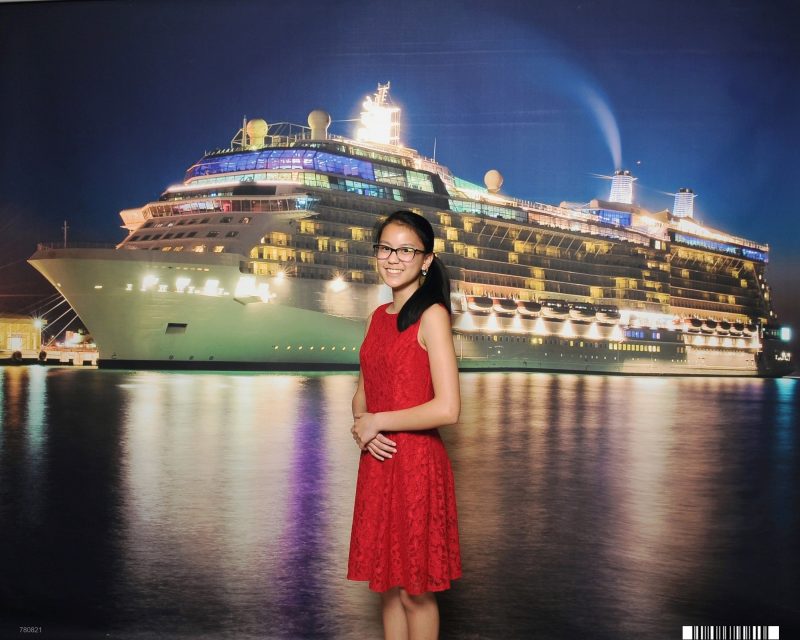 But, when planning our trip, the Celebrity Cruises website only mentioned the teen club and spa treatments for teens. We weren't sure this would be the best cruise for teens.
If you're like us and want to know if Celebrity Cruises for teens is a good choice, we have the answer!
Not only that, this is my teen's answer to whether Celebrity Cruises for teenagers is a good choice — not the Family Travels on a Budget mom answer!
Before we get to my teenager's opinion about whether Celebrity Cruises for teenagers is a good idea, I have to admit that Celebrity Cruise Line caters to families, with most activities open to families of all ages — like trivia challenges, scavenger hunts, live theatrical shows and "Silent Disco."
If you are looking for a cruise where your family spends time together, Celebrity might be the best cruise for teens and their parents. We met many families who were hanging out together, enjoying the hot tub, long dinners and fun in the ports.
---
---
Celebrity Cruises for teens, a teenager's opinion
Before our cruise, I challenged my daughter to evaluate the options onboard and decide if Celebrity offers good cruises for teenagers.
I knew for it to be considered the best cruise for teens, it would have to offer activities to suit every type of teen.
Ellie was up for the challenge!
She found THIRTEEN fun things for teens to do on Celebrity Equinox. She's even declared Celebrity the best cruise for teens because there are so many cool things for teens to do — with and without the parents!
---
---
Thirteen fun things for teens to do on Celebrity Cruises
So, Ellie — being of the NOW generation — made an awesome video of all the cool things on Celebrity Cruises for teens.
Here's the video for those who, like her, prefer YouTube to see why Celebrity offers great cruises for teenagers!
Our Celebrity review is based on the Deck Plan for Celebrity Equinox.
Hang out in the Teen Room
Located on Deck 15, the X Club is a dedicated teen space. The X Club has several lounge areas, board games, video games and planned activities. Many scheduled activities for teens meet up in the X Club, but then teens head off to other parts of the ship for the activities.
It's a laid back space — and no parents are allowed!
Play around on the putting green
Also on Deck 15, Celebrity has a putting green and bocce ball area that teens, adults and kids can use.
Celebrity Equinox does not have a putt putt course like many Royal Caribbean and Disney ships do, but it's still fun! Get a couple putters and challenge each other to hit the best shot!
Ellie's got a great short game — and not just because she's only 5'1″!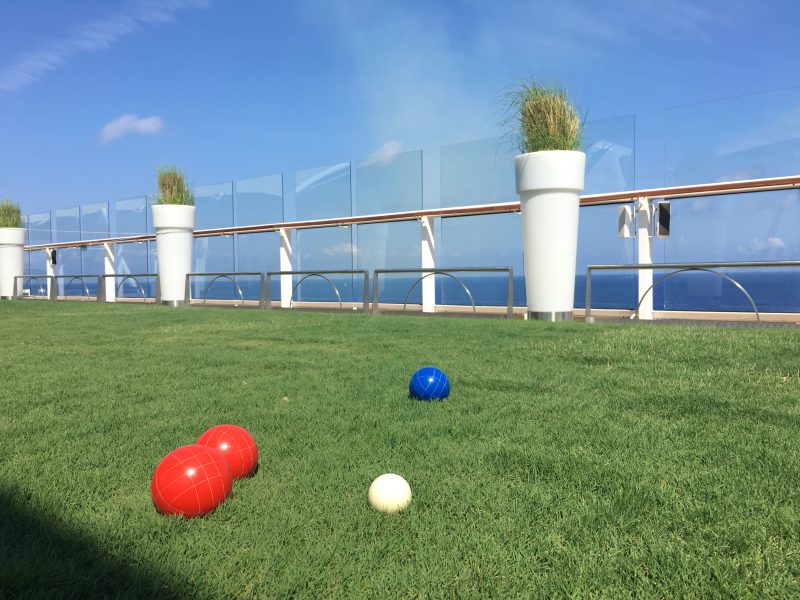 Hit the arcade
Across the hall from the X Club, teens (and their families) can challenge each other to traditional arcade games like racing games, air hockey and other popular video games.
Games in the arcade are an extra cost not included in your cruise vacation fee — yep, even at sea, there's such a thing as pay to play.
Chill out at the pool
Of course, no cruise would be complete without some pool time! And, on Celebrity Equinox, there's no shortage of lounge chairs and space poolside.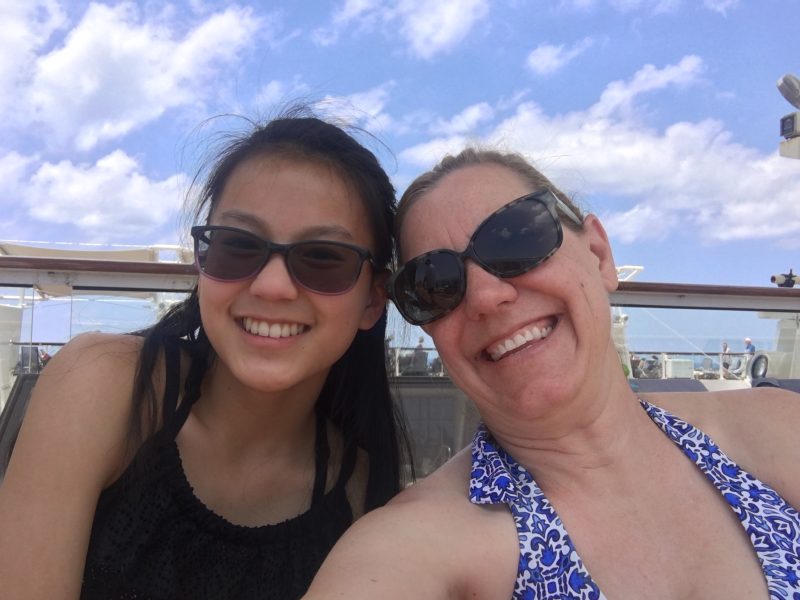 Pools and hot tubs are located on Deck 12 with additional lounge chairs on Deck 14, overlooking the main pool.
Throughout the day, enjoy live music, line dancing and poolside games.
But this is a post about the best cruise ships for teens, so back to the teen stuff…
Hang out in the library
On Deck 10 near the main elevators is the library.
Ellie found it the first day — and even found a book in Korean to try to decipher! She's been learning Korean from a friend at school, but found the book too advanced. So, she went and got another one in English.
While the library might not be considered one of the most cool things for teens, it is handy for teenagers on spring break who are also studying for AP exams and college entrance tests. The library got quite a workout during our spring break cruise!
Relax in a lounger
Besides the pool chairs, there are some pretty sweet loungers on board the Celebrity Equinox! Thankfully, Ellie allowed me to hang out with her — and we had some pretty fun conversations! We felt spoiled having such luxury available — no extra fee to reserve the loungers, either!
Work out at the gym
On Deck 12 near the spa, you'll find the gym.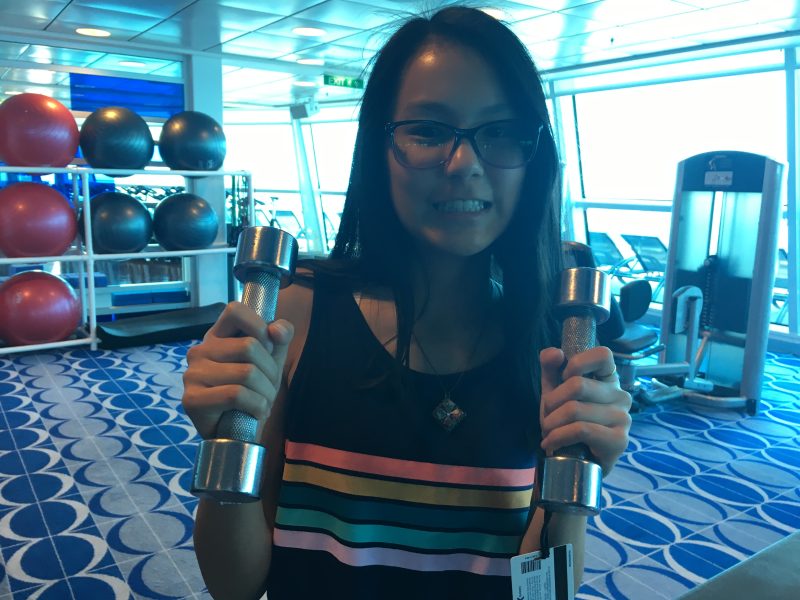 Of all the cruises I've been on, the workout facility on the Celebrity Equinox is, by far, the nicest!
There are loads of bikes, treadmills, free weights, exercise balls and weight systems on the ship — and the view is AMAZING!
With chilled towels, water and saunas in the dressing rooms even those reluctant to work out might actually enjoy it onboard!
Grab a snack
As it is with cruising, all day dining is a major perk!
In the Mast Grill and Oceanview Cafe, both on Deck 14, you'll find snacks to tide you over during the day.
The desserts at Cafe al Bacio, on Deck 5, are scrumptious! I was a huge fan of the lemon tarts, but you decide what's best. These desserts are free — just pay for specialty drinks.
Lounge on the lawn
One of the best features — certainly one of our favorites — is the grassy lawn on Deck 15.
Yes, there's a half-acre, real-grass lawn on the Celebrity Equinox, Deck 15. Imagine walking barefoot across the cool grass while basking in the sun as you watch the water roll by. OOOHHHHH!
The grassy lawn is a great place for a picnic lunch. Or, take a book and enjoy the solitude of this special place.
We met lots of people who enjoyed the lawn as much as we did — particularly, Victor Franks, turf specialist who took the cruise just to play bocce on the grassy lawn.
Play a board game
In the Card Room, on Deck 9, midship, we saw lots of teens playing board games.
With Monopoly, Checkers, Chess and Clue (to name a few), there's lots to choose from.
The Card Room also has decks of cards and bunch of puzzles. This might make the Celebrity Equinox one of the best cruises for teenagers!
Certainly, it made us certain that Celebrity Cruises for teens is a solid choice!
When Ellie wasn't in the X Club for teen activities or the library studying for exams (sad but true), we knew we could find her in the Card Room with all her new friends.
Enjoy the live entertainment
Every day, you'll find live entertainment on board.
The ship's singers and dancers perform several live shows during the week, and special performers come in, too.
On our cruise, we enjoyed a magician's show and a comedian in addition to the three live performances by the "regular" performers.
Throughout the day, musicians perform at various locations on board making this one of the best cruises for teenagers.
One of the most cool things for teens and their families are the special dances. We loved the silent disco — so much so that we went both nights and danced our hearts out.
Shop till you drop
Or… at least enjoy the shopping on board and in port.
While this is a review of Celebrity Cruises for teens, my husband has an important tip for everyone!
If you want to shop onboard a ship without being bothered, don't take Mom!

Family Travels on a Budget (Rob)
My husband first noticed this in the cruise port at Costa Maya.
The three of us, teen included, wandered through the shops. Every time I, Mom, walked through the door, salespeople approached us immediately.
When I stepped away to check in by text with the kids stateside (free texting for AT&T customers in Mexico), he kept shopping with our daughter — without a single person "offering" to help.
We have decided that from now on, he's the shopper and I get to hang out at the coffee shop! Ellie really doesn't care either way as long as she gets to shop! (Don't believe me — watch her video starting at 2:30! Hilarious!)
Stare out at the sea!
After all, it is a cruise!
There are so many places to watch the water roll by on Celebrity Equinox. Most cabins have balconies (aka, verandas). There are views of the water from all the public decks, including Decks 5, 12, 14, 15 and 16. Find a spot and watch your cares melt away.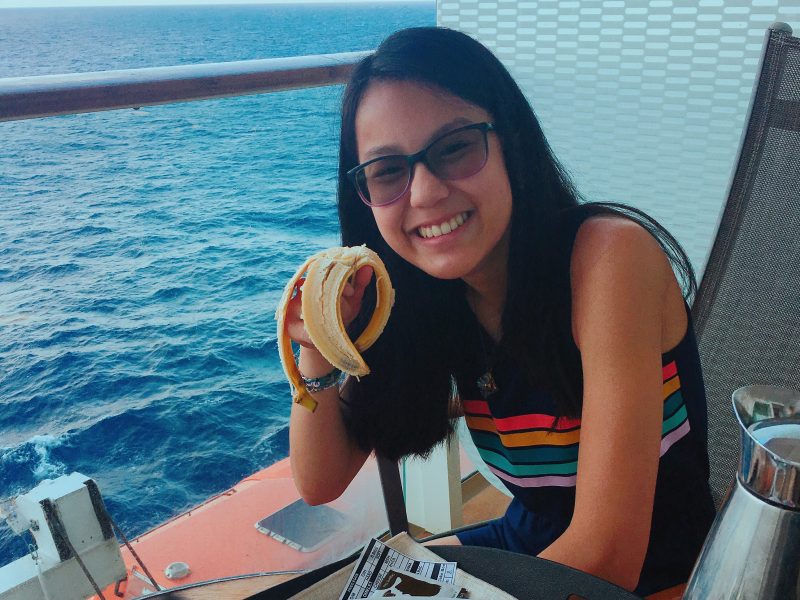 Ellie and I hope this post helped you decide whether Celebrity Cruises for teens is a good option for your family.
If you're still not sure that Celebrity Cruise Line is the best cruise for teens or your family, these articles might help.
Learn more about cruising with our Cruising 101 series:
If there's anything we left out, leave us a comment. Ellie and/or I will get back to you!