Fabulous finds in Fincastle
Every year, Ellie and I take a trip together — just us girls. This summer was extra special because we got to meet up with friends partway through (that's for the next post)! Imagine three squealing tweens and two moms… Oh what fun!
Our trip began with two days in the Fincastle area for Ellie and me. We loved it and can't wait to take Rob! And we'll introduce him to Bobbie and Mitch at the B&B and take him to all the wonderful places we found.
About Botetourt County
Botetourt County and Fincastle were incorporated in 1770. At one time, the county stretched west from Fincastle to include most of Kentucky, Illinois, West Virginia, Indiana and Ohio. Fincastle has always been the county seat and is a great place to vacation!
The tourism board in Botetourt County (by the way, that's pronounced BAH – te – tot) created a great little quiz to help visitors discover their "Bot-e-type": Adventure, Culture, Flavor, History or Sports. Answer six questions for a great itinerary based on your interests.
My quiz results said I'm the flavor type (though I expected history)!
Adventure in Fincastle
The Appalachian Trail and the James River pass through Botetourt County, offering all the adventure one could want. Hike a portion of the Appalachian Trail at Troutville, VA. For a less challenging route, hike the Roaring Run Falls Trail in Eagle Rock, a 1.5 mile loop trail that takes you past Roaring Run Falls. The river offers all sorts of adventure: float, paddle or ride the rapids on the James.
Culture in Fincastle
When in Fincastle, visit the studio of Jake Cress, a world renowned artist and all around great guy! He works out of his house (which is also a B&B), and has many pieces on display — though you can also find his pieces at the Smithsonian in DC. Jake has a quirky sense of humor, which shows in his work — we were enthralled! Ask him for a tour of the shop — beg if you need to. Most of it dates back to the 1920s, a bit older than Jake.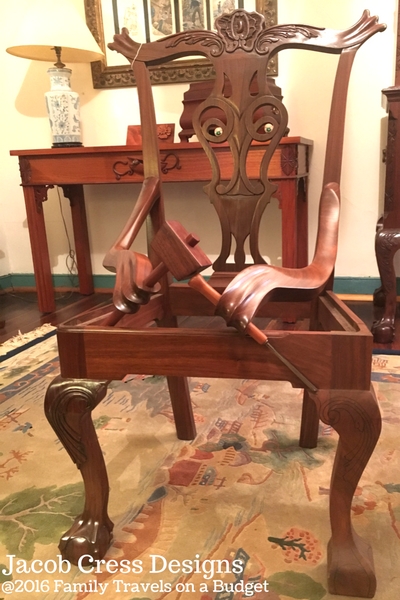 Other cultural spots include the historic theater in Buchanan (pronounced Buck – an – en), a number of other galleries and workshops, and Attic Productions — the community theater in Fincastle.
Flavor in Fincastle
Oh my goodness! Ellie and I ate so much on our Fincastle trip — and it was all amazing! Our favorite dinner, though Three Li'l Pigs came in a close second, was at Tizzone, located in the Daleville Town Center (with easy access from I-81 Exit 150A/B — about 2 miles down the road). The wood fired pizza is incredible. Be sure to save room for dessert — Ellie recommends the baked s'mores! Imagine a crumbly graham cracker crust covered with a gooey, super dark chocolatey ganache and topped with eight marshmallows — all of it toasted in the wood fired oven. Ooooh yeah! Add a cup of coffee and this is dessert perfection.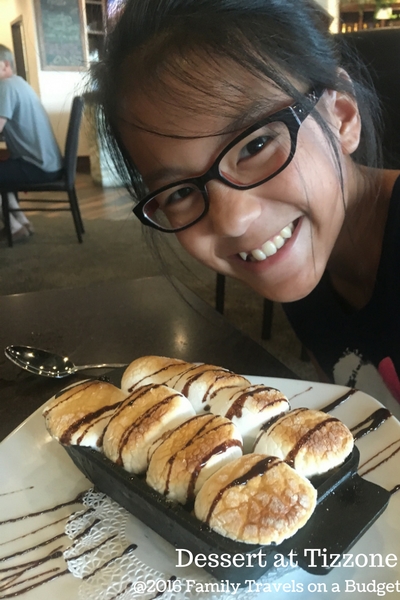 Second place Three Li'l Pigs offers great barbecue — good enough for a presidential visit! It's also close to Exit 150A/B on I-81 and much better than the fast food in the area! Portions here are quite large, so consider splitting meals for smaller appetites. We enjoyed everything we tried — you can't go wrong.
Troutville's White Oak Tea Tavern offers light lunches (though portions are large) in an old log cabin! Though, come here for the tea. That's what it's famous for — and for good reason!
Oh my goodness…. I could go on and on about the food in Botetourt County. Maybe FLAVOR really is my type! For more on the sweets and treats, fun restaurants and shops in the Fincastle area, click here.
History in Fincastle
I really thought I would be the history type — but I guess it comes in second. Fincastle was founded in 1770. Thomas Jefferson designed the town's prominent courthouse — which is cool. BUT, inside the courthouse, you can read original historic documents written by the signers of the Declaration of Independence — more cool! The courthouse suffered a devastating fire a while ago, but because the documents room has thick stone walls, they suffered no damage at all!
Fincastle has long been known by those who explore genealogy. But, it's also significant to the Lewis and Clark expedition. In fact, William Clark met his wife, Julia Hancock, here (they married after the expedition's end). The county has many Civil War sites, canals and locks that were surveyed by George Washington (before presidency), and charming small towns reminiscent of Norman Rockwell. In Fincastle, I was tickled to see neighbors sitting on benches chatting the afternoon away — so adorable. Virginia Tech fans might enjoy seeing the house in Fincastle where their first uniforms were made.
You can see much more — just make time for it. Ellie and I wanted to explore the historic cemeteries, but we just couldn't squeeze it all in.
Sports in Fincastle
Fincastle is central to all the sports offerings in Botetourt County. We tried our hand at disc golf at Greenfield Recreation Park in Troutville. The course offers three levels of difficulty for beginners to pros and is ranked among the best in the world. We did not do it justice!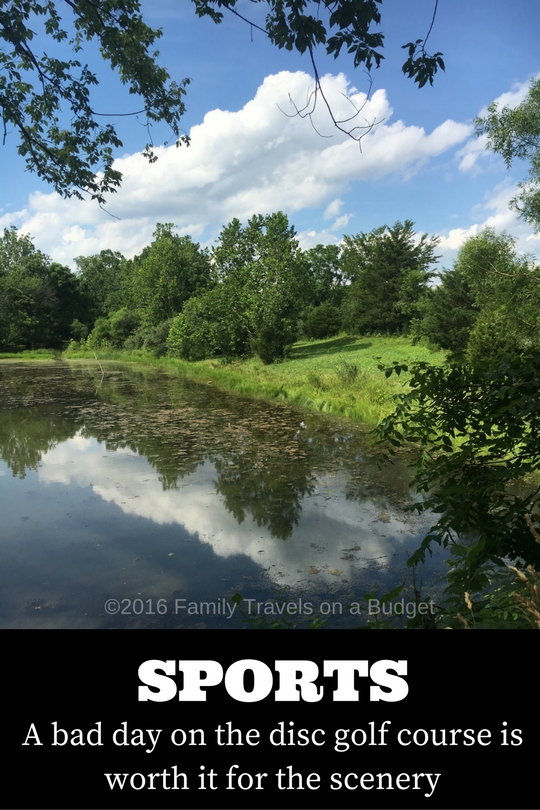 The area also offers a number of golf courses — with breathtaking views, biking trails, hiking trails, tennis courts, equestrian trails and more.
What's your Bot-e-type?
I can't really close this post without asking — what's your Bot-e-type? Or are you like me — a mix of a few?
Special thanks to Botetourt VA Tourism for arranging our visit — and to all the places that welcomed us. We had a wonderful time and can't wait to come back!
You might also like