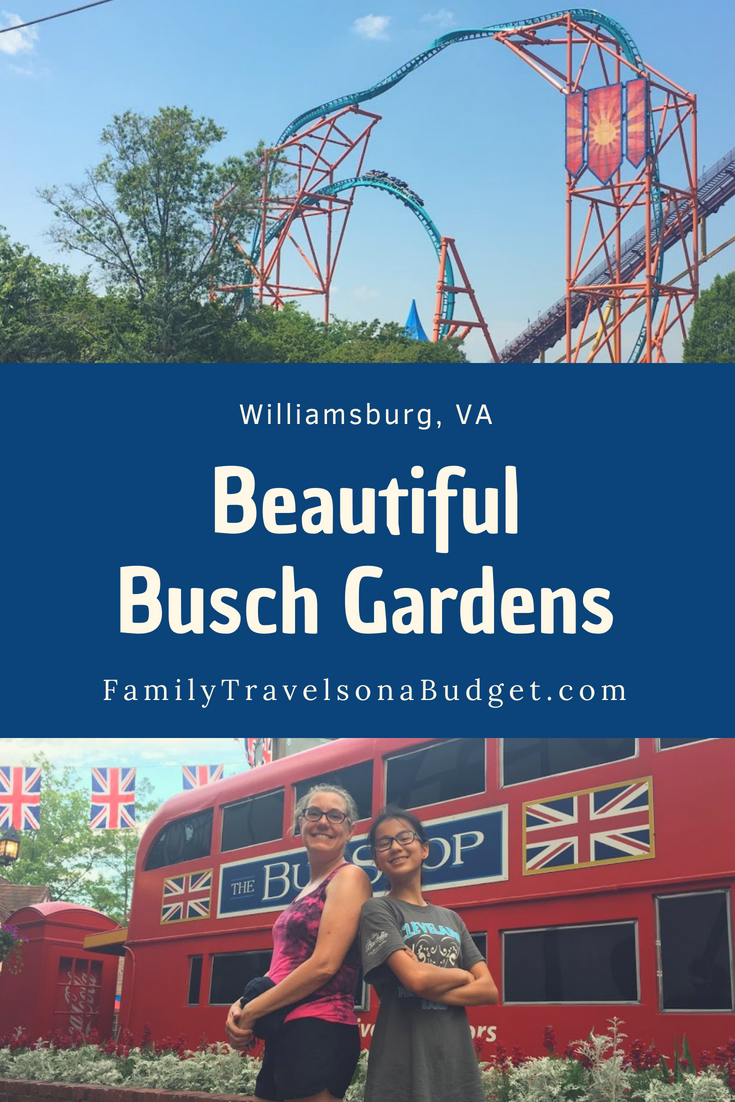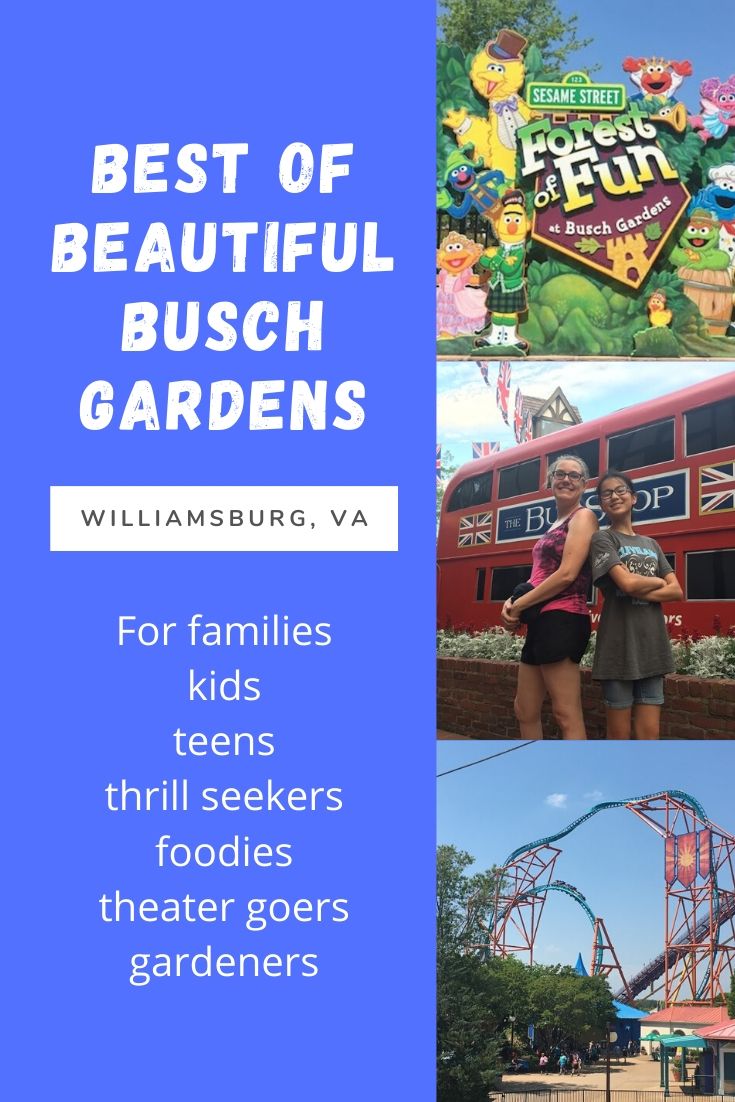 Busch Gardens Williamsburg, VA is just a few hours drive from our home, a long day trip but worth it. Though, if you want to stay in Williamsburg, that's a great option, too! When the kids were younger, we had season passes and would go several times each summer, ride all day long and leave for home just before park closing to avoid the mass exodus.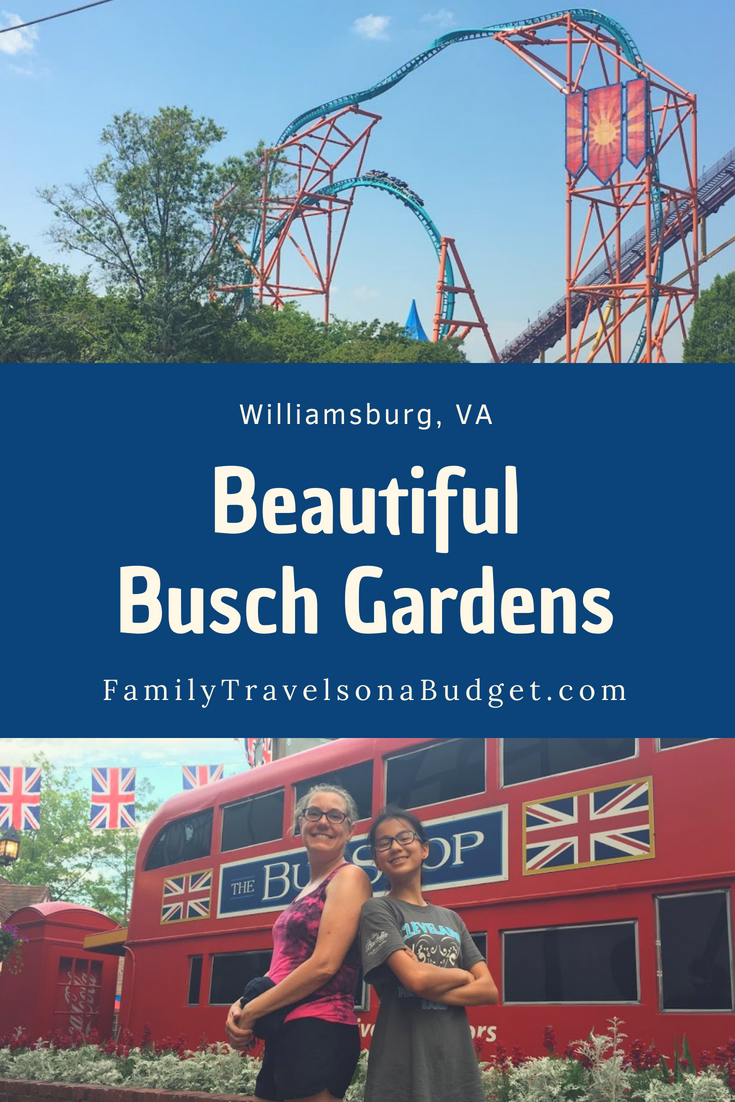 When the boys went off to college, we stopped going. All our free time was spent going to Birmingham to visit the oldest.
Busch Gardens Williamsburg & Tampa Parks!
That hardly seems fair! So, when Ellie's middle school band planned a trip to Busch Gardens, I decided to surprise my hubby with a day at the park, too. Busch Gardens hosted our visit for purposes of this review. We paid for parking, food and souvenirs.
It sure didn't take long to remember why we love Busch Gardens. It's simply beautiful! But, don't take my word for it — it's been voted the world's most beautiful theme park for 27 straight years!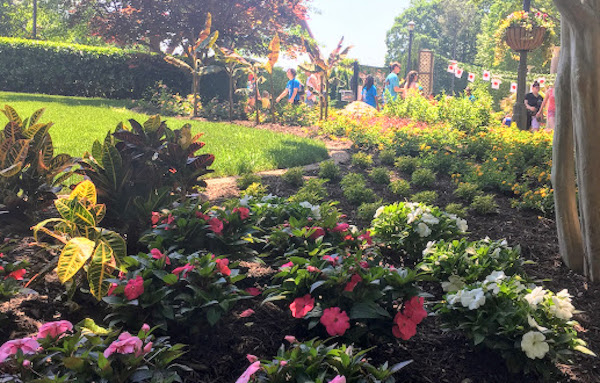 Of course, for adrenaline junkies, pretty gardens are not enough. We need roller coasters! And, Busch Gardens in Virginia delivers those, too.
Search Vacation Deals. Any time. Anywhere. Any Budget.
A day at Busch Gardens
Busch Gardens, Virginia is divided into six lands: England (at the entrance), Scotland (where you'll see the Clydesdales), Italy/Festa Italia (where you'll find Apollo's Chariot), Oktoberfest/Germany, New France (think Canada)/France, and Ireland. The attention to detail in each area leaves no doubt where you are. Each land offers cuisine like you'd find in that country, fun souvenirs and themed rides. There are lots of winding, hilly walkways connecting each land, so expect to walk — a lot! (We got 10 miles in on Saturday.)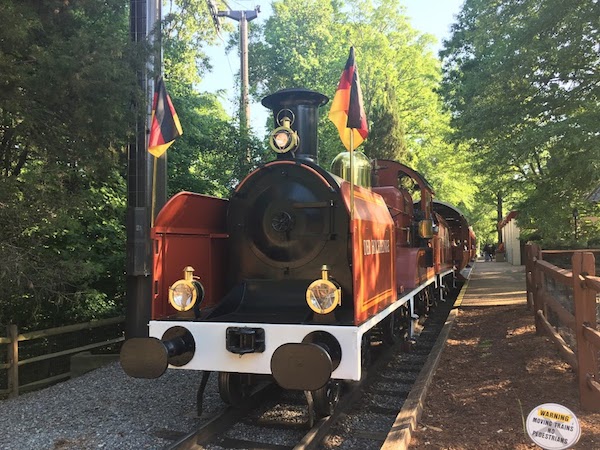 There are other ways to get around the park, so check out the options on the Busch Gardens Williamsburg map. You can take the skyride which connects England, France and Germany. You can also catch the train, which circles the park every 20 minutes, and connects Festa Italia, New France and Scotland. We like using these "shortcuts" to take a break and reapply sunscreen.
Busch Gardens and Water Country USA Two Park Unlimited Tickets, Save 11%
PRO TIP: Don't use the skyride first thing in the morning. A lot of people have the same great idea to get to the back of the park quickly — so you just wait in line. It's easier to walk. Later in the day, lines are much shorter and you will save time.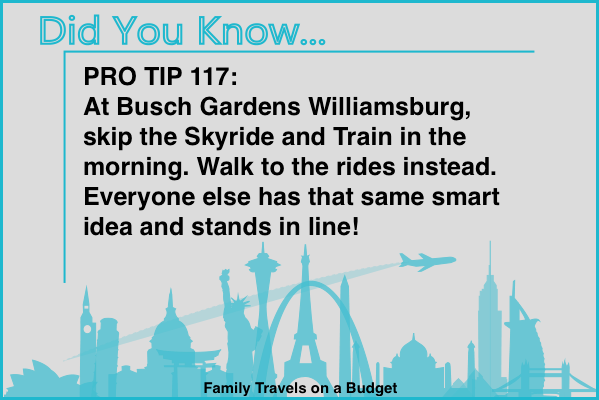 Busch Gardens Williamsburg Rides and Attractions
The newest attraction at Busch Gardens in Williamsburg is "Battle for Eire," a 360-degree virtual reality motion simulator attraction. The combination of VR headsets and motion simulators takes riders into Addie's world to rescue the Heart of Ireland. What's not to like about dragon battles in 4D? This ground-breaking Action VR Ride opened in April of 2018 — and is sure to be a hit for years to come.
But, if you prefer more traditional thrills, Busch Gardens delivers with eight roller coasters! And lots of other fun things to do, too.
Busch Gardens Roller Coasters
I confess — I play favorites! At Busch Gardens Williamsburg, my favorites are Apollo's Chariot and Griffon. But, there are some other great coasters, too. Here's a quick run-down of the coasters — going in a clockwise circle through the park. (We skip ahead to Apollo's Chariot and Griffon, then circle back through.)
Loch Ness Monster
Celebrating her 40th birthday this year, "Nessie" is the first roller coaster in the world to offer interlocking double loops!My younger two kids count Nessie as their first roller coaster ever, about 10 years apart. Nessie is located in the center of the park, just past the Clydesdales' barn in Scotland.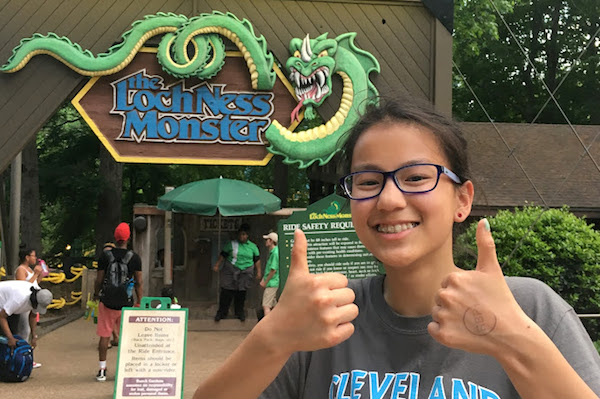 Apollo's Chariot
This is the purple and gold coaster you see as you drive into the park. Yes, it looks intimidating, but it's a smooth ride! Front row is the best! It's amazing! You'll find this coaster just over the bridge into Festa Italia.
Tempesto
Tempesto opened in 2015, and I have not ridden it. It goes forwards and back and upside down. Not a long ride, but a crazy one. It was a clear hit among the middle school crowd, though. Tempesto's entrance is further down the walkway near Apollo's Chariot.
Verbolten (aka "that ride that starts with V")
When you leave Italy and cross the bridge into Oktoberfest, Verbolten is on your right. We rode it on May 11, 2012 — the date of its "soft opening." WOOHOO! This is our daughter's favorite coaster, by far! It's quite unique among roller coasters.
Alpengeist
As you continue through Germany, you'll come upon the ski chalet and Alpengeist, one of the longest coaster rides ever. Alpengeist is a hanging coaster, so your feet dangle as you fly through the air. While it doesn't match up to my two favorites, it's a lot of fun!
Griffon
The first time we rode Griffon I was terrified! Riders sit 10 across in three rows, not your typical coaster layout. You ascend the hill and round the bend before the coaster stops — letting you dangle as you stare straight down at the ground! To get the most thrill, sit in the front row at the outside edges. To get the most air from your drop, I'm talking serious hang-time, ride in the third row on the outside! It's a rush.
PRO TIP: Little kids can cool off in the splash zone near the ride's entrance!
InvadR
The newest coaster at Busch Gardens in Williamsburg is InvadR, a hybrid wooden and steel coaster also located in New France (near the train). It's our least favorite of all the coasters in Busch Gardens. It's fast, but it's jerky. Sorry, Busch Gardens. We tried!
Grover's Alpine Express
Little adrenaline junkies are not left out. This cute coaster in the Sesame Street Forest of Fun lets kids from 38″-41″ tall ride with an adult. Kids over 41″ can ride alone! Sesame Street Forest is located just past the train tracks as you cross from Scotland into Italy.
Busch Gardens Williamsburg Kids' Rides
Busch Gardens strives to be a "kidsiderate" park, aimed at entertaining the 9 and under crowd so parents and kids can play together. With more than 40 kid-friendly attractions, kids' meals and family restrooms throughout the park, they take their mission seriously.
Busch Gardens makes it really easy to know which rides are safe for kids — from the youngest to the "almost big." Just past the fountain after you enter the park, look for the two red phone booths (think England) off to the right. Park staff will check kids' height and give them a color coded wrist band to indicate how tall they are. You don't need to get measured at every ride (though, that's an option, too). Signs at rides indicate which color bands can ride.
There are two kid-specific areas in the park. Sesame Street Forest of Fun near Italy has kids' rides and a splash pad area. They even have covered stroller parking to keep the seats from getting hot in the bright sun! Land of the Dragons near Germany has climbing nets, a splash area and more kid-friendly rides.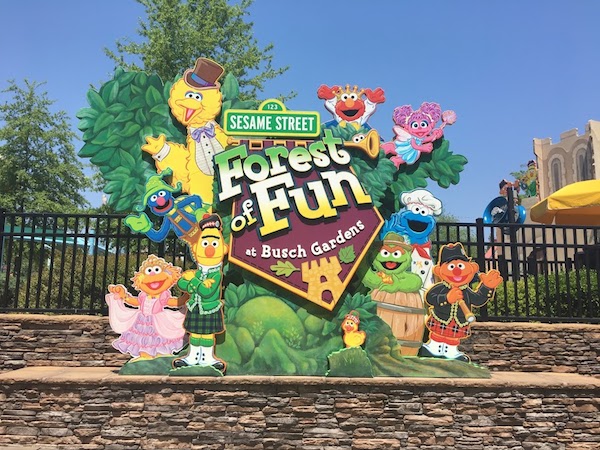 But kids aren't relegated to the kids' areas. Throughout the park, kids will find fun rides to enjoy. Look for rides in Italy and Germany, especially. The train and SkyRide are also great for kids — little and big. Give feet a rest and enjoy this travel option.
The rest of the Busch Gardens Williamsburg rides
With Water Country USA next door, Busch Gardens doesn't have lots of water rides. To cool off, catch a ride on "Le Scoot," a traditional log flume ride in New France. It's fun, and it's interwoven with a couple roller coasters which is cool! Escape from Pompeii is in Italy, an indoor-outdoor attraction that tells the story of the fall of Pompeii and ends with a dramatic splash. My husband invariably gets drenched on this ride, so don't let him sit by you! Roman Rapids, in Festa Italia is guaranteed to drench someone in your group, or my husband if he's with you!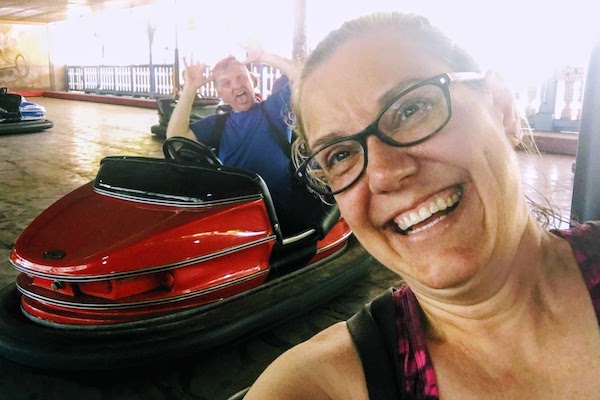 Throughout the park, you'll find things that spin, like tea cups, swings and flying elephants. You'll find rides that bump — like the bumper cars! In Italy, ride DaVinci's Cradle, if you dare. This giant rocking ship has gotten a few of the macho men I know. These rides remind me of the state fair — not elaborate, but still lots of fun.
Busch Gardens and Water Country USA Two Park Unlimited Tickets, Save 11%
Busch Gardens Williamsburg Entertainment
Shows offer a great break from the hectic pace of theme park rides. An added bonus, most are air conditioned — or at least have big fans to cool the crowds! Ireland has the most shows: Celtic Fyre (Irish music and dance), More… Pet Shenanigans (featuring rescue pets) and Howl to Coexist (featuring wolves).
Two shows, Oktoberzest in the Oktoberfest dining hall and Mix It Up! Live in Italy, let you enjoy a show while eating your meal. Check your park map for daily showtimes. Plan to arrive a bit early to go through the cafeteria line. Enjoy!
Busch Gardens dining plans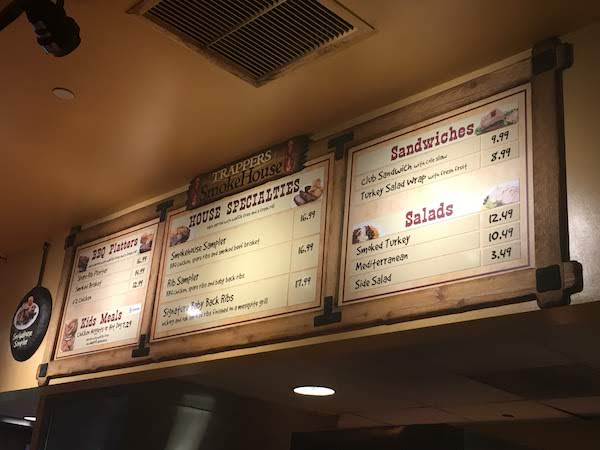 Outside food is not allowed in the park, but one plastic bottle of water is allowed per person. There are picnic areas outside, so families can save money and pack a picnic lunch.
Another savings options at Busch Gardens is the dining plan. They offer a few different dining plans which have improved since my last visit to the park.
Click here for a full review of the Busch Gardens dining plan
The Dining Plan includes one meal, one snack and two non-alcoholic beverages.
The Deluxe Dining Plan includes both lunch and dinner, a snack, a side or dessert and two non-alcoholic beverages.
Both options have a children's option as well.
Besides the daily dining plans, they also offer dining plans for food festivals and Bier Fest.
Frequently asked questions
How much is parking at Busch Gardens VA?
Single-day parking in Busch Gardens Williamsburg, VA ranges from $20/day for general parking up to $50 for reserved spots (closest to the park). We have never found general parking to be much of an issue. Busch Gardens runs trams non-stop, so it only takes a few minutes to get into the park. And, I can think of lots of things to do with $30 that I'll appreciate more than saving a few minutes in a parking lot… but that's just me.
Money saving tip: Purchase your parking pass online and save $4!
If you plan to visit the parks more than one day, check the multi-day offers. You could save a bunch!
What are Busch Gardens hours of operation?
People used to Florida theme parks being open year-round might be surprised to learn that Busch Gardens is open seasonally. While the park is open weekends only through mid-May, the savings are tremendous! From mid-May through Labor Day, the park is open daily but hours vary. Check the calendar for special events like fireworks, concerts in the park, food and wine festivals and Bier Fest. And also check for holiday events throughout the year.
Where can I find a Busch Gardens Williamsburg discount?
Start with the Busch Gardens website! Early in the season, ticket prices are discounted — a lot. Active duty military can get discounts through a special program new this year. If coming in from out of town, check vacation packages which offer special savings on hotel and theme park ticket packages.
What are Busch Gardens ride heights?
For a complete list of rides and height requirements, click here. (As of this printing, ride height requirements begin on page 12).
What is the Busch Gardens fun card?
Busch Gardens fun cards are a great way to save. For the price of a one day ticket, you get unlimited two-park admission through Labor Day weekend! Single park tickets are also available.
Money saving tip: Purchase by the end of May for greatest savings.
Can I find hotel deals near Busch Gardens Williamsburg?
The one word answer is YES! Definitely. Check with the Williamsburg tourism office for Williamsburg VA vacation packages. Busch Gardens Williamsburg hotels near the park seem to offer the best savings. If you aren't sure what might be best, look at the hotels near Busch Gardens Williamsburg to see if they offer a good vacation package, one with included breakfast is really nice!
What should I bring to the park?
Less is more at Busch Gardens! The one — and only — drawback of this park is that they don't offer complimentary lockers at attractions. We sure got spoiled by those at Universal Orlando! You can purchase a through the park locker pass which helps a bit.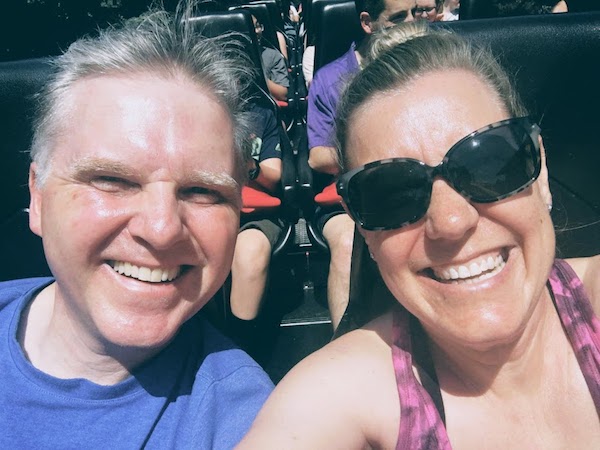 We'd like to thank Busch Gardens for providing admission for this much needed day of fun! All opinions are mine.