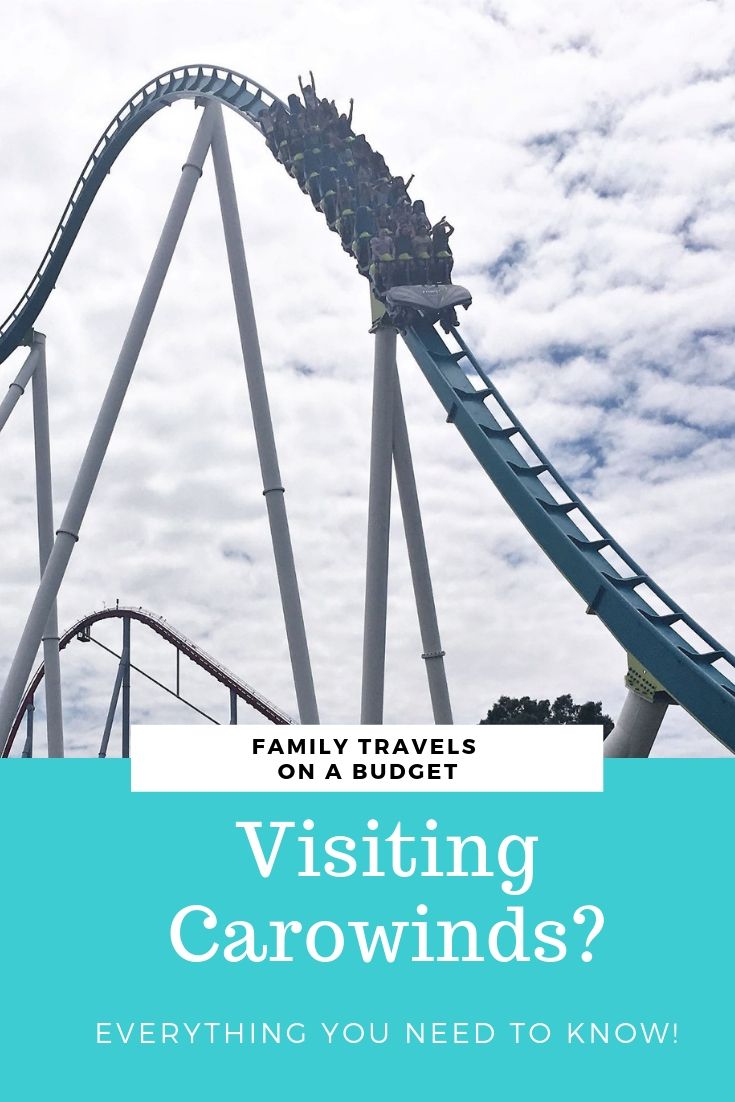 Updated June, 2022
People who live in North and South Carolina know that Carowinds is an awesome theme park! It's got loads of coasters, Planet Snoopy for the kids, and even Carolina Harbor — an amazing waterpark — included with the price of admission.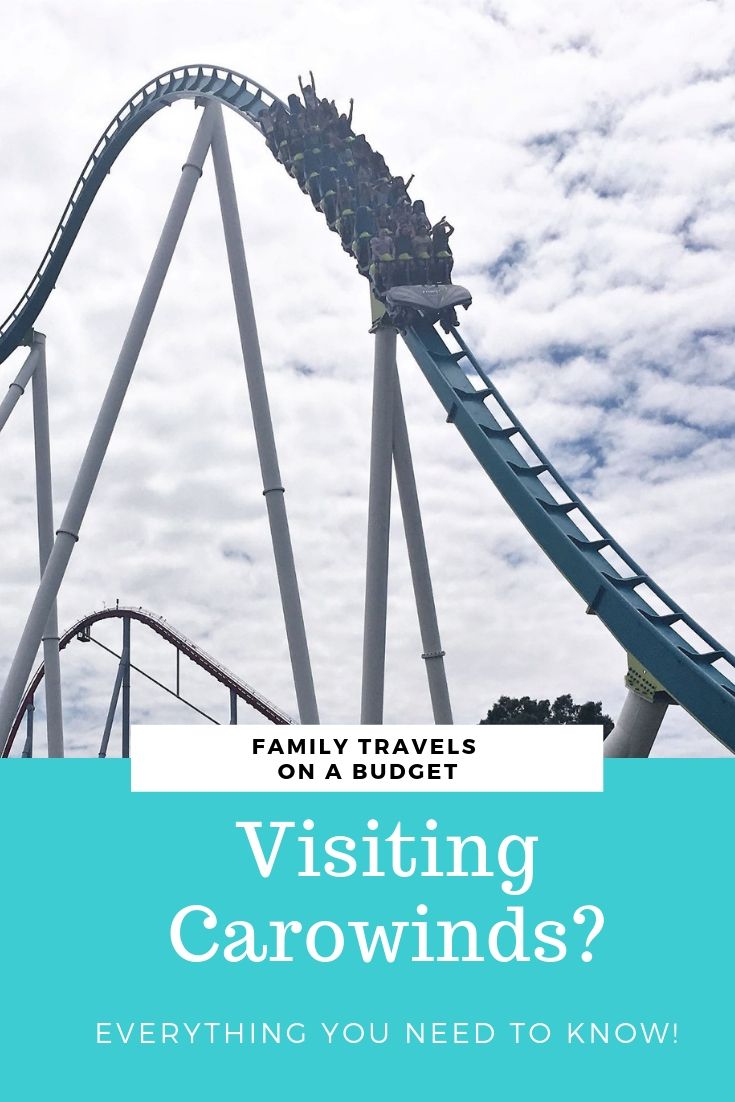 Special thanks to Carowinds for providing free tickets for this review and so we could enjoy the day! All opinions in this post are mine and Ellie's.
We hope these tips help you plan your perfect day at Carowinds.
Which Carowinds' rides are best for adrenaline junkies?
Ellie is a true adrenaline junkie. She has yet to meet a coaster she doesn't like.
Why not start with adrenaline junkies? After all, that's the whole reason I took Ellie! She is a major roller coaster fan with loads of experience. If you don't buy a Fast Lane Pass, she says these are the coasters not to miss:
Fury 325. We just call it "Fury," but Fury 325 packs a wallop with a height of 325 feet (hence the name) and speeds up to 95 mph. A giga coaster, this giant sprawls along the edge of the park even crossing state lines! YEP! One ride in two states. How cool is that? I scored major mom points by riding it twice!
Afterburn Roller Coaster. This coaster gives a nod to the military history in the Carolinas. This hanging coaster takes riders through six inversions, including an Immelmann, which is an actual maneuver fighter pilots use. I am terrified of suspended coasters, but found this to be an incredibly smooth ride, almost enjoying the sense of zero gravity! Ellie loved the spins, spirals, drops and loop.
Intimidator. In another nod to Carolina culture, the Intimidator is named after famed NASCAR driver, Dale Earnhardt. The ride lasts 3.55 minutes with seven extreme drops and speeds up to 80 mph. After the ride, take a photo in front of a replica #3 Monte Carlo!
Vortex. So, I chickened out on this one, but Ellie rode it. Twice! Vortex is the first stand up coaster in the south. It takes guests up a 90 foot lift hill before launching them into a curved drop, followed by loops and spins — all while standing. Ellie says it's not nearly as intimidating as it seems.
Copperhead Strike: Brand new in 2019, Ellie rode twice! I chickened out. The back story is cute, tying in to the long history of homemade jams you might taste at the state fair, but giving a nod to the very real threat of copperheads who are prevalent in the Carolinas. Like its namesake, Copperhead Strike packs quite a bite, launching from 0 to 42 mph in just 2.5 seconds. Midway through the twists and turns, you launch again, making this coaster a thrill from start to finish. Ellie thought it was "really fun!"
As to the other coasters at the park, Ellie says they're good, but not something you'll miss if you have limited time. These five roller coasters are the very best at the park. She does give "honorable mention" to Nighthawk Roller Coaster, which is different because riders start out lying on their backs to climb the hill, then flip to face down before soaring through the ride.
Ride heights for Coaster Fans
For the most current information, check ride height requirements on the Carowinds website or app. A handy tip, though, is to have your child's height check just after arriving at the park. Park attendants will provide a wrist band saving you a bit of time.
Park attendants sometimes double check height at the rides. Safety is important!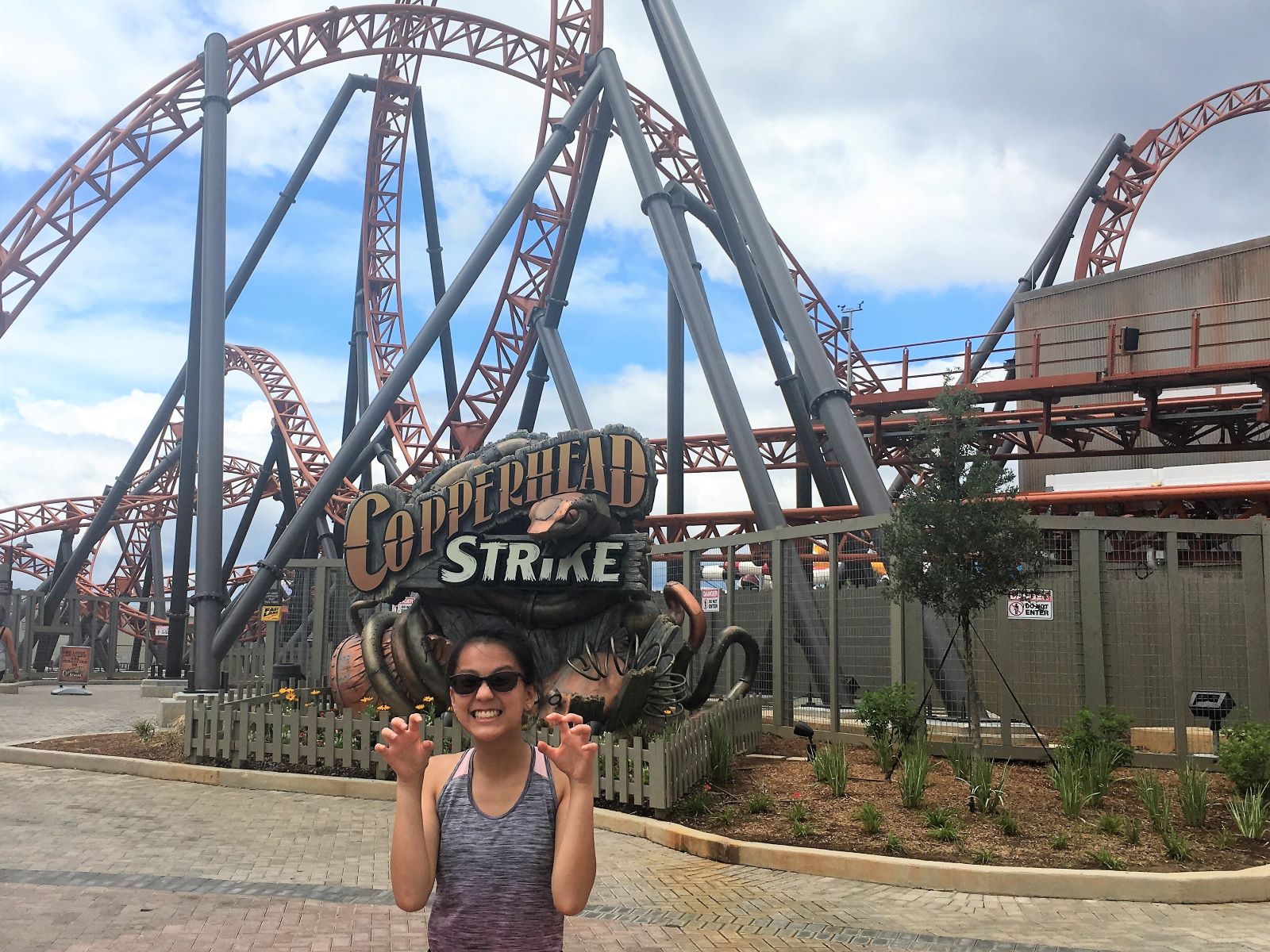 Most Carowinds roller coasters have a minimum height of 54″ including Afterburn Roller Coaster, Fury 324, Intimidator Roller Coaster, Nighthawk Roller Coaster, Ricochet and Vortex. The brand new Copperhead Strike Roller Coaster "only" requires riders to be 52″ tall.
Other coasters, which are a bit more tame, have shorter height requirements. Guests at least 48″ tall can ride Carolina Cyclone, Carolina Goldrusher, Hurler and the Flying Cobras. Woodstock Express and Wilderness Run in Camp Snoopy are geared for younger guests.
Which other rides at Carowinds are popular?
We admit to liking roller coasters. A lot. We made a trip to Ohio last year just to ride the coasters at Kings Island and Cedar Point, sister parks to Carowinds. Earlier this summer, Ellie and friends went to Kings Dominion to conquer their coasters! She's a pro!
But, there are many other rides at Carowinds. These classics like Dodg'ems, the Carousel and Scrambler usually have short, if any, wait times. They offer a breather between coasters! They're nostalgic, but still quite fun! One of the fun things about the carousel is all the horses have names. We found "Robert," so even if my hubby couldn't be there for real, he was there in spirit!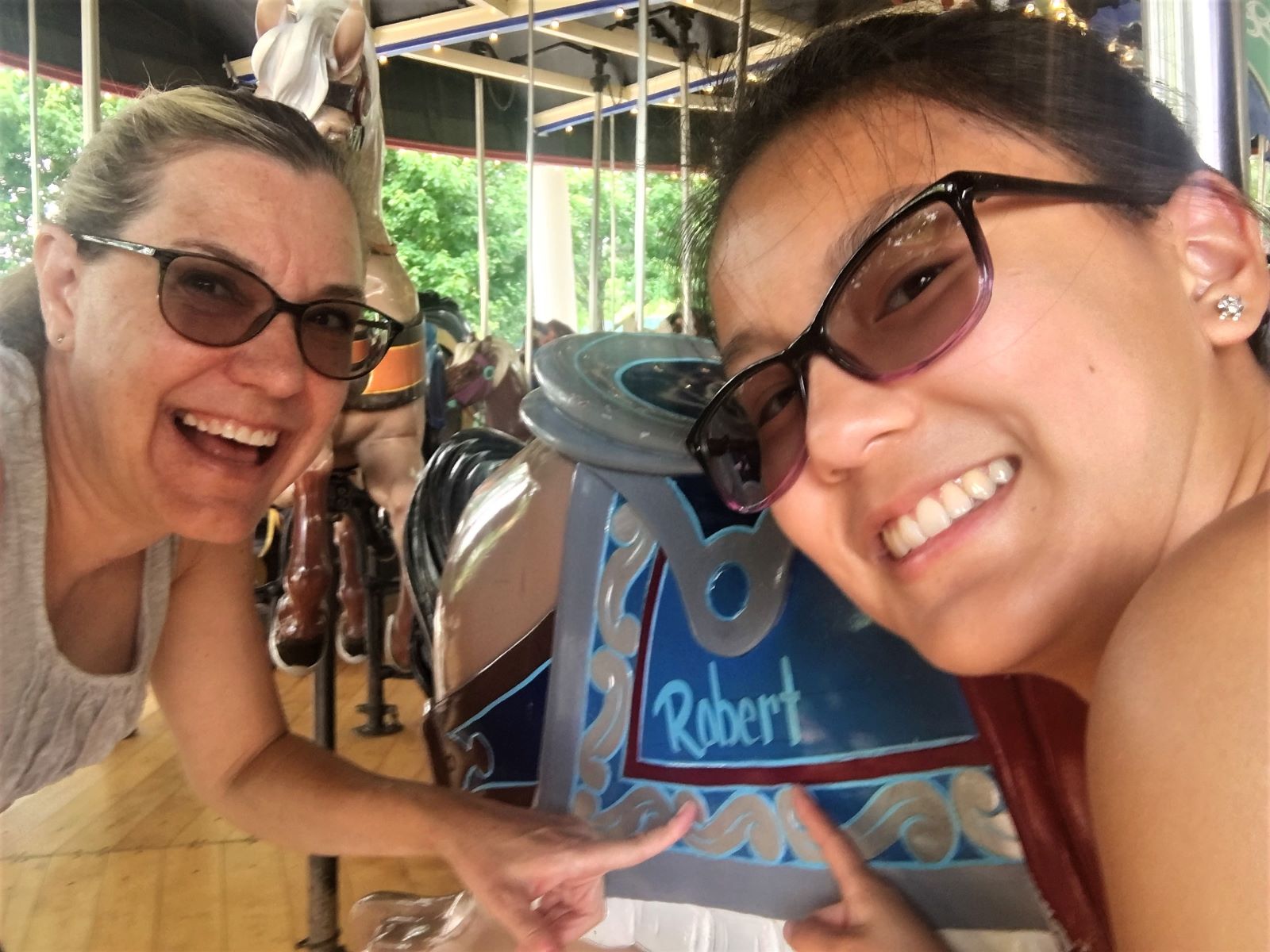 One ride we don't recommend — we wanted to like it, but ugh — is Boo Blasters on Boo Hill. Skip it. Really. Why, you ask? One, the look of the ride is amateurish. Two, the blasters don't work very well. It's just not up to snuff with the rest of the park. Okay, you've been warned.
Do you need a Fast Lane Pass at Cedar Fair Parks?
Fast Lane Passes let you save time by using a shorter line. But, fast lane passes can be pricey!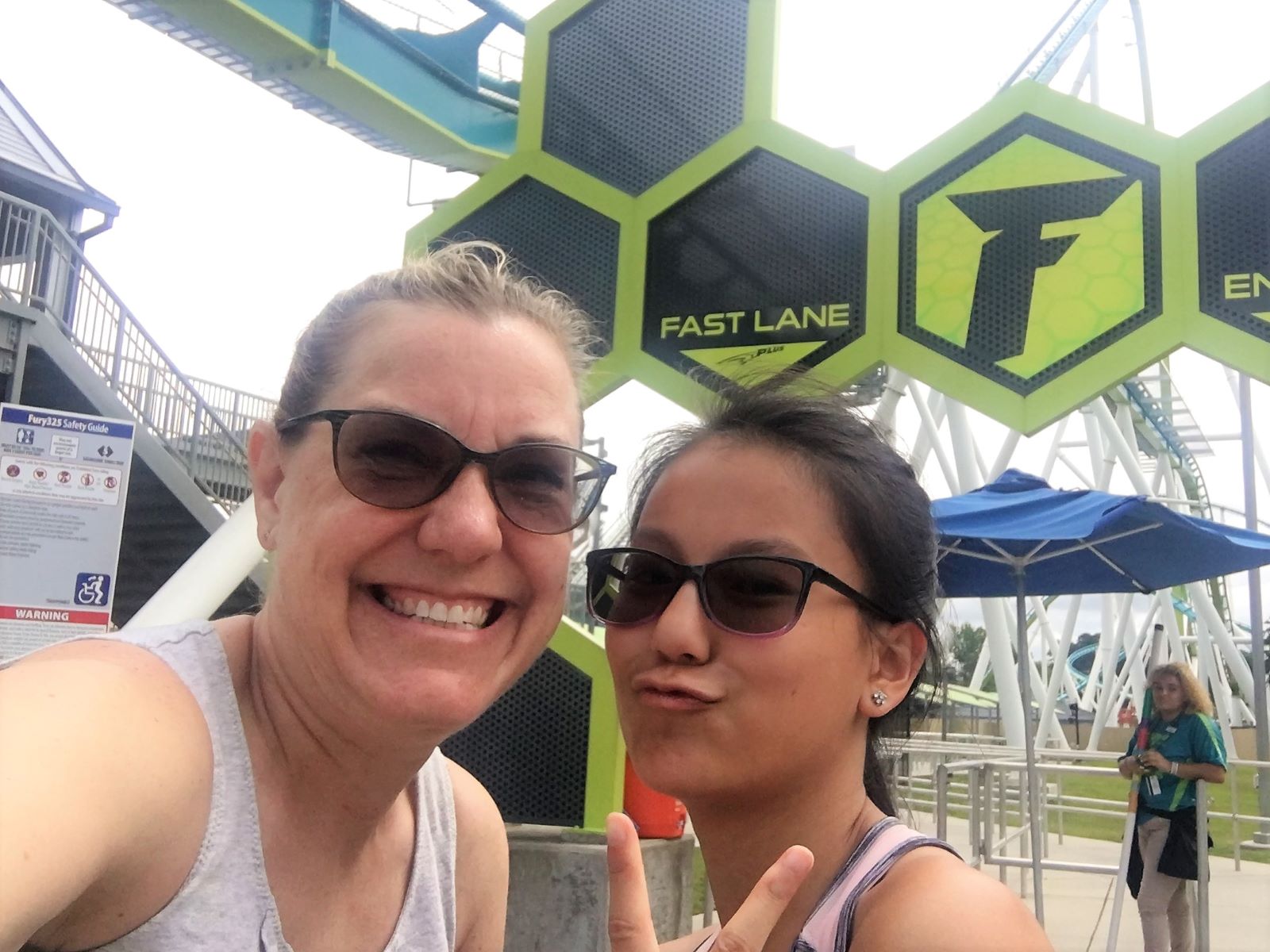 When I write theme park reviews, this is a popular question. Do I need to spend $50 or $65 or more on a fast lane pass? After all, that's equal to or more than the price of admission!
There's no easy answer to this question, but here are some guidelines:
If visiting on a weekday that is not a holiday (especially Tuesday, Wednesday or Thursday), you probably don't need Fast Lane Passes. We went on Wednesday, June 19. It was hot (90 degrees) and cloudy (40% chance of rain). We waited no more than 5 minutes for any roller coaster, and usually walked right on to the next ride. We rode all the coasters, some twice, and saw everything we wanted to see in about 7 hours. Easy.
If visiting on a rainy/overcast day, you probably don't need Fast Lane Passes. People don't go to theme parks when it's raining, so if that's the day you decide to go, you'll have the place to yourself. Or close to it. Of course, you have to wait for the rain to stop to enjoy some of the rides. In the Carolinas, it rarely rains all day during the summer. You'll probably enjoy the park while others miss out.
If visiting before the last week of June or after the second week of August, you probably don't need Fast Lane Passes. Early and late season, the parks are less crowded because many kids are still in school. That means smaller crowds and no need for Fast Lane Passes to see and do it all.
You might consider Fast Lane Passes for the following times (though I think it's a decision you can make that day):

Fourth of July holiday weekend,
Weekends in July generally,
Special event weekends,
If you have only part of a day to see and do it all.
Does Carowinds have rides for preschoolers?
Ellie and I took an accidental detour through the park thinking we were taking a short cut. But, it turned out okay. We got to see all the amazing rides for little kids in Camp Snoopy. AND, we also got to see the amazing playground they have tucked away in a relatively quiet corner of the park!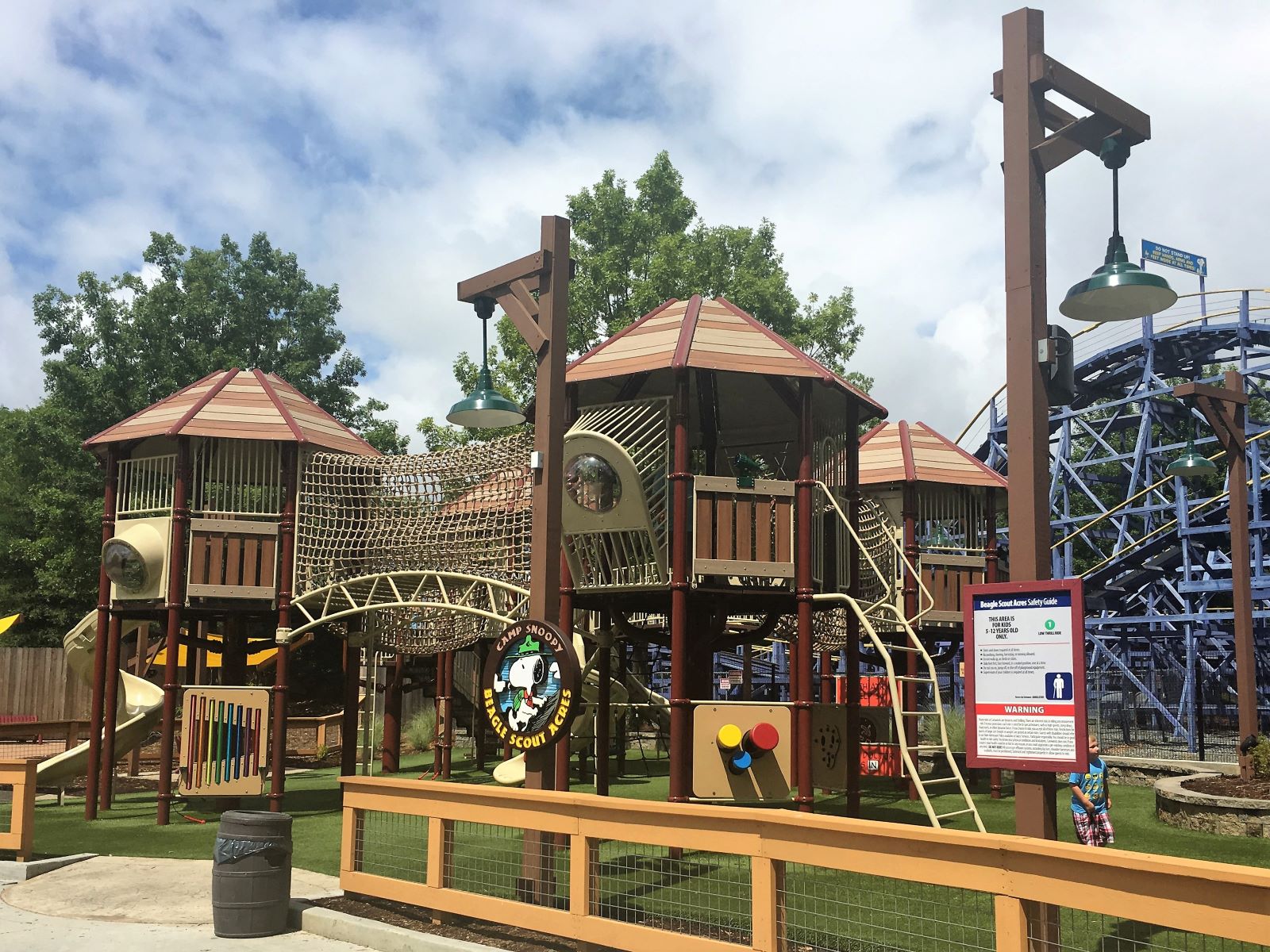 For those new to Carowinds and Cedar Fair parks like Kings Island, Cedar Point and Kings Dominion, Camp Snoopy is the themed kids' area. This area has child sized rides just for little guests, and is also a great place to find shaded areas to relax, first aid, a room for nursing parents, and more.
Ellie and I both thought the playground was amazing! It's quite large, offers an abundance of shade and is fenced in. It allows kids the chance to run and play without all the restrictions of rides. For young ones, some unstructured free time during the day can make all the difference in how much and how long they might enjoy the park. For parents and grandparents, the playground is a great place to entertain little ones while friends and family ride coasters.
How much is admission to Carolina Harbor?
Carolina Harbor Waterpark, which honors the beautiful Carolina coast with its beachy theme, is included with the price of admission to Carowinds! Enjoy water slides, two wave pools, a lazy river and a 3-acre kids' area and beat the warm, Carolina heat!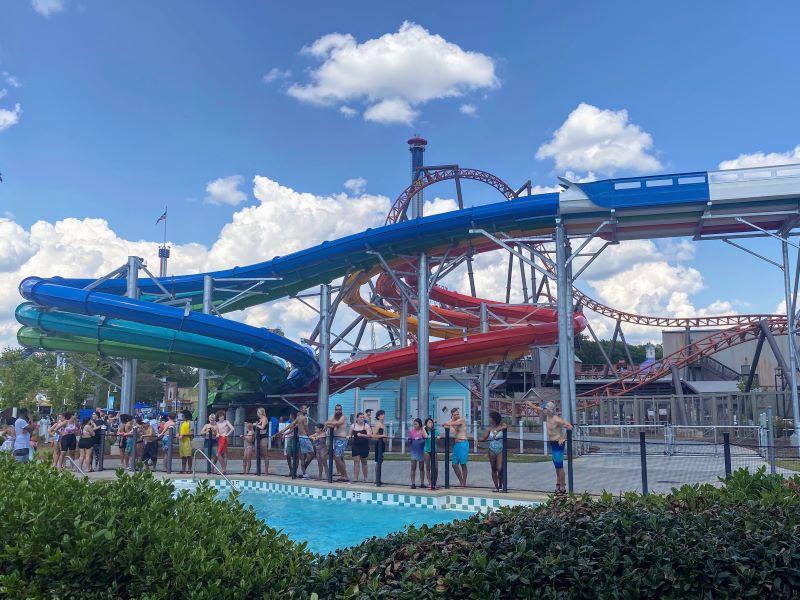 You must have appropriate swimwear to enjoy the attractions in the water park. We also recommend you wear water shoes (not to wear on the rides), because the ground gets really hot and can be slippery. If it's a crowded day (see tips for Fast Lane Passes), you might want to splurge on a cabana rental to have a relaxing home base at the waterpark that includes a lockable storage locker, mini-fridge with complimentary bottled water, satellite TV and more.
Read our full review of Carolina Harbor — with pro tips from annual passholders
Tips for visiting Carolina Harbor:
Life jackets are available free of charge for anyone to use at Carolina Harbor,
You cannot use inflatables or other toys at Carolina Harbor,
Swim masks and snorkels are not allowed at Carolina Harbor,
Use sunscreen!
Bring towels as they are not provided by the park,
Inner tubes are provided for rides that require them. You can rent tubes for the wave pool.
What are the best hotels near Carowinds?
Like most theme parks, Carowinds has some partner hotels that offer savings and/or convenience to theme park guests. Click here for current offers on hotels near Carowinds.
Tips to choose the best hotel near Carowinds:
Partner hotels are located near Carowinds, meaning you won't have to battle too much traffic to get to the park. Use these tips to pick the best Carowinds hotel packages for your family or group:
Look at the offers and pick the hotel close to Carowinds that saves the most! Some include tickets with stay, while others offer discounts on tickets. So, look at the total package before deciding,
Consider other amenities at each hotel. If a hotel offers free breakfast, kitchens or other money savers, maybe that's a better overall deal for you,
Think about hotel rewards points. If you are a member of a hotel loyalty program, consider staying within that property group to earn rewards toward future hotel stays.
–> Read this post: Hotel perks, beyond free breakfast! <–
Special events at Carowinds
Throughout the year, Carowinds offers a number of special events. These events include special entertainment, unique food offerings and fun theming throughout the park. As I write this, the park is gearing up for its Grand Carnivale event, which runs from June 25 to July 10. This larger-than-life global celebration will feature high-energy live music, international food, games and crafts. The nighttime Spectacle of Color Parade will feature street performers, lavish floats and live music, ending with an incredible street party (and probably a few beads!). These special events are included with regular admission, but look for special deals and food deals online.
Other events through the year include fireworks on select dates, the State Line Celebration honoring the park's unique spot straddling North and South Carolina, SCarowinds (a spooky Halloween event), The Great Pumpkin Fest (a family friendly Halloween event) and Winterfest.
How can I save on my trip to Carowinds?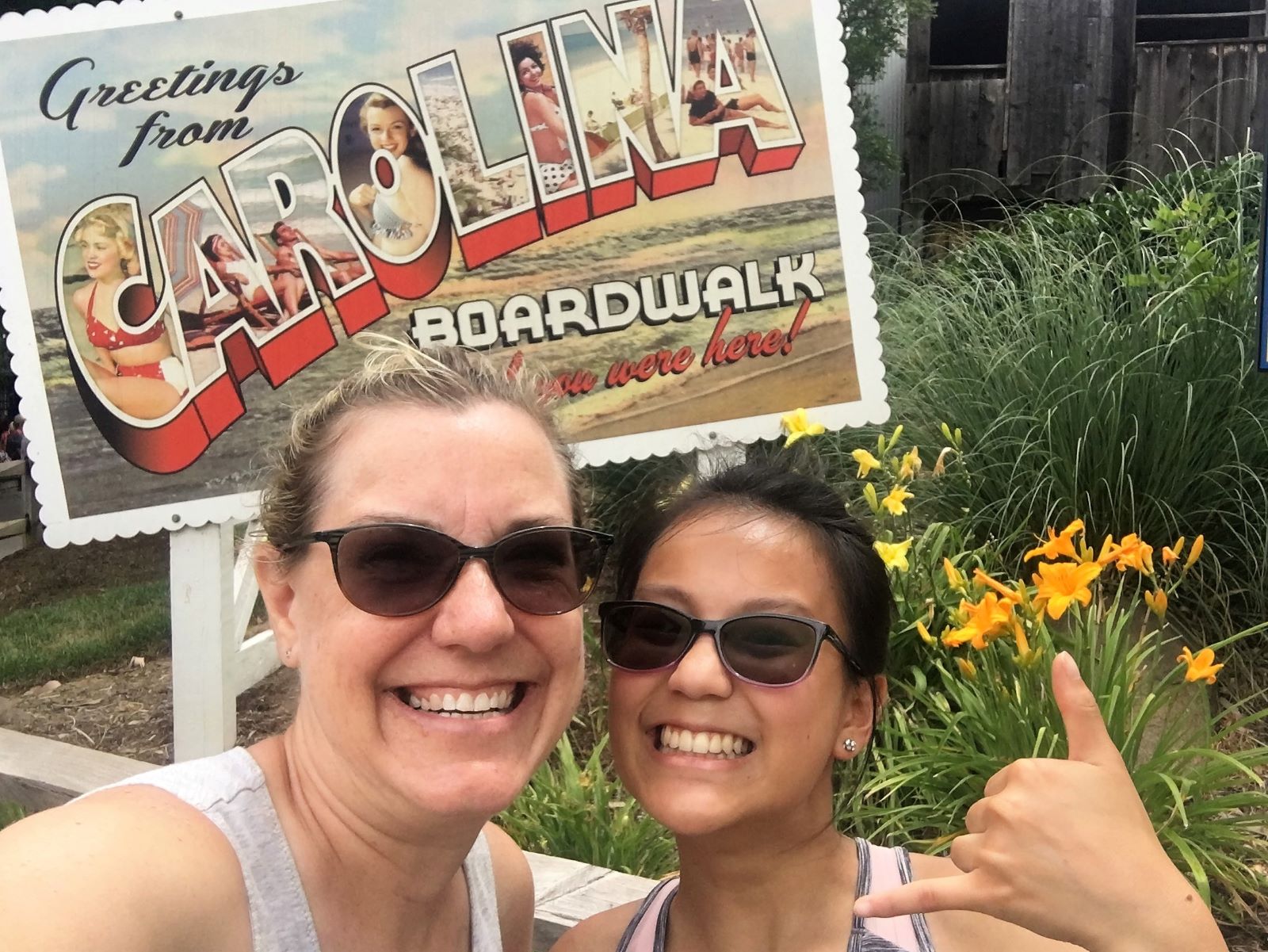 There are many ways to save on your Carowinds trip besides using Carowinds hotel packages, including purchasing Carowinds dining plans and shopping around for Carowinds discounts. Here's a guide to some of the easiest ways to save — and tips to use them:
Carowinds Dining Plans — Dining at Carowinds is expensive! Ellie and I got an 8 piece chicken nugget snack at Chik-fil-A in the park, and it cost $7.19. To save on dining at the park, get a Carowinds meal plan. There are several meal plans to choose from:

The single meal deal, which costs $15.99 + tax for 2022, includes a meal plus one soft drink. This plan is only available through advance purchase online. It's a great option if you know you'll only be at the park over one meal time. Go after breakfast and leave before supper. It's also a great option if you know you like to snack. Get the meal plan and enjoy one full meal during the day, then enjoy things like ice cream, popcorn and funnel cake the rest of the day.
The Carowinds all day dining plan, which costs $29.99 + tax and fees, is a great deal for those who want to spend a full day at the park and try all the food. This dining plan includes unlimited meals, you just need to wait 90 minutes between meals, all day long. The all day dining plan does NOT include a beverage or dessert, is good only at participating locations and can only be used through October 27 at Carowinds and Carolina Harbor.
If you want soda (aka pop or coke), consider a souvenir bottle or drink wristband, $16.99 + tax, to enjoy soda all day long. Refills are free the day of purchase/first day of use, and refills are only $1 each the rest of the summer. There is a 15 minute wait between refills. Since sodas, tea and lemonade are $4.00 each, this is a great money saver for soda guzzlers!

Season pass savings — If you plan to visit the park for three days or more, a season pass might be the best value. Some season passes include free parking and discounts on food, which only adds to the value! Visit the Carowinds season pass page to learn more. It's definitely a great way to save!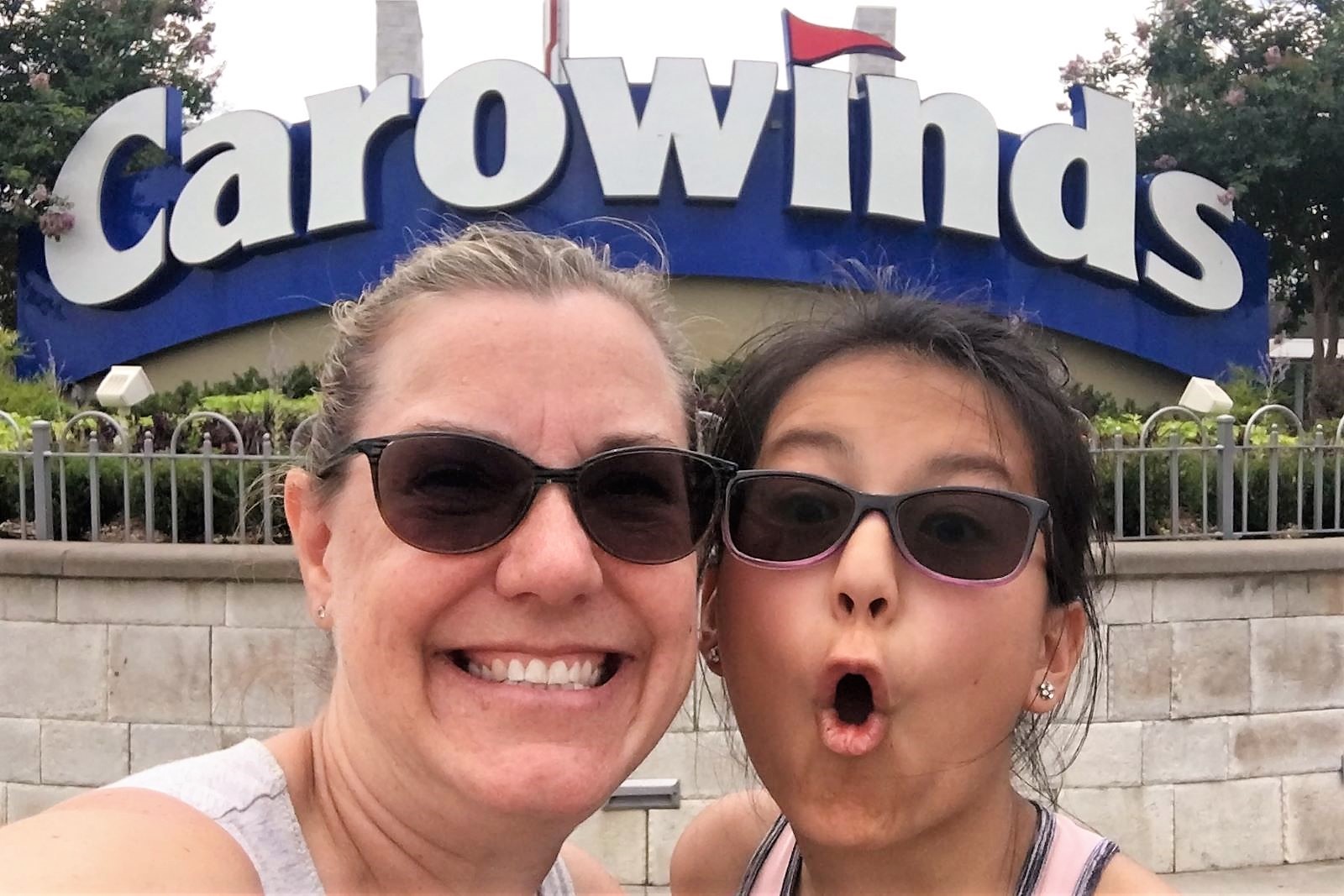 There are many more ways to save at Carowinds, as well:
If you don't have free parking included with a season pass, Carowinds hotel packages or an all-inclusive park ticket, pre-pay for parking at Carowinds online and save a few dollars. Regular parking at Carowinds costs $20/day for each vehicle, but when you purchase in advance — you must specify date of use — you save $4 (or the cost of one soda)!
So, shop around and compare deals to find the best one for you.
One last tip from Ellie!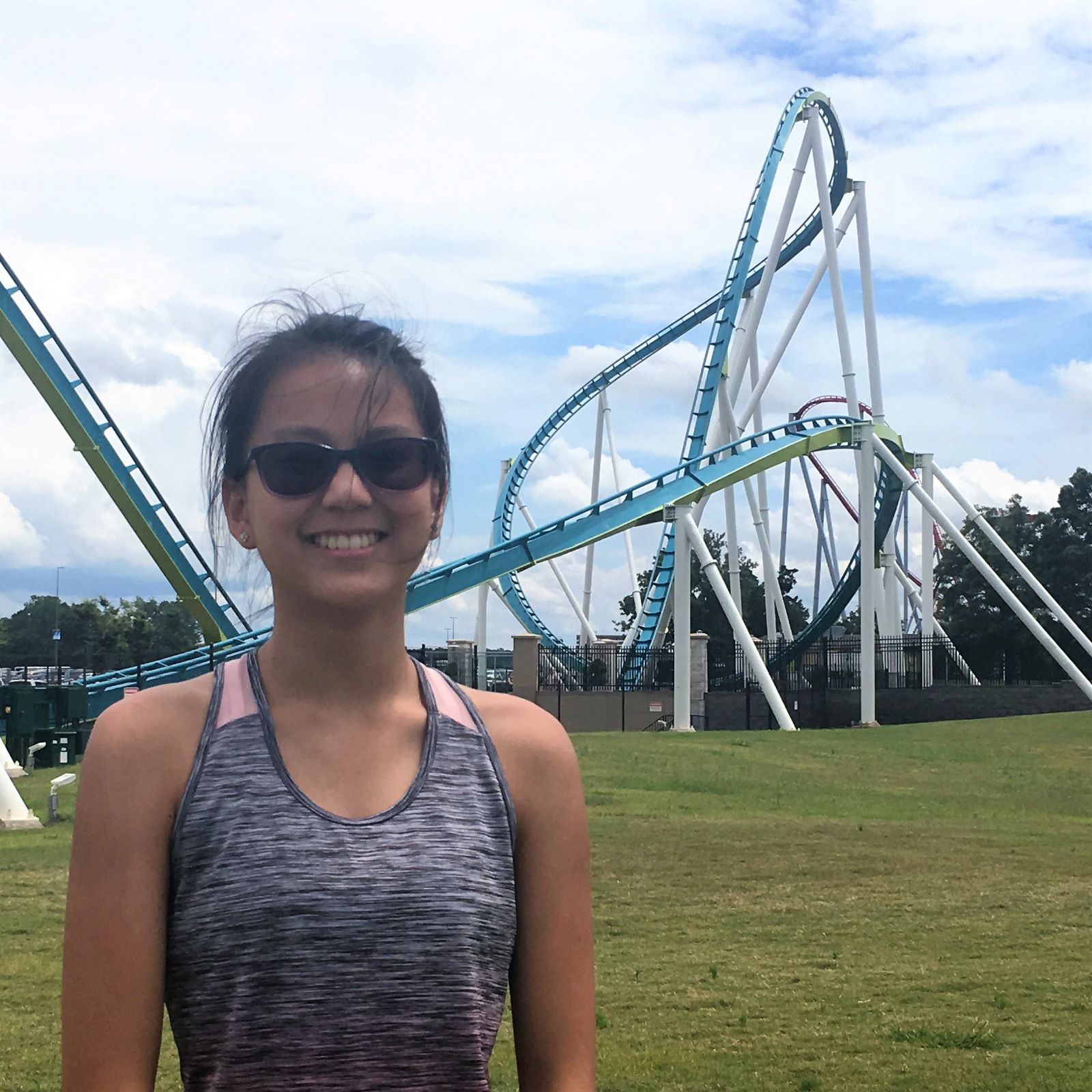 Ellie has one last tip for musical people who visit Carowinds (she made her first trip with band for a competition), "When you're leaving the park, look for the treble clef that Fury 325 makes. It's awesome!" We both want to thank Carowinds for hosting our visit. We hope to visit again soon!