Top things to do in Savannah on a budget
This post may contain affiliate links. Click here to see what that means.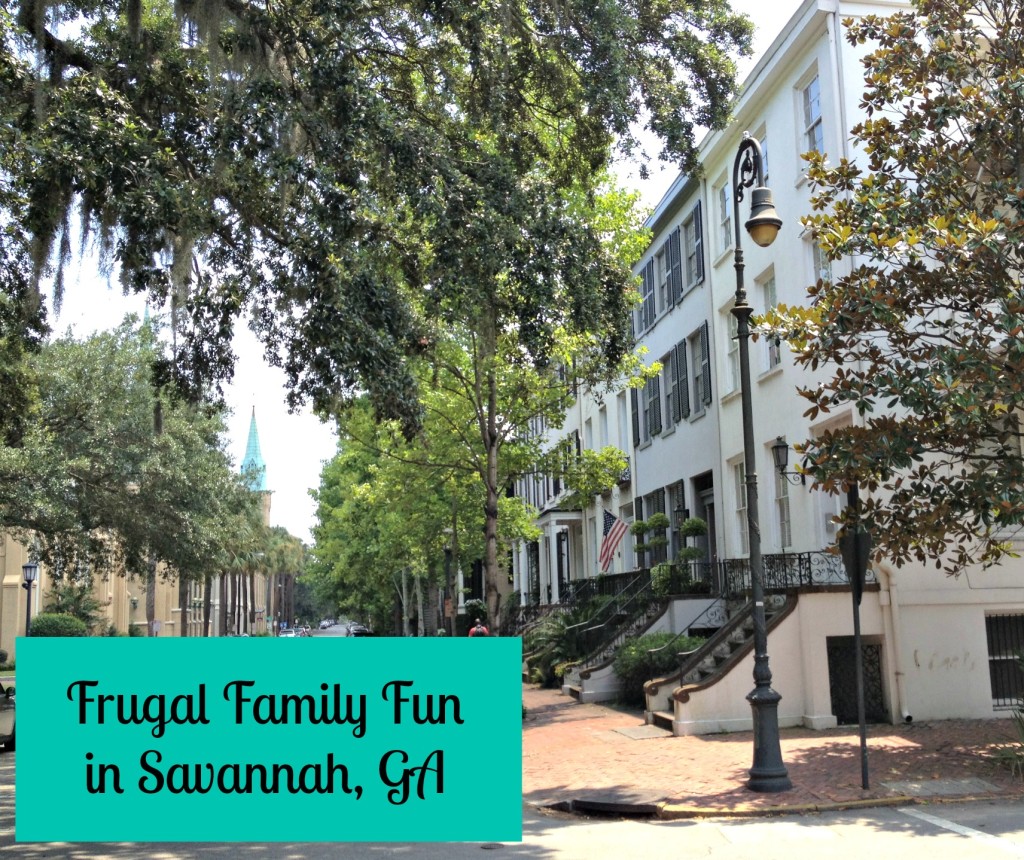 Strolling down tree-lined boulevards in Savannah with a friend, we wondered if the city would be fun with kids. We toured historic homes, enjoyed a city trolley tour, and ate some fabulous gourmet food. But…
Would kids enjoy Savannah? You know…. lots of look but don't touch. How much fun can that be? Not only that, but would it be affordable? I am all about frugal family fun after all!
We set off one afternoon to answer those very questions.
Savannah History Museum
Admission:  $7 for adults and $4 for kids age 2-12
Our first stop was the Savannah History Museum. Located in the old train station, the museum is cavernous. Displays highlight local historical interests: early agriculture in the area, railroad and transportation, historical pieces from the early days of the Girl Scouts and colonial American arts like quilting. Perhaps the most famous piece in the museum is the bench made famous in the movie Forrest Gump. The museum offers a few hands-on exhibits for kids, but mostly, this is a look and see but don't touch museum.

Georgia State Railroad Museum
Admission $10 for adults and $6 for kids (2-12)
While the history museum lacked pizazz (though it was informative), the Georgia State Railroad Museum located behind it is spectacular! The museum is home to many railroad cars, cabooses, engines and other railroad related artifacts from the heyday of railroad transportation and travel. If two adult women have fun climbing around in cabooses and exploring train engines, imagine how much more fun it would be for kids!
Every day, the museum offers train rides to guests — included in the price of admission (sadly, we missed it). The Railroad Museum offers other tours as well. We took the train engine tour and learned some interesting facts about train engines through the years. AND, we got to climb on the engines too!
Savannah Children's Museum
Admission: $7.50 for everyone age 12 months plus.
Families can enjoy the Savannah Children's Museum which is located by the Train Museum. Hours change seasonally, so plan your day around Children's Museum hours. A museum staffer told me the Children's Museum offers more hands-on activities than the history museum and is geared toward younger kids (elementary and below).
But is it frugal family fun?
If you plan to visit all three attractions, the individual cost for adults (ages 13 plus) is $24.50. For kids the cost is $17.50. Compared to many activities, that's not too bad. Savannah has a better deal, the Coastal Heritage Society See 3 Pass! This discount combination pass is valid for 3 days from the date of purchase and includes admission to 3 attractions. Adults are only $17 and kids are only $12. Choose three of these five attractions:
Savannah History Museum

Georgia State Railroad Museum
Savannah Children's Museum
Old Fort Jackson, including a small history museum and cannon firings.
Pin Point Heritage Museum, highlighting the Gullah-Geechee culture
When taking kids to Savannah, I highly recommend a three-attraction ticket which is available at any of these five attractions. Allow an hour or two for each attraction, maybe a bit more for the railroad museum, and enjoy a day immersed in Savannah's history.
Would kids enjoy Savannah?
Yes, I think they would!
To make a historical visit to Savannah (or anywhere) as fun as possible, focus on the exhibits that most interest the kids. Allow them to explore hands-on activities when available. Enjoy the wide open spaces in and around the museum complex… And make time for a snack at the train dining car!