5 Fun Things to do in Memphis
Spring across the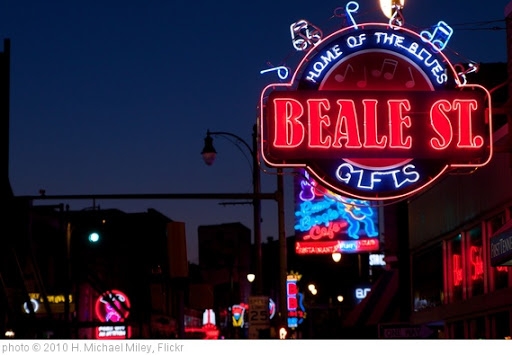 southeast is usually a beautiful time, but this year, we've been gripped in a crazy cycle of rain, blustery winds, heavy clouds and more rain. It seems, finally, that the cycle has broken and spring has arrived! Let's take a tour through Memphis… cuz we're past the blues and into sunny days! Besides, there are so many things to do in Memphis, Tennessee that everyone should visit at least once!
5 Fun Things to Do in Memphis
1. Beale Street.
Where else would a Memphis trip begin? Beale Street, a colorful neighborhood reminiscent of the 1920's, was influenced by riverboat gamblers and hustlers. Shops, eateries, emporiums line the streets. Musicians play the blues on street corners adding to the unique flavor of the area. Speaking of flavor, this neighborhood is home to true Memphis BBQ. The Blues City Cafe at 138 Beale Street is a local favorite!
2. Peabody Hotel.
The Peabody Hotel, located at 149 Union Avenue, dates back to 1869. This ultra-luxe hotel (rated 5 stars on Travelocity) has long been the go-to hotel for the rich and famous. The lobby leaves guests (and visitors who stroll in off the streets) breathless with opulent finishes and exquisite attention to detail. The hotel is historically significant to the Memphis blues music movement, too. In the 1920s-1930s, blues artists made their first recordings here, playing for talent scouts to secure recording contracts. Stop in here, enjoy a drink at the lobby bar and imagine life here 100 years ago…. and don't forget the ducks. Yes, the Peabody is home to some famous ducks… they even have their own duck master! (I hope to stay here sometime… wonder if they'd let my dog come along! She loves ducks!)
3. Orpheum Theatre
Located on South Main Street, the Orpheum Theatre dates back to the 1890s and became part of the vaudeville traveling circuit. The theatre hosts Broadway productions, concerts and other performing arts shows. Take in a performance while you're here, and be sure to arrive early enough to soak in the ambiance of this historic venue.
4. Sun Studios
A trip to Memphis without visiting Sun Studios at 706 Union Avenue is incomplete. Elvis Presley, Jerry Lee Lewis, B. B. Lewis and Johnny Cash launched their careers here. Still a recording studio, Sun Studios also offers daily tours. Walk the halls these great performers walked and try to imagine life in the 1950s when they got their start. This is living history! (Visit their site to hear Johnny Cash's "Walk the Line")
5. W. C. Handy Park
W. C. Handy Park, a green space offering outdoor performances, is located at 200 Beale Street. Dedicated to W. C. Handy, dubbed the "Father of the Blues," local artists still play here — leave a tip! The park hosts free concerts all summer long.
What's your favorite thing to do in Memphis?
For more on Memphis with families, read this post: Walkin' in Memphis, written by my dear friend, Shannon Milholland.
Like us on Facebook where traveling families love to connect.
Follow me on Twitter, too. I retweet great deals and articles about family travel — and share some fun family photos now and then.