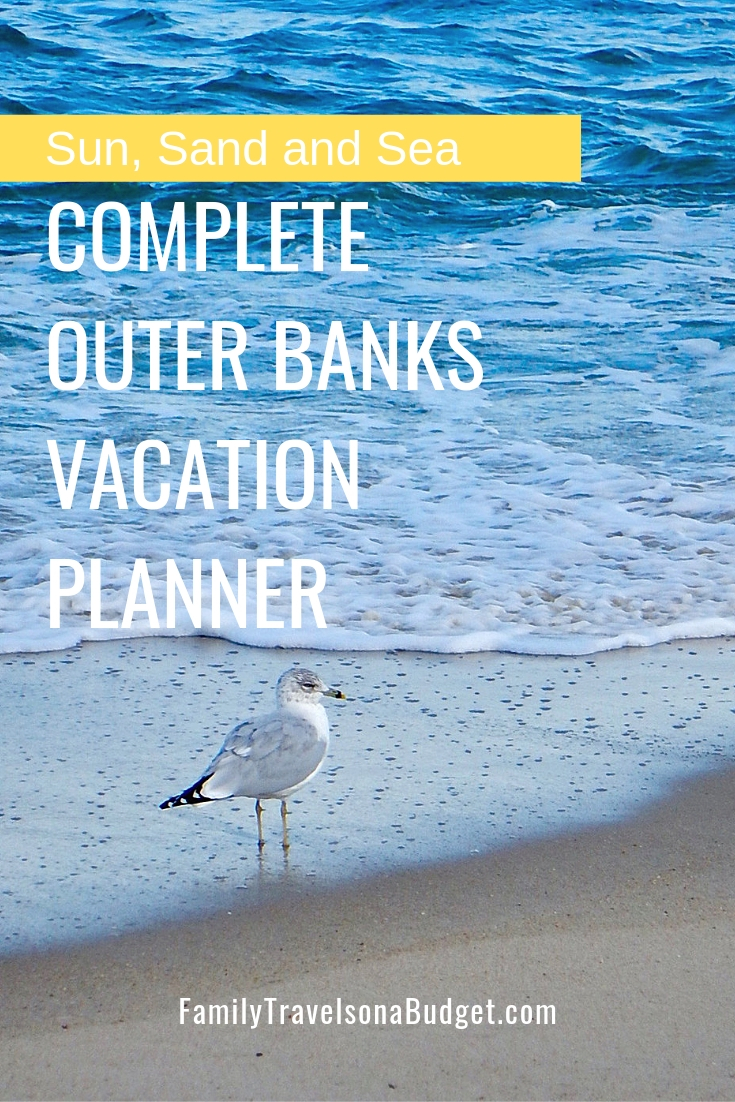 The Outer Banks of North Carolina is a popular vacation destination for families who want to enjoy sun, sand and sea. A successful vacation takes just a bit planning, though. This guide walks you through everything you need to plan a wonderful Outer Banks vacation. We'll cover:
Outer Banks accommodations,
OBX attractions in each region at the Outer Banks, and
Restaurants at the Outer Banks.
When you know all the amazing options at the Outer Banks, you'll plan the perfect OBX vacation for your family.
The Outer Banks stretches for about 100 miles along the east coast of North Carolina. This strand of islands is connected by one major road, Highway 12. Answer these questions to pick the best rental for your OBX vacation.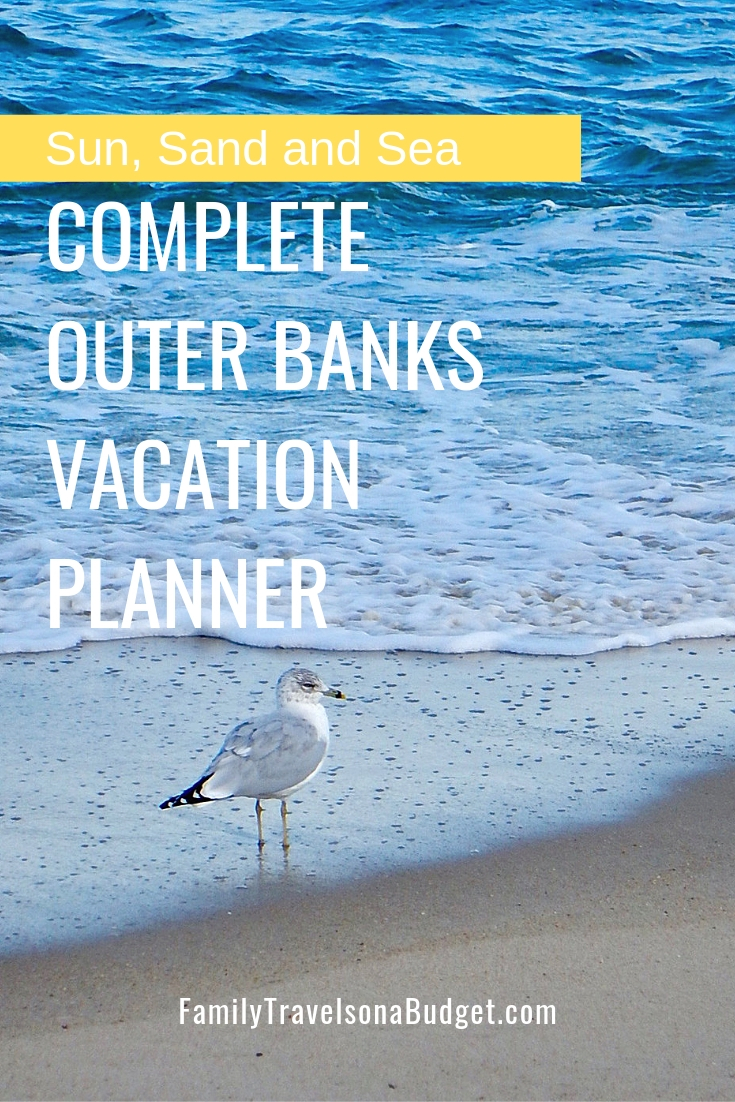 Who is going on vacation?
Outer Banks lodging options include OBX house rentals, Outer Banks condo rentals and OBX hotels, oceanfront and on the intracoastal waterway. Depending on who is traveling and how long you plan to vacation at the Outer Banks, one might be better choice than others.
For short stays, a hotel is probably best. During the summer travel season, most Outer Banks rentals require a weeklong stay.
For large families and reunion getaways, we recommend Outer Banks rental homes. Most have 4+ bedrooms and sleeping lofts to accommodate large groups. They have laundry, and wide, open living spaces with ample seating and huge kitchens. Divvying up the cost of the house by family makes this an easy vacation focused on sun, sand, sea and family.
Smaller families might prefer Outer Banks condo rentals. These are a bit less expensive than OBX house rentals. They usually include beach condo amenities like pools, tennis, bike rentals and more for easy beach vacation planning.
Couples might prefer a hotel stay. If you only have a few days or want daily housekeeping, Outer Banks hotels, oceanfront especially, might be best. Resort hotels at the Outer Banks have onsite dining, beach chairs rentals, fabulous pools, fire pits, spas and bars to turn a weekend into a luxury beach vacation.
Besides space and budget, it helps to know what you want to do at the Outer Banks before booking that vacation rental.
Which of the OBX attractions do you want to see?
There are so many OBX attractions and Outer Banks points of interest to consider before securing lodging. If you want to see the wild horses of Corolla, it is inconvenient to book one of the hotels in Hatteras, NC. Hatteras is 93 miles (or 2.5 hours one way) from the Corolla wild ponies!
Choose your favorite OBX attractions, then pick lodging that fits your space and budget needs close to what you want to see.
North End: Corolla and Duck
The northern end includes the idyllic towns of Duck and Corolla, home to the famous Outer Banks horses. Vacation rentals here tend toward the upscale with resort-like amenities, spas and fine dining.
Things to do in Corolla
Besides the wild horses, there are many things to do in the small village of Corolla on Currituck Sound.
See the wild horses at Corolla and Carova beaches,
Visit the Currituck Beach Light Station,
Explore the beach, dunes and forest trails of Corolla with a Hummer adventure tour,
Enjoy dinner and a movie at Corolla Movie & Bistro,
Enjoy family fun at Adventure Golf and Bumper Cars,
Tour the historic Whalehead Club in Currituck,
Play a round of golf at Currituck Club,
Explore the Currituck National Wildlife Refuge,
Rent stand up paddleboards, surfboards, kayaks or bikes.
Things to do in Duck, NC
Duck is another quiet town at the northern end of the Outer Banks of NC. The crown jewel is the Duck Town Park & Boardwalk which offers incredible views of Currituck Sound and an easy way to visit the shops and restaurants. If traveling in October, attend the Duck Jazz Festival.
Other Outer Banks points of interest in Duck include:
Unwind on the Outer Banks Vineyard Voyage, part winery tour and tasting, part sunset cruise,
Rent kayaks, paddle boards and bikes,
Learn to surf or fly board with Kitty Hawk Surf Co.,
Enjoy a spa treatment at Sanderling Resort or at Aqua Spa,
Rent OBX beach buggies for a fun way to explore,
Experience Duck Donuts in the place they were "born!"
Dining in Corolla and Duck
Both Corolla and Duck have several seafood restaurants and a few independent pizza and burger restaurants. Other than Duck Donuts, you're unlikely to find any chain restaurants.
Where to stay in Duck and Corolla
Duck and Corolla offer mostly vacation homes for families, family reunions and groups. If you prefer a hotel, check out these options: Sanderling Resort in Duck, The Inn at Corolla Lighthouse, and Hampton Inn and Suites Outer Banks.
Central area: Kitty Hawk, Kill Devil Hills and Nags Head
The central part of the Outer Banks is the most populated, with more lodging options, restaurant choices and things to do. Outer Banks rental homes here are categorized by location: facing the Albemarle Sound, Oceanside along the Beach Road, and "between the highways," aka HWY 12 and HWY 158.
Things to do in Kitty Hawk
Take a break from the beach with indoor fun at the OBX Escape Rooms,
Fish off the Kitty Hawk Pier,
Explore Kitty Hawk Woods Coastal Reserve,
Ride the waves at H2OBX Waterpark (in Powell's Point),
Let kids catch some air at the Kitty Hawk Skatepark,
Let Fido run at Kitty Hawk dog park,
Pamper yourself at Lotus Day Spa,
Get rentals and instruction for paddleboarding, kayaking, kite boarding, and biking.
Things to do in Kill Devil Hills
Things to do in Nags Head
Dining in Kitty Hawk, Kill Devil Hills and Nags Head
Like Duck and Corolla, you'll find plenty of local restaurants in this area. And, you'll find fast food restaurants and quick serve chain restaurants up and down Hwy 12 and Hwy 158. The area has several full grocery stores, especially handy for families staying in Outer Banks rental homes.
Where to stay in Kitty Hawk, Kill Devil Hills and Nags Head
Outer Banks lodging options are plentiful in this area. You'll find large Outer Banks oceanfront rentals for large families, Outer Banks condo rentals on both the beach and sound side of the islands and a number of hotels. There are a number of major chain hotels in this area. Select one that has the hotel perks you want.
READ MORE: Hotel Perks: Beyond the free breakfast
Southern End: Avon, Buxton, Hatteras Village and Ocracoke Island
Travel south from Kill Devil Hills, past Pea Island National Wildlife Refuge, to the towns of Avon, Buxton and Hatteras Village. This area is more populated than Duck and Corolla, but quieter than the central region. There are many Outer Banks points of interest in this area, too. Vacation homes in Avon and Buxton tend to be grand with lots of space and wide porches offering stunning ocean views.
Things to do in Avon at the OBX
Avon, like all the towns on the Outer Banks, has many water activities.
Go fly a kite with Kitty Hawk Kites,
Fish on the Avon Pier, which offers kids' fishing competitions during the summer months,
Savor coffee at Beads & Grinds, a coffee shop and bead craft shop,
Experience yoga on the beach at sunrise at Koru Village,
Create your own souvenir at Studio 12 (I recommend glass fusion),
Shop at coastal art galleries featuring local and regional artists,
Tour the Oregon Inlet Life-Saving Station in Rodanthe,
Learn the history of the US Coast Guard at the Chicamacomico Historic Site,
Unwind with a spa treatment at Koru Village Spa,
Enjoy water sports like paddle boarding, kite boarding, surfing and biking.
Things to do in Buxton
Buxton is home to the Cape Hatteras Lighthouse, one of the most recognizable lighthouses in the United States. It's the main attraction in the Buxton area, but there's more to do!
Visit Cape Hatteras Lighthouse, which is open for tours seasonally. The views at the top are stunning,
Go windsurfing at Canadian Hole, a beach on the sound side between Avon and Buxton,
Discover the maritime forest of Buxton Woods Nature Trail near the Cape Hatteras Lighthouse,
Go horseback riding on the beach with Equine Adventures.
Things to do in Hatteras Village
Dining in Avon, Buxton and Hatteras Village
Like Corolla and Duck, restaurant options are limited at this end of the Outer Banks. Restaurants near Hatteras Harbor will cook your fresh catch to your specifications. Most people make a stop at the Orange Blossom Cafe and Bakery to get an Apple Ugly or other fresh baked pastries. Pangea Tavern in Koru Village is one of the most popular restaurants in Avon.
Where to stay in Avon, Buxton and Hatteras
Vacation homes and cottages make up the bulk of lodging options in Avon and Buxton. This area has many independent hotels and motels for budget-minded travelers and a number of places to camp in the Outer Banks. For condos consider Koru Village.
Manteo Visitors Guide
Rounding out the options at the Outer Banks is Manteo, a quaint town on Roanoke Island that serves as a gateway of sorts to the barrier islands. There are many things to do in Manteo, NC, so add a day in Manteo to your Outer Banks vacation plans.
Things to do in Manteo, NC
Manteo dates bake to 1585 when the first western settlers came to Roanoke Island. The most attractions share this region's early history in a memorable way. If you enjoy historic Williamsburg, you'll like Manteo!
Dining in Manteo, NC
Like other towns on the Outer Banks, local restaurants are popular. Enjoy fresh seafood on the waterfront. Or, grab a sandwich at Poor Richard's, a Manteo staple since 1984.
Where to stay in Manteo, NC
Manteo does not have any chain hotels, but there are several locally owned places to rent. Manteo is centrally located making everything the Outer Banks has to offer an easy drive.
Tips to plan your OBX vacation
Now that you have an overview of the Outer Banks, let's plan that beach vacation!
Set your budget — lodging will be about 1/2 the budget if driving and 1/3 of your budget if flying,
Figure out which region of the OBX has the activities you most want to do,
Decide on the best accommodations based on budget, length of stay and needed space close to those activities,
Rent your accommodations (choose from the many rental companies),
Purchase travel insurance, if desired.
Enjoy your Outer Banks vacation!