Weekend Getaways: Hilton Head, SC
Perhaps our favorite place to go for a quick, rejuvenating trip is Hilton Head Island, South Carolina. I believe I've been there 15 times, maybe more. Every trip I discover something I didn't know about before. Only five hours from Raleigh, NC, this quiet little island offers much more than golf! From the beach to dining to exploring, there's something for everyone at Hilton Head!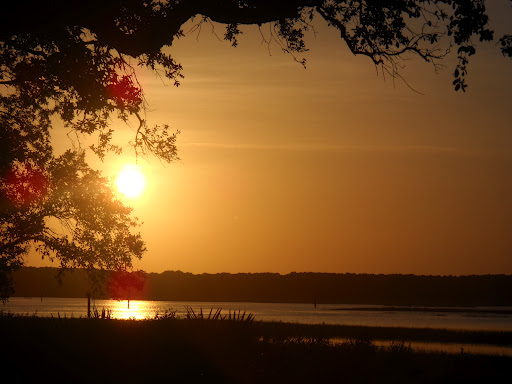 Sunset over the marsh
The island resembles a foot, and once you understand the main roads, you can easily find your way.
Places to stay:
Disney's Hilton Head Island Resort. Though we have stayed elsewhere on the island, Disney's HHI resort is by far our favorite. This resort, tucked away in Shelter Cove Harbor, offers all the quality of Disney without going overboard on Mickey. No rides, either. Instead, the resort's rec staff will entertain you with poolside parties, campfires (with camp songs and s'mores), and other phenomenal family friendly offerings. The resort offers two pools, one with a great slide. Accommodations range from traditional hotel rooms in the lodge to large, three bedroom condominiums suitable for family reunions.
The Inn at Harbour Town. Consistently ranked high by travelers for its incredible amenities, the Inn at Harbour Town offers the perfect getaway for golfers. It offers tennis, complimentary bike rentals and valet parking as well. For the luxurious weekend away, this might be the place to stay!
Red Roof Inn. On Hilton Head, even the budget hotel gets a nod! With so many lodging options, it seems that everybody offers quality accommodations. This budget and pet friendly motel offers a convenient location in the heart of the island. Close to dining, shopping and the beach, you won't miss a thing while staying at Hilton Head Island.
Golf. There are dozens of golf courses on Hilton Head Island and in the surrounding communities. Discount golf packages are available year round. Just a little research online can save hundreds of dollars.
Beaches. Hilton Head is protective of its dunes. The island restricts pet access to the beaches during the summer season between 10 a.m. and 5 p.m. Alcohol and glass is never permitted on the beaches.
Public Parks. With 15 public parks, plus the beaches, everyone can find a great place to relax on the island. Crossings Park, near Arrow Road and Palmetto Bay Road, offers a free skateboard park and many other amenities. Jarvis Creek Park, the largest on the island, offers walking trails, picnic facilities and much more.
Other things to do on the island. The island offers so much more that every visit can be different. Putt putt golf, guided dolphin tours, kayak tours offer adventure. Spas located throughout the community offer pampering and rejuvenation. The art galleries, museums, orchestra and art center offer arts enjoyment throughout the year.
Restaurant savings. Hilton Head restaurants offer discounts year-round. A little research might lead you to discover a new restaurant favorite while saving money at the same time.
One Hot Mama's. Orchid, season seven of Next Food Network Star competitor, offers great low-country favorites, BBQ and small town charm at her laid back restaurant. Not just a talented cook, she is the "real deal," warm and gracious, greeting guests old and new like friends. Portions are huge! Enjoy.
Pino Gelato. Hilton Head's 2010 small business of the year, this quaint little place offers more than gelato (though I never get further than the gelato… it's so creamy and flavorful). Their pizza cones have been featured on Food Network, and they offer crepes, milkshakes, smoothies and more. For a quick bite or sweet snack, Pino Gelato in the Village at Wexford is the place to go.
Mangiamo's. True confession, every time we go to Hilton Head, we eat at Mangiamo's. This Ohio State pizza place is a Buckeye's home away from home. Michigan fan? They'll still feed you great pizza and Italian dishes… but you might take a bit of a ribbing.
The Old Oyster Factory. Located at 101 Marshland Road, this family friendly restaurant offers great seafood and steaks. Beyond that, it offers a great panoramic view of Broad Creek, including sea birds and the occasional dolphin (at high tide). The restaurant opens for dinner at 4:45 each day and reservations are strongly encouraged.
What I truly like most about Hilton Head Island is the overall atmosphere. You won't find kitschy, cheap souvenir items (except at Walmart or the drug store). No neon signs either. It's a quiet, uncluttered place to shop, golf, sun, bike and boat. Residents and vacationers alike are relaxed and friendly. A weekend getaway to Hilton Head offers a wonderful break from fast-paced living.
Happy travels! Please share your favorite Hilton Head recommendations!