The gift of holiday travel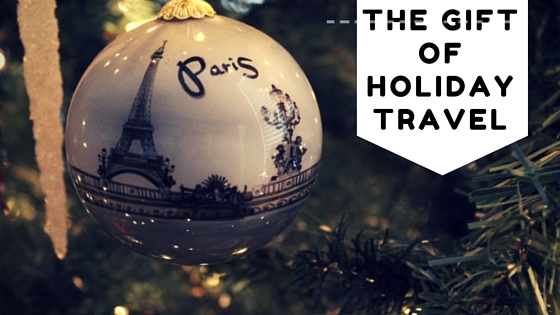 *Post contains affiliate links. Your purchase helps offset the costs of running this site.*
Several years ago, I realized that Christmas had become a day of opening gifts, tossing the wrapping paper, eating lots of food — and then quickly forgetting what was given and received. The day often ended with a letdown. All that money, time and effort resulted in quick squeals of delight followed by broken toys, missing pieces and disappointment when the gift wasn't "quite" what the recipient wanted.
Christmas shopping is chaotic too. Crowded stores, junk gifts — those "specials" packaged in pretty boxes but filled with poor quality content and grumpy shoppers was no fun. When I was a kid, I swear the mall was a lot more fun than it is today. Throw in the limit pushing credit card bills that arrive in January, and I just felt depleted.
Whatever happened to family? Time for reflection? Simplicity? Slowing down? Appreciating the real "Reason for the Season?"
Accidentally, we stumbled on travel for Christmas. No — not Disney (though we did that once and learned a lot). We pick low season destinations, typically condos or rental houses near a southern beach, and escape everyday life to enjoy quality family time. My kids love it! It's the gift that keeps on giving.
Q&A for holiday travel planning
What about gifts?
My daughter's "love language" is gifts — so skipping those on Christmas day would probably shatter her little self. The nice thing with the gift of travel is that gifts can have purpose. When we head south, I give the kids new clothes for the trip: Shorts, t-shirts, or a new summery dress for my daughter.
A few years ago, when planning a trip to Paris, I gave the kids travel planning books
so they can learn about the destination. I filled their stockings with French snacks from World Market. My husband and I got each other travel pillows
for the overnight flight — which was unplanned and totally perfect! We got a family gift of french language cds
to learn French as we ran errands.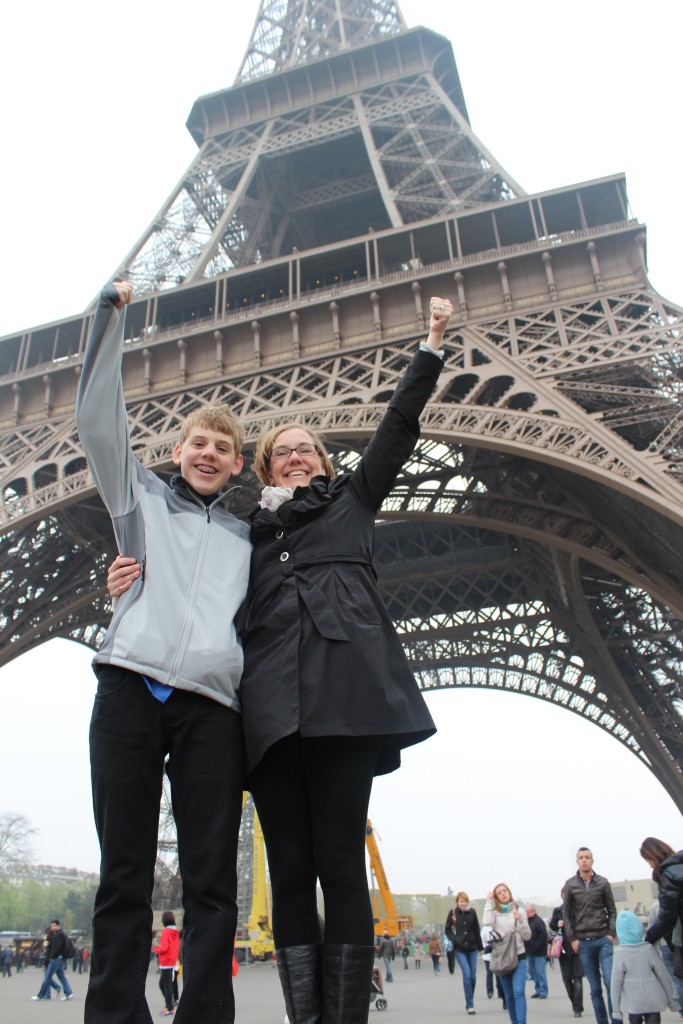 We didn't go until April, so we spent 4 months learning about Paris, France, French food and culture. Not only did it make our trip more enjoyable, we got four months of bonding — and a lifetime of memories — from the experience.
If your travel plans include Christmas, consider mailing gifts to your destination. Pick up a small tree at the dollar store when you get there and enjoy the simplicity!
Gift ideas for the whole family:
Board games to play at your destination
Puzzles — imagine the conversation that can happen over a puzzle table!
Or shop our 2016 Holiday Gift Guide for ideas for the whole family.
Which destinations work as travel gifts?
Before I go into this, I do want to say that I love Disney! I appreciate their efforts to market Disney as the perfect Christmas vacation destination, but Disney is so expensive! And crowded. And even more crowded!
To keep the Christmas vacation affordable, consider traveling to an off-season destination. We go to Hilton Head fairly often — in fact, we're headed there this year! The condo we're renting is $222/night. During the summer that climbs to $534! We save more than 50%.
When we told the kids our vacation this year is Hilton Head, they got quite excited. It's our favorite place for a relaxed vacation. We play board games (see gift list above), take long walks on the many trails across the island, eat lots of food, watch movies and swim in the heated pool. It's our favorite place to unplug — but there are others!
Gulf Shores, Alabama, another family favorite, has 2-bedroom condos Christmas week for $142/night. During the summer months it's $300+. Again, we get vacation and save more than 50%. The average high temperature is 61 — perfect for biking, hiking the parks, watching the water and reconnecting.
In Myrtle Beach, luxury units run $145/night with indoor pools and spas during that same week, while in July, it's $350 or more.
Some ski resorts offer discounts for travel that includes Christmas as many people don't want to be away from home that day.
Of course, there's nothing wrong with traveling at peak season. That's certainly true for many winter resorts and some big cities like Washington, DC and New York. It may be expensive, but how often can you say you skated in Central Park or went to the Rockettes Christmas Spectacular.
It really comes down to budget and value for your family. Just remember, the trip is the big gift. Don't go overboard on the cost of gifts under the tree.
How do we tell the kids?
I get that question a lot, and I really don't have a good answer. My kids love being involved in our vacation planning and they are plenty old enough to really be helpful. My second son hates being surprised so springing a trip on him stresses him out. So, we don't surprise our kids.
When my daughter was little, she didn't handle changes well. We needed the time to help her get mentally prepared for travel. I'd show her pictures of the hotel we'd be staying at and talk with her about our plans.
Surprises are great for some people though. Just don't be surprised if kids are a bit wound up on travel day! That's a big surprise for their little brains.
Some thoughts to consider:
Do your kids get upset by surprises or do they love them?
Do your kids tend to get car sick, especially when really excited? (I threw up every Christmas day as a kid, so excited to see my grandparents. It was just a part of our "tradition")
Will trying to keep it a secret make you more excited or will it add to your stress? It's hard to pack in secret!
Do you want the kids' input to plan the vacation?
What about the Christmas tree?
I'll be honest — when we first started traveling regularly at the holidays, I felt the pressure to decorate the house the usual way — wreaths on the windows, Christmas towels for the bathrooms, garland on the staircase — the whole thing. We'd go on a fabulous, relaxing getaway and come home to a house that needed undecorated. UGH!
As time went on, we pared it down to the tree, the stockings by the fireplace and the nativity on the coffee table. You know what? The kids love it. I love it!
We still bake cookies (and save some for travel), enjoy holiday dinners (and pack the leftovers for easy meals at our destination), and the twinkle of the lights. We just don't stress out over the details anymore. We remember that life is about our relationships.
Other tips!
In advance of travel, be sure to prepare just like you would for any vacation. It's easy to overlook something important when schedules are jam-packed.
Make sure you get your car serviced before travel,
Place a hold on your mail so that you don't tip off would-be burglars,
Let family know that you will be traveling and ask them not to ship gifts during that time,
Pack early if you can.
Worst days to travel are 12/23, 12/24 and 12/26 or 27. Be patient when traveling the roads or the airports — road rage doesn't change anything.