Birmingham Civil Rights Institute
The Civil Rights Institute in Birmingham, Alabama is an incredible museum. It tells the story of the Civil Rights movement using a Civil Rights timeline to draw guests in. Civil Rights leaders like Martin Luther King, Jr. and Rosa Parks stories are told in a way that children can understand at their level but that also teaches adults. It does not shy away from Civil Rights movement facts, even the hard ones like the KKK and attacks made on Civil Rights activists.
Yet, the Birmingham Civil Rights Institute somehow manages to be fair and encouraging. By focusing on black history in America, it challenges us to consider the tough questions like "what are Civil Rights?" I don't think it's possible to visit and not be changed.
When planning a visit to Birmingham, Alabama, the Civil Rights Institute should be on your list of places to see. This post covers information you need to plan a visit:
What exhibits are on display at the Birmingham Civil Rights Institute?
Who are the Civil Rights leaders and activists whose stories are told at the Civil Rights Institute in Birmingham?
What should I know before bringing my kids to the Birmingham Civil Rights museum?
When is the Birmingham Civil Rights Institute open?
How much does it cost to visit the Civil Rights Institute?
What else should I see to learn more about Civil Rights in Birmingham?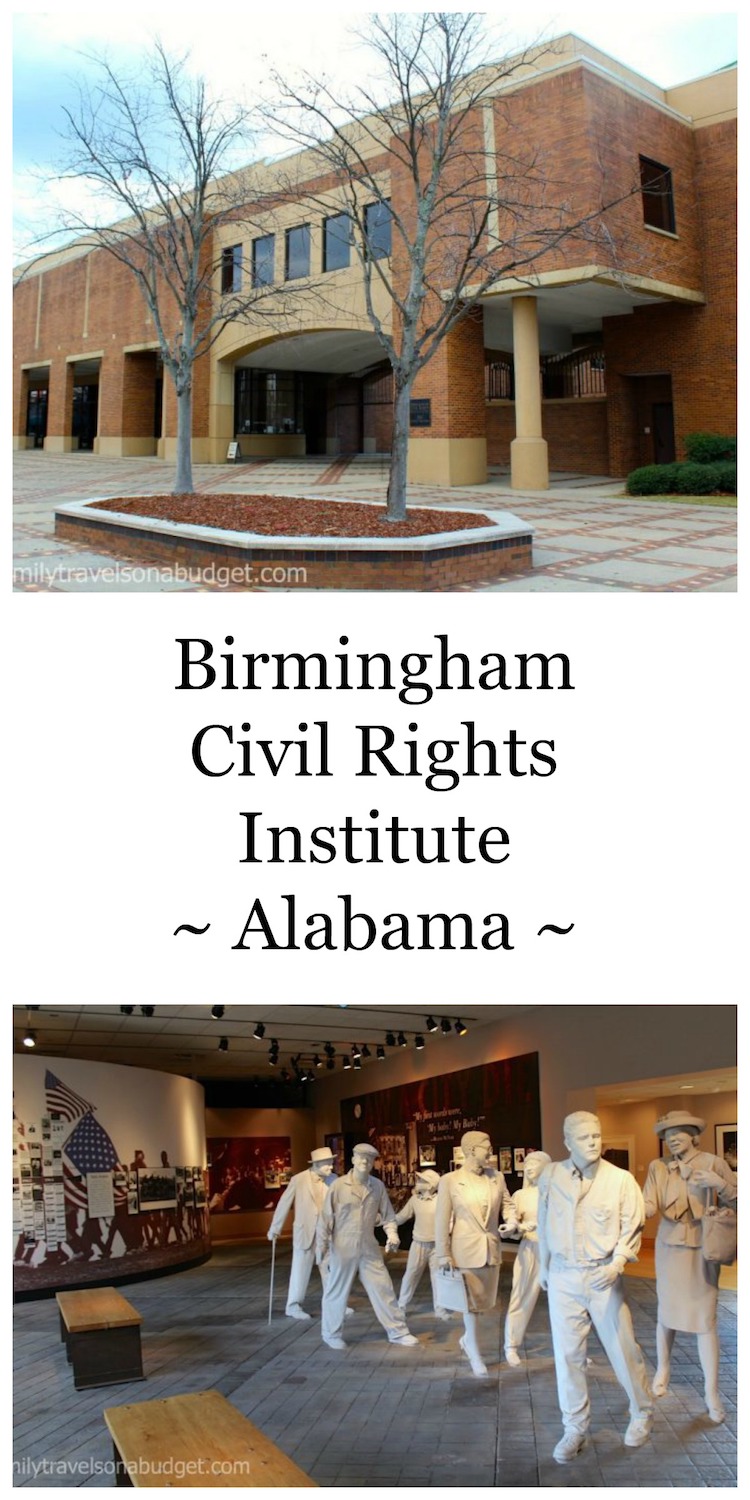 My visit to the Birmingham Civil Rights Museum rendered me completely speechless! I have a degree in social work and was presented with an affirmative action award in college. I thought I knew and understood black history and the civil rights movement.
But, I was born after the great Civil Rights Leaders, like Martin Luther King, Jr., had made their point. I didn't live through segregation or the horrors of the KKK. The exhibits at the Birmingham Civil Rights museum do an incredible job presenting the story of this very difficult chapter in our nation's history with respect to those who lived it.
I was deeply saddened by some of what I saw, but in the end the story of Birmingham, Alabama civil rights is one of hope, endurance and faith.
The story is incredibly well told.
Exhibits at the Birmingham Civil Rights Institute
Birmingham Civil Rights museum visits start with an introductory video that tells the history of Birmingham, Alabama. You will learn that:
Birmingham is a planned city, founded for coal mining and steel production.

Birmingham was founded in 1871, eight years after President Lincoln issued the Emancipation Proclamation.
Most early residents of the city, regardless of race, lived in two-room company owned homes, shopped at the company store and lived in poverty.
As time went on, the city "divided." Blacks lived in self-contained neighborhoods offering all the services, such as law, grocery, barbers, shops, churches and clubs, that white neighborhoods had. In essence, Birmingham was two cities in one: white and black.
As the movie ended, I was surprised by what came next. Other movie-goers were equally impressed. One of the kids there when I was exclaimed, "Whoa… that's awesome!"
Curious?
Well, you'll have to visit yourself to find out what! I can say that this moment let me know that I was about to experience something special.
Civil rights timeline at the Birmingham Civil Rights Institute
The permanent exhibits take museum guests on a historical walk through the city's history, starting at the coal mines that launched "Magic City" into existence and continuing with a Civil Rights Timeline.
The first exhibits highlight everyday life for blacks and whites in the city.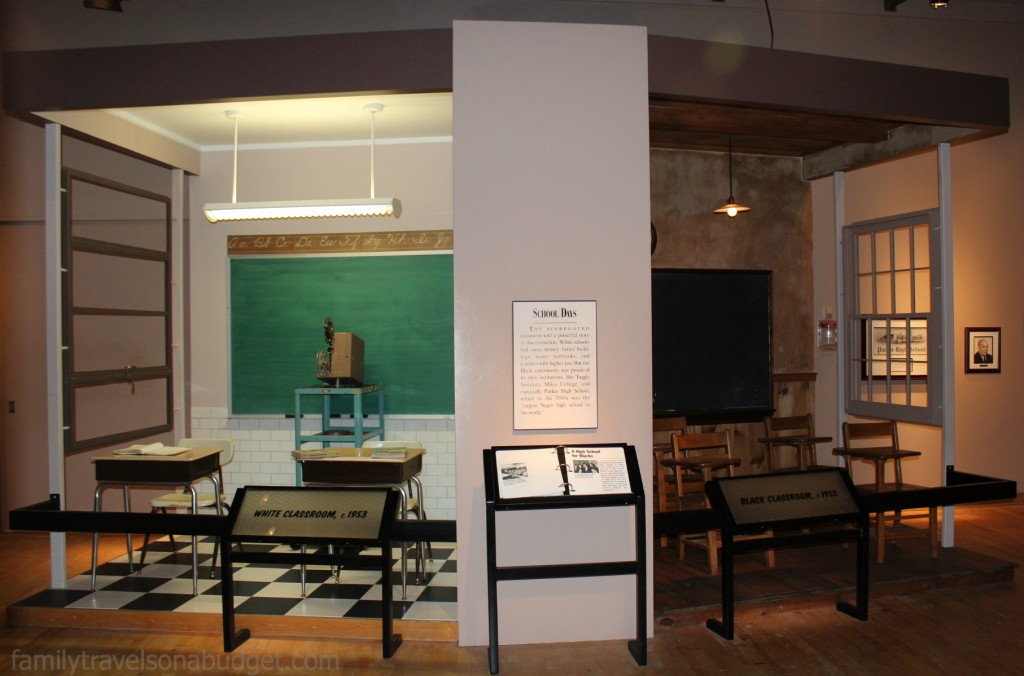 Throughout the Civil Rights Institute in Birmingham, Alabama, black history is told fairly. The institute does not shy away from the racial tension in Birmingham and across the country.
As I stood before a KKK robe and hood, I could hardly breathe. The robe, donated anonymously, was made of silk and finely stitched. Had it been a wedding dress, it was stunning. But knowing its purpose, and seeing the quality of the work, I felt like I'd been punched in the gut.
I'm not sure why I thought these robes would be sloppily made of coarse fabric, like a child's Halloween costume. To see the robe, carefully crafted for use as an instrument of fear, I… well, I still have no words.
Other interactive exhibits throughout the Birmingham, Alabama Civil Rights Institute tell the story of the bus boycotts and Rosa Parks' brave stand against the Montgomery City Code for segregated seating.
If you're not familiar with this Civil Rights leader's brave role in the fight for equality, Mrs. Rosa Parks merely boarded a bus, paid her fare, and sat in the back of a city bus. For her, it began as just another ride home from work.
As the bus filled, though, the driver moved the sign designating the "white section" of the bus further back. Eventually, Mrs. Parks refused to give up her seat and the driver had her arrested.
The visual display helped me understand that Mrs. Parks didn't plan to start a revolution. She was a quiet, hard-working lady who just wanted to sit after a long day at work. Except for her skin color, she could have been my own grandmother.

Throughout the museum, a civil rights timeline puts history in context, sharing the civil rights movement facts alongside what was happening in Alabama and across the United States.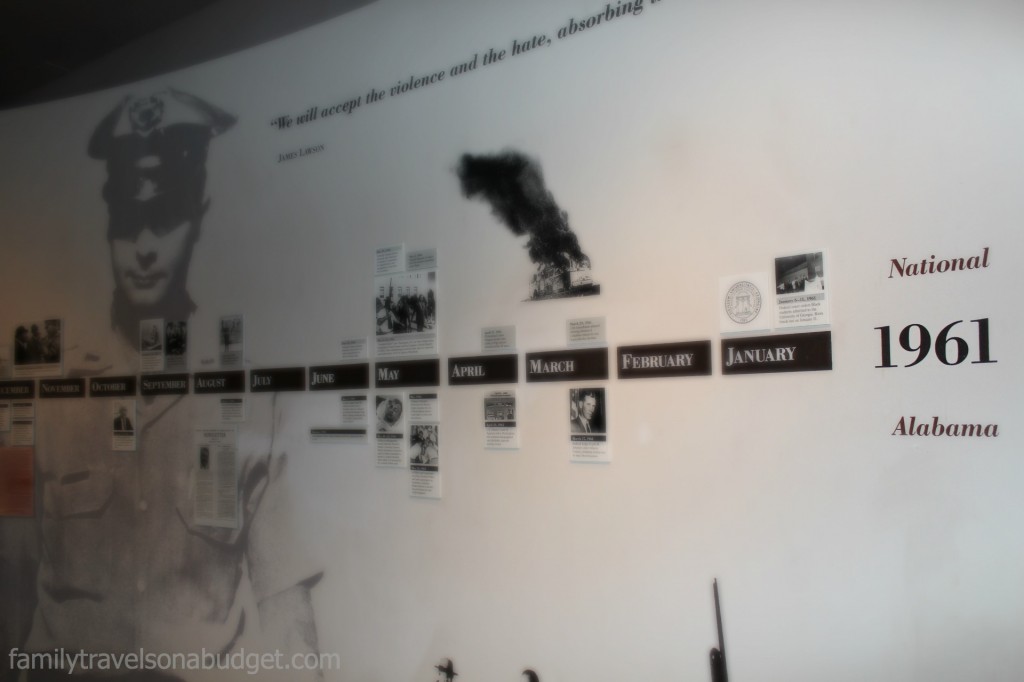 The final exhibits at the museum focus on the tragedies of 1963, including violent attacks on children participating in the Children's Crusade and the Sixteenth Street Baptist Church bombing that killed four young girls.
Museum displays explaining these events include windows that overlook both Kelly Ingram Park, where the Crusade took place, and the Sixteenth Street Baptist Church. Reading the history and looking out on the sites themselves makes the civil rights movement more tangible than any book ever could.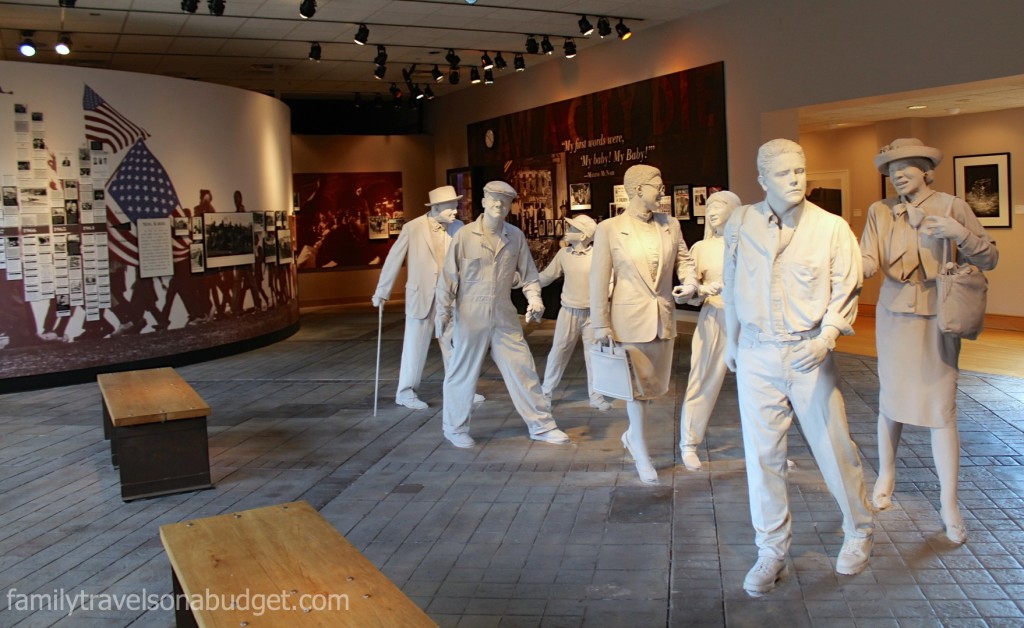 The museum's last exhibit, "What's Your Story?" asks tough questions we still face today about issues like prejudice, judgment and bullying. It provides museum guests a chance to share their experiences.
More, it inspires hope. We all have a story. We all share the same world.
This last exhibit is our hope for the future — and helps bring all those emotions to a good place.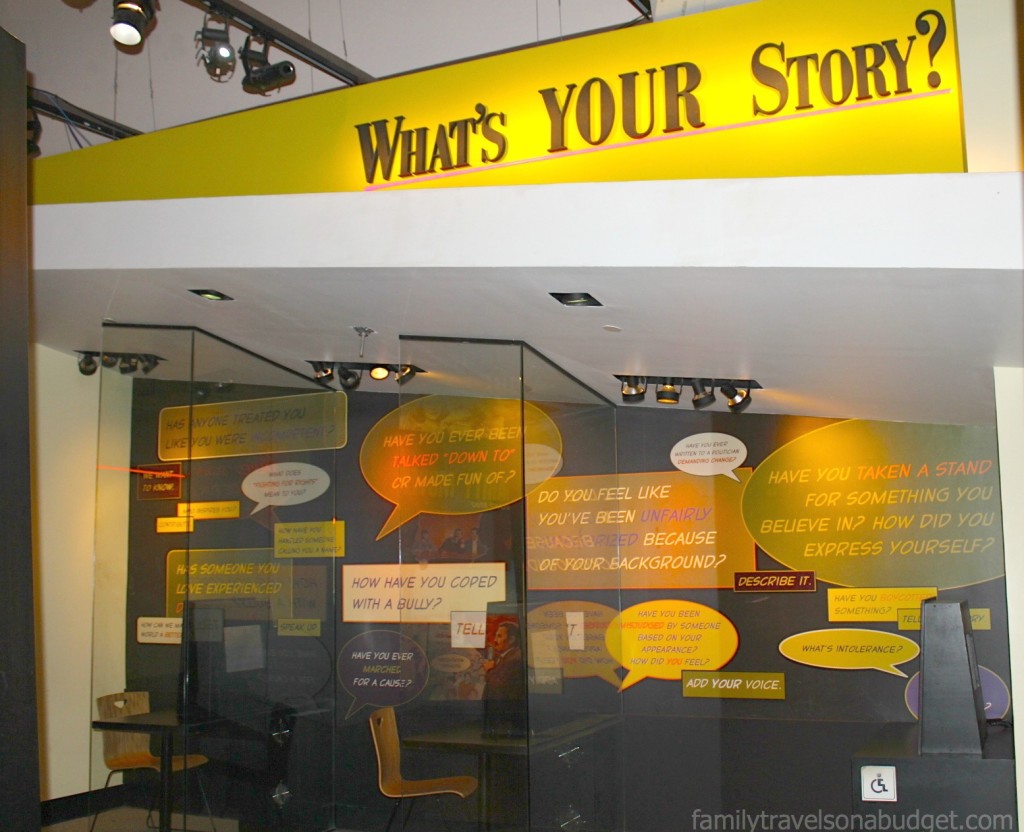 Who are the civil rights leaders you learn about at the Birmingham Civil Rights Institute?
The Birmignham Civil Rights Institute tells the story of civil rights leaders who played a role in black history in Alabama. It includes people we learn about in school like Martin Luther King, Jr., Rosa Parks, and Malcolm X (and many more).
But there are many more civil rights activists' stories told here. Learn about:
Dr. Richard Arrington, Jr. — Birmingham city councilman who later became Birmingham, Alabama's first black mayor,
Rev. Carolyn McKinstry and Janice Kelsey — Two of the women who were friends with the girls killed in the 16th Street Church Bombing (Denise McNair, Cynthia Wesley, Addie Mae Collins and Carole Roberts),
Myrna Carter Jackson, Ricky Powell, Rev. Gwendolyn Webb, Miriam McLendon and many more — who bravely stood up to the police in quiet protest, withstood attacks from fire hoses and police dogs and endured incarceration for the sake of the sake of the civil rights movement in Birmingham.
Some of these people quietly protested outside stores that would not allow blacks to enter. Others dedicated their lives as civil rights activists to fight for equality.
Each of their stories is told in context, so that visitors to the Civil Rights Institute in Birmingham, Alabama can better understand the importance of their sacrifice.
What should I know before bringing my kids to the Birmingham Civil Rights museum?
Black history and civil rights movement facts can be hard to digest. The Birmingham Civil Rights Institute does an incredible job making this a museum that all ages can visit, but some topics are tough.
If visiting with young children, know that the museum is large. There's a lot to take in, but it might be hard for little ones to comprehend.
Talk to young kids on their level using phrases they can understand:
Imagine if your friends didn't like the color of your shirt and were mean to you — how would you feel?
At side by side exhibits showing the parallel of black life and white life in Birmingham, ask kids which looks better.
Tell the story of Rosa Parks in a gentle way. This lady wanted to sit down after working all day long. The bus driver wouldn't let her sit down because she had brown skin. She didn't think that was very fair, so she sat down anyway. Would you like having to stand up on the bus?
With kids in elementary school and middle school, use terms they have learned in school:
They understand bullying, so talk in terms of that.
Build on what they have learned in school. Let them take in the exhibits and then ask them to show you what they saw that they didn't know before.
Listen actively and allow them to process what they see. Respond to their questions.
Encourage respect.
For all ages:
The Birmingham Civil Rights Institute has a long list of educational resources to explore topics that stick with you after visiting. Most are geared toward use in the classroom but can be used at home, too. Here's a link to curriculum resources for school and home.
The Civil Rights Institute in Birmingham, Alabama also has an extensive Resource Gallery to learn more about local civil rights activists and leaders who played an important role in this era of black history. Click here for those resources.
Those who live in the Birmingham area can also participate in activities throughout the year. Check the site to learn more or talk with musuem staff when visiting.
Other tips for visiting the Birmingham Civil Rights Institute
Strollers are allowed in the museum, but space can be tight. I do not recommend double strollers here.
No food, drink or gum is allowed in the museum.
Keep hands off the exhibits, and do not lean on them. This isn't as hands on as some museums.
Bags are subject to being searched, as with any museum.
Photos for personal use are allowed. Please don't use flash.
Cell phone use is not recommended in the museum exhibit space. If you need to take a call, please step outside. The Birmingham Civil Rights museum touches on sensitive issues — so please be considerate.
How much is admission to the Birmingham Civil Rights Museum?
Ticket prices vary:
Adult admission $15
Seniors age 65+ $5
College students with ID $6
Kids who live outside Jefferson County $5
Jefferson County kids and  kids grade three and below are FREE.
There are many discounts available for onsite purchases including AAA,  Smithsonian and Military discounts. The Civil Rights Institute of Birmingham, Alabama is a member of the Blue Star Museums program providing free admission to active duty military personnel, including National Guard and Reserve, and their families from Memorial Day through Labor Day.
When is the Birmingham Civil Rights Institute open?
The Civil Rights museum is closed on Mondays.
Tuesday through Saturday hours are 10 a.m. to 5 p.m.
Sunday hours are 1 p.m. to 5 p.m.
What else should I see when visiting Birmingham?
One of the best ways to learn about Civil Rights history in Birmingham is through a tour with Get Your Guide. This three hour tour takes you around Birmingham in an air conditioned vehicle to learn about the struggle for equal rights from the 1870s through the 1960s, including important spots like "Dynamite Hill" and the infamous Children's March. Pickup and drop off at local hotels is included. Click here to purchase Civil Rights Tour tickets.
Alabama was home to many important events in the civil rights movement. The Birmingham Civil Rights Institute is part of the the Birmingham Civil Rights Monument, a national park designation that encompasses approximately four blocks in downtown Birmingham. Other places in this area include:
The A. G. Gaston Motel — which served as the headquarters for the Birmingham Civil Rights movement (currently under renovation and not open to the public),
The 16th Street Baptist Church — where four young girls were killed as they prepared for Sunday school lessons,
Kelly Ingram Park — where a peaceful protest was broken up by police dogs and fire hoses, and the
The 4th Avenue Historic District sites — which served as the heart of the black community before desegregation.
Read more about Kelly Ingram Park
Another significant location in Birmingham is Bethel Baptist Church, which sits six miles north of the city center at 3200 28th Ave N, Birmingham. The church had a close association with Rev. Fred Shuttlesworth, and was the headquarters of the Alabama Christian Movement for Human Rights. The church was bombed three times during the Civil Rights Movement — in 1956, 1958 and 1962.
You might like to read these to learn more about Birmingham, Alabama history: