5 ways to save like Scrooge McDuck on your Disney vacation
This post may contain affiliate links. Click here to see what that means.
Ahhhh… Disney! It's a dream vacation for many of us. But, for some, it's a dream that can seem out of reach. Some people charge a Disney vacation to credit cards and deal with the aftermath later. But, there is another way:
The vacation savings account!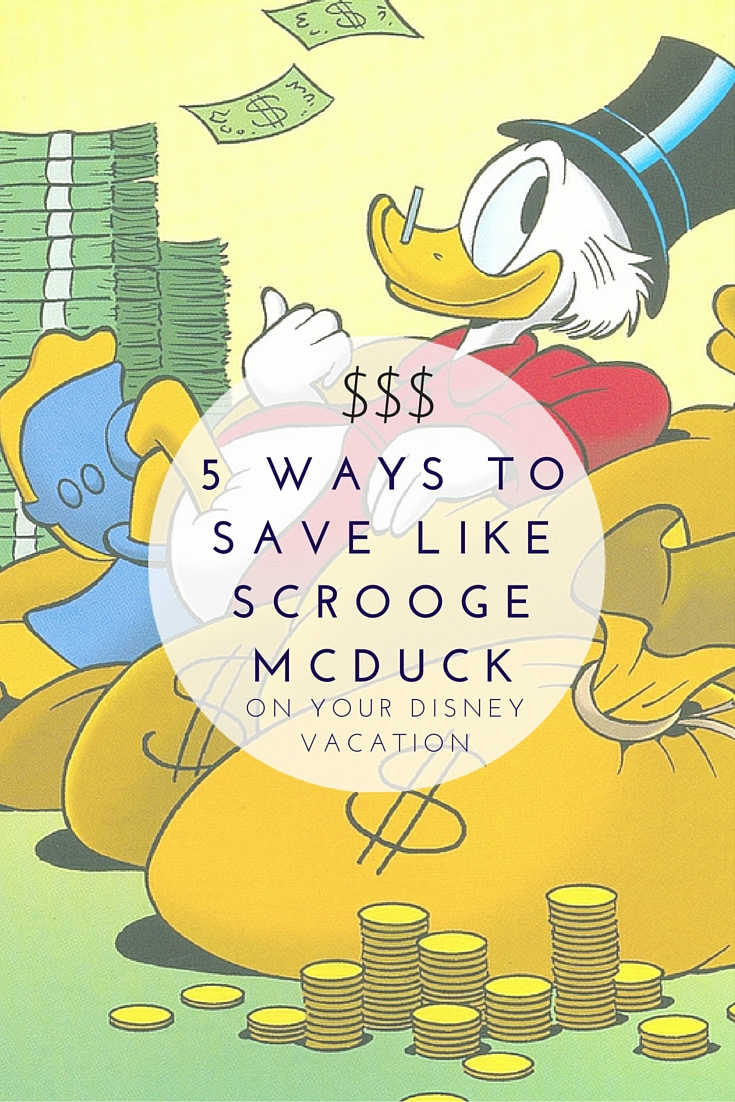 If you've never considered a vacation savings account, there are many tools available to help you save for vacation. We use a simple savings account at our bank and move money into it each month. Some months our vacation savings account gets $25. Other months, we can add $200. Eventually, though, we have enough money to take that dream vacation!
To get started on your own vacation savings account, follow these tips:
1. Don't be afraid to start small.
In 2013, Forbes Magazine estimated Scrooge McDuck's wealth to be around $65.4 billion – up from a modest $28.8 billion in 2007. But even Scrooge, with his vast fortune, had to start small. Scrooge started with a single dime and within a year had saved $1,000,000. You might not be able to increase your wealth that much in one year, but the best way to build a vacation fund is just to save a little bit at a time. It may seem insignificant to start saving spare change, but no amount is too small. It all adds up. If you know you want to go to Disney, the earlier you start saving, the more money you can accumulate without having to make big sacrifices in your household budget – and the more money you'll have at your disposal when it comes time to plan.
Save up to $109 on Universal Orlando Resort tickets!
2. Have a designated Disney money bin.
Scrooge was known for hoarding his money in a giant bin on Killmotor Hill in the city center of Duckburg. And while he was perhaps a bit overly stingy, he had the right idea – you can't save money if you have it in a place where you can spend it. The dollars and cents you save should be saved in a special place – a place where you can't get to it. Open a special travel savings account that's off-limits to any and all non-Disney spending (or other dream vacation). When making travel plans, be sure to leave money in your Disney account to take out as spending cash for the trip itself.
3. Remember there's "always another rainbow."
Scrooge is known for his saying, "There's always another rainbow," which means that he's willing to set ambitious goals and face challenges in order to find new opportunities. If you're having trouble adding money to your travel savings account, try looking to other avenues. Get creative and think outside of the box about how to save dollars and cents. Print off a list of recent transactions from your bank. Examine your credit card spending. Circle the smallest expenses: the five dollars here and there that you spend on unnecessary snacks at the gas station, the few dollars spent on lunches out when you already had one at the office, the cost of a full price movie ticket when you could see the matinee. Finding these little expenses can help you find big pots of gold waiting at the end of a rainbow you didn't even know you had.
4. Awaken your inner misanthrope (Plan to Avoid the Crowds).
Scrooge McDuck isn't exactly known for his love of people (he's named after Ebenezer Scrooge, after all) and Disney World is likely a place Scrooge would never find himself on a crowded, busy day. Disney travelers can learn a lot from this principle. Traveling to Disney World outside of peak season can save you money on everything from travel expenses (plane tickets or gas) to lodging, hotel fees and rental cars. If you can swing a trip during a time of the year where few others are traveling, you could save hundreds. Here's a list of peak travel times (those with the highest attendance) and non-peak travel times.
5. Don't be afraid to be stingy.
Scrooge is known for his stinginess. And while he takes it too far sometimes, his head is in the right place. Because he worked so hard to accumulate his wealth, he uses a lot of discretion in how, where and what he spends his money. When planning your trip to Disney, use discretion – and frankly, be a bit stingy. Don't spring for all the extras – they add up quickly. Instead of paying for all your food in the Disney parks, bring your own snacks. Pick one or two paid attractions you really want to see or do, and maybe opt out of the rest of the pricey luxury experiences. You'll still have a good Disney experience without paying for all the bells and whistles.
Ready to get started on ironing out the details and seeing how much the trip might cost? This Disney World budget calculator can help you set a realistic savings goal for your trip, decide which add-ons are worth the price and figure out where you can save money.
If you enjoyed this post, you will also like:
**This is a sponsored post. I include it here because it offers great information on saving and budgeting for a dream vacation, whether to Disney or anywhere. That Scrooge was one smart guy (and eventually, he was even nice)!**