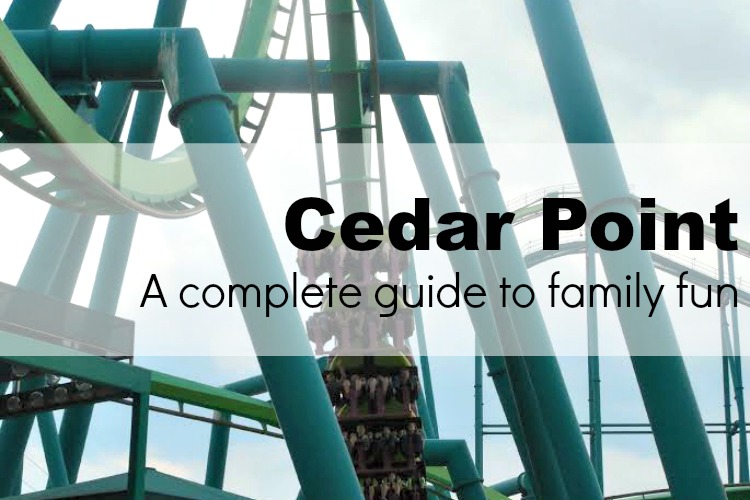 When it comes to amusement parks, Universal and Disney are two of the most popular, but they aren't the only amusement parks. Cedar Point, located in Sandusky, Ohio, is the second-oldest amusement park in the US, and was voted "Best Amusement Park in the World" by Amusement Today for 16 years in a row. Cedar Point's popularity isn't surprising, considering its many roller coasters, kid-friendly areas, live entertainment, and beachfront location. Below you'll find a list of some of the most popular features of the park, as well as prices and some tips for having an awesome, budget-friendly vacation.
Cedar Point Rides
Cedar Point is home to the world's best steel roller coaster, the 310-foot Millennium Force, which runs at 93 MPH. This ride is not for the faint of heart. In fact, this coaster is so intense that it created a new coaster category, the giga-coaster. The Raptor, the GateKeeper, and the Top Thrill Dragster are three of Cedar Point's other popular rides that offer an aggressive thrill. You can check out the list of coasters here.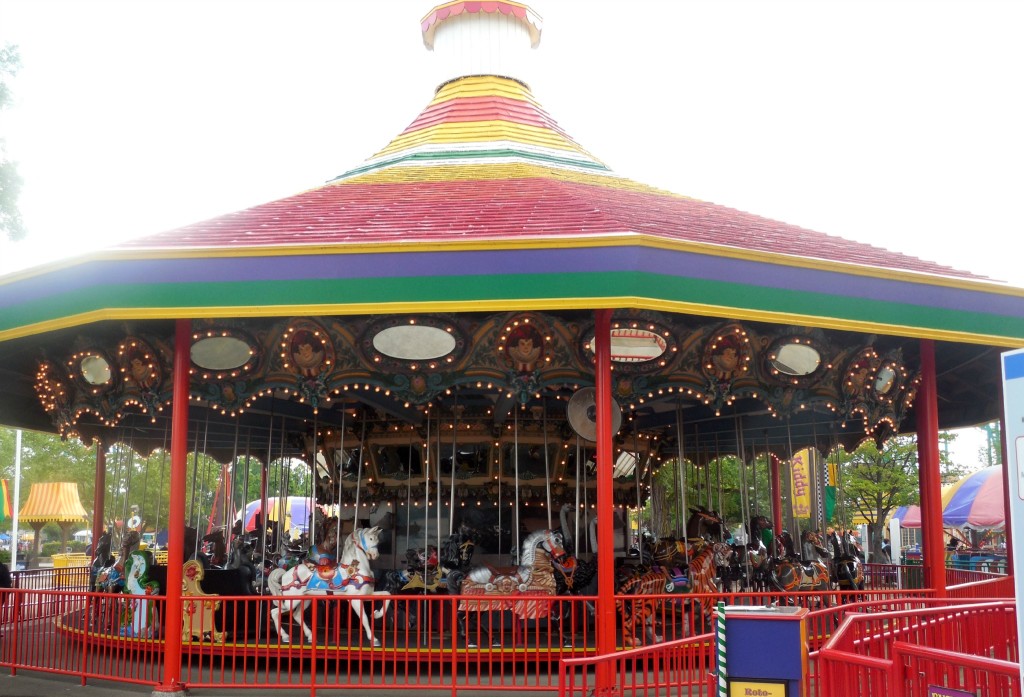 Although it is the Roller Coaster Capital of the World, Cedar Point isn't just about the thrills. There are plenty of rides for those who don't find amusement in going upside down at 80+ MPH.
Teach your kids how to drive with the antique Cadillac cars ride. (Without having to worry about going off the road!).
The Giant Wheel provides a great view of the park and Lake Erie. (Word of advice: don't go when it's windy!).
Various carousels are located around the park. (Including a race horse one that goes a bit faster than the typical carousel.)
The classic bumper cars are of course available, too.
These are only some of the rides that provide entertainment without inducing an adrenaline rush. Check out the list of family-friendly rides here.
Kids' Areas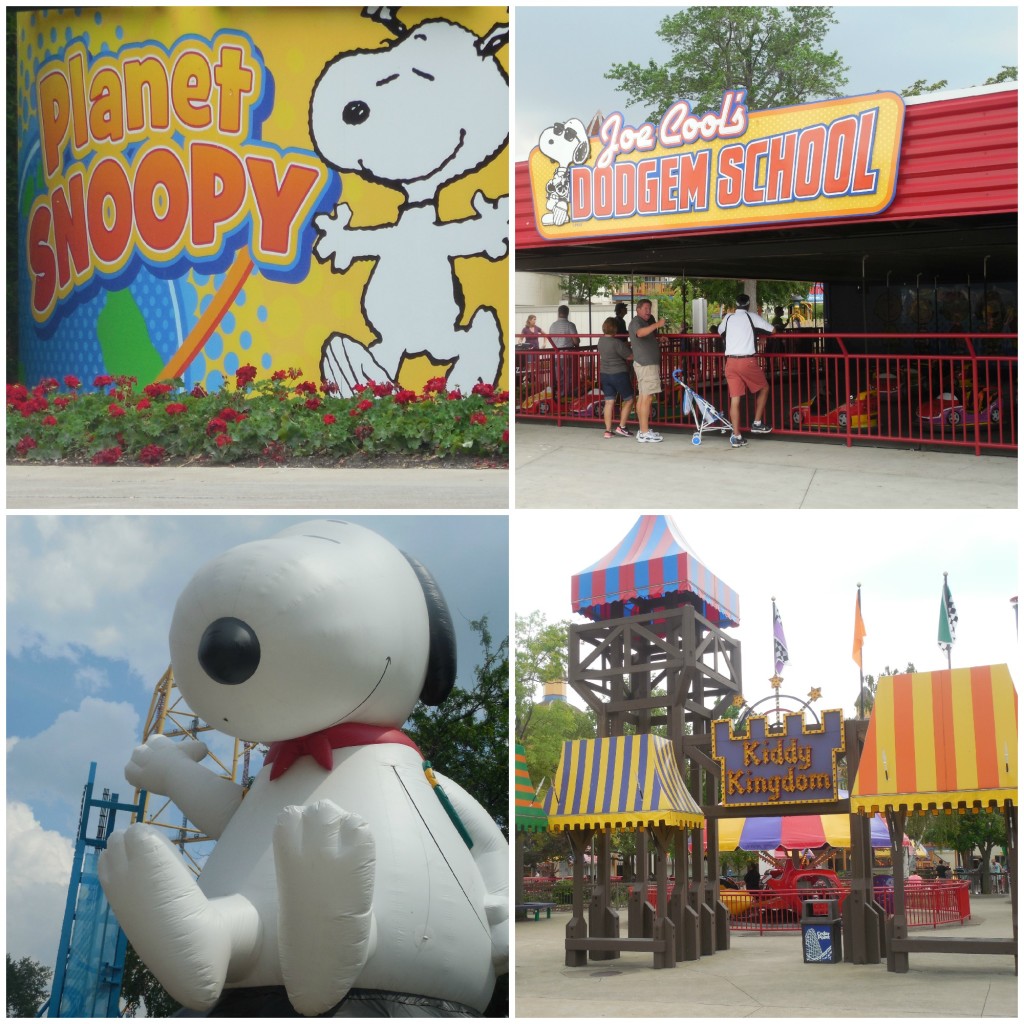 Cedar Point also offers great kids' areas to provide hours of entertainment for visitors who have up-and-coming thrill seekers (i.e. young children). Your children can ride the Dune Buggies, Mustang Cars, Motor Cycles, and Police Cars. They can fly in the Helicopters, Red Baron, and Sky Fighters. These rides all offer low or mild thrills. Find out more about these rides here.
Live Entertainment
What's an amusement park without a little amusement? Cedar Point hosts a cast of characters from the Charlie Brown comics, and you can meet them for singing and dancing from May 6th to September 4th (excluding Thursdays) at 12:30P, 1:30P, 2:30P, 3:30P (good for the 2017 season). Sing along with Snoopy in Planet Snoopy from May 27th to August 20th (excluding Mondays) at 1P, 2P, 3P, 3:45P (good for the 2017 season).
Other entertainment options include the Bluegrass Jamboree, the "All Wheels Extreme" (bikers, skateboarders, and gymnasts performing extreme flips and tricks), and Luminosity, the best way to end your Cedar Point experience, with live music, lights, dancers, aerialists, musicians and more (daily, except Tuesdays). Find out about all of these and more here.
Dinosaurs Alive!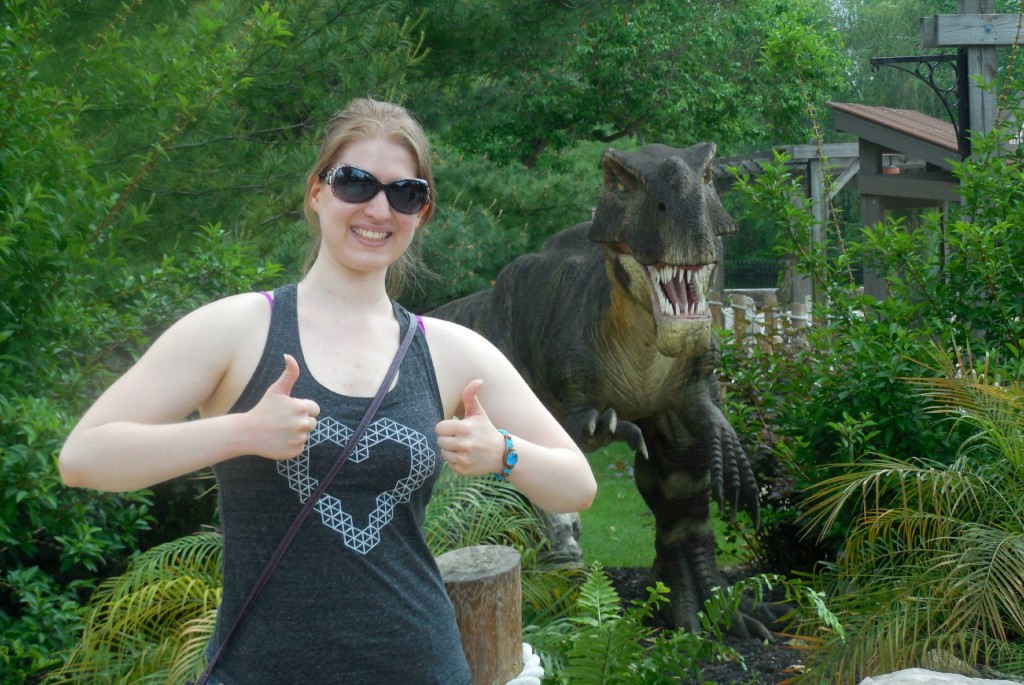 "Step back in time to the beginning of the "Age of the Dinosaurs" at Dinosaurs Alive – the most immersive and comprehensive Mesozoic experience designed to thrill guests of all ages."
This section of the park requires additional pay (tickets start as low as $2.50), but it can be worth it! Where else can you come face-to-face with the giants that ruled the park before coasters existed? And I promise, you won't encounter any Jurassic Park-esque terror – these 50 life-size dinosaurs might seem scary, but they are all mechanical. Learn more here.
HalloWeekends

Cedar Point transforms from a place of thrills to a place of chills every fall for their event, "HalloWeekends." The dead roam the park in search of recruits. Mazes and haunted houses lure in unsuspecting bystanders. Actually, it's a lot more innocent than that, but it's fun to pretend! The park goes all out for this event, erecting haunted houses, mazes, gypsy camps, scare zones, and live shows to get visitors in the Halloween spirit. Find out more about this spook-tacular event here.
Cedar Point Dining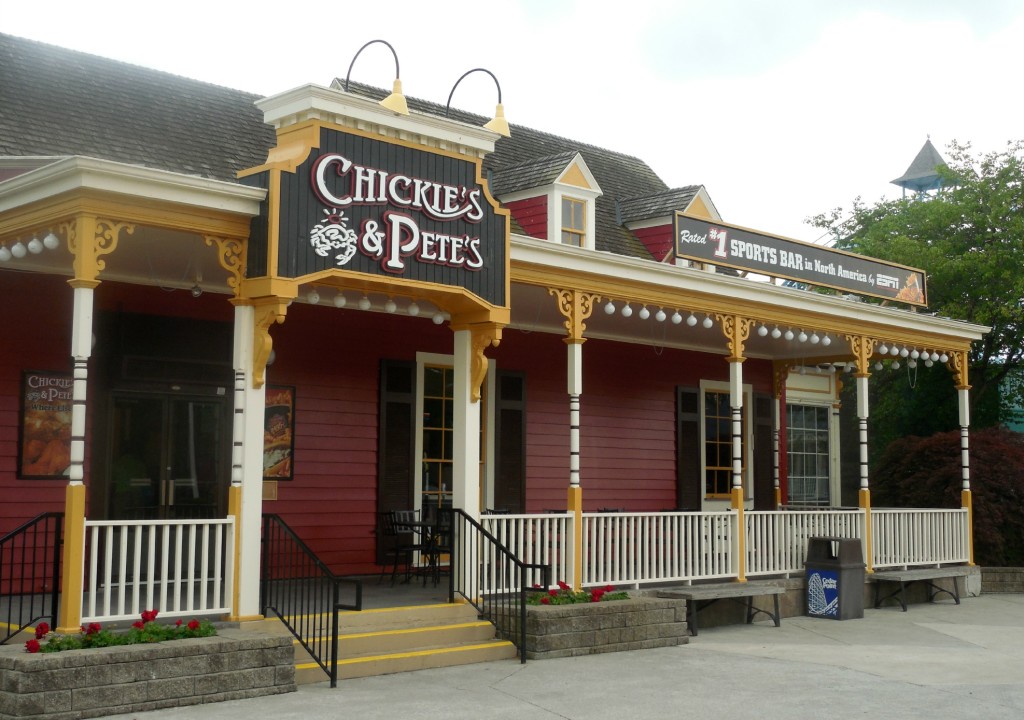 All of the adrenaline pumping through your system will probably (eventually) bring on some major hunger pangs, and Cedar Point's got you covered! There are plenty of places to eat, including Chickie and Pete's, Coasters, Chick-Fil-A, Breakwater Cafe, and the Boardwalk French Fry Carts. There are dining plans available for single meals, all-day dining, and all-season dining. Click here for details on the dining plans to find the one that best fits your needs, and click here for dining locations. Have food restrictions? Click here for information on how the park can accommodate you!
Lodging
Interested in visiting the Roller Coaster Capital of the World and need a place to stay? You won't get anywhere closer to Cedar Point than Click here – Cedar Point's original, historic hotel, located right on Cedar Point Beach and only steps away from the park itself. Bonus: the hotel was just remodeled in 2015!
Another option is Castaway Bay, which doubles as an indoor waterpark (note: this costs extra).
Sandcastle Suites is perfect for families. This location can be found on the tip of the Cedar Point peninsula, still within walking distance of Cedar Point.
Breakers Express is not located on the Cedar Point peninsula. However, it is the closest hotel to the peninsula. It is a good option for families who just want a place to stay the night right before going to the park (or the night after).
Lighthouse Point is the place for campers. They have areas for RVs with hook-up sites, and cabins and cottages. The deluxe cottages (new in 2014) offer accommodations for up to 10 people!
Interested in any of these Cedar Point overnight accommodations? Get more information by clicking here.
Plan Your Visit
Dates/Hours of Operation
Dates and times are subject to change, but the regular Cedar Point Season begins sometime in May and runs until the first or second week of September. Click here to find out the times for the date you are interested in visiting.
Halloweekends begins in September and runs until the last weekend in October. Note: the park is only open Friday-Sunday during Halloweekends.
Prices and Savings Tips
Of course, here at Family Travels on a Budget, we're all about saving money and getting more "bang for your buck." Front gate ticket prices are $62.00, but you can save $17 if you purchase in advance and visit the park before June 19, 2015. That way, the tickets are only $44.99.
If you are unable to make it to the park before then, tickets are still cheaper if purchased in advance online; a single day ticket costs $49.99. There are other ways to save a few dollars on tickets, such as going during the week, or going after 4 pm. Purchase tickets and see more deals here.
Bonus savings tip: AAA sometimes offers discounted tickets, as do Meijer, Giant Eagle, Wegmans, and Discount Drug Mart. Check at your local locations for these discounts, but also check Cedar Point's website for special discounts (like the June 19th, 2015 special).
As for food, visitors can get a single meal deal online for $13.99 (includes one entrée, side, and a regular size fountain drink at participating locations) or an all-day dining plan for $29.99 (receive one entrée and side each time you stop by a participating location, with a 90-minute wait period between meals). Learn more and purchase here.
Cedar Point does not allow visitors to bring food into the park, but you can leave and come back; so if you want to go eat somewhere else (or pack a lunch and leave it in your car/hotel), that is an option. Make sure your hand is stamped before exiting! Picnic tables are located just outside the main entrance, which you are allowed to use if you pack a cooler.
Daily parking costs $15 per vehicle (including a $0.50 toll charge). Preferred parking is available for $25. The parking receipt is valid for one re-entry on the day it is issued, so you are allowed to leave to refresh or grab something to eat without having to pay twice for parking, unless you happen to leave more than once. Oversized vehicles cost $20 for parking.
Frequent visitors might want to consider season passes or season passes with meals for the most savings. Learn more here.
My Experience
I'm not into big roller coasters (I can go on maybe one per trip… if my trips are spaced out every 6 months or so!), but I love Cedar Point! I even got to go to Halloweekends this past fall. It was a great experience and I can't wait to go again! The race horse carousel is probably my favorite ride. The super Himalaya is probably my second favorite ride. The Blue Streak, one of the oldest roller coasters at Cedar Point, wasn't too bad as far as roller coasters go. At least it didn't go upside down! I also enjoyed the Cedar Creek Mine Ride. I saw several roller coasters that I wouldn't even dream of riding, but I know they appeal to a lot of people (for some reason unfathomable to me!).
What about you? Are you a fan of roller coasters, or do you like the mild rides? I'd love to hear! I'd also love to know, if you've been to Cedar Point before, what's your favorite ride? And if you haven't been to Cedar Point, do you think you'd ever visit? What do you look forward to the most?
Written by Molly Maurer, Family Travels on a Budget intern.
Related articles
Like this post? Please share!