Five Tips to Save Money on your Disney Vacation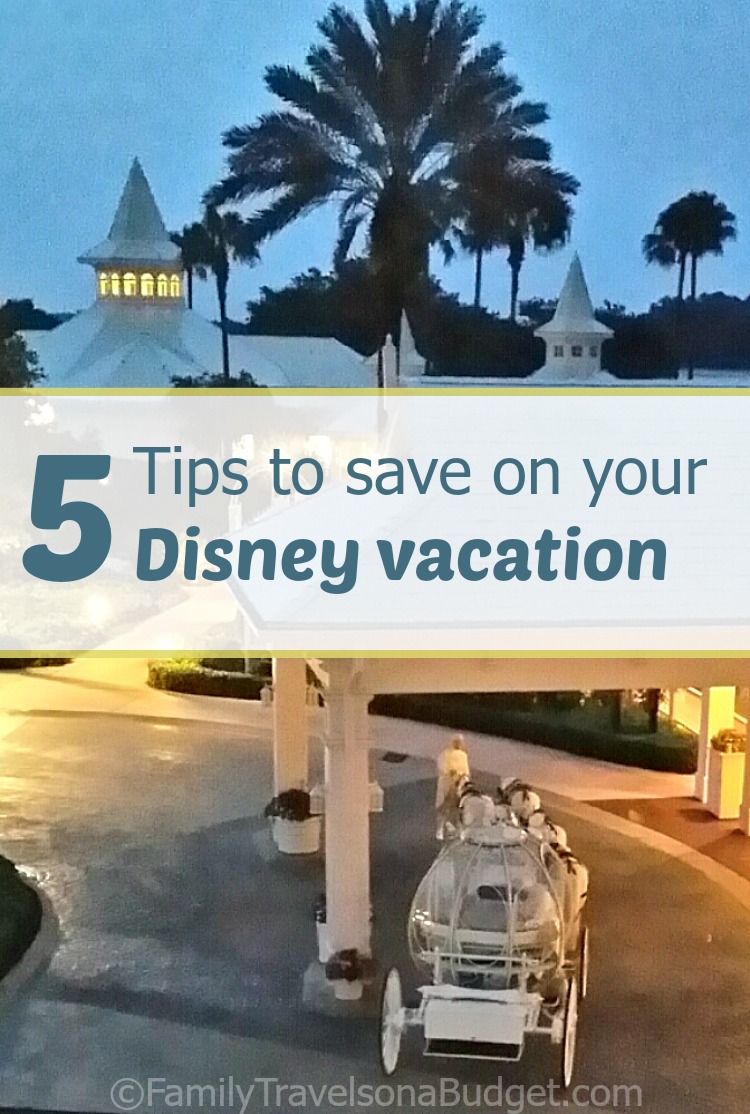 ***Updated May, 2015***
So, you've done your research and you want to take a Walt Disney World vacation, right? While a trip to Disney is expensive, you can keep costs down. Here are five ways to save money on your Disney vacation without sacrificing the fun!
5 Tips to save at Disney
1. Travel during the off season (Late August, September and January) for lowest prices on Disney lodging. You might also save by staying off property, especially in the peak travel months of the December holidays, March, April, June and July. Large groups, especially, might want to consider renting a house for the week instead of multiple hotel rooms.
2. Take snacks into the parks with you. Disney allows snacks so take advantage of that Disney kindness and bring some with you each day. Coolers are not allowed in the parks, unless you have a dietary medical need, so make sure your snacks fit in your bag and do not need refrigeration.
TRAVEL TIP: We bring protein bars, fresh fruit and water bottles to snack on somewhere between 10:00 and noon which carries us over to a late lunch, which is the next tip.
3. Eat your big meal at lunch, not dinner. Most of the time, lunch prices are lower than dinner prices at WDW restaurants. Eat one big meal in the early afternoon (1:30-3:00) and grab something small at dinnertime. You'll save both money and time eating only one sit-down meal.
4. Purchase multi-day passes. Disney park pass values improve the more time you put on them. A one day adult ticket to the parks runs at about $105. However, a five day ticket works out to be only $63/day (total $315). Buy tickets for the full number of days you plan to visit rather than pay as you go.
A note about discount ticket sites: Not every ticket discounter is legitimate! Do not save money by purchasing Disney tickets at ebay or Craig's list. At this time, Undercovertourist.com offers discounts on multi-day tickets.
Bonus TIP! Our family plans a couple years ahead and makes Disney our vacation for two consecutive years. We go in September, benefitting from the discounted off-season hotel rates, the first year. Then we return the following year in August, just before school starts, still saving on hotel costs. Making two trips, we purchase annual passes and use them 12-14 times, costing about $50/day. The passes include dining discounts of 10% or more, adding to our savings.
5. Buy souvenirs at home! I get souvenirs from the Disney store or other stores offering Disney products before we travel, shopping only the clearance racks for toys, trinkets and t-shirts. Each night, they get a new "surprise." Strategically, I give them something that glows the night before we head to the Magic Kingdom night parade. They are thrilled with their surprises, and I don't waste precious time or money in the expensive park stores. Occasionally, something comes along that we do purchase at the parks, but not often. I'm not Scrooge! Our daughter was three the first time she went to WDW. We scheduled a princess lunch at Askerhaus in the Norway Pavilion at Epcot. Just before we went into the meal, I pulled a Cinderella dress from the bag to surprise her. She was so excited – no $100 boutique visit required!
A Disney vacation is expensive, but with some creative planning, you can experience the Disney magic for less!
Fellow Disney experts, share your favorite money saving Disney tips in the comment section below.
Still have questions? Please ask.