Spring break 2019 is in the books, and it's going to be tough to beat! We took a 7 night Western Caribbean cruise on the Celebrity Equinox, cruising from Miami to visit the ports of Key West, Costa Maya, Cozumel and Grand Cayman.
This was my tenth cruise, but my first on Celebrity Cruise Line's Equinox. I have sailed on Royal Caribbean cruise line four times before.
Since that cruise, people have asked which cruise line is best, Royal Caribbean or Celebrity cruises?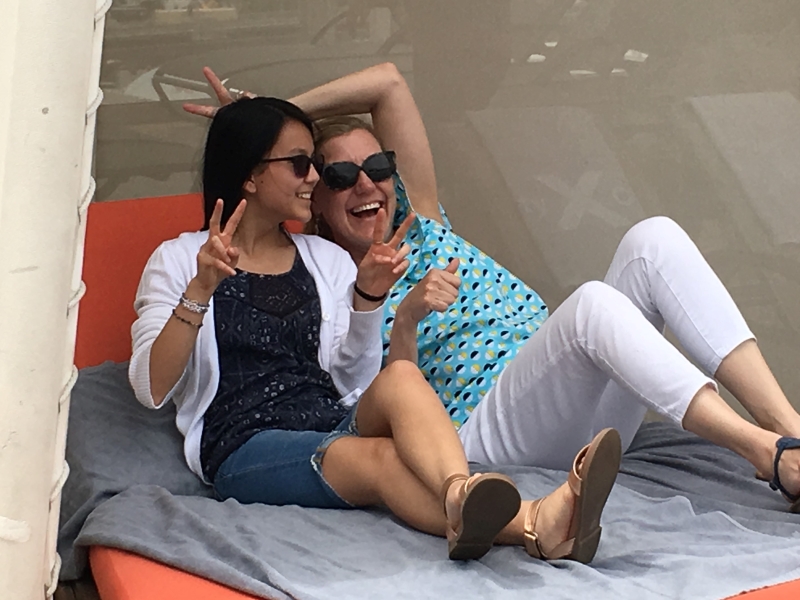 Comparing Royal Caribbean and Celebrity Cruise Lines
Cruise lines are much like hotel chains — each has its own specialty. When comparing cruise lines, look at all the different aspects to decide which cruise line is the best.
>> Read our Comparison of Carnival, Disney and Royal Caribbean. << 
Royal Caribbean and Celebrity Cruises are owned by the same company. Royal Caribbean, aka RCCL, is the "entry level" cruise line. Celebrity Cruises is their mid-level cruise line — a bit more personalized service with upgraded standard amenities.
When you compare cruise lines, look at each amenity and decide which cruise line is the best for you. For a quick reference jump down to the end of this post where I "declare my winner" for each category.
I hope this comparison of Royal Caribbean and Celebrity Cruises helps you determine which cruise line is the best one for your travel!
Get Traveling with Cruises under $200 at Kayak.com
Side by side comparison: Royal Caribbean and Celebrity Cruises
What's the best cruise ship size for you?
In general, Royal Caribbean ships are larger than Celebrity Cruise Line ships like the Celebrity Equinox.
We have sailed on three of Royal Caribbean's Voyager class ships, which offer rock climbing walls, indoor ice rinks, and "water parks."
Other amenities on Royal Caribbean ships include a theater, shopping, bars and restaurants, and a casino. These ships hold 3114 passengers served by 1185 crew members, or a ratio of 2.63 guests per staff member.
For a more luxury cruise experience, you can book a suite on Royal Caribbean Cruise Line. This includes butler service, access to a private lounge, dedicated dining space at buffet restaurants and reserved seating areas in the theater and at the pool. The suites are larger, as well, especially the bathrooms.
> Read about Royal Caribbean's Enchantment of the Seas <<
The Celebrity Equinox which is part of the popular Solstice Class ships, is considered a midsize cruise ship.
Celebrity Equinox activities include a pool deck with a family and an adults only pool area, "The Lawn Club" — a half acre grassy lawn on Deck 15, and "The Hot Glass Show" — a glass blowing demonstration area where guests can make their own souvenir glass pieces.
Other amenities include a theater, shopping, bars and restaurants and a casino. The ships hold 2,850 passengers served by 1,500 crew members, or a ratio of 1.9 guests per staff member.
Like Royal Caribbean cruises, suite guests on Celebrity Cruise Line get upgraded services and more space in each cabin.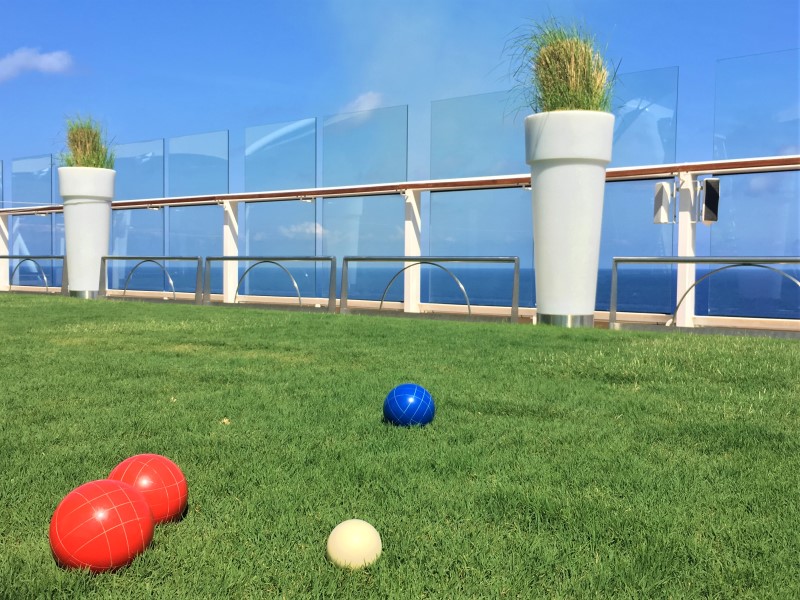 Both lines offer ships in other sizes, with Royal Caribbean's Symphony of the Seas being the largest in the RCCL fleet 6,680 passengers with a crew of 2,200, or a ratio of 3 guests per staff member.
Celebrity Edge is the newest ship in the Celebrity Cruises fleet, hosting 2,918 guests with 1,377 crew, or a ratio of 2.12 guests per staff member.
**Crew to guest ratio may change as ships adapt to changes brought on by the events of 2020.**
How does ship size matter?
It goes without saying, the larger the ship, the more amenities can be added to it.
BUT, larger ships also have more crowds.
In my experience, the crowds can be frustrating on Royal Caribbean ships in the buffet dining rooms and on the pool decks. With so many people on one Caribbean cruise trying to use the same, limited space, it can be hard to find a table for a casual meal or a lounge chair to relax poolside. On the Celebrity Equinox, we never battled for tables or lounge chairs.
It was nice not having to wait in long lines, except for hand-dipped ice cream, on our Celebrity cruise.
The Celebrity Equinox crew was also quick to clear away plates and cups, both in the buffet restaurant and around the pool. On Royal Caribbean, plates can stack up just about anywhere — even next to the elevator.
One thing we all appreciated on the Equinox is how easy it is to get around the ship. With three banks of elevators and two sets of staircases, we got around the ship quickly. We didn't use the elevators often, but when we did, the wait was short — even on embarkation day. Royal Caribbean gets congested and packed out elevators are the norm, especially at meal times.
7 Night Bahamas Cruises from $308! 2nd Guest – 60% Off on Royal Caribbean only at Cruisedirect.com. Plus, Kids Sail FREE!
How does ship size affect the activities on board a cruise ship?
Of course, the flip side is that smaller ships offer fewer activities. Besides not having a rock wall or "Flowrider," Celebrity Equinox offers fewer activities than Royal Caribbean's Voyager Class Ships.
For instance, the Celebrity trivia games were offered once daily for music trivia and general trivia. On Royal Caribbean, trivia games are offered throughout the day, often with themes like Harry Potter, World Geography and musicals. With a variety of game options, we could pick and choose those we thought we would enjoy.
The same is true for poolside games.
Celebrity focuses more on destination talks, wine and bourbon tastings, shopping and other culinary talks. Royal Caribbean offers those, too, but also offers free activities like cupcake decorating contests that educate and entertain.
⇒ Read our review of Celebrity Cruise Lines for TEENS! ⇐
One big advantage Royal Caribbean has over Celebrity Equinox is the jogging track. On Celebrity, the track is more of a "pathway" between lounge chairs that also travels right through the Deck 14 smoking bar. Unless you go early in the morning, it's very difficult to walk — much less jog — on this track. Dodging guests, crew members and their carts and cigarette smoke is just not worth it. I much prefer the wider, less congested jogging track on Royal Caribbean ships.
Royal Caribbean best for you? BOOK HERE
The big advantage Celebrity Cruises has over Royal Caribbean is the opportunity for staff and guest interaction. On our cruise, we were invited to a special cocktail mixer for first time Celebrity cruisers and got invited to the helipad for sendoff from port. In general, senior level crew is more interactive on Celebrity than on Royal Caribbean. Even senior staff take time to chat during the day and all staff eat in the buffet dining room at least some of the time.
Celebrity Cruises best for you? BOOK HERE
Evening activities on both ships are comparable. The quality of stage shows on Celebrity is a bit higher than the quality on Royal Caribbean, though both are enjoyable. Late night dance parties are a bit better on the Equinox — especially the popular silent disco!
What? You've never heard of silent disco? Well then, watch this! 
Which cruise line has better cabins, Royal Caribbean or Celebrity Cruises?
Technically speaking, Celebrity Equinox cabins are larger than similar Royal Caribbean Voyager class cabins.
An ocean view balcony on Royal Caribbean's Mariner of the Seas is about 200 sf, with a 42-48 sf balcony. These cabins sleep 3 or 4, include a seating area that converts to a bed, a king size bed, dressing table, storage and bathroom.
A similar cabin on the Celebrity Equinox is about 195 sf, with a 54 sf balcony. These cabins sleep 3 or 4, with a seating area that converts to a bed, a king size bed, dressing table, storage and bathroom.
Some notable differences are the finishes:
Royal Caribbean uses wall-mounted dispensers for shampoo and conditioner. Celebrity provides individual soaps, shampoos and conditioner.
Royal Caribbean includes bath robes ONLY for suite guests. Celebrity includes two robes in all cabins.
Royal Caribbean bedding in standard cabins is not luxurious. In fact, this is my biggest complaint about Royal Caribbean. The bedding on Celebrity Equinox is amazing — and we sailed two weeks before a dry dock refurbishment when all bedding was to be replaced.
Royal Caribbean bathrooms are tiny! I have to stick my leg outside the shower and use the toilet lid for balance to shave my legs (is that TMI?). Celebrity's bathrooms are twice the size and allow enough room in the shower to move around, as well as a shaving bar.
> Watch our tour of our Celebrity Cabin <<
Overall, we found the cabin space to be quite similar on both ships — crowded but doable with three people.
7 Night Bahamas Cruises from $308! 2nd Guest – 60% Off on Royal Caribbean only at Cruisedirect.com. Plus, Kids Sail FREE!
Which cruise line has better kids' programs, Royal Caribbean or Celebrity Cruise Line?
When it comes to children's activities, Royal Caribbean gets the nod. Both cruise lines offer children's programming, but there's a lot more space dedicated to kids' programs on Royal Caribbean.
Of course, there are also more kids on Royal Caribbean, so for those kids who thrive in smaller groups, Celebrity might be better.
Both lines offer dedicated space with check in and check out required — though Celebrity is more relaxed about it with kids aged 10-12. Both lines have staff trained to work with kids and a schedule of daily activities, including STEM activities for older kids.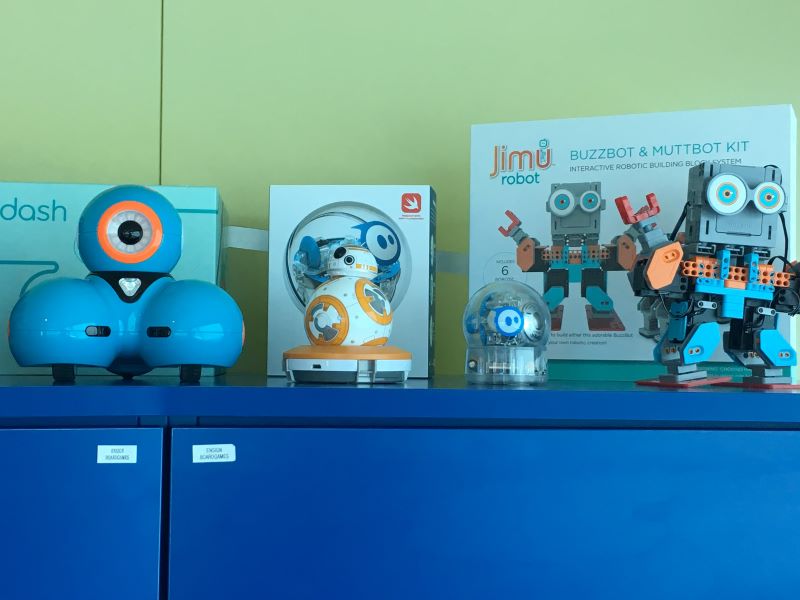 Celebrity Cruise Lines does not offer all-day programs, but set programs throughout the day with family programs that engage parents and children throughout the cruise — such as a "campfire" on the lawn.
I, personally, prefer Royal Caribbean's children's area — for its spaciousness, children's pool areas (which are not part of the kids' programs) and general family friendliness.
My daughter, interestingly, said she would have liked Celebrity better because it has programs for parents to do with the kids.
Which cruise line has a better onboarding/exiting process, Royal Caribbean or Celebrity?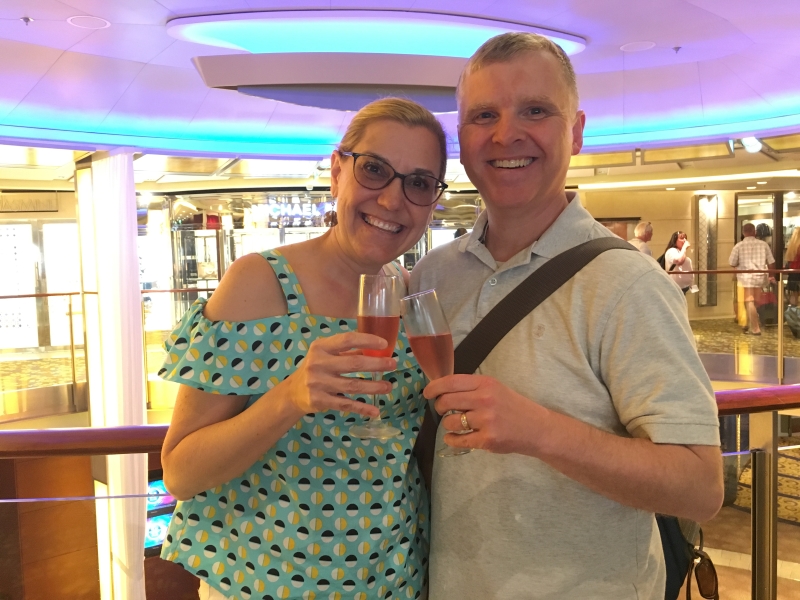 Embarkation Day Review
The embarkation for both Royal Caribbean and Celebrity Cruises was quite similar. Go through the line, get your photo taken, double check paperwork and credit card on file, then get your sea pass card and proceed to the ship.
Once onboard, the experience changes. On Celebrity, crew members greet guests with champagne as they board. Guests stroll through Deck 5 to the elevators and staircases that lead to Deck 14 and a delicious lunch buffet. We enjoyed our lunch outdoors on the patio behind the buffet restaurant looking out over the Port of Miami.
⇒ New to cruising? Read our post on embarkation day ⇐
On Royal, guests are greeted with long lines for the elevators up to the higher decks for lunch. Royal Caribbean's Windjammer buffet restaurant is crowded. Already crowded dining areas — the tables are close — get much worse when all guests and a lot of luggage are crammed into one area. Celebrity Equinox is much more spread out, with more buffet options including an Asian station, pizza station, and other specialty stations. The tables aren't as crowded together and it never felt packed.
How do the cruise lines handle port days
Likewise, in port, the lines to get off a Royal Caribbean ship can take 20-30 minutes, with the queue wrapping up two flights of stairs.
We never felt that same congestion on Celebrity Equinox — though, there was some confusion the first day as they now require valid photo ID for all guests who leave the ship in port.
Tendering is similar. We waited less than five minutes total when tendered in Grand Cayman on Celebrity Equinox. Tendering on a R0yal Caribbean ship can involve a 20 minute or more wait.
⇒ Learn more about Shore Excursions with this post ⇐
Final Disembarkation
Disembarking at the end of the cruise to go home was a similar experience for us on both ships, maybe even a bit better on Royal Caribbean Cruise Lines.
We had to wait a bit longer than expected getting off the ship on Celebrity, which made a tight window for our flight home.
We booked everything with the cruise line for convenience, so I was a bit frustrated by the slowness there. That may be the nature of the Miami port, though. Port Canaveral seems to run smoothly all the time — at least for us.
⇒ Read our tips to make disembarkation go smoothly ⇐
Which costs more, Royal Caribbean or Celebrity Equinox?
Comparing apples to apples, the best I can, here's how the cost breaks down:
For each cruise line, I selected a verandah stateroom with an unobstructed view for three guests, sailing from Ft. Lauderdale on April 4 or 5, 2020. On Celebrity this is a 7 night cruise visiting the ports of  Key West, Costa Maya, Cozumel and Grand Cayman plus two days at sea. On Royal Caribbean, this is a 6 night itinerary that includes Costa Maya, Cozumel and Grand Cayman, plus two days at sea.
Celebrity Equinox, including two free perks of gratuities for two and a $150 onboard credit, costs $4085, or $584 per night for all guests, including gratuities.
Royal Caribbean's Adventure of the Seas, including $100 onboard credit, costs $3389, or $564 per night for all guests, including gratuities.
There is no comparable 7 night Caribbean cruise for RCCL out of Ft. Lauderdale. The cruise lines have different itineraries out of Miami and Port Canaveral as well. So, comparing the nightly cost on a 6 vs. 7 night cruise is the best I could do.
7 Night Caribbean Cruises from $499! FREE Drinks & FREE Tips & FREE WiFi @Sea on Celebrity only at Cruisedirect.com. Plus, Save up to $2,000!
So, which cruise line is the best between Royal Caribbean and Celebrity Cruise Line?
Comparing similar sized cabins, both on Deck 7 aft, there's not a whole lot of difference in cost — only $20 per day more expensive on Celebrity Cruises using the discounts each offers online. So, which is better?
That depends entirely on what you want out of a cruise:
Public space to move around > Celebrity.
Relaxation > Celebrity.
Activities > Royal Caribbean.
Cabin space > Celebrity. Though, this is for the use of space, particularly the bathroom configuration. Total space is about the same on both ships.
Cabin comfort > Celebrity. Royal Caribbean beds aren't very comfortable.
Cleanliness > Celebrity.
Crew friendliness > Celebrity.
Children's programming > Royal Caribbean.
Food in main dining room > Tie.
Food in buffet restaurants > Celebrity, by a small margin.
I hope this breakdown helps you decide which cruise line is best for you. If there's anything you'd like to know that I didn't discuss here, please leave a comment or email me. I'll do my very best to answer your questions!
Pin this to your cruising and vacation boards to use later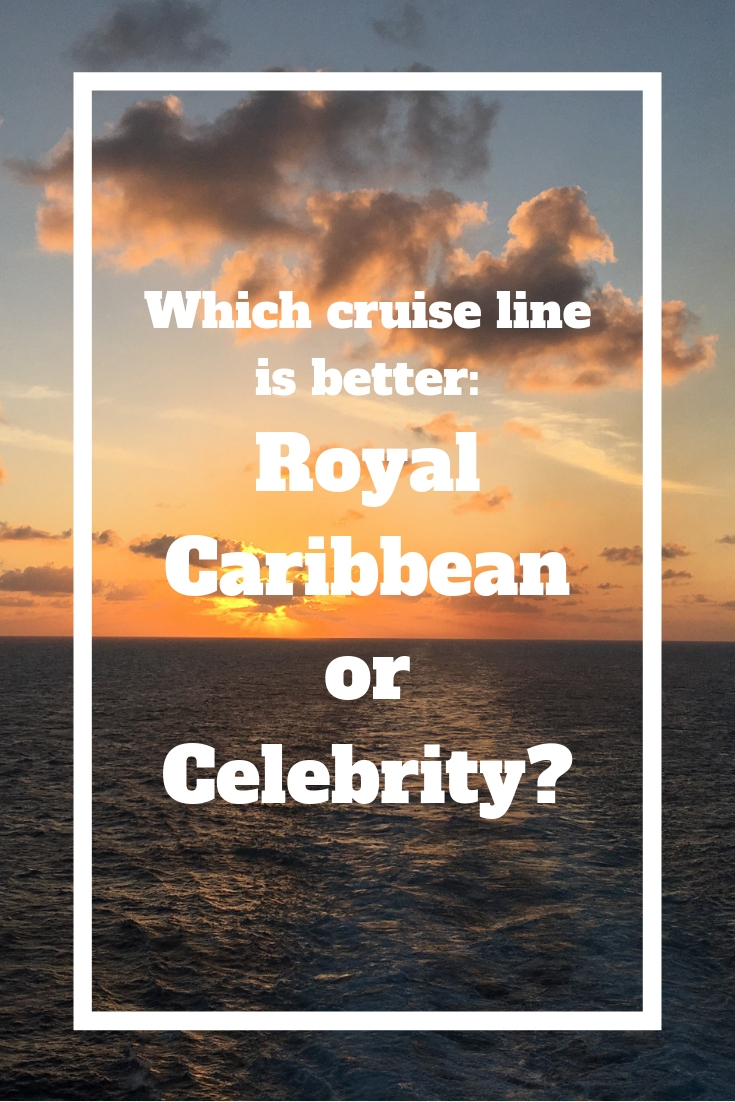 If you enjoyed this article and want to learn more, check out these posts:
We'd love to hear from you — which cruise line would you pick, Royal Caribbean or Celebrity? Why? Leave a comment below!