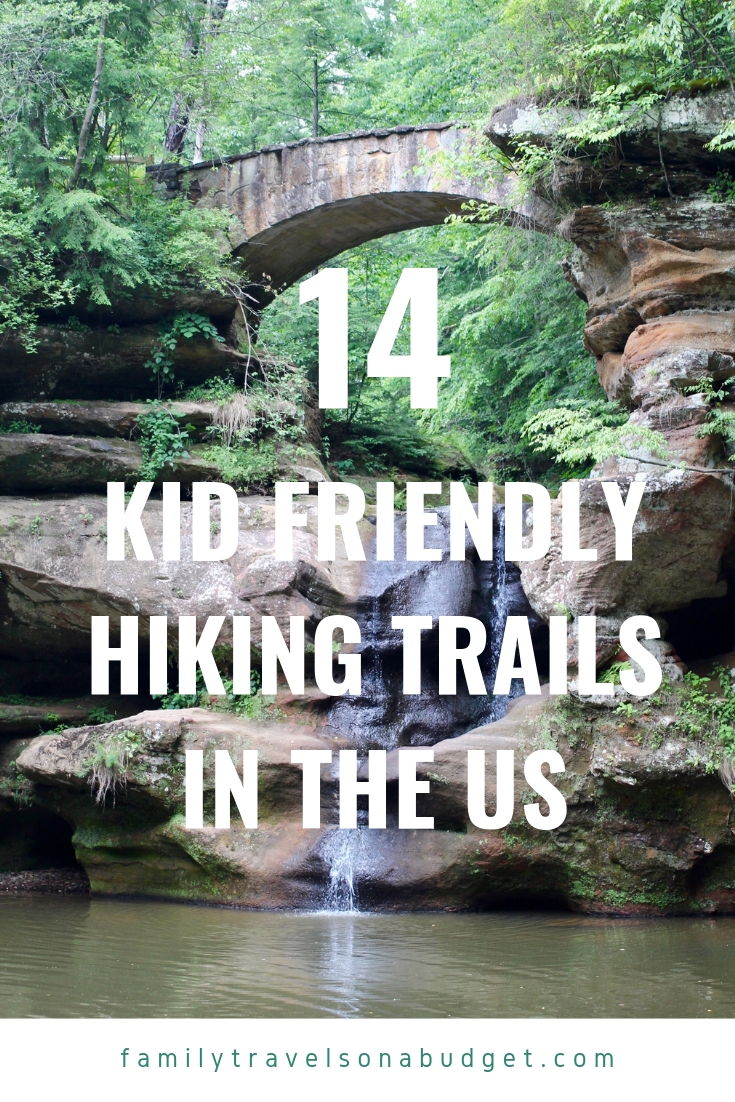 When looking for active family vacations, kid friendly hikes are a great option. Whether planning full-on hiking vacations or adding day hikes on kid friendly hiking trails, family hiking trips are a great way to get outdoors and be active. Even better, most family hiking trails are free or low cost, making hiking with kids a budget-friendly vacation activity as well!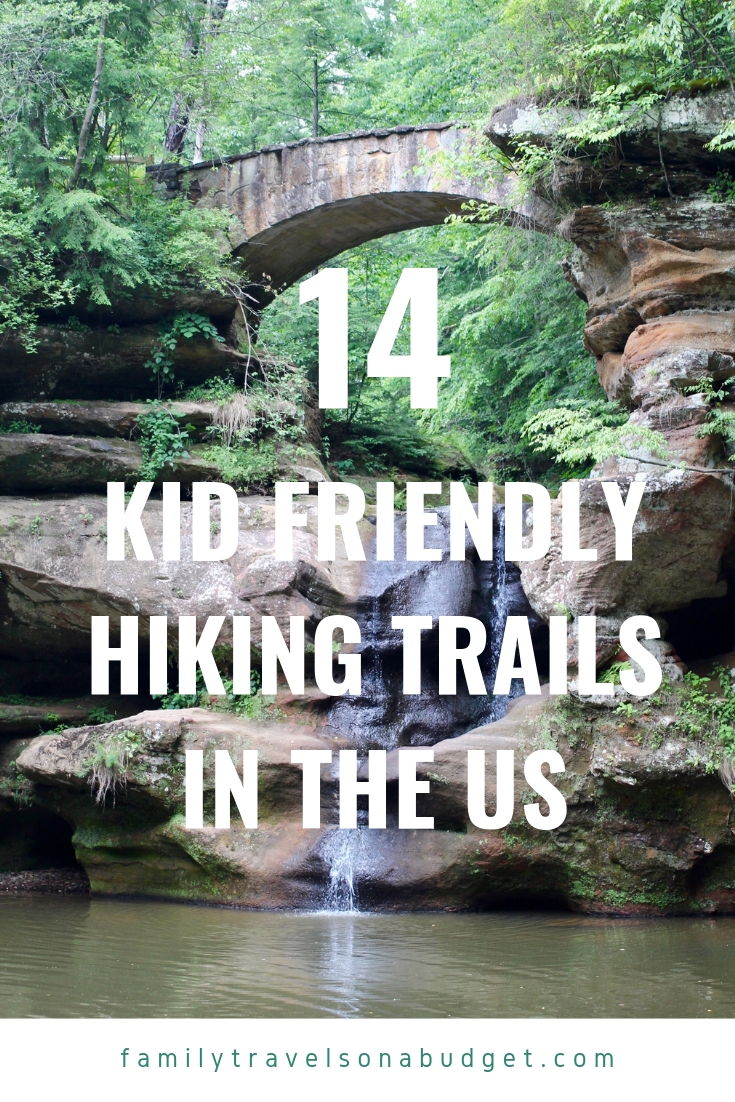 This post contains affiliate links. I earn a small commission from your purchase.
If you're new to hiking, don't be intimidated! With the right
r, you can even go hiking with an infant! Our sweet Ellie took her first day hike at 15 months old. Just be sure to dress properly for your hike, wear
, and consider the best trails for your skill level (don't hike those hard mountain trails if you are new to hiking).
I asked some adventurous travel blogging friends to join me in creating a list of the best hiking trails for kids. What follows are some of the most amazing mountain trails, forest trails and level ground trails through beautiful and diverse landscapes across the United States. So, if you're ready for a day hike — or maybe some
— check out our list of popular
!
Alabama: Red Mountain Park
Mix history and hiking for a unique experience in Alabama. Red Mountain Park was an active ore mine in Birmingham from 1863 to 1962, helping to make the United States a world superpower. When ore production ended, the land sat unused until developers repurposed it to create a 1,500 acre recreation area. The highlight of the park is 12 miles of hiking and biking trails that run along the ridges and valleys of Red Mountain. Along the way, you'll discover remnants of the mining history like mine shafts (do not enter). You'll also see the new Red Mountain, covered in wildflowers, stunning rock formations and more. A dog park, rope bridges, zip lines and a climbing tower add to the adventurous fun. If you hike to the end of the trail, you'll see Birmingham off in the distance. Maps and trail markers provide information about the various relics and rocks that make this such a unique piece of history.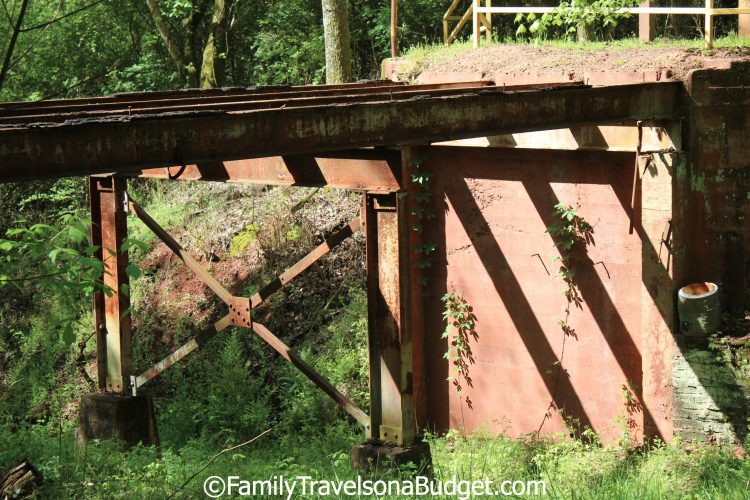 Arizona: Desert Botanical Garden
Don't get fooled by the name, the Desert Botanical Garden is a great place for a family hike. Nestled amid the buttes of Papago Park in Phoenix, is the only botanical garden in the world to focus solely on desert plants. With several trails, there's much to see. The Desert Discovery Trail showcases desert plants from across the world. The Sonoron Desert Trail illustrates how desert plants are used for food and tools. The Sonoron Desert Nature Trail shows the important relationship between plants and animals of the desert. And the Wildflower Trail highlights the beauty of desert wildflowers. This is also a great place to watch roadrunners, jack rabbits and lizards who are lucky enough to call the park home. Wander the trails, but allow yourself time to take in the unusual beauty of this place. Pro tip: If traveling late spring through early fall, go early or late. Avoid the mid-day heat! (We visited in 2013 and Ellie still considers this a highlight of her life.)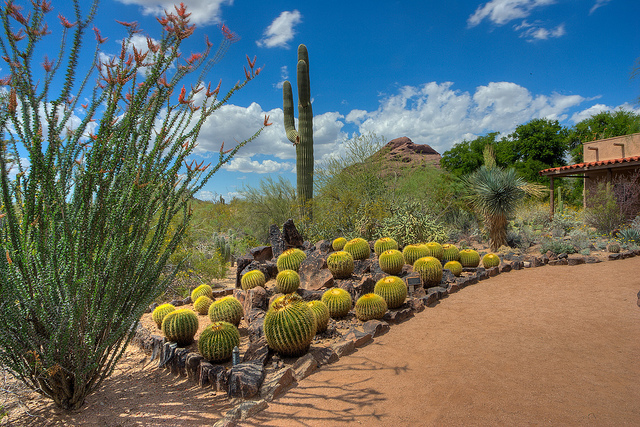 California: Lake Tahoe
There are so many incredible places to
, but Lake Tahoe is probably my favorite. There are easy trails through pine trees to the shore of the lake, and tougher trails through the mountains. My personal favorite, though it can get crowded, is the Eagle Falls Trail. A relatively easy climb, there are many places to stop and rest. I even saw a lady practicing hula hooping on the rocks! The trees on the mountainside actually twist like a corkscrew as they grow. Tree trunks, stripped of bark, reveal the unusual trunks below.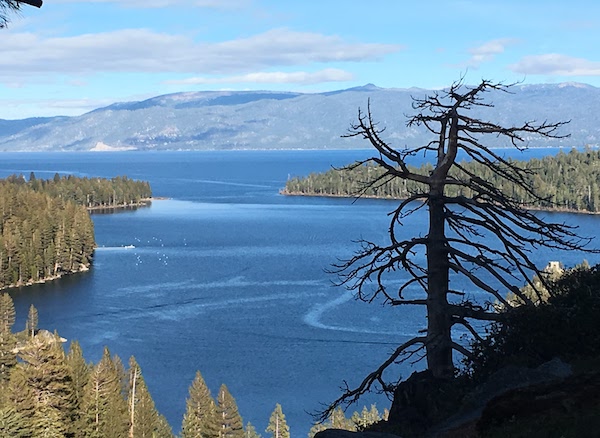 Florida: Miccouskee Greenway Trail
Near Tallahassee, the Miccouskee Greenway Trail is a rustic, yet easy, sand and crushed stone trail that parallels the Miccouskee Canopy Road. The canopy roads in this area are historically significant, first used by Native Americans and then by the Spanish to travel through the region. The trail is about 6.5 miles long, or 12 miles round trip and includes about 500 acres of hardwood and pine forest and some occasional open field areas. It's popular for hiking (go early in the day), biking and horseback riding. Dogs are welcome, but must be leashed. It's hard to believe this natural trail is only 5 miles from Tallahassee.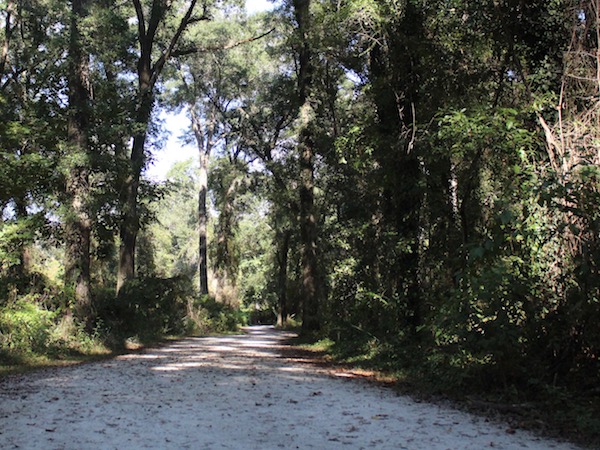 Illinois: Starved Rock State Park
Starved Rock State Park is located approximately 90 miles southwest of Downtown Chicago, making it one of the most popular day trip hiking destinations in Illinois. This beautiful park is filled with sandstone canyons, most of which boast beautiful waterfalls. The prettiest are found in the following canyons: St. Louis, French, Wildcat, Tonty, Ottawa and Kaskaskia, particularly in the winter when they form icefalls. The spring melt and rains create large falls. The 13-miles of trails at Starved Rock provide opportunities of hikers of all abilities. The trails fill by midday, so it is best to get an early start. Get more information on Illinois hiking at Let's Camp S'more.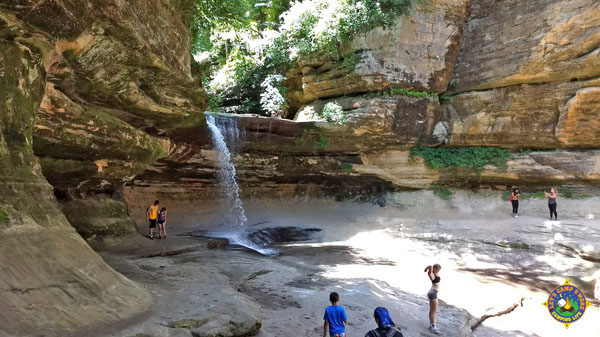 Indiana: Turkey Run State Park
Turkey Run State Park in West-Central Indiana is a 2,382-acre recreation area that is popular with people all over the Midwest, including Indianapolis and Chicago. This beautiful park features sandstone gorges and canyons that were formed by erosion from melting glacial waters. There are 11 hiking trails ranging from easy to very rugged, so hikers of all abilities can enjoy this gorgeous park. Most of these trails are accessed by crossing a 200-foot wooden suspension bridge over the Sugar Creek. A park favorite is Trail 3, which cuts through canyons and is highlighted with three ladders. This trail can be treacherous in wet conditions. You can get more details about Turkey Run from Let's Camp S'more.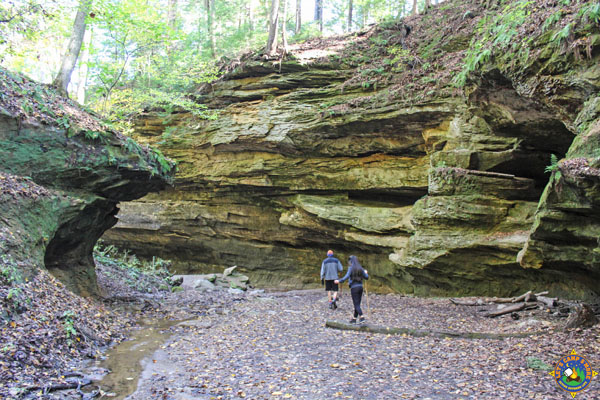 Maine: Tumbledown Mountain
If you ask most people what the best hike in Maine is, most answers would be the hikes in Acadia. I have hiked in Acadia and the hikes are great– forest butted right up to ocean cliffs. But to me the best hike is Tumbledown Mountain in the western mountains of Maine. The moderate hike up rocky hills is pretty tough, although my kids prefer hikes with rock scrambles. The real reward happens close to the summit when you hit the oasis of a crystal clear alpine lake with a island in the middle. At that point, a bit more of a hike provides views far over the mountains and lakes of this uninhabited part of Maine– heaven on earth. Read more about my hike to Tumbledown Hiking in Maine.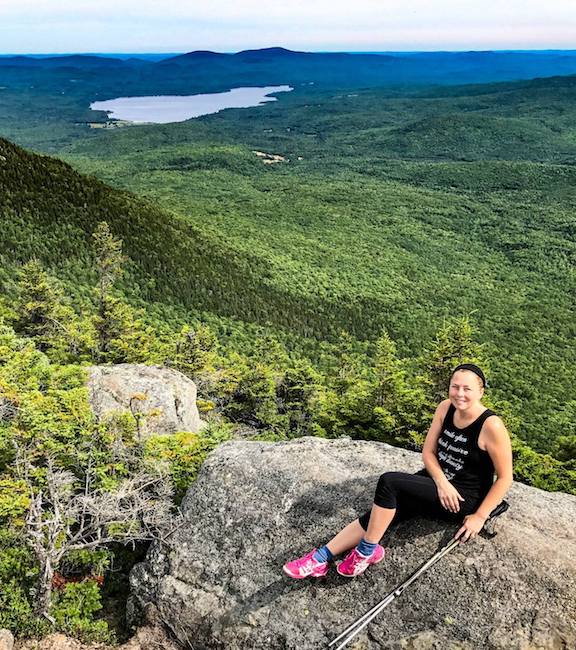 New York: Niagara Gorge Hiking Trail
The big attraction at Niagara Falls, New York might be the falls, but for smiles like this, walk along the Niagara Gorge Hiking Trail. It's an easy path next to the Niagara Scenic Parkway that offers stunning views of the Niagara River from Lasalle Waterfront Park all the way up to Devil's Hole State Park. Park benches all along the path invite you to linger and appreciate the power of this river. There are small pathways among the foliage that allow you to get closer to the water's edge — though obey safety signs. As you can tell by her smile, Ellie loved this trail. We stopped often to listen to the sound of the water breaking over the rocks, to watch butterflies flit from flower to flower in a happy, carefree dance, and to talk about everything and nothing. This is an easy hike, of sorts, though it could take all day if you hiked from one end to the other and back — approximately 15 miles!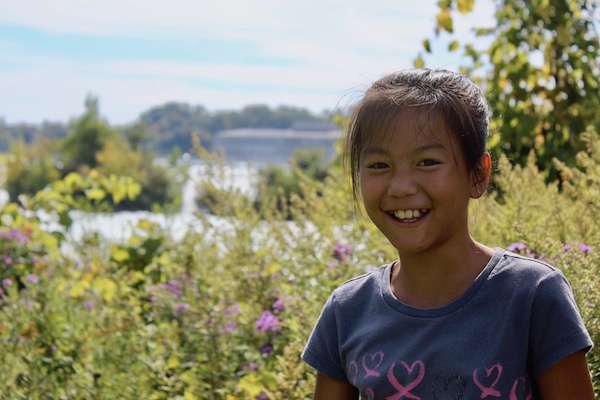 North Carolina: Linville Falls
Linville Falls, a dog friendly hiking area, is one of the most popular trails in North Carolina. Part of the 440 acre Linville Gorge area, the falls are the highlight. They tumble 90 feet over the rocks with great views from many spots. In the fall, trees show off crowns of gold, red and orange, drawing visitors from across the nation to see the display. In spring, rhododendrons show off with pink flowers against shiny, green leaves. A visitor's center provides restrooms and park information. Parking is available, but the park's popularity on weekends makes it hard to find a spot. Read this post to learn more about visiting Linville Falls.
Ohio: Hocking Hills
The
area in Ohio, about an hour south of Columbus, comprises nine state park and nature preserves, three state forests, a national forest and several local parks. With so much preserved natural space, there's a hiking trail for everyone. Some are extremely challenging while others are easy, some of the best for young kids. Two of them, parts of the Cedar Falls trail and Conkle's Hollow, are even wheelchair accessible. The most popular trails in Hocking Hills are Old Man's Cave, Ash Cave (also the largest recessed cave in the state) and Cedar Falls. This is a great place to go for a day hike, but we recommend you
rent a cabin at Hocking Hills
to explore the area for a few days instead!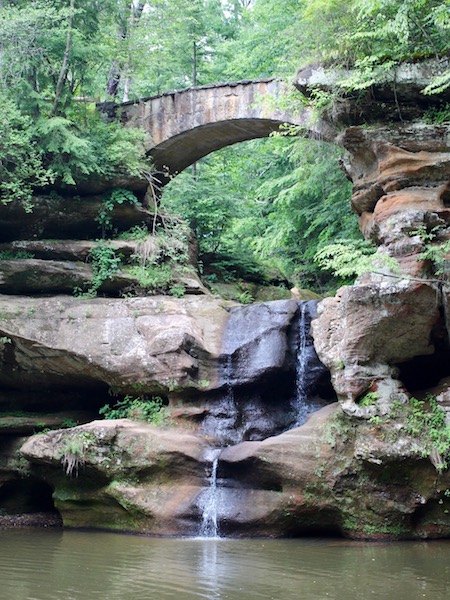 Pennsylvania: Ohiopyle State Park
Ohiopyle State Park is a 19,000-acre park located along the Youghiogheny River Gorge in southwest Pennsylvania. While this park is known for its whitewater sports, it has over 100 miles of hiking trails for hikers of all abilities. Many of these trails feature waterfalls and scenic overlooks. All trails are marked with colorful blazes. The Ferncliff Peninsula, which is a National Natural Landmark, features a 2-mile loop hike with prehistoric plant fossils along the eastern edge near Ohiopyle Falls. The peninsula is circled by the river, providing numerous spots to watch the boaters.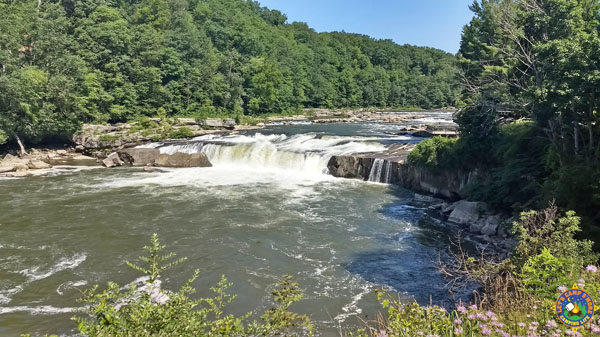 Rhode Island: Audubon Society of Rhode Island Nature Center and Aquarium
One of our favorite places for an easy summer outing in Rhode Island is at the Audubon Society of Rhode Island Nature Center in Bristol, Rhode Island. The simple walking trails behind the nature center offer a mix of ecosystems that give you a taste of the best of Rhode Island, from meadows to saltwater marshes. If you visit in the late spring or summer, you can see the
and stroll through the meadow dotted with wildflowers. You will then head into the woods and cross over the East Bay Bike Path to a quarter-mile long boardwalk over a saltwater marsh lined with cat tails and reeds. The reward at the end is a beautiful view over the Narragansett Bay. The nature center and aquarium add to the fun of this adventure, making it great for families with younger kids and those with a strong interest in science.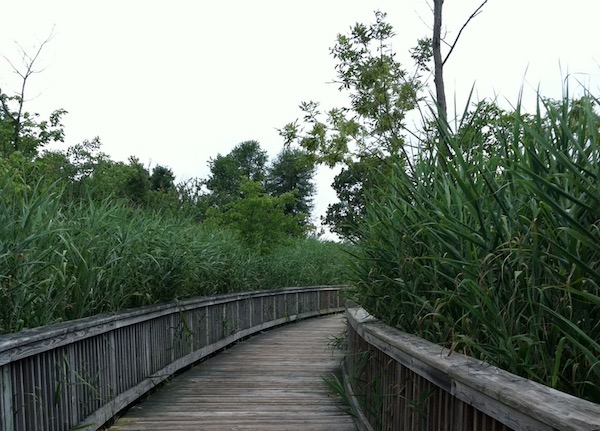 South Dakota: Spearfish Canyon
Spearfish Canyon in South Dakota
is a great family hike because it has so several different options depending on your skill level. Part of the
, the trails are cut through centuries old forest. The canyon itself was formed about 30-60 million years ago. The trails range from 1 mile to 4 miles but the joy is in exploring the way, not so much hiking for an extended period of time. We ran into several waterfalls and peaceful glades with no one about. Both the shade from the trees and the waterfalls were a welcome relief from the South Dakota heat.
We found the hikes pretty easy but be aware that one of the shorter hikes is harder than it looks because it is pretty much straight uphill to the Canyon Rim. You can also do a scenic drive where there is a viewpoint to see one of the famous falls (Bridal Falls) if anyone in your party is not up to the hiking part. We stayed in the nearby little town of Spearfish which is a picture postcard version of what you'd expect from a Western town.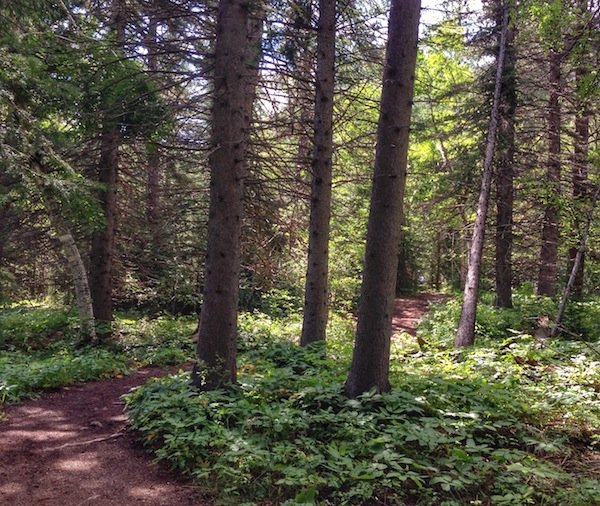 Virginia: Tuscarora Trail
The Tuscarora Trail in western Virginia is suitable for day hikers or avid adventurers. It even serves as a bypass route for a section of the Appalachian Trail. My favorite is the Eagle Rock Trail which begins in Dry Gap. The Eagle Rock Trail about 3 miles long and features only one steep climb, an easy-to-moderate hike for active families. The trail "ends" at Eagle Rock Overlook, which has stone benches to enjoy a snack and a rest as you take in the stunning blue, green and purple hues that inspired the name "
." The views from a rock overhang are well worth the photo op, but common sense suggests staying back from the edge. Allow a half day to hike up the mountain, soak in the view and walk back down.