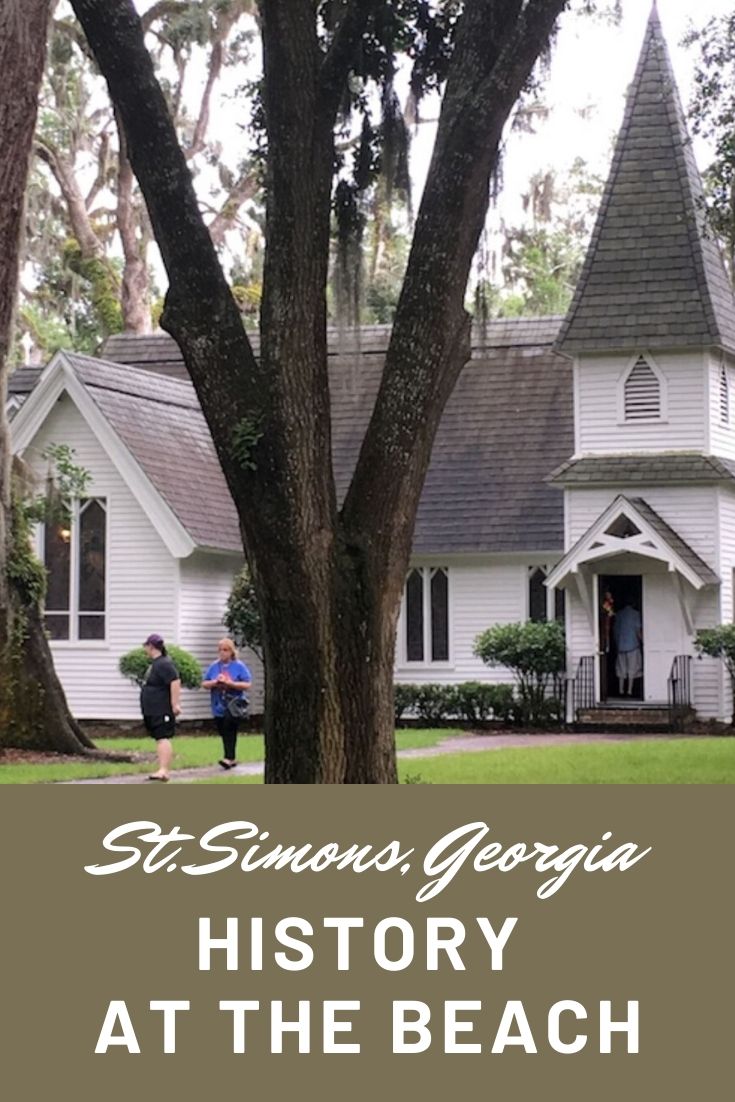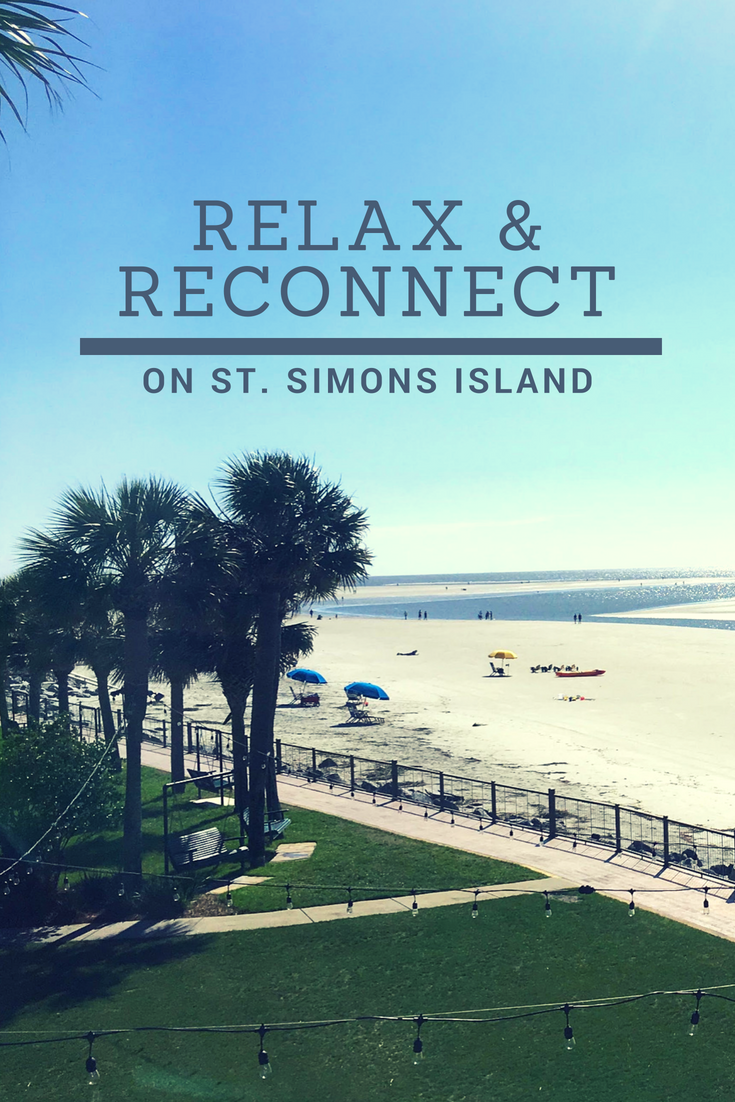 St. Simons Island, on the Georgia coast, is a vacation dream come true. With stunning views, great restaurants, activities for every interest and a variety of lodging options, St. Simons Island has something for everyone.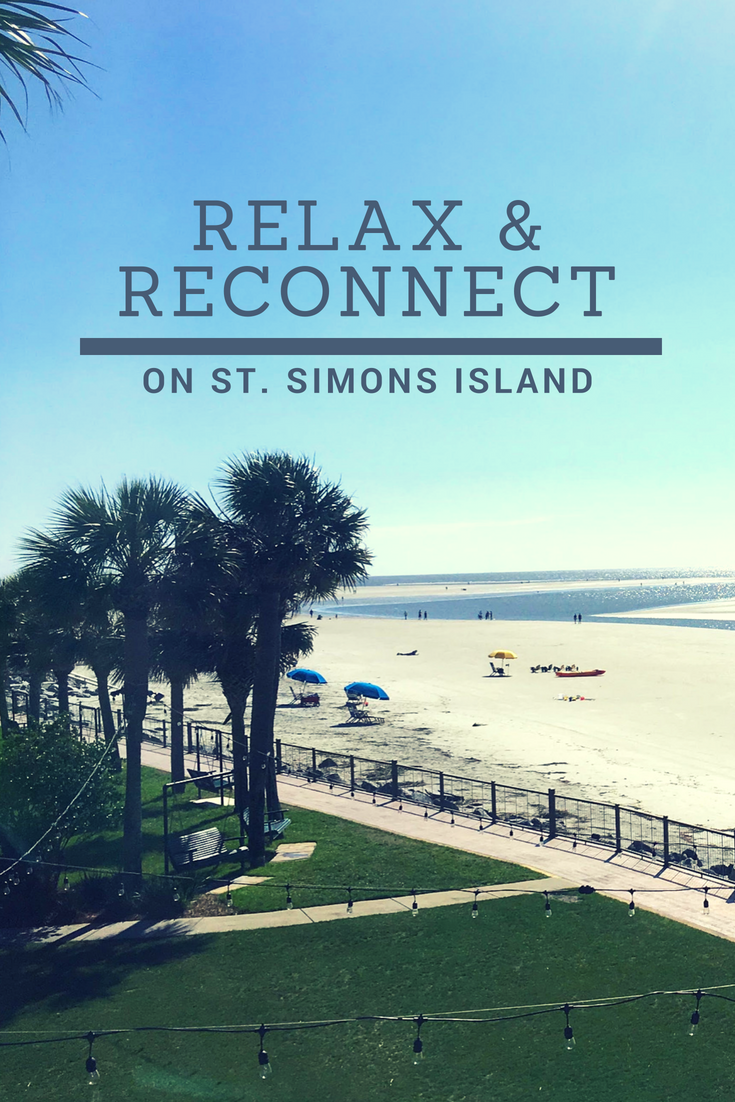 I stayed on St. Simons Island at the invitation of the King and Prince Resort, and absolutely fell in love with the island's beauty and historic, southern charm.
If you're looking for a romantic getaway, a girlfriend's getaway or a family vacation that can meet the needs of everyone in your group, look no further. St. Simons Island — no apostrophe — has everything you need.
Reconnect on St. Simons Island
Of course, St. Simons Island has that coastal vibe that inspires relaxation just because. But, to make it even easier to relax — here is a list of things to do. Research? Done! Let the relaxing begin.
Walk on the beach. St. Simons Island has a long line of beaches along its eastern shore, open to the public and great for walking — during low tide! Because of its geographic location (due south of Akron, Ohio — can you believe that?), St. Simons has the greatest tide change anywhere on the east coast, which means during low tide, walkers have a wide stretch of hard-packed, level sand to walk along. And, it's one of the most dog friendly beaches on the east coast!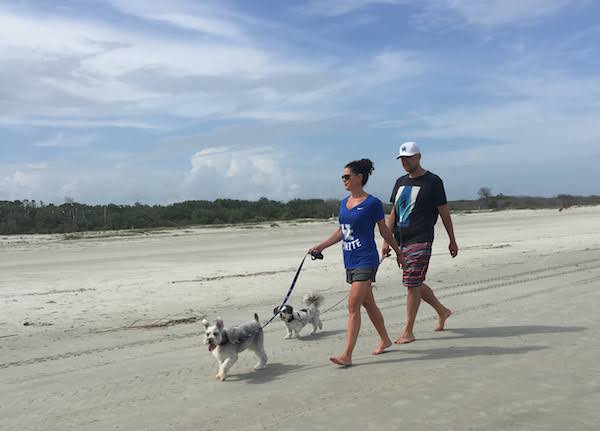 Enjoy dinner, ocean front. My stay was hosted by the King and Prince Resort, and I got to enjoy oceanfront dining at their signature restaurant, Echo. You probably don't need my help imagining a romantic dinner by candlelight under the stars with the ocean waves providing a musical backdrop. Echo offers regional cuisine prepared by Chef James Flack, who cares not just about the food, but the whole dining experience. His philosophy has clearly rubbed off — the staff at Echo is top notch! You can reserve a table at Echo through OpenTable (one of my favorite ways to save on fine dining!).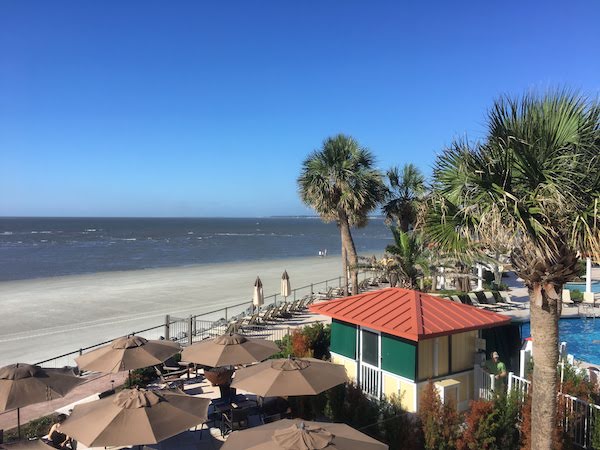 Get adventurous! Since turning 50 (a couple years ago — but no looking back!), I've gotten a lot more adventurous. The island is a great place to reconnect with your adventurous youthful self. Rent bikes to explore the slow way. Or try kayaking or stand up paddle boarding on the ocean.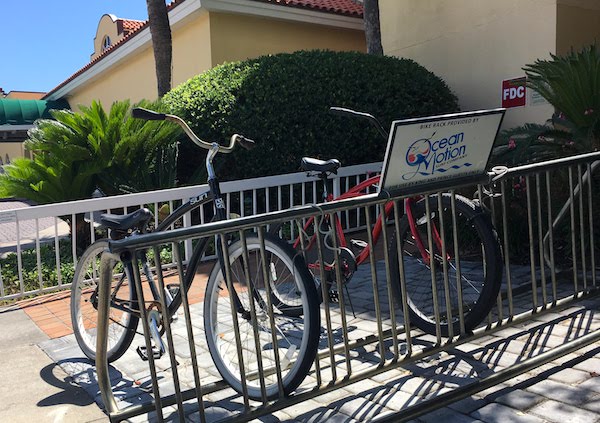 I have always wanted to learn to sail, so maybe I'll try that next time. What do you think? Relaxing?
If you get tired of the beach (is that possible???), St. Simons Island has lots more to do!
Book your next vacation rental now.
Food and drink on St. Simons Island
We are, unashamedly, a foodie family. We love to create at home in our kitchen — but we love new food finds, too. Especially if the goal is to reconnect. Trying something new offers fresh conversation starters — like these.
Attend a mead tasting. Oh my goodness! Mead is my new favorite, thanks to the Savannah Bee Company mead tasting I got to enjoy on my media trip. I must admit, I didn't know what mead was, but I associated it with Vikings. Of course, a quick google search filled me in: Mead is a honey-based alcoholic beverage that dates back to ancient Greece.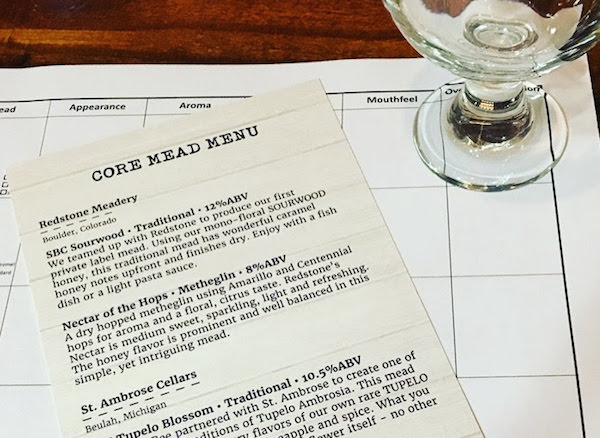 Okay, back to the mead tasting! If you've ever been to a wine or beer tasting, a mead tasting is quite similar. Except, in my humble opinion, mead tastes better! Since it's made from honey, I expected it to be sweet. Believe it or not, it's not all sweet!
Psst! Before you leave, stop by the whipped honey tasting area and try the chocolate honey.
You can thank me later!
If you enjoy tastings menus, Golden Isles Olive Oil in Redfern Village on the island has monthly popup luncheons with guest chefs. If that doesn't fit your schedule, stop in to taste the many varieties of olive oils and vinegars they have. The flavors add pizzazz to your kitchen!
Enjoy a fancy dinner, island style. Georgia Sea Grill is a superb restaurant with a great balance of sophisticated and relaxed, trendy and traditional. The napkins, with a real sea shell for a napkin ring, remind you that you're at the beach — and you can relax! I ordered the daily special, pork belly, and asked for it to be extra crispy on the outside. They served it perfectly — crisp, flavorful edges and tender pork over southern greens with a peach chutney. I loved every bite. This is a great place to enjoy a slow dinner with some seasonal cocktails. [My dinner was hosted. My taste buds approved.]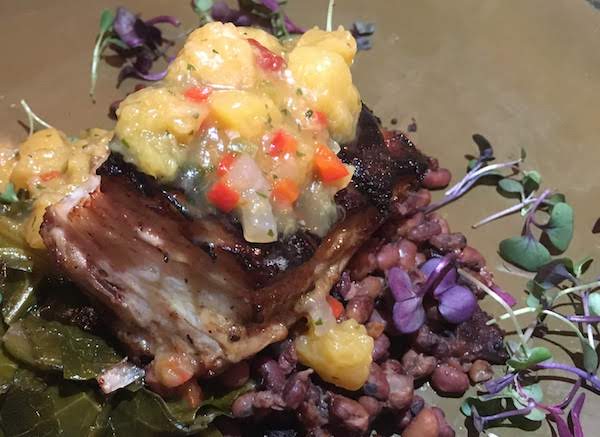 Eat like a local. At Palmer's Village Café, you can enjoy southern coastal creations made by a 5 star/5 diamond chef. Trust me, the banana pudding pancakes are not just any old pancake. It's clear that Chef John Belechak (Chef JB) is passionate about quality cuisine — at an affordable price. The restaurant is open for breakfast and lunch daily, and for dinner on the weekends. When the locals like it, you know it's a good choice! Go in for a late breakfast (it's vacation, after all) and linger over coffee as you reconnect with those you love.
Or, for something a bit more quirky, head to Gnat's Landing for the fried pickles (and a laid back lunch or dinner). Believe it or not, they also serve a special beverage called "Bug Juice TANG" (spell it backwards) — just like you remember from childhood!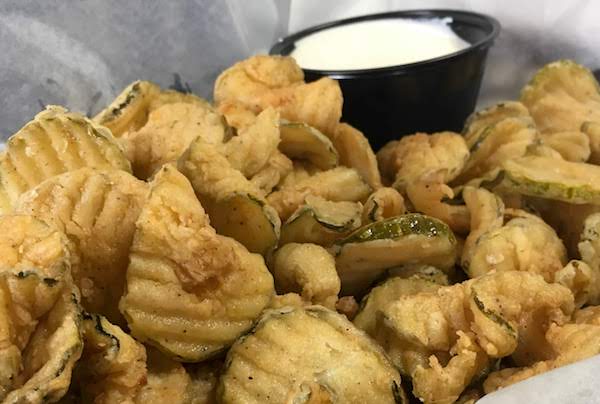 Check out travel favorites. When I posted on Facebook about my St. Simons Island trip, I discovered that lots of you already know this place well. Here are some reader favorites (and favorite dishes if applicable):
Southern Soul BBQ — for the BBQ of course. It's only been ranked best southern BBQ by Southern Living Magazine in 2018.
Zuzu's — get the bread pudding!
Tramici — best Italian restaurant on the island.
Travel back in time with a history tour on St. Simons Island
So… I'm not talking Michael J. Fox's Back to the Future here, but the real history of St. Simons Island.
Take a trolley tour. Our media group took a trolley tour (air conditioned, thankfully) of the island with Cap Fendig of Lighthouse Trolleys. A lifelong resident of the area, Cap takes guests back in time to learn the history of the island. Some of our stops included Fort Frederica Monument, where Spanish and British forces battled in 1742. The British won, and we are an English speaking nation. We also visited the Harrington School House, a Gullah community school, and Christ Church, where you'll find the graves of Revolutionary War soldiers and many others.
Cap Fendig and his crew are great storytellers. A trolley tour is a fun way to learn some early American history and other interesting tidbits about the island.
Lighthouse Trolleys also offers dolphin tours and Jekyll Island tours. Make time for Driftwood Beach if you head that way!
Climb a lighthouse. Like many places along the coast, the lighthouse on St. Simons Island is a popular attraction. The lighthouse and lightkeeper's house are beautifully restored — the house transformed into a museum. Interactive displays make it fun for kids (if you happen to be reconnecting with kids in tow). Take the 129 steps to the top for stunning views of coastal Georgia.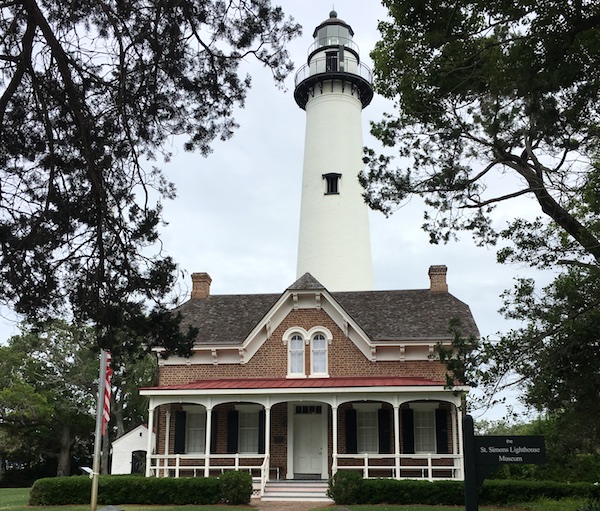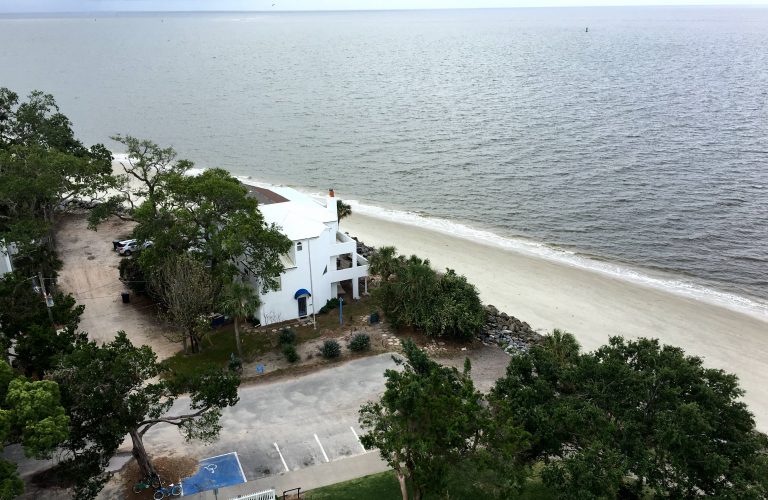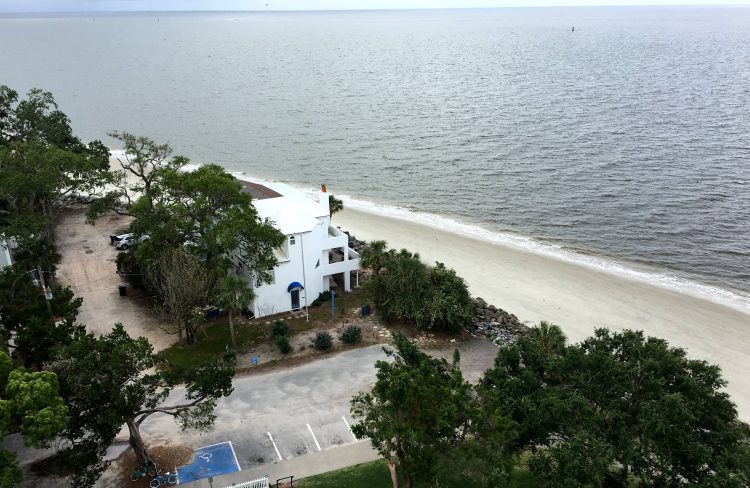 Visit historic Christ Church. While a visit to Christ Church is included on a trolley tour, I found the place so interesting that it deserves a mention of its own. The graveyard alone tells stories of life and loss dating back to the Revolutionary War. The church itself, built in 1820, was partially destroyed during the Civil War and rebuilt in the 1880s. The church is open to the public for tours Tuesday through Sunday from 2 to 5 p.m., and the cemetery is open every day except Mondays from 7 a.m. to 4 p.m. when the grounds are closed for landscaping.
Get cultured at the Harrington School. The Historic Harrington School played an important role on the island from the 1920s when the school first opened to the 1960s when desegregation shut it down. The building has been meticulously restored with books of photos and other items to show visitors what life was like for the Gullah Geechee people.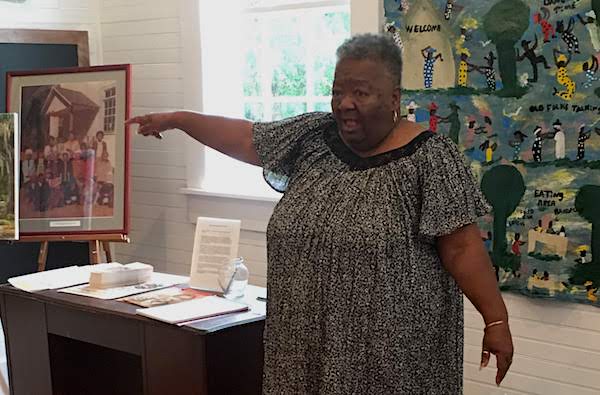 Ms. Amy, the school's executive director and "matriarch of the island," is a knowledgeable and entertaining storyteller, truly a treat to listen to as she shares the stories of growing up in the Gullah Geechee community. The museum is open October – March: Tuesday-Thursday 10 a.m. – 2 p.m. April – September: Tuesday-Saturday 10 a.m. – 2 p.m. Call or email to schedule tours or a visit.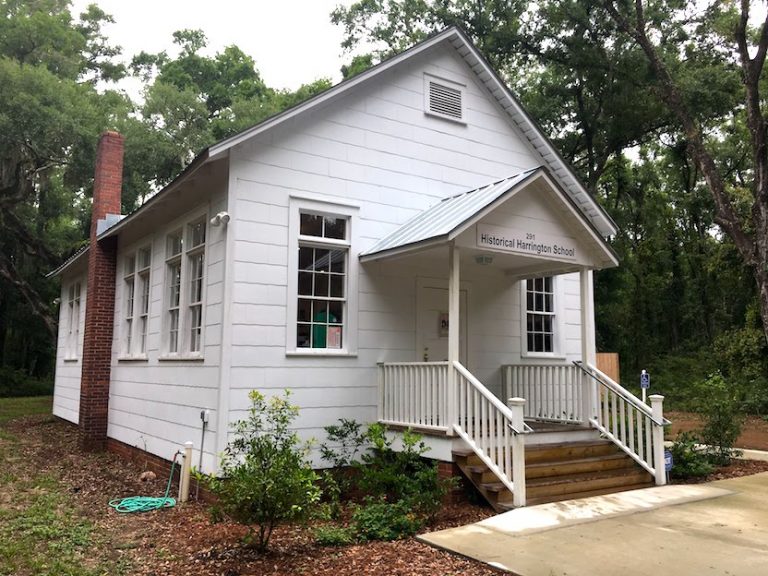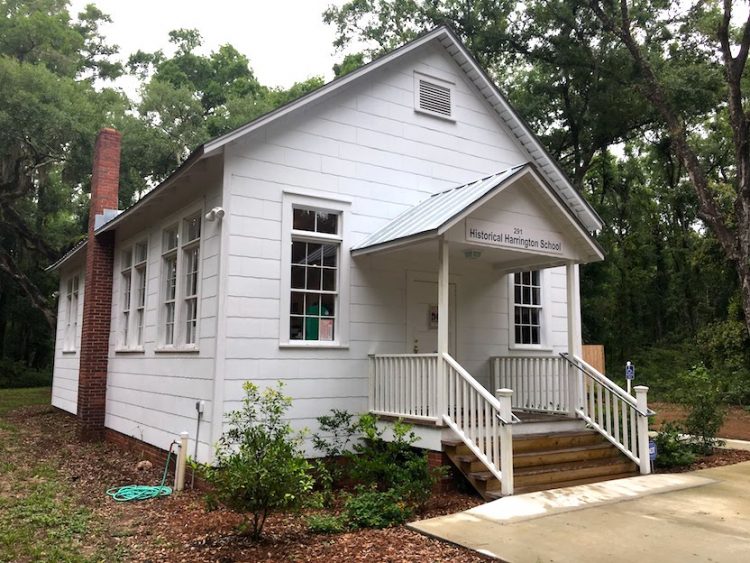 There are many historic treasures throughout Georgia's Golden Isles, which you can explore here as you plan your getaway. By the way, there's also a lot of other stuff, too, like golf, shopping, museums and parks — whatever your interest, it's probably here.
Don't you think we all need a few days to reconnect away from the routine? Unwind with long, lazy days on the beach. Savor coastal cuisine or linger over an uninterrupted cup of coffee. Explore the past as you reminisce about your own love. St. Simons Island is more than a place to reconnect — it's a great place to refresh!
Special thanks to the King and Prince Resort for hosting my stay, to Cap Fendig and Lighthouse Trolleys for the tours, the stories and the transportation on our trip, and to all the places who welcomed us so warmly so we could learn more about this beautiful place.