This summer, family vacation might look a little different than we might have expected. People are looking for ways to enjoy fresh air and wide open spaces. Of course, camping fits the bill. So, I asked bloggers from around the country to share the best family campgrounds in the US.
Take a look at these family campgrounds to discover summer fun for families throughout the United States.
Alabama: Gulf State Park
Gulf State Park on the Alabama gulf coast is one of the best family campgrounds in the US. With space for tent camping, trailers and RVs, and even cabin rentals, there's something for rustic campers or those who prefer something more like glamping.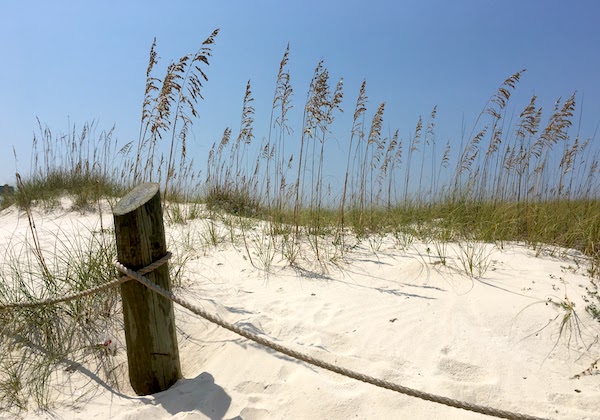 The Gulf Shores State Park has a lot to offer family campers, including the beach, miles of boardwalk and trails to explore, pools, nature programs and fishing. Sporting enthusiasts can enjoy tennis, pickleball, horseshoes, volleyball and much more.
Beyond the Gulf State Park family campgrounds, the surrounding communities offer more recreation, fabulous restaurants, shopping and entertainment. This area is great for weekend getaways with the kids!
For an affordable beach vacation, it's hard to beat Gulf State Park. It truly is one of the best family campgrounds in the US.
California: Upper and Lower Pines Campground at Yosemite
Located in the heart of Yosemite National Park, the Upper and Lower Pines Campgrounds make the ideal basecamp for exploring the grandeur of Yosemite Valley.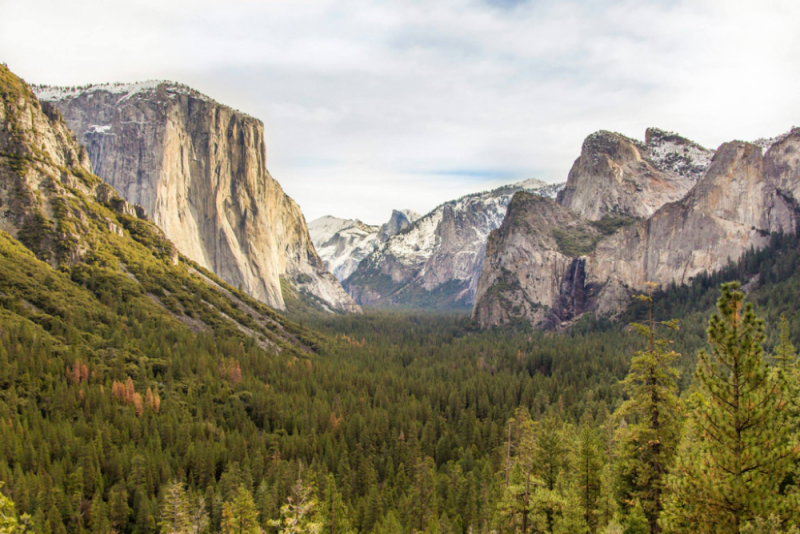 From these campgrounds, it's easy to get to the trailheads for some of Yosemite's best hikes where you can explore soaring granite cliffs, stunning waterfalls, and the vast Yosemite wilderness.
Both Upper and Lower Pines offer amenities that make them one of the best family campgrounds in the US, including fire rings, picnic tables, and bear-proof food storage lockers. The bathrooms even have drinking water and flushing toilets, so your family can feel a little more comfortable out in nature.
Upper Pines Campground is the larger of the two campgrounds with 238 sites and is open all year long, while Lower Pines has 60 sites and is open from April to October.
Sites in both campgrounds are $26 per night and are available by reservation only starting 5 months in advance. It's definitely worth planning ahead to get a spot at Upper or Lower Pines, so you can wake up with an amazing view of Yosemite Valley and at the heart of all the adventurous action!
Florida: Pine Ridge Campground
Pine Ridge Campground, located in Northwest Florida at Falling Water State Park, is home to the tallest waterfall in the state. Coming in at a 73' drop it's a pretty impressive sight. However, even more wonders await you in Florida's panhandle.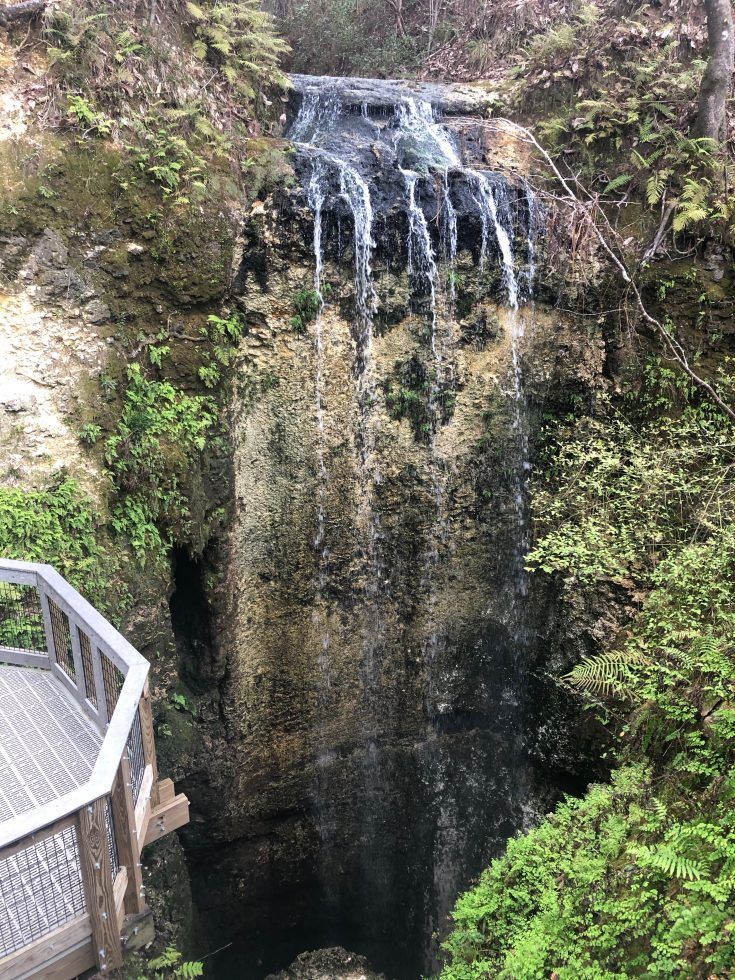 Here you can take a cavern tour, play with wolves, hold alligators, soak in crystal clear springs, and hike or paddle for miles and miles. So many great things to do, this makes for unforgettable weekend getaways with the kids!
Settle in at the small, 24-site campground that is nestled among the longleaf pine and dogwoods.
Your campsite has a picnic table, water, electric, and a fire ring. The campground has a full-facility bathhouse and dump station making it the perfect place for RVing or tent camping.
Once camp is set up, take a short walk to view the waterfall from three different platforms, see sinkholes, look for wildlife, and watch for the Ivory-Billed Woodpecker, once thought extinct, but stories abound of it being spotted in the area.
Georgia: Bald Mountain Camping Resort and RV Park in Hiawassee
The Bald Mountain Camping Resort has lots of fun activities for the entire family making it one of the best family campgrounds in Georgia.
This campground in the Georgia mountains has multiple swimming pools, volleyball courts, several playgrounds, a game room, wifi and much more. You can bring your RV to stay in one of the great RV sites or you can pitch a tent in a tent-dedicated portion of the campground.
There are lots of places nearby to explore for great weekend getaways for families. The resort is only two hours northeast of metro Atlanta. Other day trips to consider on family vacations are to Alpine Helen, a Bavarian Village, The Appalachian Trail, Brasstown Bald (highest peak in Georgia), Bell Mountain near town and the Georgia Mountain Fairgrounds, beautiful Lake Chatuge, and the Cabbage Patch Kids Babyland.
Hawaii: Spencer Beach Park on the Big Island
Everyone knows that visiting Hawaii is extremely expensive especially for family vacation. But if you actually go camping and prepare in advance, you can save big on your stays, food and even entertainment.
The Big Island of Hawaii is a family friendly destination, with many campsites. Quite a few are ocean/beach sites that make that experience even better.
One fantastic place to camp on the west side of the island is Spencer Beach Park which has everything you would want – gorgeous beaches and landscape, campsites close to the water with wonderful ocean views, full bathroom services and electric outlets and cooking/picnic stations that allow you to cook on site.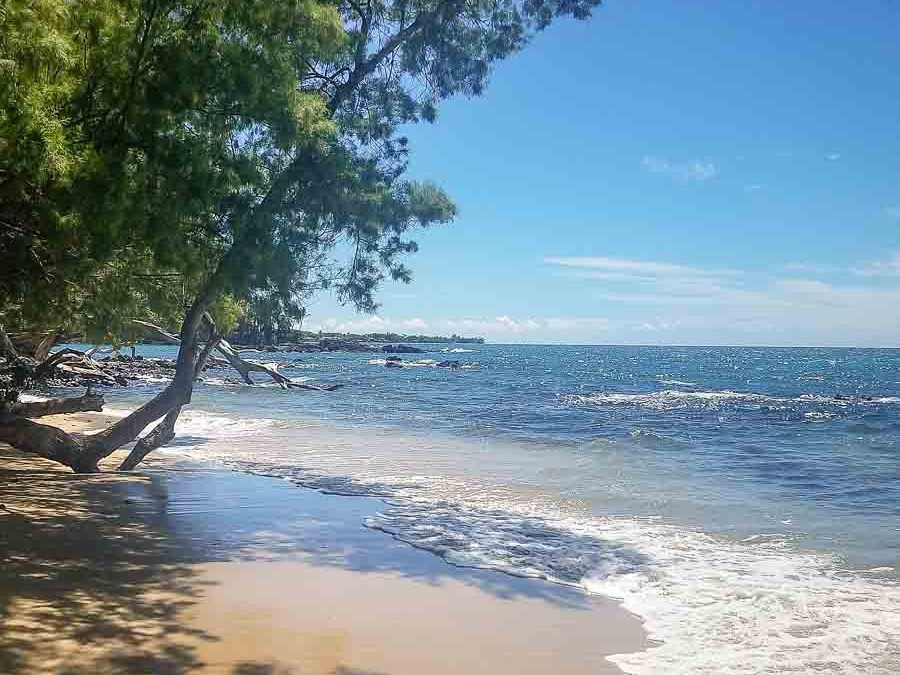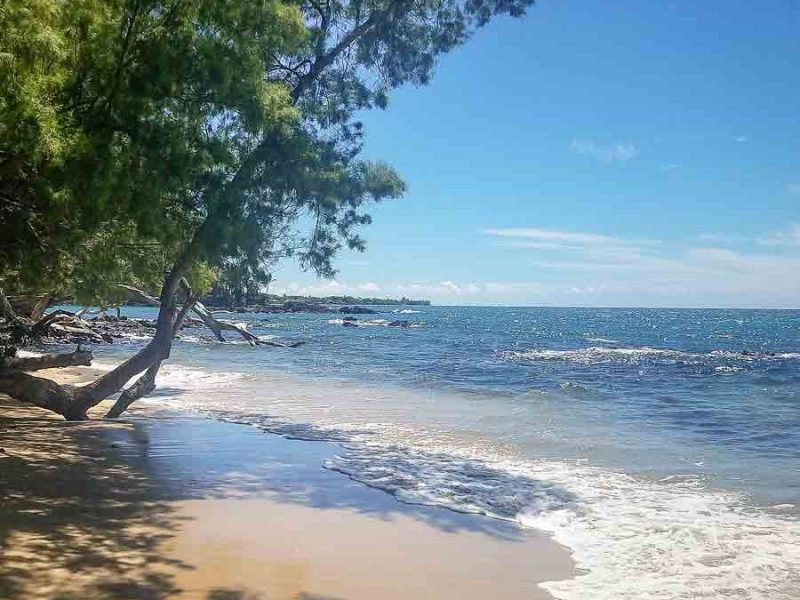 There's even a historic national park next door to explore called Pu'ukohola Heaui with fantastic trails, ancient sites to explore and gorgeous vistas to capture and experience.
Spencers Beach park is one of the camping gems and is very popular with locals so make sure that you book a site in advance so you can take advantage of some of the premium spots on the water.
If you are traveling around the island, plan a family friendly visit to the Big Island. There's so much to see and do on the island that is kid friendly.
Illinois: Fox Ridge State Park
Fox Ridge is a state park located just south of Charleston in Central Illinois. The small campground is great for weekend getaways with the kids. It has 43 campsites and a large shower house.
A majority of the campsites can be reserved, but the best sites are first come first serve. The spacious flat sites are well spaced and come with a fire ring, picnic table, electricity and a lantern pole.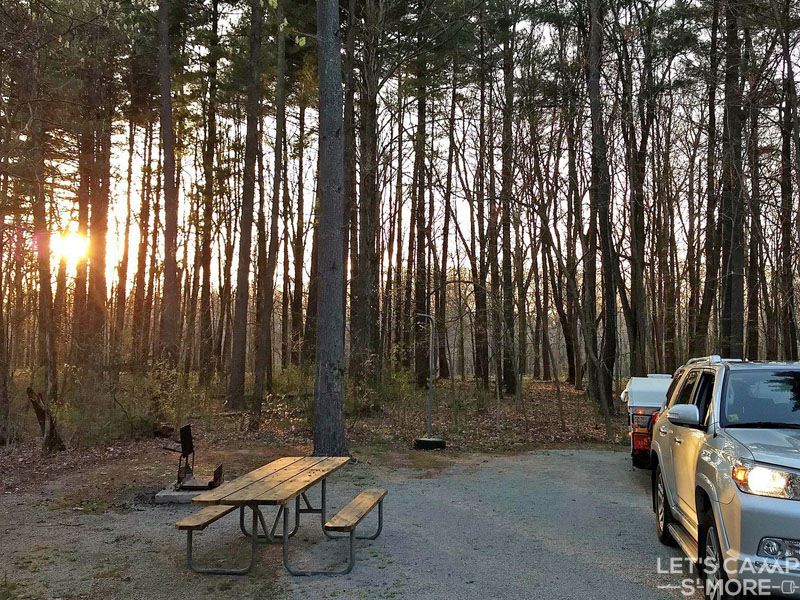 Fox Ridge State Park is a 2000+ acre recreation area. It's a great place to hike due to the numerous ridges and ravines. They provide a moderate challenge in an otherwise flat area. A hike to the Eagles Nest Overlook is a must see. The park has a few lakes and a river for fishing, forested areas for mushroom foraging, and a large area for hunting turkey in season.
We highly recommend 2-4 days at this hidden gem in Illinois.
Maine: Sandy Pines Campground
One of the best places I have ever gone camping with my family is the Sandy Pines Campground, located in Kennebunkport, Maine.
Located just a few minutes from the Maine coast, this family camping experience gives you the best of both worlds: the beach, sun, and sand, and the traditional campground in the woods.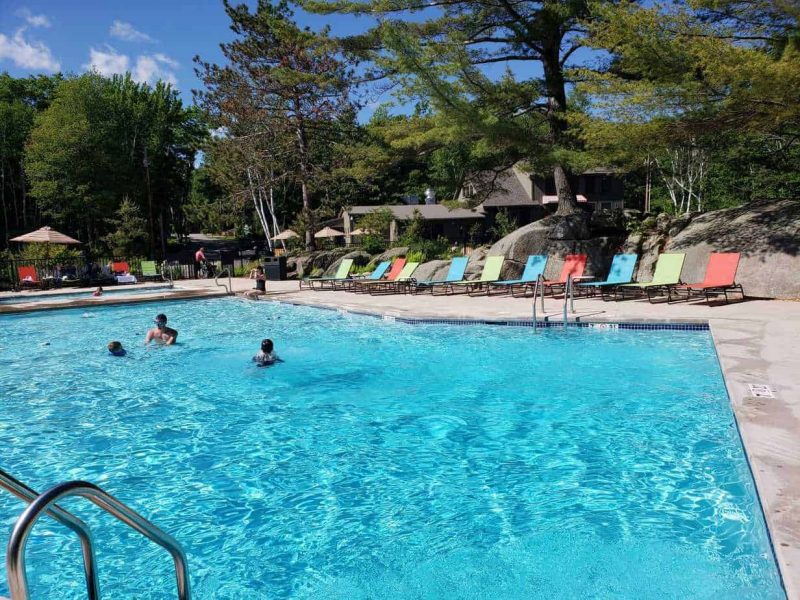 Sandy Pines is just a few years old, so everything is brand new and sparkling. And everywhere you look is something fun for kids and adults making this one of the best family campgrounds in the US.
The huge swimming pool is inviting, with lots of places to sit and relax nearby, from colorful enclosed domes to swings to idyllic deck chairs. When you're not swimming, take part in the nearby lawn games, like cornhole. It's not too far over to the Kids Playground, either, where you'll also find the Kids Kraft Tent where artistic exploration can take shape.
When it comes time to do the camping itself, families can choose from spots for RVs and tents, or consider one of Sandy Pines' super unique and beautiful glamping options! There are 4-person family glamping tents (all gorgeously decorated with distinct themes), family cottages, and more. You can be comfortable and homey even while in the "wilderness" here.
If you want to experience a perfect spot in New England—especially in the summer, I can't recommend Sandy Pines enough.
Michigan: Colwell Lake Campground
There are so many great places to camp in Michigan from lake front to mountain top. Camping is our favorite family adventure and we go as often as possible in the summer.
Our favorite place to camp is in Michigan's Upper Peninsula near Munising at Colwell Lake Campground, part of the Hiawatha National Park. Colwell Lake Campground is a small campground with only 34 campsites. The sites,
however, are spacious and most are on the lakefront which makes it a great family campground for weekend getaways with the kids.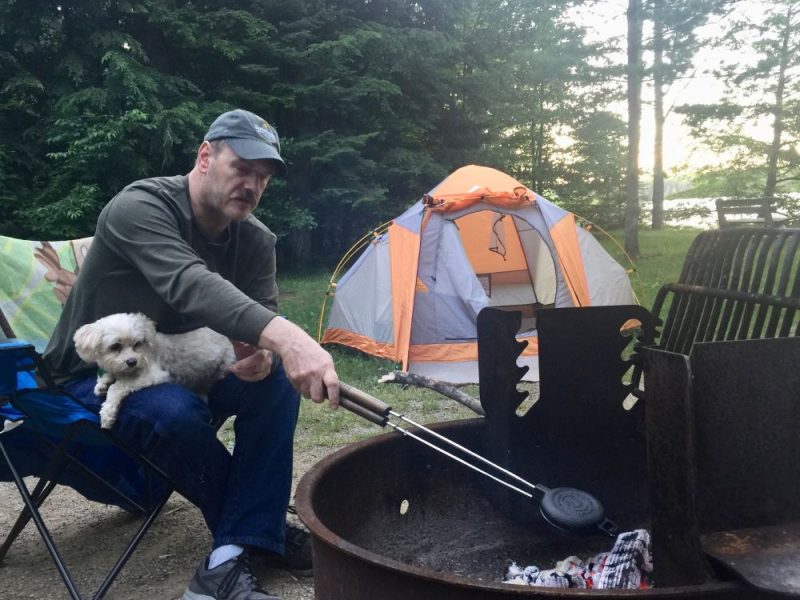 In the morning, start a fire, make some coffee and enjoy the peace and quiet and incredible views of the lake.
At night, stargazers will be amazed at how many stars light up the skies. Colwell lake is far removed from any ambient city light giving you incredible views.
Nearby, you'll find Pictured Rocks National Lakeshore, Seney National Wildlife Refuge, hundreds of miles of hiking trails, an abundance of wildlife, and a number of waterfalls. Nature lovers won't be disappointed that they made the trek to this northern Michigan campground.
Note: Cell service at the campground is spotty at best. We drive 20 miles to get a signal.
Montana: Fish Creek Campground
Fish Creek Campground in Glacier National Park is the only reservable campground on the west side of Glacier National Park. Being able to make a reservation is fantastic for families wanting to explore this great Montana park.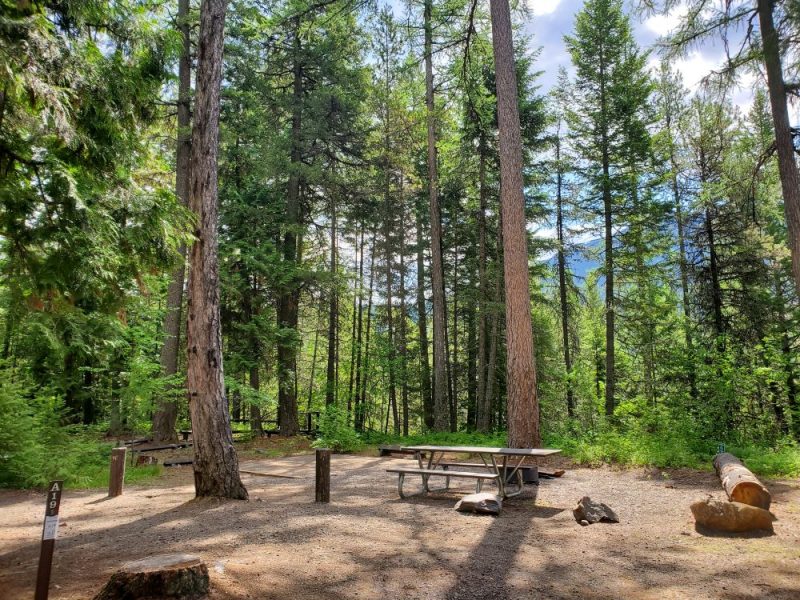 There are 178 campsites within this large campground, making it one of the best family campgrounds in the US to experience the great outdoors. Most of the sites have plenty of shade and great tree cover to help with privacy between campsites.
A few sites even have amazing views of Lake McDonald.
One great amenity in Fish Creek Campground is the modern bathrooms and showers in one of the first loops. The showers are only available for registered campers.
The campground is close to the visitor center and provides easy access to the Going to the Sun Road and Lake McDonald. This is the perfect location for spending time relaxing in your campground and also being able to easily explore the crown of the continent Glacier National Park.
Price – $5 to $23 a site
Nevada: Wheeler Peak Campground
Wheeler Peak Campground in Great Basin National Park is a great place to for family camping getaways.
This family friendly campground in Nevada offers well-spaced campsites, bathroom facilities and drinkable water.
Two meadows in the campground and hiking trails nearby offer lots of space to explore the outdoors. Hike to the Bristlecone Pine Trail to see Nevada's only glacier at the base of Wheeler Peak.
Another attraction at Great Basin National Park is the Lehman Caves, which offers guided tours.
For adventurous families, this is a great weekend getaway with the kids.
New York: Watkins Glen State Park Campground
Watkins Glen State Park is the most visited state park in the Finger Lakes region of New York. The natural beauty of the park is breathtaking and being able to spend night there just makes it special.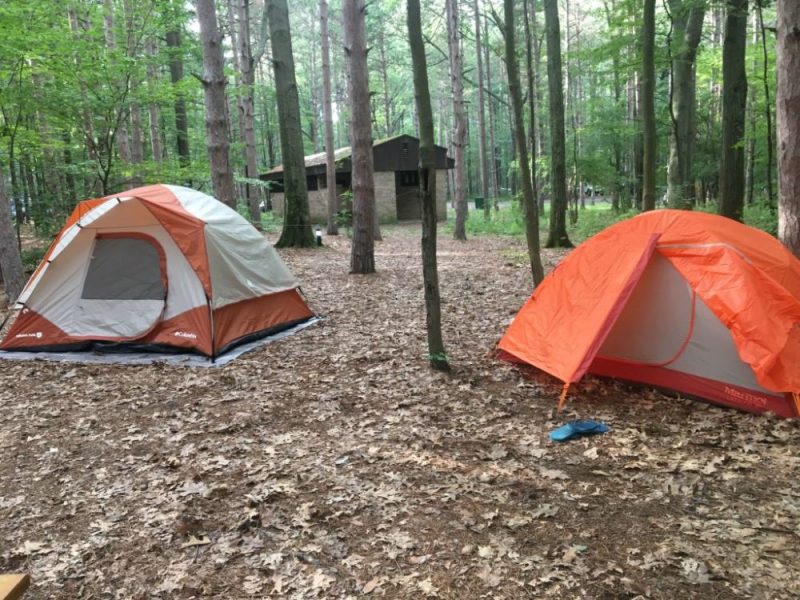 The State Park offers around 290 campsites and wooden cabins to book, although the cabins are fewer than campsites. The Watkins Glen campsites are spread out in 6 loops, with each loop identified with a village name that can be easily booked online at the State Park website.
Each campsite is spacious and equipped with a fire pit, benches and tables and parking for cars. The best part is the campground is surrounded by lush green trees, fresh air and serenity to enjoy.
The campground comes with facilities like restrooms, showers, dumping station and firewood shop that make it comfortable for families. There are food concession shops and gift shops inside the park apart from playgrounds and swimming pool inside the State park facility making it a hit amongst families.
It is great to indulge in hiking the trails especially the scenic Gorge trail through the State Park that traverses the 19 waterfalls formed during the course of the creek through the gorge making it worth the hike.
The fee for the campsite ranges from $18 – $30 with some additional booking charges. The non-residents of New York state pay an additional $5.
Summer is a popular time and hence it is advisable to book the campsite well in advance.
North Carolina: Bear Den Mountain Resort & Campground
Bear Den Mountain Resort & Campground near Spruce Pine in Western North Carolina has long been one of our favorite places to stay, even before our little one joined the family.
One reason is location, since it sits right off the Blue Ridge Parkway (MM 324) and is within 20 minutes of popular places like Linville Falls and Little Switzerland.
The friendly people who run Bear Den keep the camping spots and cabins clean and well-maintained. They've got a great playground for little kids. And each year, there always seems to be at least one or two enhancements to the huge property.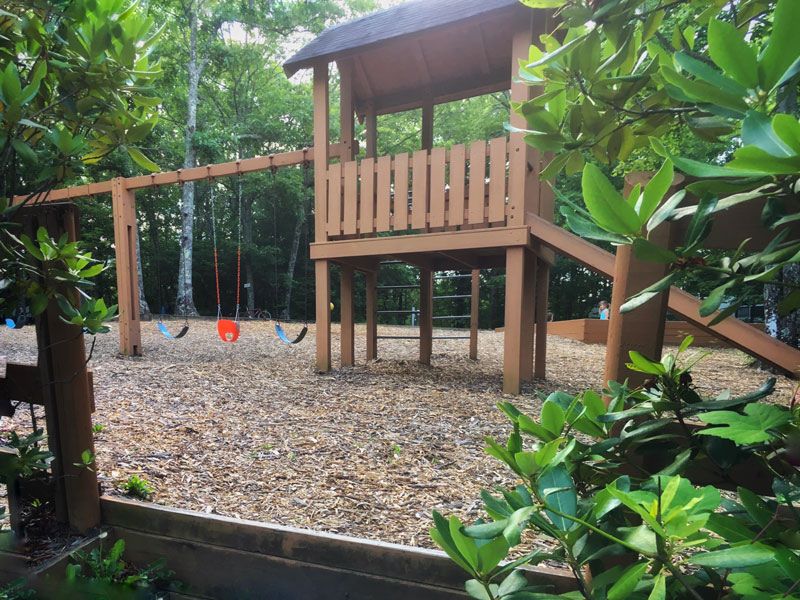 Examples include upgrades to their massive swimming pond and expanded hiking trails that now lead to waterfalls.
You can check-in either at the Trading Post or at the mailboxes if you arrived after open hours. They'll give you a map of the campground, tips on places to go nearby, and anything else you might want to know. Inside the Trading Post, you can buy a variety of camping supplies (including firewood) and there are some arcade games across from it.
Prices range from $36/night for tent sites to fully furnished cabins that run up to $125/night. 2-night minimums have always applied when we've booked, regardless of season.
Ohio: Mohican State Park Campground
The Mohican State Park Campground in Loudonville, Ohio provides incredible weekend getaways for families who enjoy outdoor recreation in a safe environment.
Not only does the campground adjoin one of the best state parks in Ohio, the area is also nicknamed the "Canoe Capital of Ohio" due to its proximity to the Mohican River and busy canoe liveries.
Like many family campgrounds in the US, Mohican welcomes tent campers and RVers, and also provides cabins for those who enjoy the outdoors but prefer not to camp.
Campground amenities include a pool, playground, volleyball and basketball courts, camp store and showers.
To ensure safety, the campground is only open to registered guests during their busy season, so you won't find people driving in off the street to take a look around.
The state park and nearby state forest offer lots of affordable family fun like easy to challenging hikes, mountain biking, bird watching (keep an eye open for a Bald Eagle), and fly fishing opportunities. It's also a favorite destination among photographers so make sure to pack a camera.
Campsites range from $27 to $42. Cabins start at $55 for camper cabins to $150 for family cabins.
Oklahoma: Buckhorn Campground
Chickasaw National Recreation Area in south-central Oklahoma is a great spot for family camping. Located about two hours from Oklahoma City and Dallas, it's perfect for a weekend getaway or a week long trip.
The area is a part of the National Park System and was once a designated national park. The area is famous for its sulphur mineral springs and spring fed creeks that are a brisk delight in the hot Oklahoma summer heat.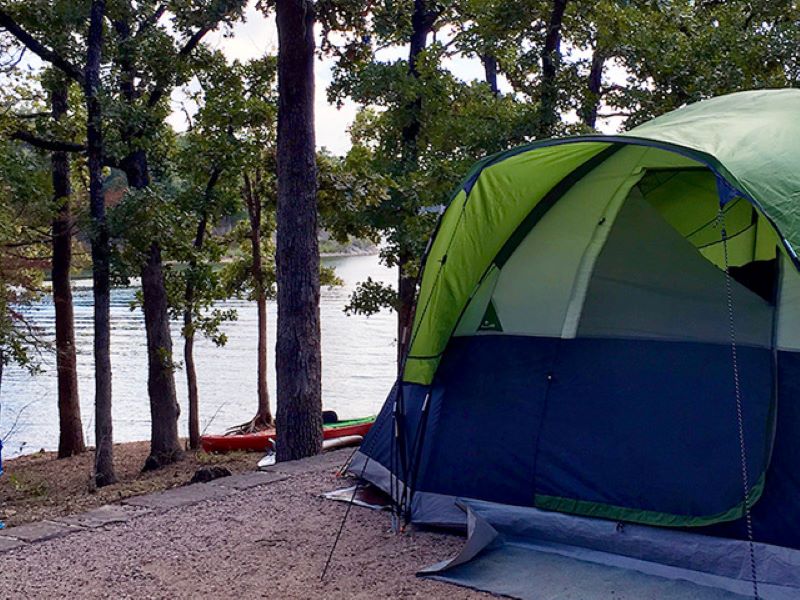 It has over twenty miles of trails and borders the Lake of the Arbuckles in Sulphur, Oklahoma. So it's a favorite for not only campers and hikers, but also boaters, kayakers, and fisherman.
When we go, we enjoy staying in Buckhorn Campground which offers both first come, first served sites as well as those by reservation. It tends to be the less crowded of the park's six campgrounds offering 400 campsites. 
Oregon: Mazama Campground
Mazama Campground in Crater Lake National Park in Oregon offers the best family camping experience.
This large campground has flush toilets, easy accessibly trails, and is close to a grocery store, restaurant and pay showers.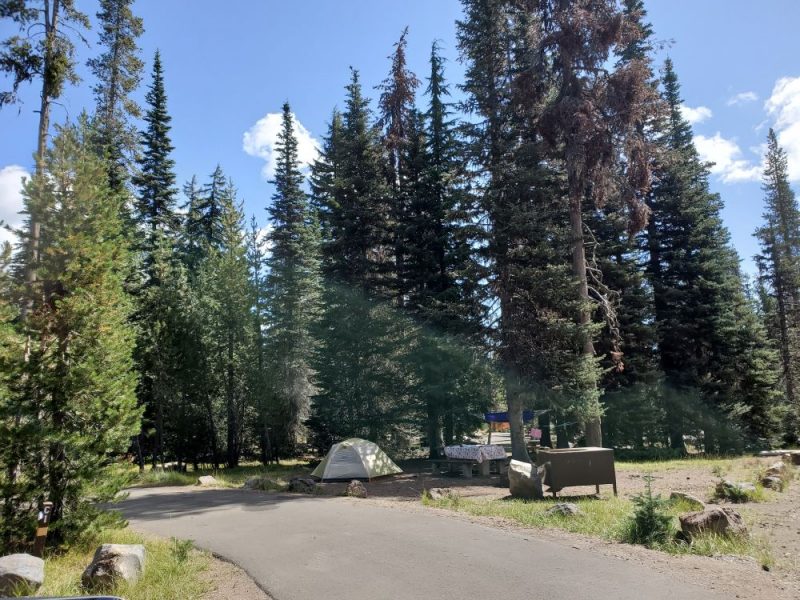 The campground is minutes away from the rim of Crater Lake and the scenic drive around the lake.
Families will love the paved paths through the campground for riding their bikes or walking.
There are Ranger programs offered within the campground almost nightly. Ranger programs cover everything from bird watching to hiking with a park ranger.
Families can also take trolley and boat tours within Crater Lake National Park. With so many great activities, this is one of the best places in the Pacific Northwest for weekend getaways for families.
Pennsylvania: Ricketts Glen State Park
In the Endless Mountains of Eastern Pennsylvania, Ricketts Glen State Park is fabulous place for weekend getaways with the kids. The park has ten ADA compatible rental cabins and 120 tent and trailer campsites.
The park offers flush toilets, warm showers and pets are permitted for an additional fee.
The park's many amenities include a swimming lake, the best day hiking trails in Pennsylvania with waterfalls all along the trail, boating, kayaking, canoeing, and fishing.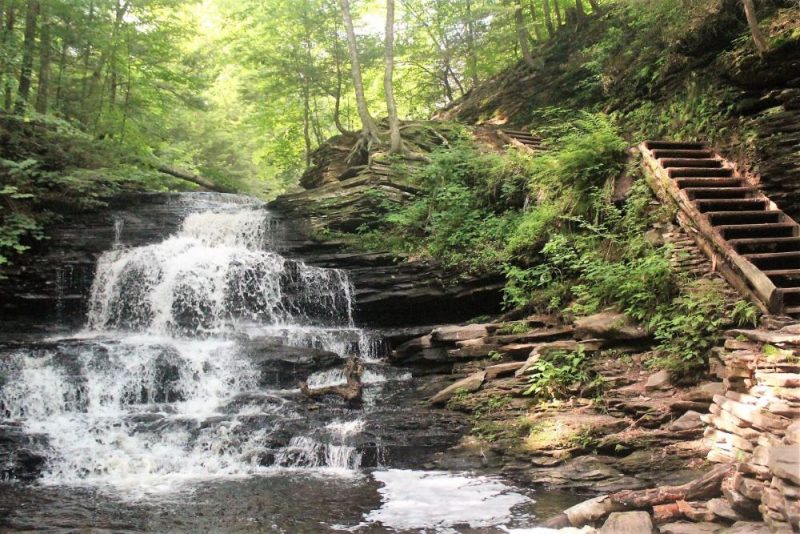 The sheer beauty of this park is its main attraction, though with plenty of space to explore, it's one of the best family campgrounds in the US.
South Carolina: Lake Wateree State Park
Midway between Charlotte, NC and Columbia, SC, Lake Wateree State Park is a popular campground and recreation areas for families looking for weekend getaways with the kids that also offer lake fun.
This family campground can accommodate RVs up to 40 feet in length, five spots are pull-through and 15 spots are waterfront. Lake Wateree State Park also offers convenient restroom facilities with hot showers. Book ahead to get a waterfront spot.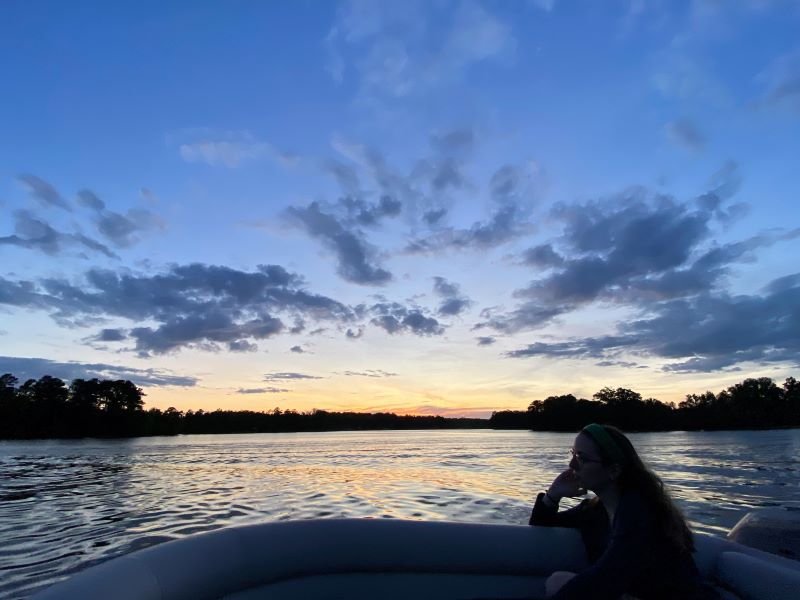 Amenities include easy hiking, biking trails, bird watching, a waterfront area to swim (swim at your own risk), a park store, a private boat launch and gas pumps at the dock. Fishing is allowed, and campers can buy a fishing permit at the store.
Nearby marinas offer boat rentals for families to enjoy a relaxing day on the lake.
South Dakota: Custer State Park
Custer State Park is our favorite South Dakota destination. This Black Hills gems covers 71,000 acres.
This park offers many great family friendly activities including hiking, kayaking, biking, scenic drives, and a lot of wildlife, making it great for weekend getaways with the kids.
There are nine campgrounds throughout the park. Legion Lake is our favorite campground because it is centrally located, the sites are huge, and it is small and quiet. We recommend sites 13, 14, or 15.
A popular activity at Custer is the Wildlife Loop Road. This 18-mile drive through the hills allow visitors to see buffalo, deer, and elk. You will certainly see the begging burros, which will pop their heads in your vehicle looking for a hand out. Dawn and dusk are the best times to see the most animals.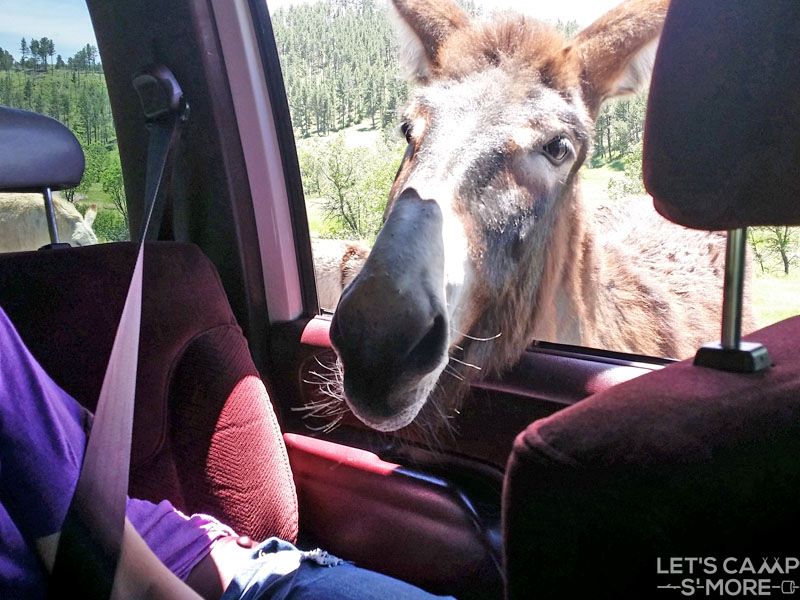 The other must-do drive is the Needles Highway, which has amazing views and a narrow tunnel through the rocks. There is so much to do that you can easily spend a week or two exploring the park and the surrounding Black Hills area, which includes Mount Rushmore.
Tennessee: Elkmont Campground
Elkmont Campground is located in Great Smoky Mountain National Park in Tennessee. This gorgeous family campground provides easy access into Gatlinburg for groceries and to explore the town.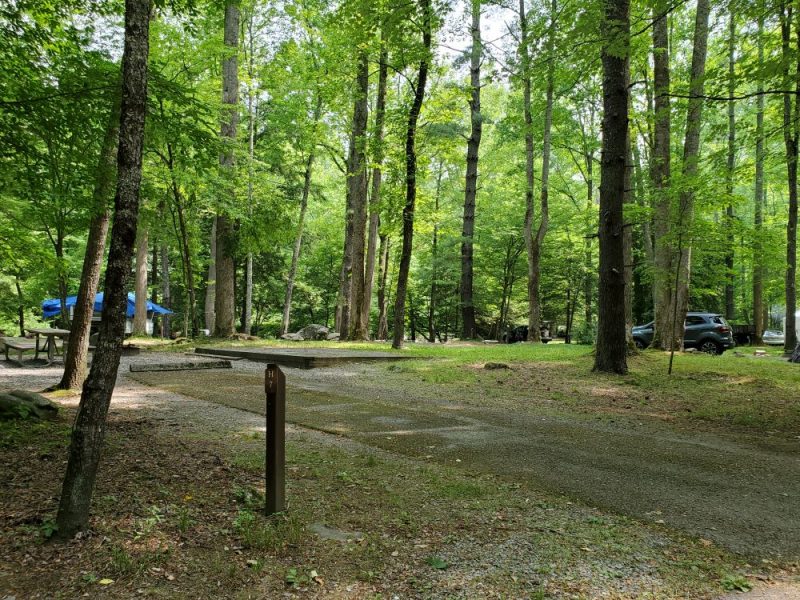 It also provides easy access to Cades Cove and the popular Laurel Falls Trail, making this a great weekend getaway for families and adventurers.
This is the largest campground in Great Smoky Mountains National Park which means there are great amenities for families. Everything from ice cream machines to a great camp store. Parents will love that they don't have to stress about picking up any last minute supplies they may have forgotten.
The campground has flush toilets, running water, and space for RV's up to 35 feet long.
Utah: Watchman Campground at Zion National Park
The Watchman Campground in Utah is the largest campground within in Zion National Park. This great campground is located near the visitor center and shuttle stops, making it a great base for weekend getaways with the kids.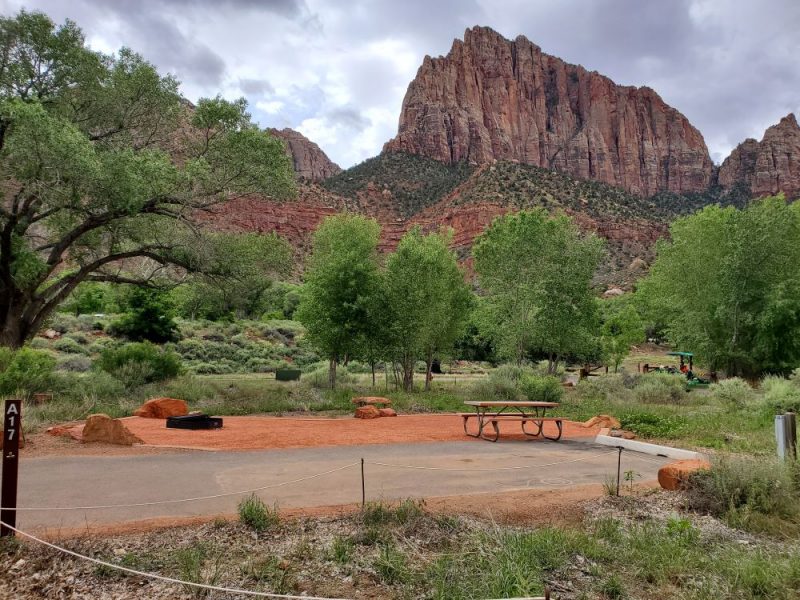 When visiting the Zion Canyon visitors have to take a free Zion shuttle to the canyon. The Watchman Campground is a great campground for families since it is so close to a shuttle stop.
The campground is also close to Springdale, Utah which has a grocery store, restaurants, and activities great for family vacations.
Reservations can be made up to six months before heading to the park so you know that you have a place to camp and don't have to worry about where you will be staying.
The Watchman Campground has beautiful restrooms with running water and flush toilets, a luxury perk for camping. The National Park Service has done a lot of work in this campground. It is gorgeous.
Washington: Kalaloch Campground
The Kalaloch Campground in Olympic National Park offers the best of family camping in Washington. The campground is located right on the beach and Pacific Ocean. With 168 sites, visitors have options on where they would like to camp.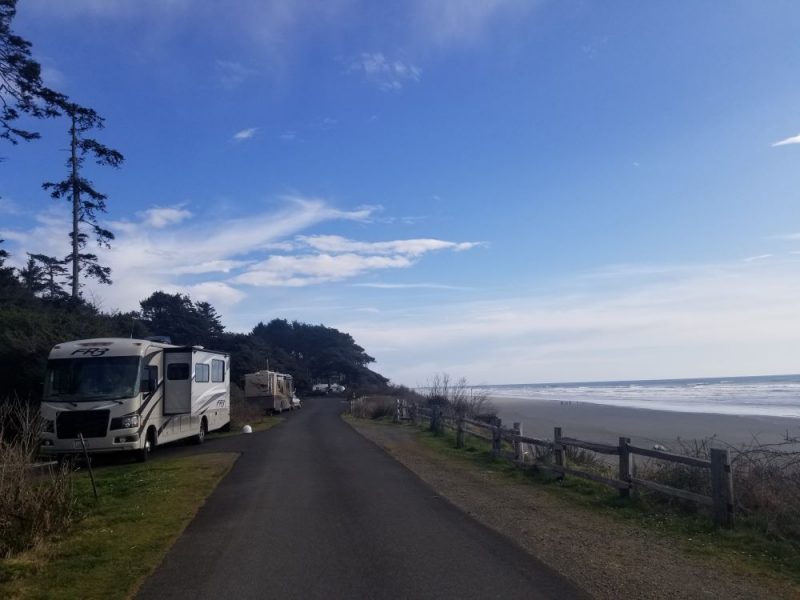 If you want a beach front campsite, make a reservation in advance. These sites book early.
This family campground is one of the best in the US for weekend getaways. It offers easy access to the sandy beach, walking distance to the Kalaloch Lodge and restaurant, and an easy drive to the Hoh Rainforest.
If you have any Twilight fans in your house you will want to drive through Forks, Washington on your way to the campground.
Sol Duc Hot Springs and waterfalls are close by for a great day adventure.
You will find both tent and RV sites within the campground though there are no hook-ups. The campground has modern bathrooms which is always a nice thing.
When it comes to camping in Washington you really cannot ask for more.
Price – $22 to $44 a site
Wisconsin: Tranquil Timbers
Tranquil Timbers Camping Retreat is located near Sturgeon Bay in the gorgeous Door County, Wisconsin. The campground is located in the heart of Door County, the seventy-five-mile long peninsula that is known as one of the nation's premier vacation destinations with 5 state parks and 10 lighthouses!
That said, it's a perfect weekend getaway for families that are outdoor lovers! From here you can enjoy some of the best things to do in Door County such as kayaking, hiking, cycling or exploring by segway.
The best about Tranquil Timbers Camping Retreat is that you can choose your accommodation type: whether you want to stay in an RV, a yurt or a wooden cabin, the choice is yours! This and the natural surroundings make Tranquil Timbers Camping Retreat one of the best Northern Wisconsin resorts to stay with your family.
Wyoming: Colter Bay Campground at Grand Teton National Park
Colter Bay Campground is located in Grand Teton National Park in Wyoming. The campground is close to the Colter Bay Visitor Center and Village. This easy access is great for families who want to learn more
about the park and be close to great amenities.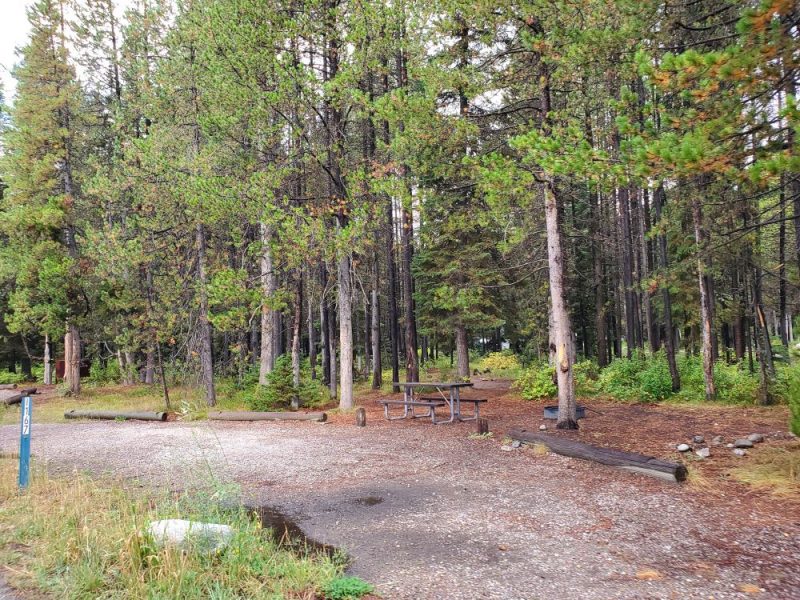 The campground has 22 restrooms with running water, an important amenity at family campgrounds in the US. Showers and coin operated laundry are available in Colter Bay Village.
The campground is close to a couple of restaurants, a general store, and a marina. If you are looking to explore Grand Teton National Park this is the perfect campground for weekend getaways with the kids.
More budget friendly family getaway ideas
If you want to take a road trip, but don't want to camp, consider these ideas.